"Cannot send message. iMessage needs to be enabled to send this message." This is a popup you may encounter while sending a message from your iPhone. It is really frustrating when you are unable to reply to a message because of this issue.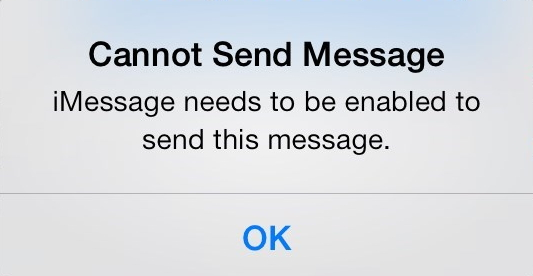 There can be a variety of factors causing this iMessage error on iPhone. Don't worry. In this article, we will discuss the most common reasons behind iMessage needs to be enabled popup and what you can do to fix it. Keep reading!
1. Ensure iMessage Is Enabled
The first thing you should do is to make sure that iMessage is enabled. Go to iPhone's Settings app and then find Messages. Press the toggle bar behind the "iMessage" option. If it is turned on, disable it and turn it on again. This may help to solve the issue in most cases.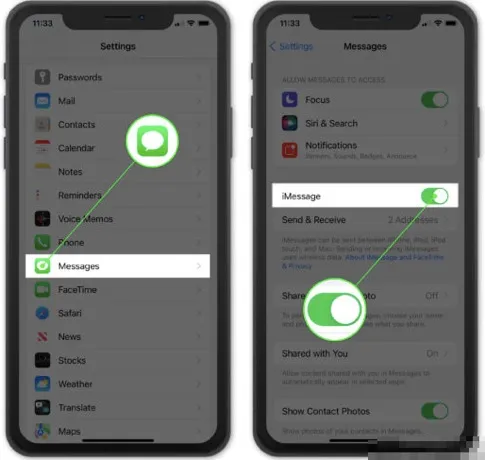 2. Check WiFi Connection
iMessage requires a good internet connection to work efficiently. Make sure that you are connected to a WiFi while sending the message. If the WiFi connection is weak, consider switching to another network or use cellular data.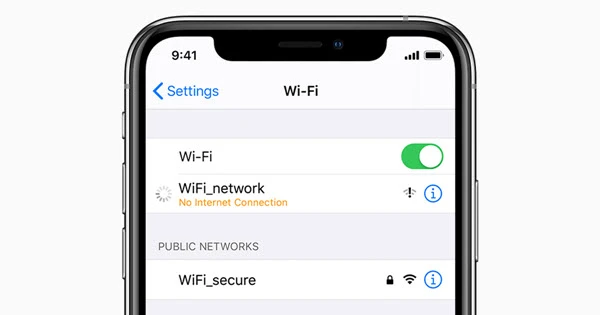 3. Enable and Disable Airplane Mode
Enabling and disabling the Airplane mode on your iPhone might also help to solve the issue. When you do this, all the network connections turn off and start again freshly, which can solve minor network-related problems.
Swipe down the screen to bring the Control Panel (Swipe up from the bottom if the iPhone arrives with a home button). Now find the Airplane icon and tap on it to turn it on. Wait around 30 seconds and tap again to disable it.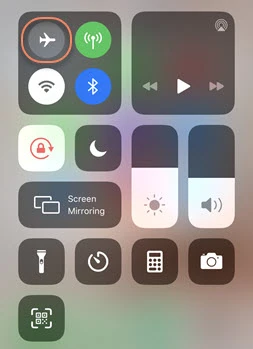 4. Force Quit the Messages App
Force quit the Messages app and try again to send the message. If your iPhone arrives with Face ID, swipe up on the screen from the bottom and hold for a while to bring the App Switcher. If it comes with the Home button, double press on the button to open the App Switcher.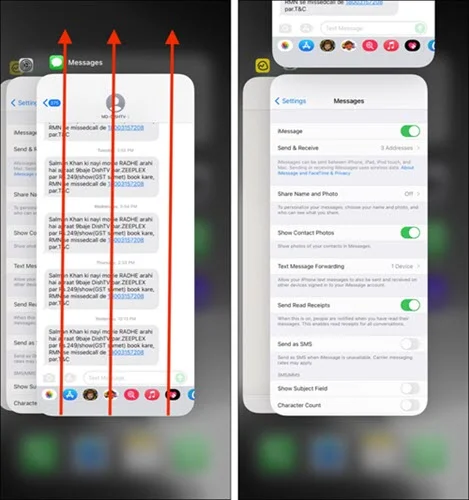 Now find the Messages app from the app list by swiping left/right. When you find the Messages app, drag the card all the way up to force quit it. After around 15 seconds, open the Messages app and try to send the message.
5. Check iMessage Sever Status
The iMessage server can be down on rare occasions and prevent you from sending messages. Open Apple Status Page and find iMessages. If the server is okay, you will find a green dot beside it. If it is not green, then the server is down, and you have nothing to do but wait.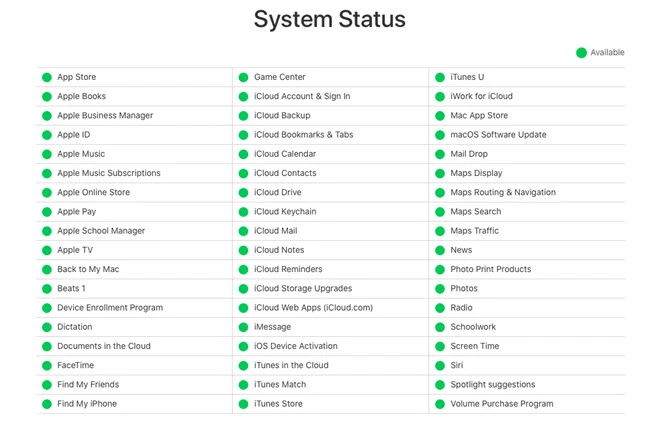 6. Restart Your iPhone
Restarting your iPhone helps to solve a variety of unknown issues that you encounter on the device. It may also help you to solve the problem with iMessage.
To restart your iPhone, tap and hold the volume down and side buttons to bring the slider to the newer iPhone. You will just need to press the side button on the older iPhone devices.
Once the slider occurs, drag it from left to right. This will turn off your iPhone, and you can turn it again after a while by pressing the side button.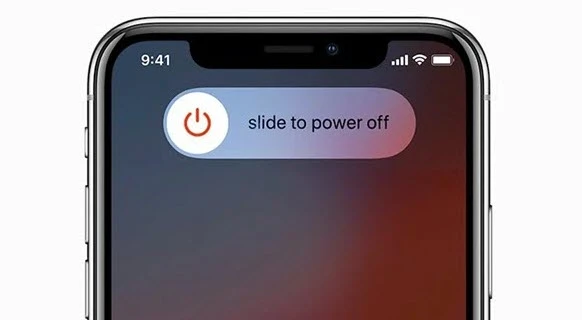 7. Delete Stuck Message or Conversation
Removing the failed and unsent messages from the conversation can sometimes solve the issue and let you send new messages successfully. Here is how to do this:
Open the Messages app on your iPhone and then open Conversation.
Tap and hold on to the failed message and then delete it.
Now you can create a new message and try to send it.
8. Sign Out & Sign In iMessage Account
Signing out and then signing in iMessage again helped some users to solve the problem. You can also consider trying it. Here is what to do:
Open Settings. Now find and open Messages, then go to Send and Receive tab.
Under the ''You can receive messages to and reply from'' tab, uncheck the phone numbers and email addresses list.
Now press on the Apple ID on top of the display and then tap on Sign out. After signing out, restart the iPhone.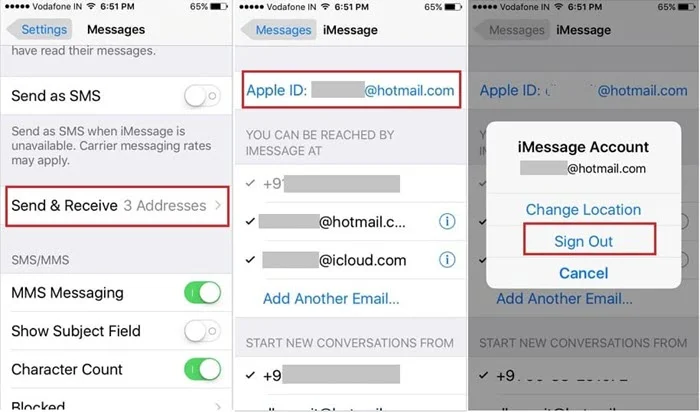 When the iPhone turns on again, sign in to the account. You will find a popup "use the Apple ID for iMessage?". Just press Sign in and enter the login credentials.
9. Reset Network Settings
If none of the above solutions work, try resetting network settings. Here is how to do this: Open Settings on iPhone and press General. Find and press on Reset, then select Reset Network Settings and proceed.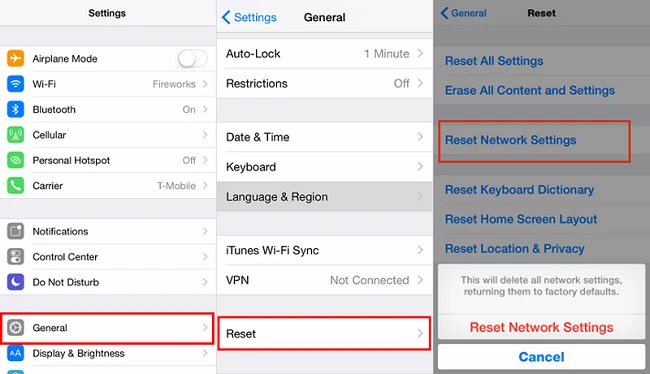 10. Send As SMS Instead of iMessage
This is not a fix, but it lets you send the message successfully. So, what you need to do is to use the regular SMS instead of iMessage. By doing so, you can keep the communication while fixing the issue.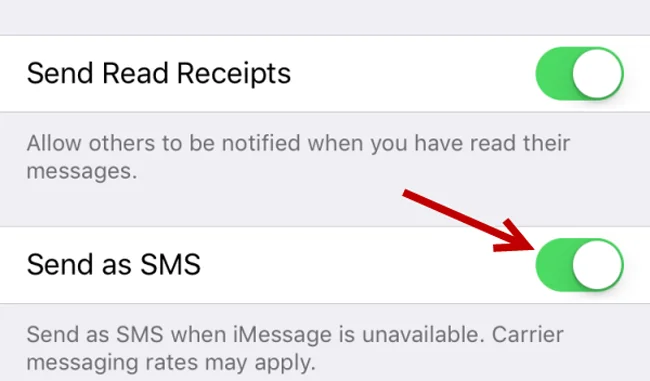 11. Update iOS to Latest Version
Using an outdated iOS version can cause a lot of issues like this. Consider updating your iPhone to the latest iOS version.
To update your OS, open General under Settings. Find and press on Software Update to update to the latest available version.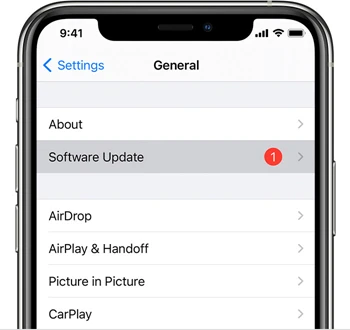 12. Reset iPhone to Factory Settings (Data Loss)
If you are still unable to fix the issue, then your last resort will be factory resetting your iPhone. Note that it will eradicate all data, including media files, contacts, apps, etc. We strongly recommend you back up your iPhone before doing this. After backing up, follow these steps:
Open Settings and go to General.
Find Reset and Press on Erase All Content and Settings.
Confirm the action and enter your password if needed.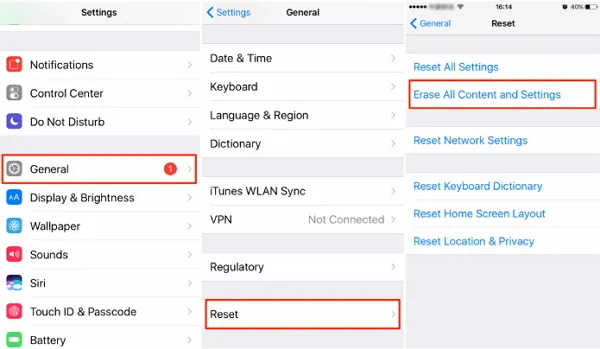 13. Best Way to Fix iMessage Needs to Be Enabled
Well, there is another way to fix this issue without losing any data on your iPhone. This can be done by using FoneGeek iOS System Recovery, a well-designed and efficient tool that can solve hundreds of system issues on iPhone and iPad devices. It is easy to use and works effectively in most cases.
You can consider using the FoneGeek iOS System Recovery tool for fixing the iMessages need to be enabled. Here is what you need to do:
Step 1. Install and run the FoneGeek iOS System Recovery on your PC. Select Standard mode on the app. Connect the iPhone device via USB to the computer.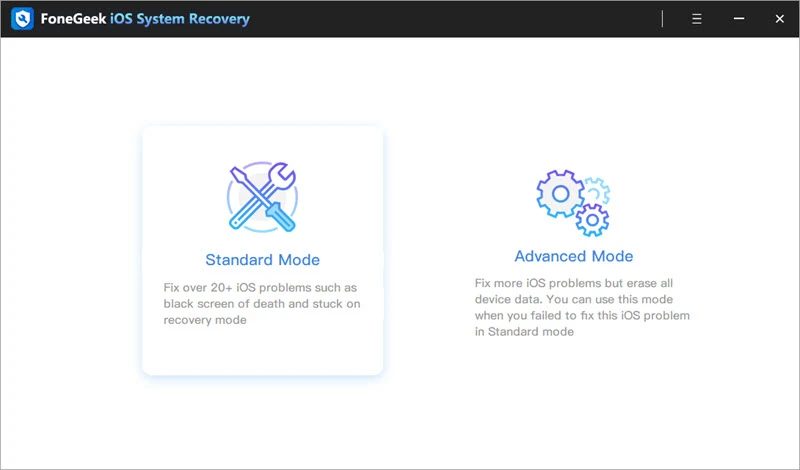 Step 2. Press Next on the iPhone display if it is running on iOS 12 or later. If the device is not detected, follow the on-screen guide to boot it to Recovery/DFU mode.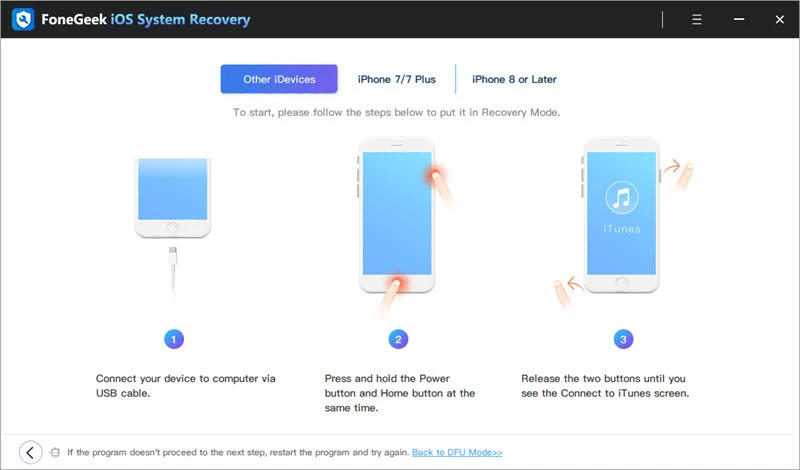 Step 3. Select the firmware version and press Download. Once the download is complete, press 'Fix Now' to start fixing the iOS device. If you have done everything correctly, the problem should be fixed now.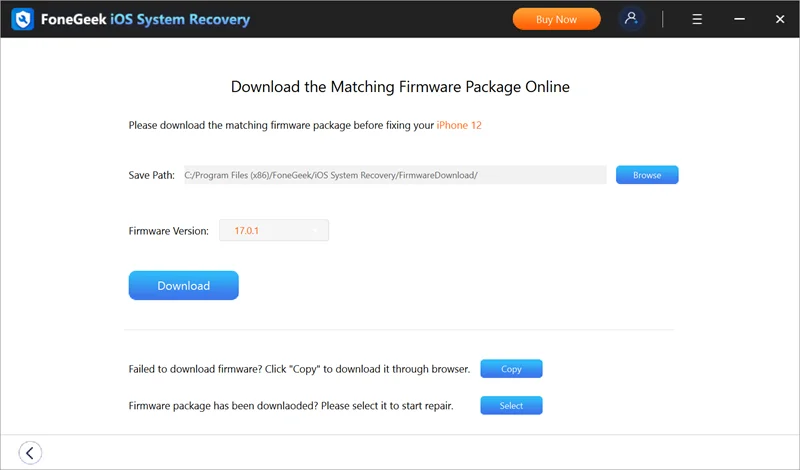 Recommend: Back Up Your iMessages on iPhone
If you often send and receive important messages, you should create a backup to preserve them safely. There are many ways to back up the iMessages, but we will recommend FoneGeek iOS Backup & Restore, a professional backup tool that can help you backup the messages. You can also restore iMessages from backup to your iPhone with it. The backup tool is straightforward to use and perfect for anyone.
The Bottom Line
We hope that you have fixed the ''iMessage needs to be enabled to send this message'' after trying the mentioned solutions. Make sure to try the FoneGeek iOS System Recovery if you cannot solve it following the other fixes. It is a safe and efficient way to solve any system error, including the iMessage error. Happy texting!