Users of the iPhone and iPad have likely seen a wide range of iOS issues, from a frozen screen to the device won't turn on. If these problems aren't fixed properly, they could result in data loss. In this case, you can turn to iMobie AnyFix, a safe and legit iOS system recovery tool that can fix a series of iOS problems without wiping any data.
In this iMobie AnyFix review, we'll discuss all you need to know about the tool, including its pricing, pros & cons, how to use it to fix common iOS problems. To give our readers a full picture of their possibilities for resolving iOS-related issues, we will also present an alternative solution that worthy to try. Keep reading and find out.
What is iMobie AnyFix?
Whether it's something as minor as the iPhone not charging or as terrifying as being stuck on the Apple Logo for hours, iMobie AnyFix is a software toolkit that can help you fix it easily and quickly.
Around 330 issues specific to the iPhone, iPad, iTunes, and Apple TV can be handled by this comprehensive recovery program. What makes it stand out is how it tackles issues, with easy fixes for minor issues and more problematic action for more serious ones.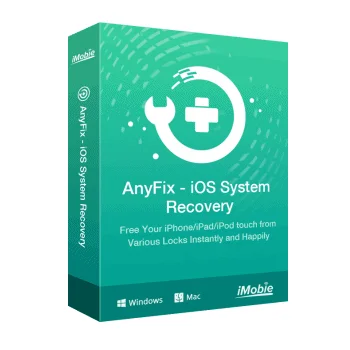 It requires little in the way of technological know-how, so practically anyone may use it. A few clicks are all it takes to fix your iPhone or iPad. AnyFix provides three recovery modes:
Standard Repair
Most AnyFix users prefer Standard Repair, which fixes the most common issues with your Apple device, such as drained battery, difficulty charging, etc. These problems are resolved without any data getting lost.
Advanced Repair
Advanced Repair is for iPhone/iPad with more severe system problems, such as being stuck on the Apple logo, refusing to update, or failing to restart. But, this repair approach will cause you to lose all the data. Hence, before relying on it, make sure you have a backup copy.
Ultimate Repair
AnyFix's last resort is Ultimate Repair, which is only used if Standard Repair and Advanced Repair both have failed. More serious problems, including a frozen device or a stuck black/white/blue screen, can be addressed by selecting this option. It will put your dead phone back to life but also delete all of your data.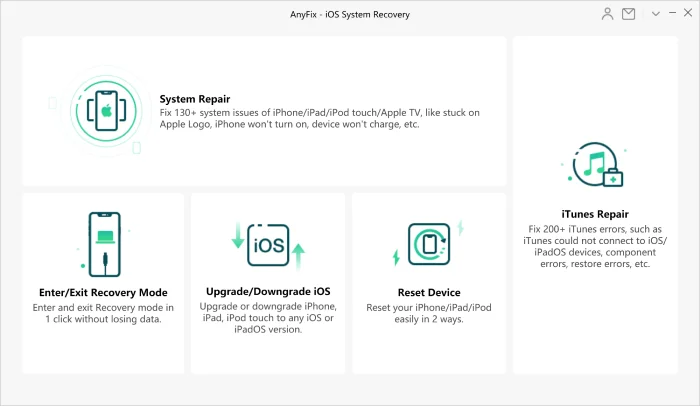 Is AnyFix Free to Use?
The answer to this question is No. AnyFix provides users with three free features: Enter Recovery Mode, Upgrade iOS, and 1-Click Reset Device. In other words, you have to pay for the remaining functions.
iMobie provides AnyFix in both a free and paid premium edition. You can get either one as a free download on your PC or Mac. You can use AnyFix for free up to a certain point, but if you want access to all of its features, you'll need to purchase the complete version.
The following are the three plans:
The $35.99 three-month subscription allows for use on a single device and a single computer installation.
The one-year plan is available for $39.99, which allows for use on one device and installation on one PC.
Lifetime Plan (one-time payment of $59.99) allows simultaneous use on five devices and one PC installation.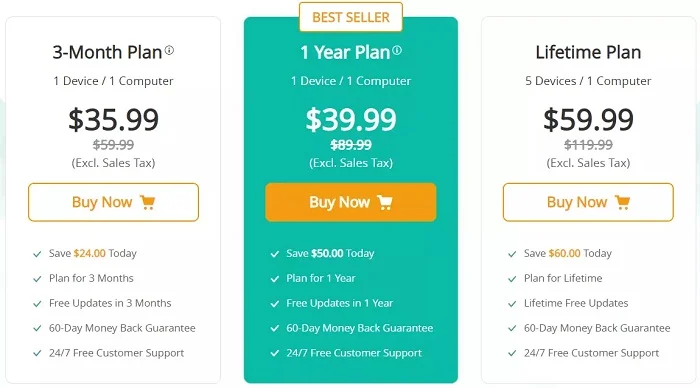 Pros & Cons of iMobie AnyFix
Pros
Fixing your Apple device has never been simpler, and you don't need any technical knowledge to utilize AnyFix.
You can use AnyFix on your PC or Mac computer and with any Apple device you own, including your iPhone, Apple TV, iPad, and iPod touch.
Available in three reasonable plans, including a lifetime plan that is an excellent deal.
Provides a multitude of features in addition to system repair. It can enter recovery mode on an iPhone, wipe all data and settings, restore the device to factory settings, update or downgrade iOS, and fix iTunes issues.
The system can be repaired in stages, so you don't have to worry about losing data if it's only a minor issue.
Comes with a 60-day money-back guarantee so that you can buy without risk.
Cons
The free edition has fewer features than the premium one.
Only the standard repair mode is data-safe.
How to Use AnyFix to Repair Your iPhone
Any problem with iOS can be quickly and easily fixed by using AnyFix. The following is a list of steps to follow:
Download and install the AnyFix software and choose System Repair from the menu.
Click Start Now under 50+ iPhone Issues. Then, based on the nature of your problem, select the Mode you want to apply.
Click the Download button when prompted by AnyFix to save the firmware to your computer.
Choose Fix Now after the download is complete. Follow the on-screen instructions and allow AnyFix to perform its magic.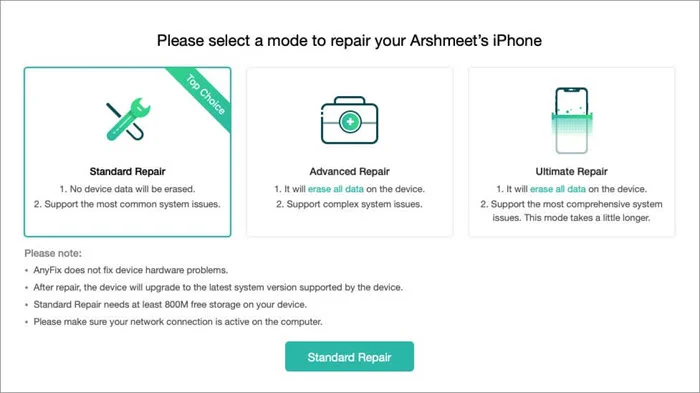 FAQs about iMobie AnyFix
Is AnyFix Safe & Legit?
The answer is Yes. AnyFix is completely safe to use. iMobie is an Apple and Microsoft Certified Developer, guaranteeing their products are safe and secure. You may rest assured that AnyFix is legitimate because it provides a 60-day money-back guarantee and round-the-clock technical help for an entire year.
Does AnyFix Work?
Indeed, iMobie AnyFix is an effective tool for resolving iOS-related issues, such as stuck on blank screen, endless boot loops, and device frozen/disabled. And you won't have to worry about losing your data during the standard repair procedure.
Can I Trust AnyFix?
Yes, you can trust iMobie AnyFix to resolve different issues on your iOS device. First, iMobie, the developers of AnyFix, have been in the iOS industry for over a decade, offering solutions for system recovery, data recovery, and data transfer.
On a second point, over 100,000 customers have successfully used AnyFix to restore their iOS devices to normality, indicating the software's reliability.
Can AnyFix Downgrade iOS?
iMobie AnyFix is capable of reverting iPhone/iPad back to a previous version of iOS. Those who encounter problems after upgrading to the most recent iOS version can take advantage of this function to revert to an earlier, more stable iOS version.
Best AnyFix iOS System Repair Alternative
After explaining what AnyFix is and how it works, it's important to evaluate it against other iDevice repair tools like FoneGeek iOS System Recovery. The second is often recognized as the top system recovery app for iOS. It fixes the phone with no negative effects and is compatible with the newest versions of iOS.
FoneGeek iOS System Recovery is the superior option to AnyFix when contrasting the two in terms of cost and features. To use this tool, follow these steps:
Step 1: Connect your iPhone to your computer, then launch FoneGeek iOS System Recovery and tap the "Standard Repair" button to begin fixing iOS system faults.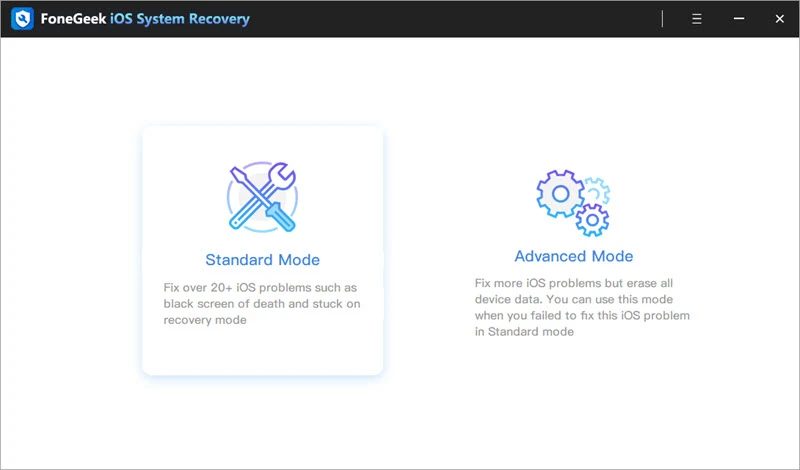 Step 2: Then, the software will recognize your iPhone model and display the appropriate Firmware package. Choose a matching one and click the "Download" button.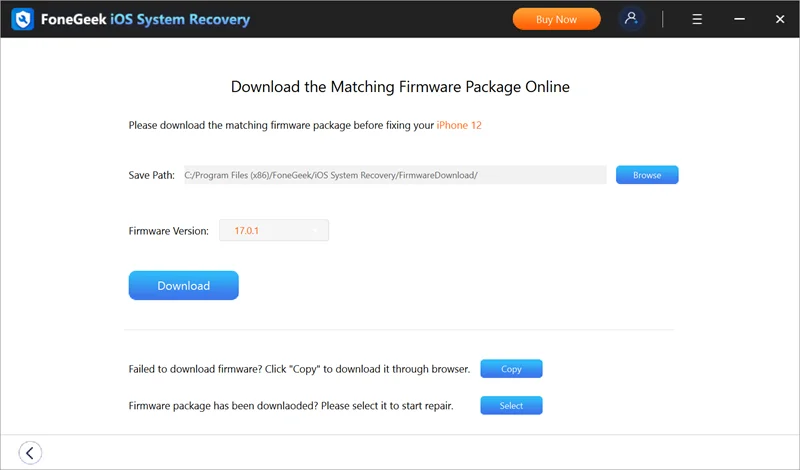 Step 3: After downloading the firmware, select "Fix Now" and wait for the program to finish repairing. Once it is done, your iPhone will restart normally.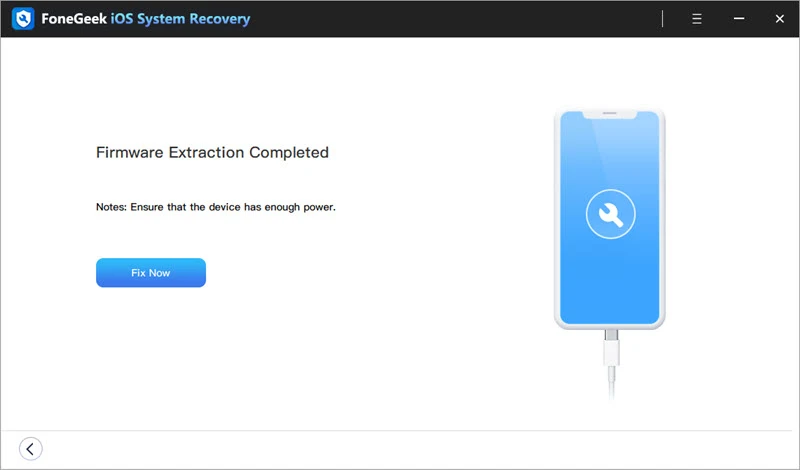 AnyFix VS. FoneGeek - Which One Should You Use?
FoneGeek iOS System Recovery is the better option over AnyFix because of its superior combination of functionality, affordability, and usability. Thousands of people have used this incredible program to fix their iPhones and iPads without data loss.
It works with the vast majority of iPhone models, even the newest iPhone 15/14 running on iOS 17/16. And thank the FoneGeek engineers for continuously updating this iOS System Recovery software to fulfill the demands and requirements of the users.
Conclusion
This article has offered a breakdown of the pros and cons of AnyFix's various features. Furthermore, it contrasted AnyFix with FoneGeek iOS System Recovery. Both programs have their strengths and weaknesses, but most Apple users go for FoneGeek iOS System Recovery because of its ease of use and impressive track record of success. Download it and have a try.