Imagine that you miss some important notifications on your Instagram account because you are not getting notifications on iPhone. This could be frustrating if you are the person who uses Instagram a lot, but you do not have to worry about that. We have full solutions to this problem for you. To solve the problem of Instagram notifications not working on iPhone, learn the solutions below.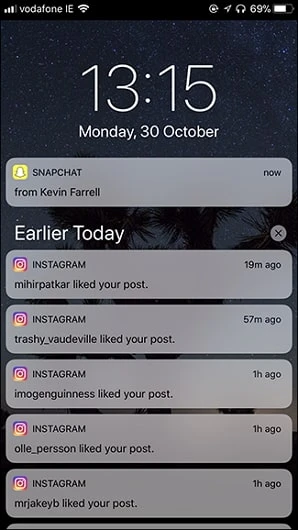 1. Turn On Instagram Notifications on iPhone
One of reason why you are facing the problem of Instagram notification not working on iPhone is that you have turned it off inadvertently. Simply correct this by heading to Settings and turning it back on.
Step 1: Open Settings on your iPhone and tap "Notifications", and then "Instagram".
Step 2: Turn on the toggle switch beside "Allow Notifications", and turn on the "Show on Lock Screen" option.
Step 3: Change the default notification sound to any sound you prefer.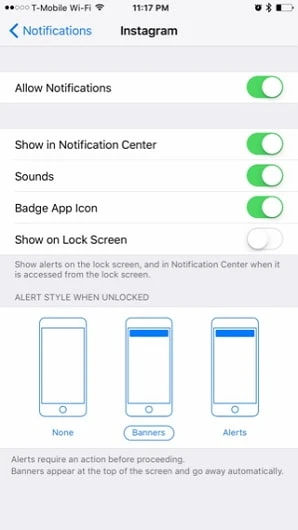 2. Log Out from Instagram Account
Don't be discouraged if above methods don't actually work. You can try other methods to get Instagram notification, such as logout from your Instagram account:
Open up the Instagram app and click on the three-bar icon on the top right corner of the profile screen.

Click on Settings and select "Log Out" to log out from your account.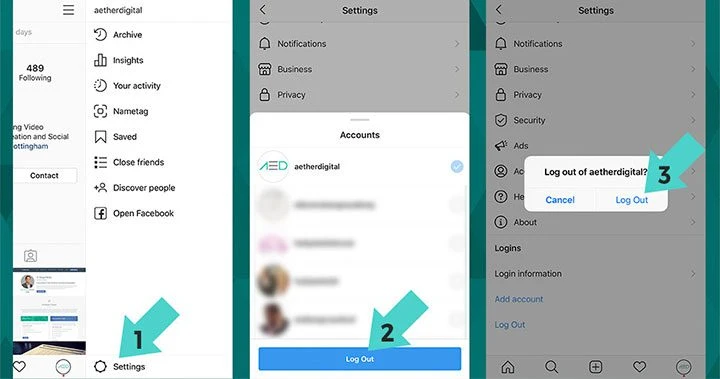 3. Clear Cache Data on Instagram
Another reason could be the corrupted data of Instagram. Cache data is used to keep the user information for furthur task. However, this may affect the Instagram notification if the cache data is broken. To address this issue, you can clear the cache data:
Click on Settings app on iPhone and find General option.

Tap on "General" and "iPhone Storage".

After the storage data are loaded, scroll down to select "Instagram" and click on "Delete App".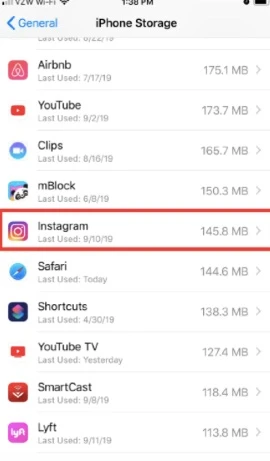 This could delete all the cache data on this app.
4. Update the Instagram App
This message notification problem could also be the inbuilt bug of Instagram app. So you can try to update this app.
Click on App Store.

Hit on the account icon in the top right corner.

Find Instagram app and click on "Update".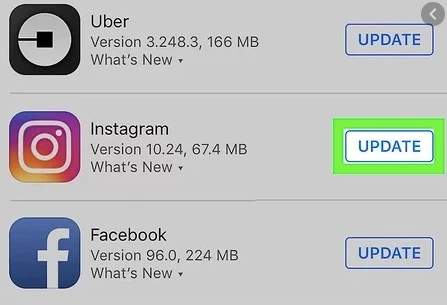 5. Reinstall the Instagram App and Enable Notification
If the method in (2) above does not work and you are still not getting Instagram notifications on iPhone, another thing you can do is delete the Instagram application and reinstall it.
Once the installation process is complete, you will get a prompt asking if you would like to turn on notifications for Instagram. Tap "Allow" to turn on notifications.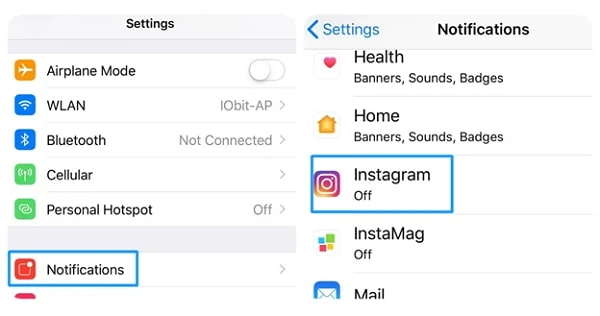 6. Turn Off Do Not Disturb
Do not Disturb is a feature on iPhone that turns off all notifications and this could be the reason for Instagram notifications not working. Check if Do Not Disturb is on and if yes, check out the steps to turn it off below:
Step 1: Open Settings on your iPhone.
Step 2: Tap Do Not Disturb and turn off the toggle switch manually. After doing this, you should start getting Instagram notifications on your iPhone.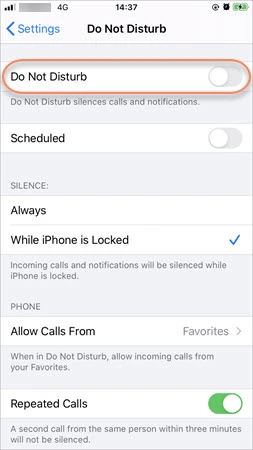 7. Restart Your iPhone
This is about the first and the easiest tricks that anybody will try if their iPhone is not performing as expected.
Step 1. To restart your iPhone, press and hold the power button for a few seconds until "Slide to Power Off" comes up on your screen.
Step 2. Use the slider to turn your iPhone off and wait for a minute or two. Turn the iPhone back on and check if your Instagram notification has started working.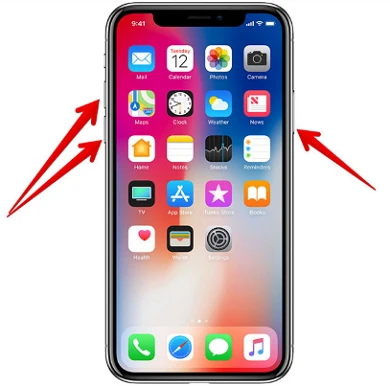 If it still does not work, check out method 2 below.
8. Reset Network Settings
The problem of not getting Instagram notification on iPhone could sometimes be as a result of your iPhone being disconnected from the internet. You need to check if your iPhone is connected to the internet or not, you can reset your iPhone's network settings to fix the problem. Below are the steps to follow:
Step 1: Open Settings and tap General.
Step 2: Tap Reset and then Reset Network Settings.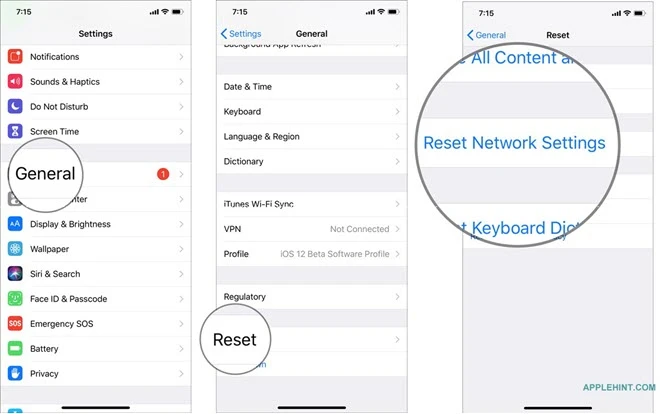 This is yet another simple method to fix the problem of Instagram notifications not working. If this does not work, check out the next step below.
9. Update iPhone System
Apple will regularlly releases new updates to fix small glitches and bugs on iPhone, including the Instagram notification error. To update the device system:
Open Settings app and click on General.

Click on Software Update and hit the Download and Install button if the update is available.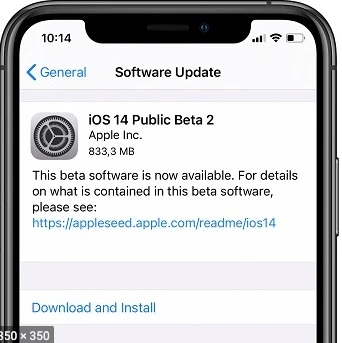 Bonus tip: How to Recover Deleted Instagram Photos from iPhone
Should you have any reasons to have the Instagram photos on your iPhone deleted, an effective tool to recover those deleted photos is FoneGeek iPhone Data Recovery. With this recovery tool, you can recover any deleted or lost data on your iPhone, iPad or iPod. It entails three major steps: Choose Recovery Mode; Scan and Preview Data; and Recover Data. FoneGeek iPhone Data Recovery supports all types of iPhone, iPad, and iPod including the latest series of these devices. To know how to use this tool to recover deleted Instagram photos from your iPhone, follow the steps below:
FoneGeek iPhone Data Recovery: Recover Data from iOS Devices (iOS 15 Supported)
Instantly recover photos, videos, contacts, text messages, call logs, WhatsApp messages & attachments, Viber chat history, notes, voice memos, etc. from iOS devices.
Recover data from dead/broken/disabled iPhone with or without backup.
Selectively recover data from iTunes and iCloud backup without reset or restore the iOS system.
Preview all deleted files for free with the free trial version before recovery.
Works for all models of iPhone, iPad and iPod touch even though they have been ungraded to the newest iOS 15.
Step 1: Download and install this recovery program on your PC or MacBook. Start it and choose the mode of "Recover Data from iOS Devices".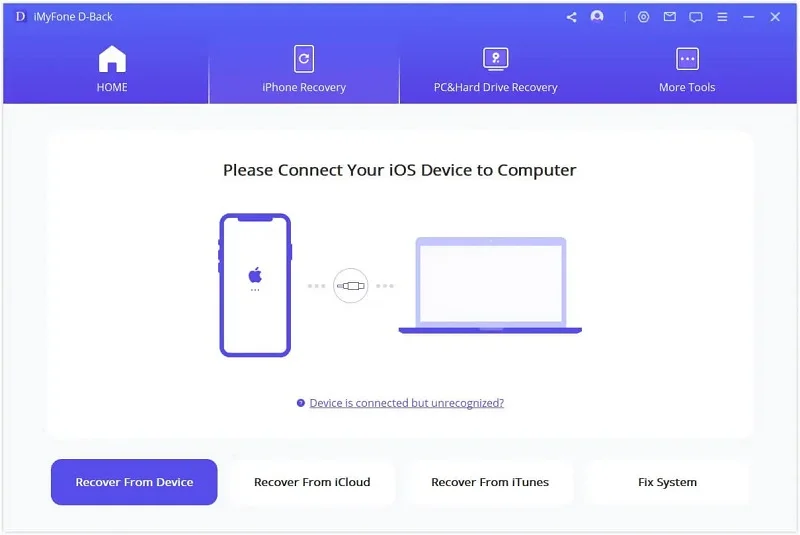 Step 2: Connect your iPhone to your PC or MacBook and click on "Trust". The program will automatically detect your iPhone.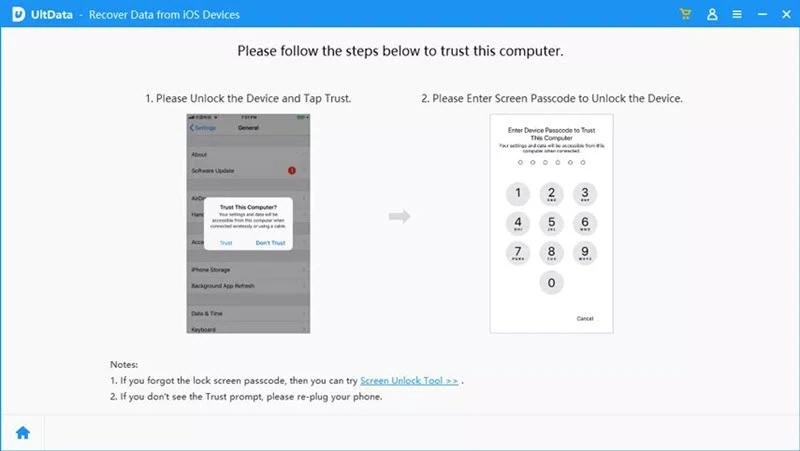 Step 3: You will be able to select the files you wish to recover. Click on "Start Scan", and the program will start scanning your iPhone for the deleted photos.
Step 4: Once the tool completes the scan, you will see all the files available for recovery on the screen. You should then click on each tab to check or preview the files. Select the ones you want to recover and click on "Recover".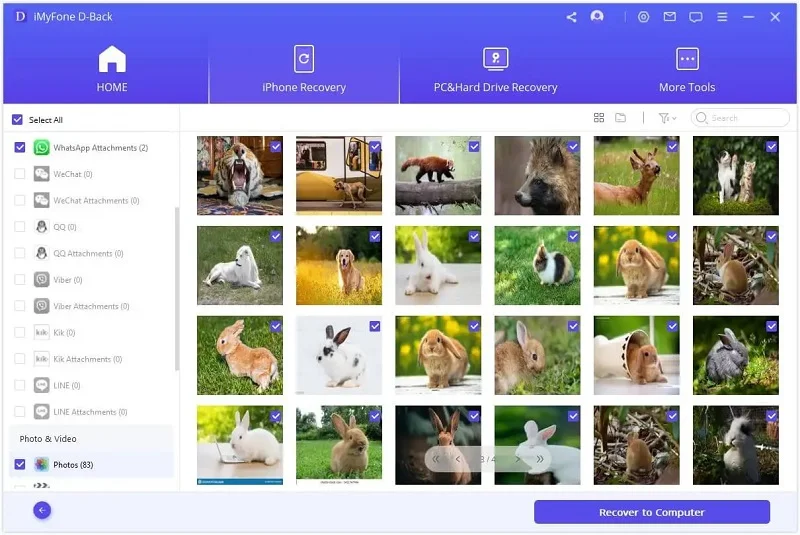 Step 5: A pop-up window will come up where you can choose the preferred location to save the recovered files. Recovery takes only a few minutes.
Conclusion
With all of the highlighted steps above, you can easily fix the problem of Instagram notifications not working without leaving the comfort of your home. You do not have to worry about not getting notifications on iPhone anymore, and you can enjoy using your Instagram and get all the necessary notifications promptly.
Also, if you lose your Instagram photos or other data and you would like to recover them, we have treated that too at some point in the article. We have also recommended out best photo recovery software FoneGeek iPhone Data Recovery tool to help you recover your deleted photos. Download and install the software today on your PC or MacBook and never have to worry about deleted files and pictures.

As a professional writer who is interested in technology, Edwin J. Parke has helped thousands of users by offering various tips to solve their problems.

Home
>
iPhone Issues
>[Solved] 9 Ways to Fix Instagram Notifications Not Working on iPhone