Duplicate Detection is one of the new Photos features that iOS 16 offers. It's quite useful as it helps you to find and remove duplicated photos on your iPhone. However, it hasn't been smooth sailing with this feature.
Many iPhone users have been complaining of iOS 16 duplicate photos not showing on their devices. If you're also in a similar situation and you're wary about how you can fix it, then you'll find this post helpful. Let's start!
Why Are Duplicate Photos Not Showing in iOS 16?
The duplicate photos not showing on iPhone issue can occur due to several factors. However, there's no need for alarm because the cause behind it is usually not that serious. Here are some common factors that could cause the issue:
Delay in detecting duplicate photos - this is often the problem. The newly downloaded OS may still be scanning your device hence taking too long to detect and display the duplicate photos.
Probably there aren't any duplicate photos on the device since you already merged them.
A software bug could also be the reason for the duplicate photos not showing up.
Regardless of the cause, here are the methods to fix the issue right away.
Basic Ways To Solving 'iOS 16 Duplicate Photos Not Showing'
Charge Your iPhone, Then Give It Some Time
You may experience this photo issue when your iPhone doesn't have sufficient power because it takes a while for a new iOS to detect and show duplicate photos. So, if your iPhone power is low, charge it by plugging it directly into an AC outlet. While it's charging, wait for around 10 to 30 minutes and then check again to confirm if you can now see the duplicate photos.
Create Duplicate Photos Manually
iOS 16 offers another feature that lets you easily duplicate photos. Therefore, you can also use it to ensure there are duplicate photos on your device. Just follow these steps:
Launch Photos app and choose a picture.
Tap on 'Share' button and select the Duplicate option.
Now repeat the process again to create other duplicates.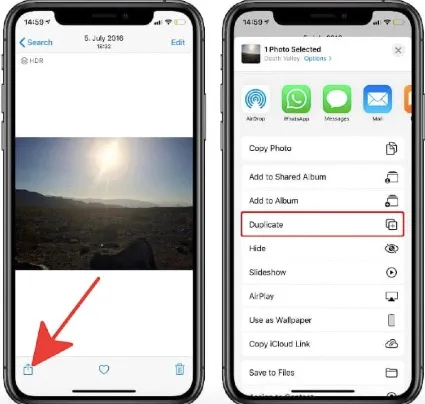 Tip: Head to Albums and navigate to Utilities. Check if the Duplicates folder is available.
Note: Due to image indexing, it will take several hours to detect and show photos duplicated manually. Therefore, check back after a while to see if the new Duplicates album shows up.
Check the Duplicates Filter
The Duplicate Detection feature can be set to detect identical photos and videos. You may have mistakenly set it to detect identical videos but there are actually no duplicate clips on your iPhone. If that's the case, then it won't show duplicate photos hence you'll end up with the duplicate photos not showing up problem.
So, open the Duplicates album, go to the three-dots icon and tap it. Select the Filter option to check if the settings are actually correct.
Connect to a Separate Network
Another viable solution you can try is to connect your iPhone to another network.
Open Settings and click on Wi-Fi.
Click the 'i' icon near the conntected Wifi name and tap on 'Forget This Network'.
Then choose another stable network and connect to it.
Now check to see if the issue is resolved.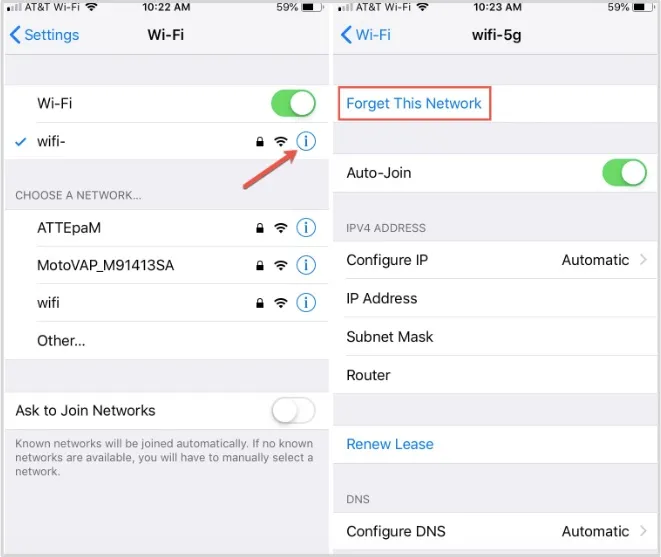 Check if Duplicates Detection Feature is Region Restricted
Well, there isn't any reference that Apple actually restricts the iOS 16 Duplicate Detection feature in any country or region. However, we only tested the Duplicate feature in the U.S.
The truth is, this problem seems to affect iPhone users worldwide. What we've learned though is that the Photos app needs some time to index all the photos and also detect Duplicates.
Therefore, give it around 24 hours and then check for the Duplicates folder. It may just show up without you taking any action. If you're still missing the duplicates, you can let Apple know your region and also if you updated your iOS 15 or iOS beta version to iOS 16.
Give It Some More Time
Once you upgrade to the new iOS 16, your device will immediately start to scan the photo library to identify all duplicates. The Duplicates folder won't show up until the iPhone actually finds identical photos or videos. In case the photo library is very large, you'll need to be patient because it may take quite a long time to finish the task.
If the settings are correct and you're certain that you've got duplicate photos, then just wait a day or two and the duplicate photos iOS 16 not showing issue should be fixed.
Fix All iOS 16 Issues Using FoneGeek iOS System Recovery
If you don't want to wait that long and want to fix this problem right away, then the best solution is to use an iOS system repair tool. We recommend FoneGeek iOS System Recovery.
This top-notch software can easily fix any issue your Apple device may be experiencing. It doesn't matter if the issue is Duplicate photos not showing or something else, the FoneGeek iOS System Recovery will effortlessly handle it within just a few minutes. This is the reason why it's very popular among many Apple users. The broad range of features makes it also even more appealing. Let's check them out.
Fix over 200 different iOS issues like duplicate photos not showing, reboot loop, Apple logo, etc. without data loss.
Only a single click to enter or exit the Recovery mode on iPhone or iPad.
Downgrade from the iOS 16 version without using iTunes.
Reset iPhone, iPad, iPod Touch without using iTunes/Finder/password.
Works with every iPhone model (even iPhone 14 series) and iOS version (even iOS 16).
How to solve the duplicate photos iOS 16 not showing issue through FoneGeek iOS System Recovery.
Install and run the software once you install it onto your computer. From there, click on the "Standard Mode" option to continue.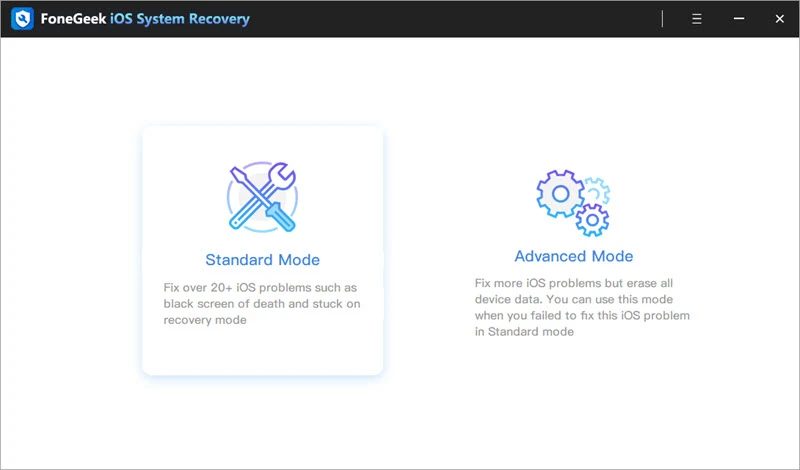 Next, connect the updated iPhone to the computer using a USB cable. When the iPhone gets detected, just click the "Next" button.
Before starting the repair process, you have to download a firmware package that's ideal for your device. You can do this by clicking the "Download" button.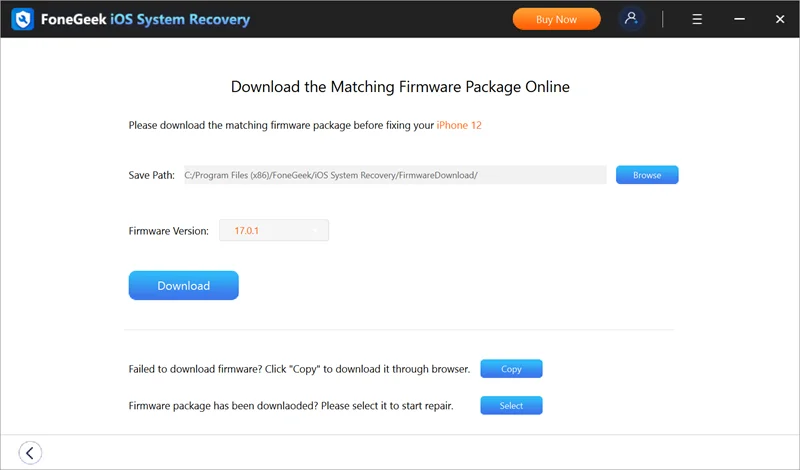 After successfully downloading your firmware package, you can now click the "Fix Now" option to fix this iOS duplicate photos not showing issue. The process will take several minutes, so wait until it's done.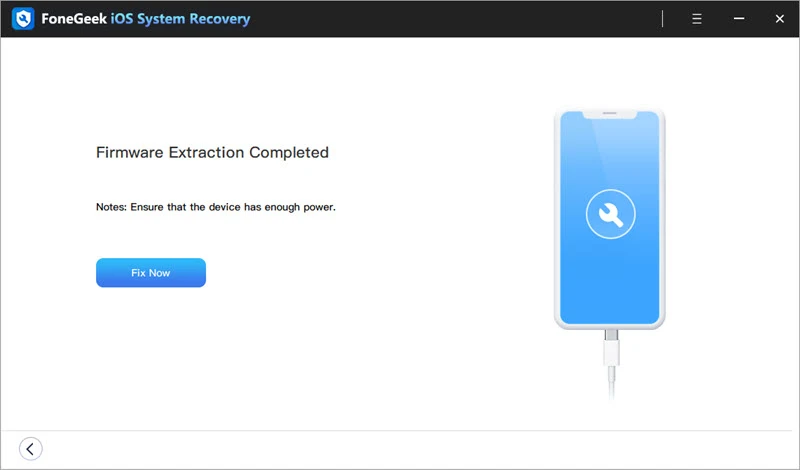 FAQs About iOS 16 Duplicate Photos
Where Are Duplication Folders Located On iOS 16?
Well, you can find the Duplication folders in the iOS 16 Photos App. It's quite easy to find its exact location. You just go to your iPhone and launch the Photos App. In the app, open the Albums option and scroll down to the Utilities section where you'll see the Duplicate folder. In case you don't find it there, then there's certainly an issue with it which is what we've been discussing in this article.
How Can I Detect Duplicate Photos on My iPhone?
It's pretty easy to delete Duplicated Photos on any iOS 16 iPhone. Here are steps on how to do it:
Open Photos and go to Albums.
Scroll to Utilities.
Next, tap the Duplicate folder.
Now you can view all duplicate photos on the iPhone. Select Merge in order to delete the unnecessary extra images.
How Can I Merge Duplicate Photos On iOS 16?
Follow these simple steps to merge the Duplicate photos on iOS 16:
Launch the Photos App and open the Albums option.
Navigate down to Utilities.
Open Duplicate and then tap the Select option (upper right corner).
Select the files/photos you wish to merge. Once you do that, tap the Merge option. That's all!
Conclusion
The above-listed solutions are able to effectively solve the iOS 16 Duplicate photos not showing issue without much fuss. However, if the basic methods don't work or in case you don't want to try all of them, we recommend you go straight to FoneGeek iOS System Recovery. Try it and you won't need any other method.