User Concern
"I cant get my iPad to turn back on... My charger doesn't seem to be giving it a charge as well. I have no clue what to do. Please help me."
iPad is a star product of Apple Inc. Great changes have taken place in people's life, so that these users are now inseparable from the iPad. And they will be very anxious when iPad won't turn on.
Do you also encounter such an issue of iPad won't turn on or stuck in black screen without any trouble? You don't have to worry about it, this article will tell you about all solutions that you can use to fix this iPad issue, so that you can use iPad normally.
Why iPad Won't Turn on
Actually, the issue of iPad cannot turn on occurs a lot especially after an iOS 15 upgrade. If you are having an issue of iPad won't turn on, you may need to know the reasons that result in this iPad issue. There are 2 main reasons leading to this problem:
Software problems: Any software errors on your iPad will prevent the device from turning on. Such as the system crash, unsuccessfully iOS update, etc.
Hardware problems: Hardware problems on any iPad or iPad devices will definitely affect the device system. And it might be a little difficultly to deal with hardware related issues.
How to Fix "iPad Won't Turn on" Issue
1. Check iPad Battery
For iPad users who have encountered this iPad won't turn on issue before, most of them said that they can't open the device after it has not been used for a while. Even if they plug it in the charger, they still can't turn it on. In addition, there are also many iPad users who forgot to turn off the iPad after using it at night. The next morning, the iPad will not boot.
In both of these 2 cases, the iPad may not be powered up due to insufficient battery power. However, many users also provide the feedback that the device still cannot be turned on after being plugged in the charger. For this situation, we need to charge for a period of time until the device power is returned to normal level before you can boot. You may try to turn it on again after charging for a few hours, and then you will find that you can boot the device successfully.
2. iPad is Water Damaged
In face, it is very common and unavoidable and damage your iPad by water. So if you're having trouble with your iPad, consider whether it is damaged by water, since any water ingress can damage your iPad's internal hardware. Unfortunately, if your device has water damaged, the device will not be covered by the 1-year Apple warranty.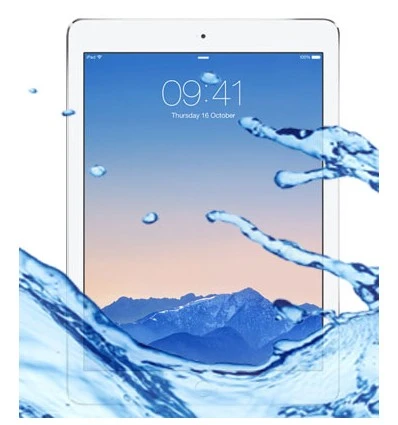 3. Check iPad USB Charger
If your iPad still won't turn on after trying the first method, then using one different USB cable and charger to charge the device.
If you suspect that there is something wrong with your own USB cable and device charger, you can use it to charge your friends or parents' iPhone or iPad and then ensure whether it is damaged. If their devices cannot be charged with your charger, then it means that your charger and usb cable is definitely not working. You can purchase a new one instead of using the old one.
On the other hand, if their devices can be successfully charged with your cable while your iPad cannot be charged, it may be that some unexpected problems may arise on your iPad rather than the USB charger.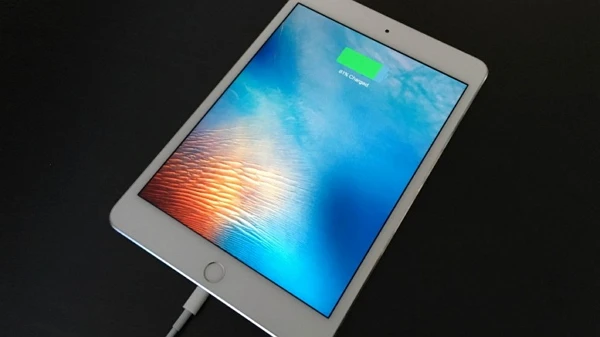 4. Hard Reset Your iPad
Many a time, your iPad won't turn on for software error. Thus one of the easiest ways to quickly turn on your iPad is by hard resetting it. Here are the simple steps.
Press and hold the Power button and home button at the same time until you see Apple logo displayed on the screen. You iPad will turn on as usual. Keep reading if the device still cannot be turned on.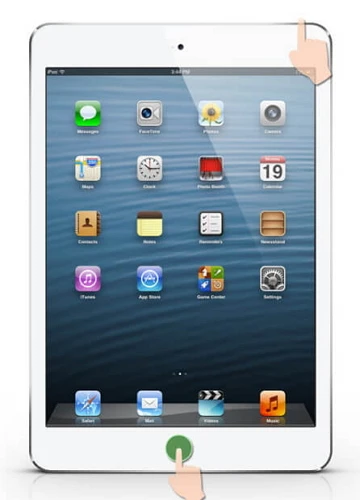 5. System Problem: Try Recovery Mode
Sometimes, the iPad can't be turned on problem is not the reason of low battery, but the iOS system hasn't been updated for a long time. So we suggest you regularly use iTunes to update or upgrade the system to optimize the performance of iPad and fix security vulnerabilities. The three steps to update iOS with iTunes are as follows:
Step 1. Connect your iPad to your computer using the original USB cable.
Step 2. Click iTunes app to launch it and click 'Check for Updates' button to upgrade your iPad iOS system to the latest version.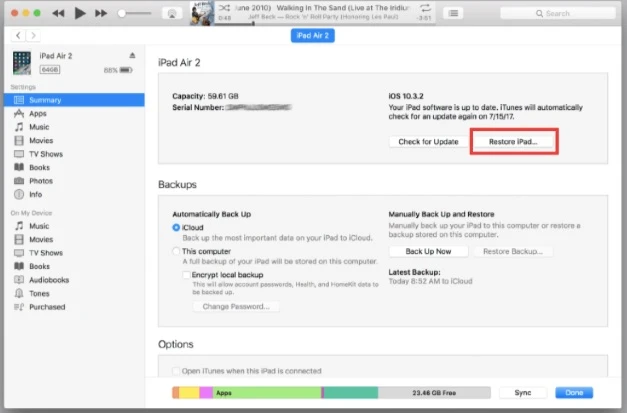 6. iPad is Stuck on Black Screen or Connect to iTunes Screen
There is also a situation where the iPad can reboot but the device cannot enter the system and is stuck on black screen or connect to iTunes interface, even a forced restart of the device still cannot settle this issue. In this case, it is necessary to use iTunes to put iPad into recovery mode to fix this iPad won't turn on issue.
Step 1. Connect your iPad to your computer and open iTunes.
Step 2. When the computer is connected to the iPad, press and hold the Home button and the Power button at the same time, do not release the button until you see the recovery mode screen.
Step 3. At this time, iTunes will display recovery or update option on your computer. Click "Update" and iTunes will reinstall the appropriate iOS version. This process will not erase the data on your iPad.
7. DFU Restore the iPad
DFU restore is said to be the in-depth restore of your iPad or iPhone.
When you choose to DFU restore the iPad, there will be something wrong since it is not the simple restore method that you reset your iPad as a new one.
It is very hard to explain what DFU restore is, but it is a straightforward method to carry out the iPad issues.

8. Fix iPad Won't Turn on Without Data Loss
If the 7 solutions listed above don't fix your issue and your iPad still won't turn on, then there might be somethings wrong with your iPad's iOS system. If you are having a system issue, you need to make a full backup of your iPad data first, delete the old iOS system and then reinstall the newest iOS version. However, after reinstalling the new system, all the data and settings will be wiped on your iPad.
If you don't want to lose the device data and setting, use FoneGeek iOS System Recovery to fix this iPad issue without data loss.
The procedures below will tell you how to use FoneGeek iOS System Recovery to fix this iPad issue:
Step 1. After downloading this FoneGeek iOS System Recovery on your windows or Mac, launching it and choose the  repair mode of 'Standard Mode'.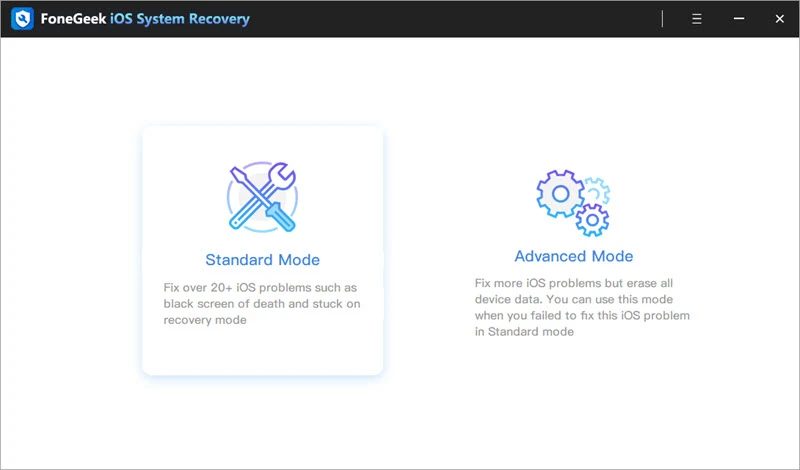 Step 2. You will get the prompt the connect your iPad to the computer, the click 'Start' button.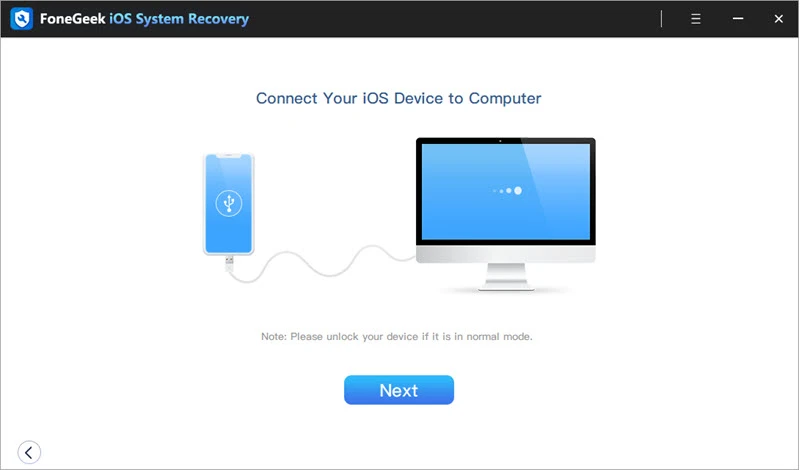 Step 3. After putting the iPad into DFU mode with the steps on the interface, you will be asked to choose the firmware version to download. The click 'Fix Now' to start the fixing process.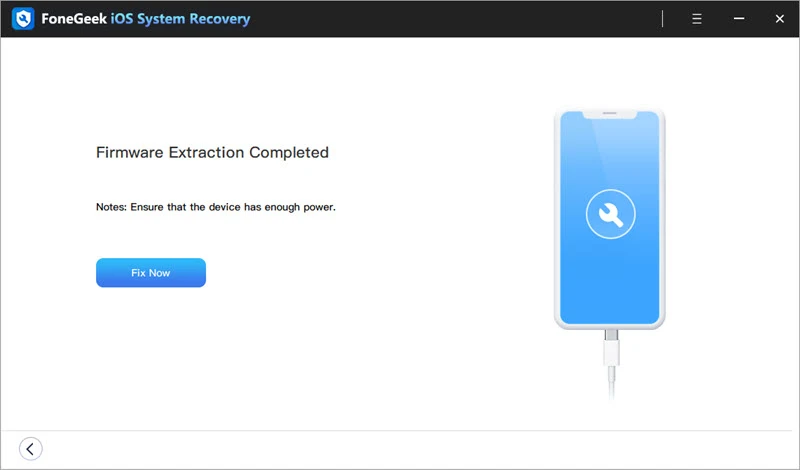 No one can guarantee that Apple products are perfect. So it is very common the have some issues on your iPone or iPad. If you are unfortunately having an issue of iPad won't turn on, try all the solutions in this post to fix the issues that you are encountering. highly recommended. It is by far the best solution in case of any software glitches you encounter while using an iOS device like iPad/iPhone.

Fay J. Melton has explored the area of technology and software for more than 5 years and he is enthusiastic about helping users solve various technology issues.

Home
>
iPhone Issues
>8 Tips to Fix iPad Won't Turn on after iOS 15 Upgrade