User Concern
"Since updating my iPhone to iOS 15 everything has gone down hill! The main apps that I use keep crashing when I open them up. I have tried everything that suggested it could fix this: restarted my iPhone, deleted the apps and installed them again, updated the apps, but nothing worked. What else can I do to fix this?" - from Apple Community
Many users have upgraded their devices to iOS 15 to enjoy new features and functions, however, they encountered different kinds of problems. Among all bugs and glitches, the apps keep crashing in iOS 15 is one of the most common one.
Are your iPhone apps crashing after iOS 15 update? You try to open your favorite apps, but as soon as you launch them, the apps crash. Don't panic. Read on this post and learn the troubleshooting tips to fix the iPhone apps keep crashing issue.
Tip 1. Reboot Your iPhone
Before trying any other measures, the first step to take when your iPhone apps keep crashing is to restart the device. I know it sounds pretty incredible, but it usually works.
Press and hold the side button and either volume button until "slide to power off" appears. For iPhone 8 or older, just hold the power button.

Drag the slider from left to right to turn off your iPhone.

Wait for 20 seconds or so and then turn your iPhone back on by holding the side button (iPhone X and newer) or the power button (iPhone 8 and older) until the Apple logo appears on the screen.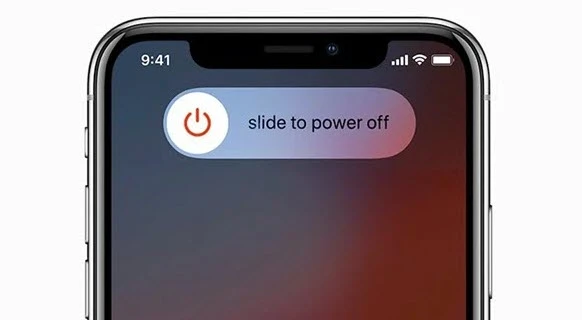 Once your iPhone has fully restarted, try opening an app and see if it works normally.
Tip 2. Quit and Restart the App
There is no guarantee that the first method always works. Sometimes the app crashes when you are using it without any symptoms. When an app freezes, crashes, and does not work as intended, you can force close the app and reopen it rather than reboot the device.
For iPhone X and later: Swipe up from the bottom of the Home screen and pause in the middle. Swipe right or left to find the app that you want to close. Then drag the app's preview card up to close it.

For iPhone 8 and earlier: Double-click the Home button to open the recently used apps. Swipe right or left to find the one you want to quit, then swipe up on the app's card to close it.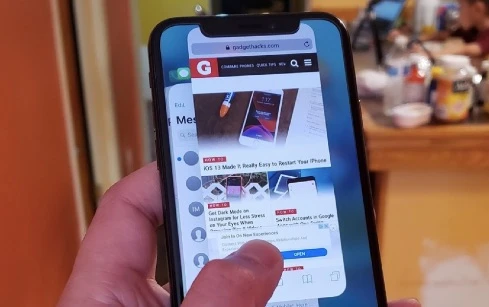 In most situations, doing this will fix the iPhone apps keep crashing issue. It it doesn't, proceed to the next solution.
Tip 3. Update Your Apps
App developers constantly update their applications to introduce new features and fix problems in previous versions. If the apps keep crashing on your iPhone, what you can try is to update your apps to the latest version.
On your iPhone, open the App Store and tap on your profile icon at the top of the screen.

Scroll down to find the apps with updates available.

Tap "Update" next to the app you want to update or tap "Update All" to update all of your iPhone apps.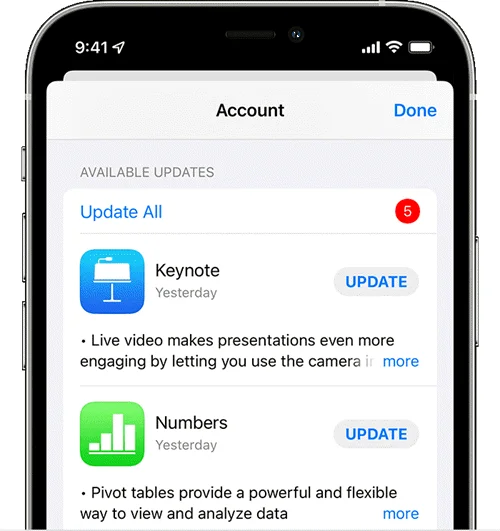 Tip 4. Reinstall the Problematic Apps
If updating your iPhone apps didn't resolve the crashing problem, your next solution is to delete and reinstall the problematic apps from the App Store. Here's how do it: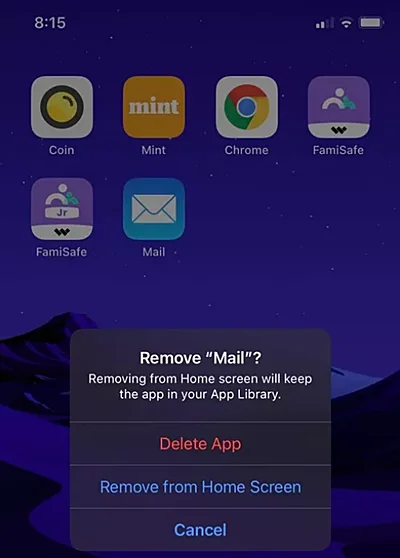 To reinstall the app: open the App Store and find the app you just deleted. Once you have found it, click the Cloud icon beside the app, the app will be soon downloaded and installed on your iPhone.
Tip 5. Free Up Storage Space on Your iPhone
The apps and data saved on your iPhone will also affect the normal operation of the device and cause the apps crashing issue, you can free up some space by removing some useless files.
The first thing you need to do is check how much space your iPhone have left. Go to Settings > General > iPhone Storage to check the available storage.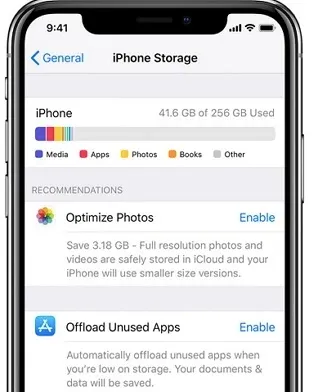 If your iPhone is low on stroage, you can easily free up some space by deleting unneeded apps, useless photos and videos from the device.
Tip 6. Update Your iPhone
Another possible reason why the apps keep crashing is your iPhone running an out-dated iOS version, which may not be compatible with the apps. So you can try to install the newest iOS 15 to check whether it is helpful to resolve this problem. Make sure that your iPhone is available with Wi-Fi network.
Open Settings and navigate to General > Software Update, your iPhone will automatically check the available update of iOS version.

Click Download & Install to upgrade your iPhone to the latest iOS version.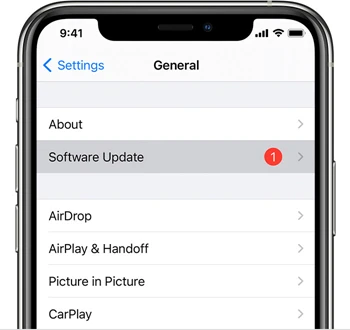 Tip 7. DFU Restore Your iPhone (Data Loss)
If your iPhone apps still keep crashing, a complete restore of the device might be necessary to fix the issue. You can perform a DUF restore to wipe both hardware and software settings of your iPhone. Please note that DFU restoring will erase all content and settings from your iPhone. so make sure to back up your important data before doing it.
Here we will show you how to DFU restore your iPhone 8 or later:
Connect your iPhone to the computer using a USB cable and open iTunes.

Next, quickly press he volume up button and let it go, then quickly press the volume down button and let it go, then press and hold the side button until the screen goes black.

When the screen turns black, press and hold the volume down button while continuing to hold the side button for 5 seconds.

After that, release the side button but keep pressing the volume down button unti your iPhone shows up in iTunes.

Release the volume button when your iPhone is in DUF mode. Then restore your iPhone using iTunes.

Tip 8. Fix iPhone Apps Keep Crashing without Data Loss
If you don't want to lose any data, you can use FoneGeek iOS System Recovery to fix the iPhone apps crashing issue. This professional iOS system repair tool can help you fix various iOS issues without losing data. It is very safe to use and is recommended by many famous tech experts like Filehorse, All PC Worlds, GetDroidTips, Lera Blog, Webku, TechTricksWorld, etc.
Here you can try to fix the iPhone apps keep crashing issue using the standard mode of FoneGeek iOS System Recovery, which will not delete or affect your data on the device. To get started, download and install this program on your computer.
Step 1. Launch the program after installing it on your computer. Connect your iPhone to computer via an USB cable and select "Standard Mode" from the main panel.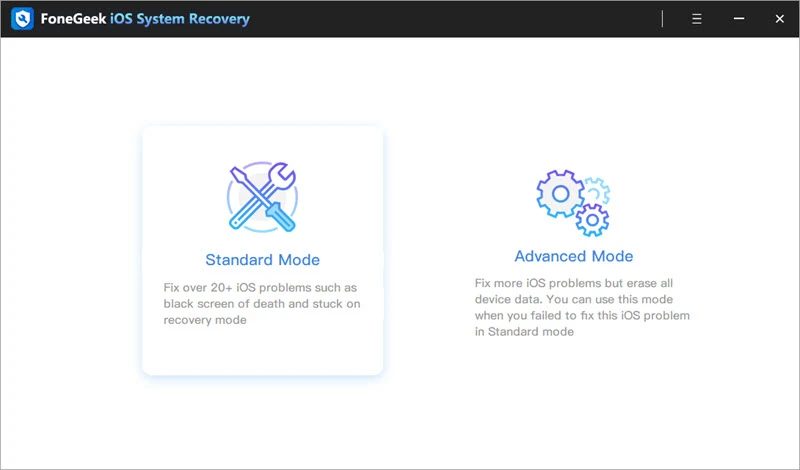 Step 2. When your device is successfully detected by the program, the device information will be displayed for you to check. You can choose the matching firmware and click on "Download".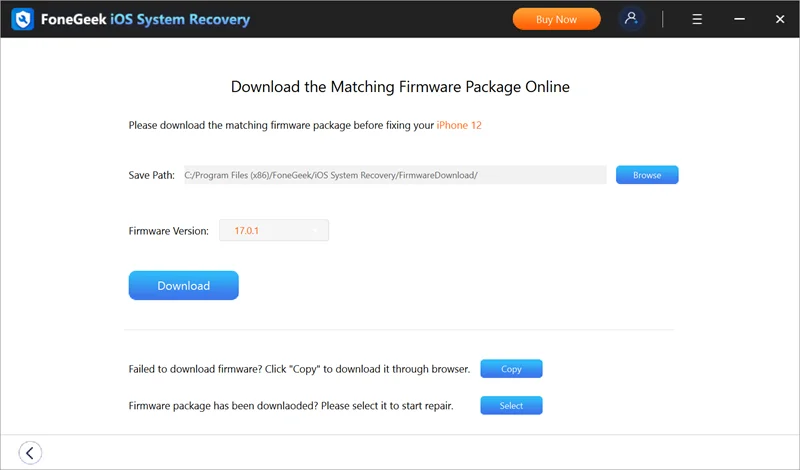 Step 3. Once the firmware is downloaded, click on the "Fix Now" button to start repairing the apps crashing issue. Once the repair is done, your iPhone will reboot and you can check whether the apps still crash.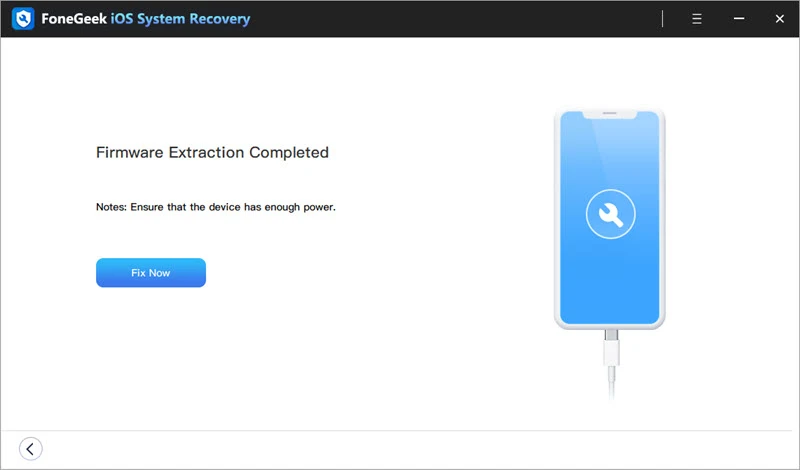 Tip 9. Contact App Developer
If you have tried everything that we've mentioned above but the apps still keep crashing on your iPhone, then you should contact the app developer for expert help. You can search the problematic app on your App Store and find the contact information in the app detail page. Try reporting the bug and you should get some useful feedback.

Joan J. Mims is interested in researching all tips about iPhone, iPad and Android. He loves to share useful ideas with all users.

Home
>
iPhone Issues
>iPhone Apps Keep Crashing in iOS 15? 9 Tips to Fix it