Having your iPhone apps stuck loading, updating, installing, or waiting after restore is enough to make you confused and frustrating. This can sometimes occur because there is an issue with the iOS or the hardware of the iPhone is damaged.
Some could also result from low or poor network connectivity during app installation, update, or restoration. Fortunately, in this situation, there are various ways to fix this issue.
Most people with this problem may have to get professional help to fix this issue, but before getting to that, check out the solutions listed below. One should definitely work for you.
Why Are My Apps Stuck on Loading on iPhone after Restore?
There are three main reasons why your iPhone apps stuck on waiting/loading after restore. These include;
Insufficient Memory: After restoring, your iPhone may be low on storage space. It would be best to free up space by deleting old pictures, music, and videos.
Poor Network Connection: A poor network connection could also cause your iPhone apps stuck on loading after restore. This is because other apps that could not be restored are trying to complete the restoration. Also, if an app is extremely large, about 1GB or more, it will take extra time, causing your iPhone apps to get stuck in loading.
System Compatibility: Another cause of why your iPhone apps won't load after restore is because an app may be incompatible with your current iOS or device.
How to Fix iPhone Apps Stuck on Loading/Waiting after Restore
Follow the tips and suggestions listed below, and you should be able to resolve the issue.
1. Check Your Network Connection
Unstable or no network connection can cause your iPhone apps stuck on loading or waiting after restore. Check out your internet access to ensure it is on and that the network connectivity is stable.
Turn off your WiFi or Cellular Data for a few seconds and turn it back on. You can also disconnect your internet connection by enabling the Airplane mode.
Go to Settings > Airplane Mode. Switch the button to on, wait for a few seconds and switch it back off.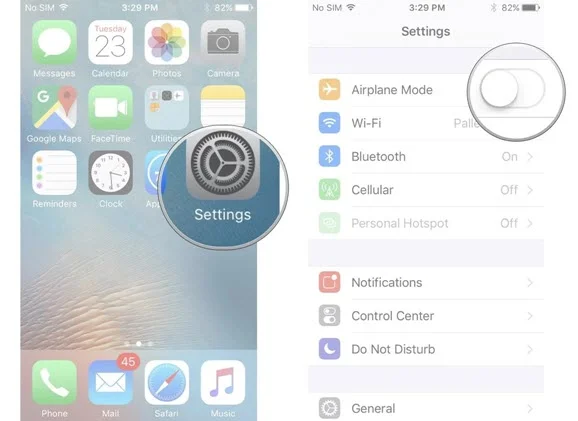 This will automatically reconnect your cellular or Wi-Fi connections if they are on. If not, after turning off the Airplane mode, turn on your cellular or Wi-Fi connections. The apps should load or give a progress indicator. If they're still stuck on loading, try other solutions.
2. Prioritize Download App on iPhone
One of the cool features on the iPhone for updating, downloading, and restoring apps is Prioritize. This feature prioritizes your apps for download or updates. To prioritize your downloads;
On your home screen, don't interrupt or stop any app at any stage, like installing, waiting, updating, or loading.
Search for the app icon you want to download and use first.
Keep holding the app icon until you see a list of options.
Select Prioritize Download and hold on for some time.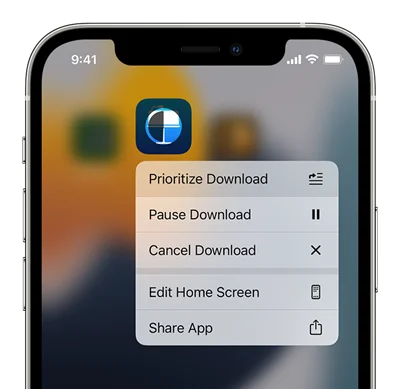 Once done, the selected app will be the first to be downloaded and installed on your iPhone.
3. Close Running Apps in the Background
It is common for people to have too many apps opened and running in the background, and this can slow down the iPhone and lead to apps stuck on loading after restoring the device. In such case, you can try to force colose all running apps;
Swipe up from the bottom of the screen for later iPhones (Double-click the Home button for old iPhones).
Swipe to find all the apps opened in your iPhone background and close them.
Once done, try to install or open the apps which got stuck on loading.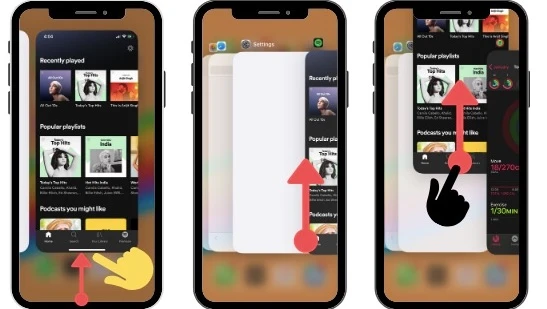 Generally, it is recommended to frequently close all running apps to fix any iPhone app issue.
4. Check iPhone Storage Space
Having a iPhone low on storage space can cause all your apps stuck on waiting after restore. Therefore, it's time to check out your iPhone free storage space.
Go to Settings > General > iPhone Storage, you will see the storage space remaining.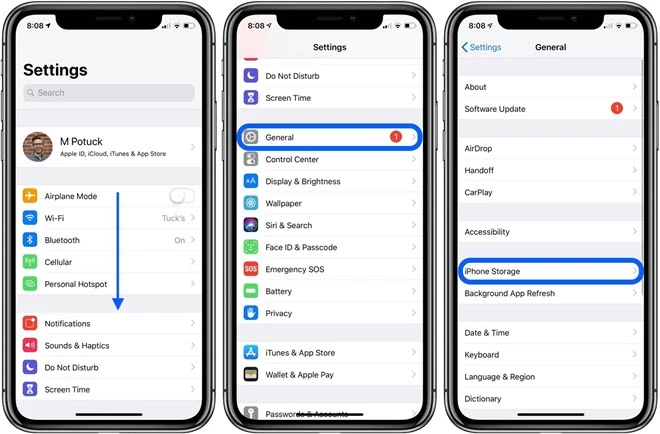 If it's not enough, follow the instructions and delete some apps to free up space. You can also back up some of your pictures and videos on your iCloud and delete them on iPhone.
5. Reinstall the App that Stuck on iPhone
Another easy way to solve the issue of iPhone apps stuck on loading after update or restore is to uninstall and reinstall the apps. In this way, you're able to delete the faulty application from your iPhone.
Go to Settings > General > iPhone Storage.
A list of apps will appear and select the app that gets stuck.
Click on Delete App and confirm from the pop-up.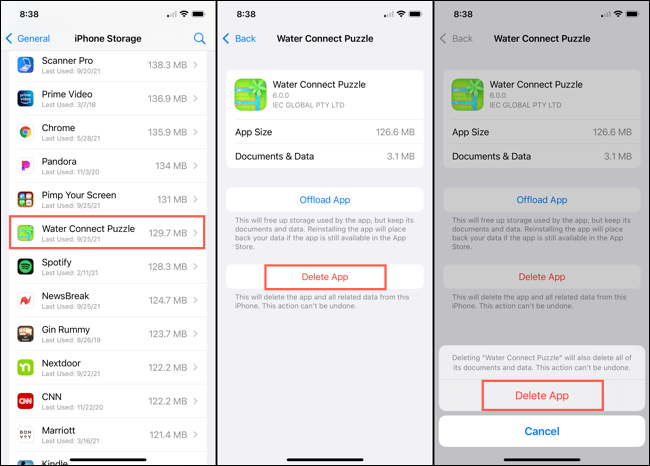 Once done, wait for a while and then go to your App Store to reinstall the app.
6. Sign Out App Store and Sing Back In
Signing out of your iPhone's App Store and signing back in might help to solve apps stuck on loading after iPhone restore. To do this;
On your iPhone, open App Store and tap on your profile icon.
Tap Sign Out and restart your iPhone.
Once your iPhone is back on, follow the same steps and sign in with your Apple ID and password.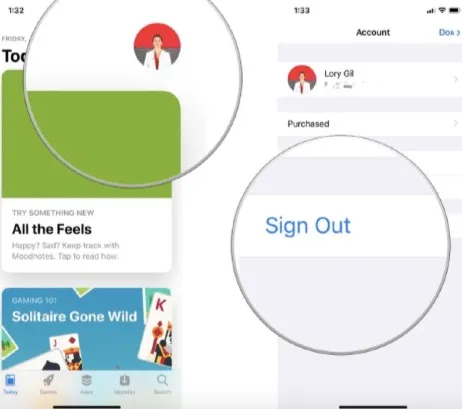 7. Restart Your iPhone
Sometimes, simply powering off the iPhone and turning it back on is a great way to fix the issue. To restart your iPhone;
Press and hold the Side button and either Volume button (for old iPhones, press and hold the Side button) until you see the power off slider.
Slide the power icon to turn off the iPhone
To power back on, press and hold the Side button until the Apple logo appears on the screen.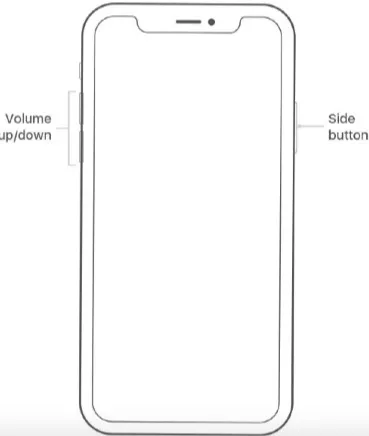 8. Update Your iPhone
If your iPhone is running on an old iOS version, it could be the cause of your apps stuck on waiting after restore. So, ensure your iPhone is up-to-date.
Go to Settings > General > Software Update.
Tap on Download and Install if an iOS update is available.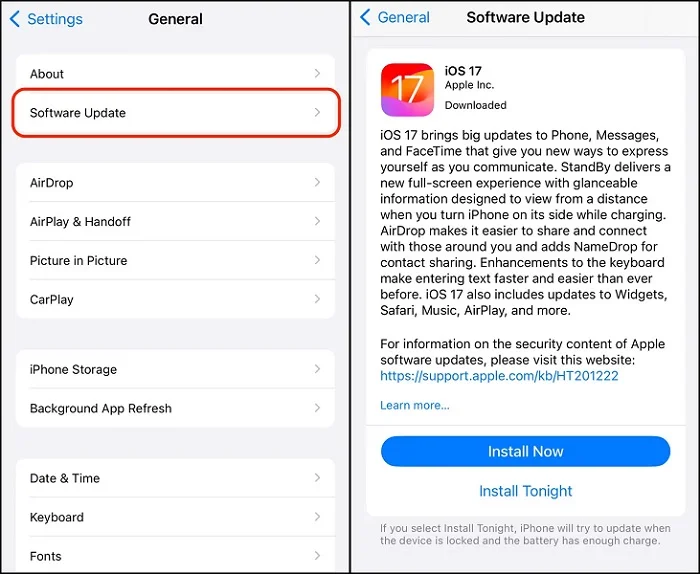 9. Check Apple System Status
If your iPhone apps are still stuck on loading after trying the solutions above, it is time to check the Apple System Status. It could be that the server side is responsible for this issue. If you notice issues listed next to the App Store, wait until Apple fixes the issues. Once done, your iPhone apps should should start loading well.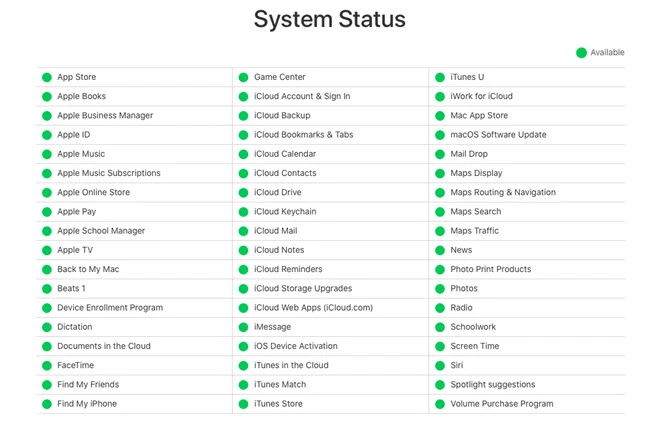 10. Best Way to Fix iPhone Apps Stuck on Loading after Restore
If you tried all the methods above and they failed, it's time to switch to third-party software to fix this issue. FoneGeek iOS System Recovery is the best and most effective way to resolve iPhone apps stuck on loading/waiting/installing/updating after restoring or other issues related to iOS system.
Main Features of FoneGeek iOS System Recovery
Fixes iOS problems such as iPhone white Apple logo, boot loop, black screen, etc.
Quickly repairs iOS/tvOS/iPasOS system errors without causing any data loss.
Fully compatible with the latest iOS models (iOS 17/16 and iPhone 15/14/13).
Downgrades iOS version without jailbreaking or using iTunes.
How to fix iPhone apps stuck on loading after restore using FoneGeek;
Step 1: Once FoneGeek iOS system recovery has been downloaded and installed on your PC, launch it.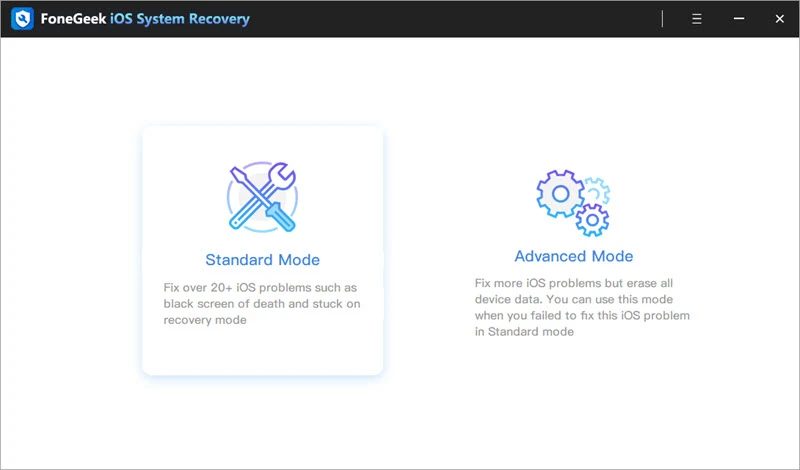 Step 2: Choose Standard Mode and connect your iPhone to the computer using your USB. If your iPhone is running iOS 12 or later and is on normal mode, unlock it first and click Next.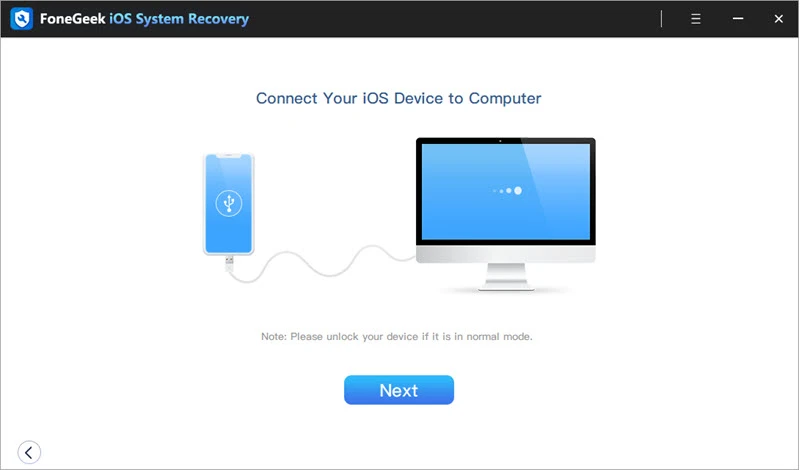 If the device isn't detected, the software will inform you to boot it into DFU or recovery mode. This will enable your device to get detected and proceed to your next step.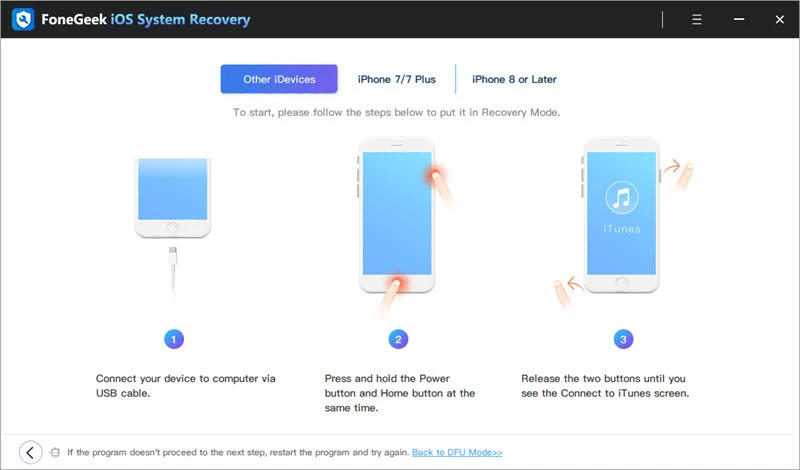 Step 3: Now You need to get the firmware package for your iPhone. A list of iOS options will be displayed; choose the version that matches your device and tap Download.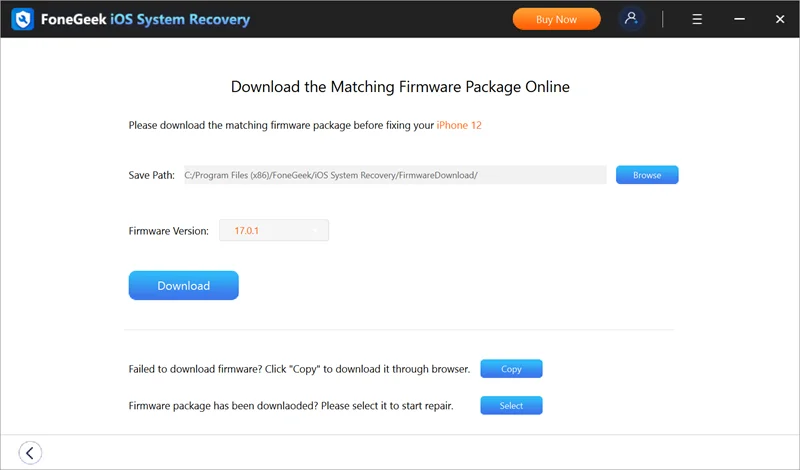 Step 4: Once the firmware download is complete, click Fix Now to start the system recovery. Your iPhone will return to its normal state when it is done.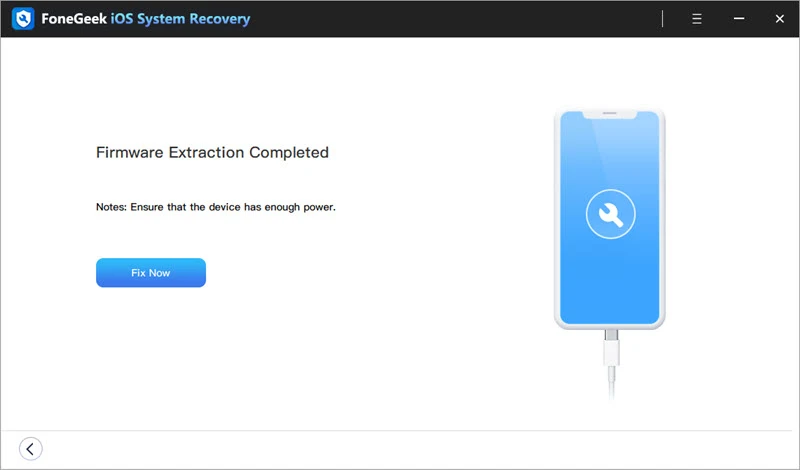 Final Thoughts
Various issues can happen to your iPhone, but knowing the right way to solve them will put your mind at ease. Although there are numerous ways to fix the issue with iPhone apps stuck on loading after restore, FoneGeek iOS System Recovery is the top recommended method because it resolves the issue without erasing data. Ready to fix your iPhone issue? Get FoneGeek on your PC.