Have you noticed that your iPhone battery is draining too fast all of a sudden? This is one of the most common problems that iOS users have reported and while you may expect this to happen to an older device; even a relatively new one can have battery issues. Users who report the iPhone battery draining too fast all of a sudden have said that it happens soon after iOS 15 upgrade.
But this is not the only cause of this particular battery problem. There are very many varied reasons why your battery may be draining too fast. And the good news is that there are just as many potential solutions. The following are just some of them.
Part 1. Why is iPhone Battery Draining Fast All of A Sudden?
If you run into the problem of iPhone suddenly losing battery, you may need to know why your iPhone doesn't hold the charge and the battery drains fast overnight.
Inappropriate settings: Settings on the device location services, display, notifications may consume the battery and ultimately lead to the repaid battery draining.
Apps are not closed: Resources are required for apps to run. When you don't use an app and don't close it, it will still consume the battery power.
Part 2. What to Do When Your iPhone Battery is Draining too Fast
There are several things you should do as soon as you discover that your iPhone's battery is draining fast all of a sudden. These tips will help prevent this problem in the future.
Do not charge the iPhone if you are going to be storing it for an extended period of time. If you are not using the device for a while, it is advisable to charge the battery only to around 50%. If you store the iPhone when the battery is completely discharged, it could go into a deep discharge state and be incapable of holding a charge. On the other hand, if you store the battery at 100% charge, the battery could lose capacity, resulting in a shorter battery life.
When you are not using it, power down the iPhone to avoid unnecessary battery use.
Keep the iPhone in a cool, dry environment of less than 32° C.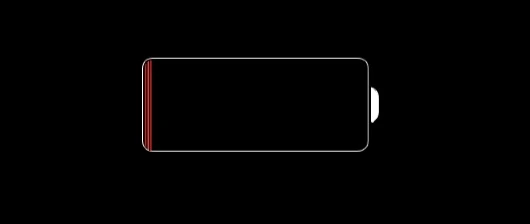 Part 3. Proved Solutions to Fix iPhone Battery Suddenly Draining Issue
The following are just some of the things you can do when your iPhone's battery is suddenly draining too fast:
3.1 Cut Down the Number of Widgets in the Home Screen
As helpful as they can be, widgets can be serious battery drainers since they have to refresh every few minutes to present the most accurate information. To remove some of the widgets you don't need, follow these simple steps:
Step 1: Scroll to the bottom of the widgets page and tap "Edit".
Step 2: Tap on the red circle next to the widget you would like to remove.
Step 3: Tap on the "Delete" button that appears and then tap "Done" to complete the process.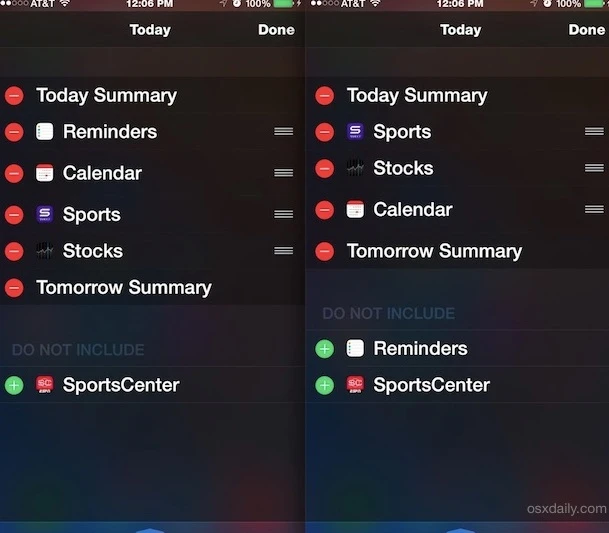 3.2 Turn Off Background Refresh
As the name suggests, this feature allows your apps to continually refresh in the background even when you are not using them. The problem is that it can really drain the battery. To turn it off, follow these simple steps:
Step 1: Go to Settings > General.
Step 2: Tap on "Background App Refresh" and turn it off.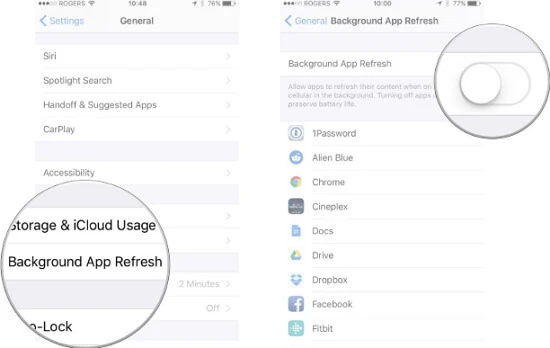 3.3 Turn Off Wi-Fi When Not in Use
Wi-Fi can also be a battery drainer and when you're not using it, it may be a good idea to turn it off. Here's how:
Step 1: Go Settings > Wi-Fi.
Step 2: Turn it Off.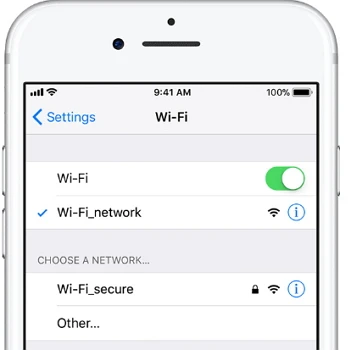 3.4 Turn Off Bluetooth Service
Bluetooth can also cause your iPhone's battery to drain faster than necessary. Turning Bluetooth off is a good idea, especially when you're not using it. Here's how:
Step 1: Swipe up to open the Control Center.
Step 2: Tap on "Bluetooth" next to "Wi-Fi" to turn it off.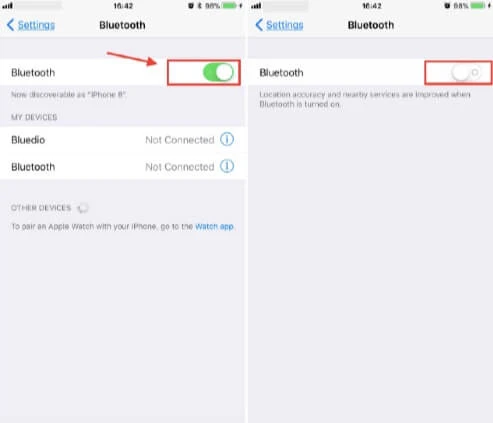 3.5 Fix iPhone Battery Suddenly Draining Issue without Data Loss
Sometimes, these issues can be caused by bugs in the iOS firmware and in this case, it can be very difficult to identify the problem and fix it. Fortunately for you, there is a professional tool that can help you fix this and many other software related issues. This tool is FoneGeek iOS System Recovery which fixes all problems without data loss. This program is compatible with all versions of iOS and supports all iPhone models. The following is how to use FoneGeek iOS System Recovery to fix battery issues:
Step 1: Download FoneGeek iOS System Recovery on your computer and then launch it. Click on "Standard Mode" in the main window.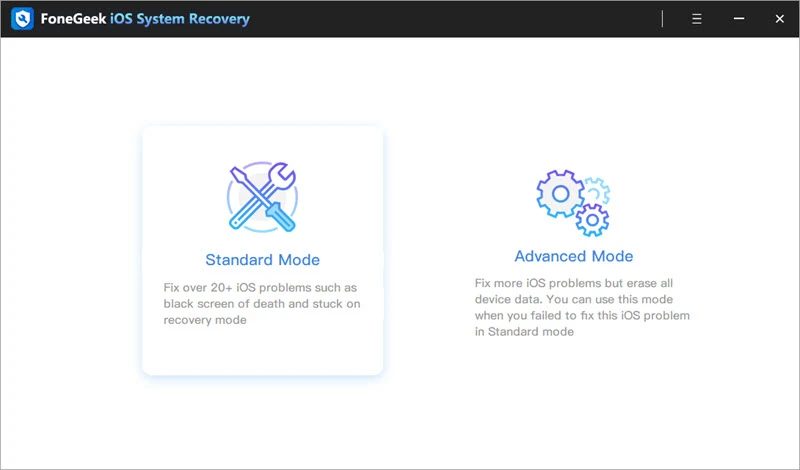 Step 2: Now connect the problematic iPhone to the computer and then put the device in DFU mode or Recovery mode. If you need to, follow the instructions on the screen. Once the device is in DFU or recovery mode, the program will easily recognize it.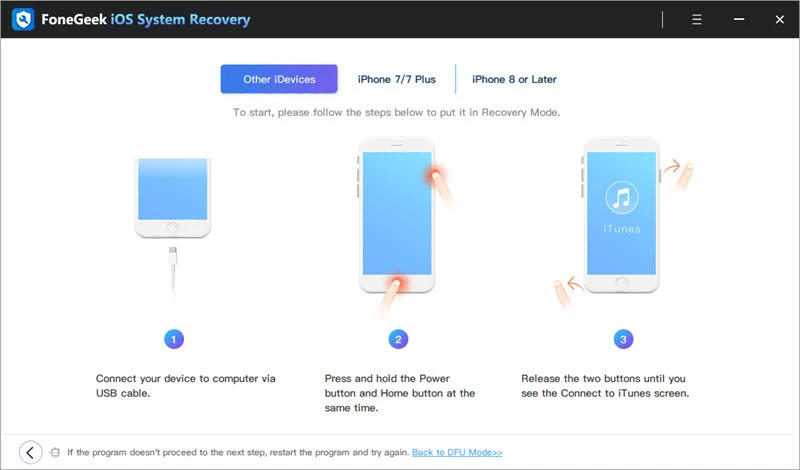 Step 3: Choose the device's firmware from the one's listed on the next page. Click on "Download" and the program will begin fixing the device immediately. Ensure that the device remains connected to the computer until the process is complete.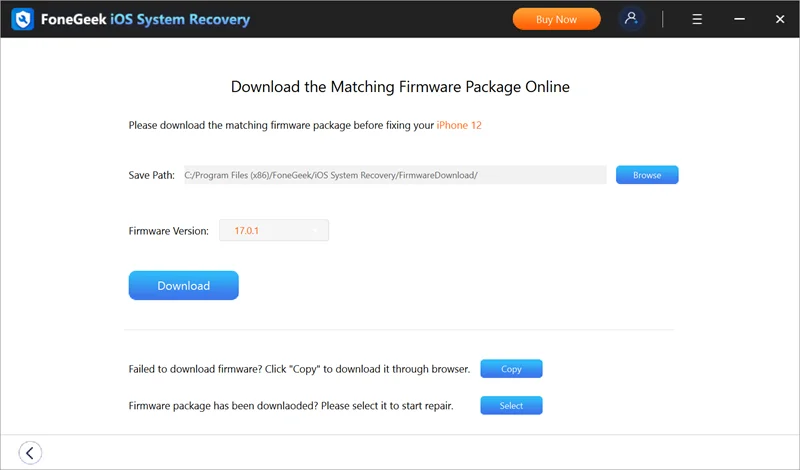 Your iPhone will restart normally when the process is complete and your battery draining problems will be gone.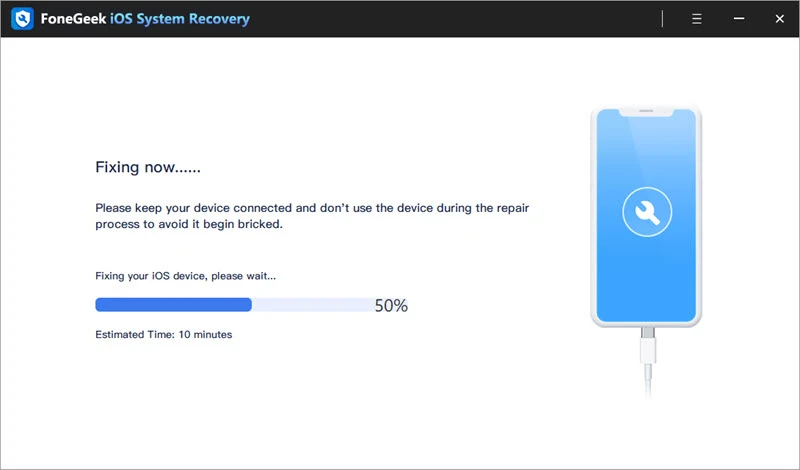 3.6 Turn Off Phone Once a Week
Another neat solution you can try is turning off your phone once a week. This trick is known to resolve battery issues, especially if you've noticed that your battery has been draining for some time. Powering down your iPhone can help eliminate crashing apps and any technical issues that can pile up over time.
When turning off the device however, don't hold down the power and the home button at the same time. This is a "hard reset" that should only be used when absolutely necessary. To turn off the iPhone correctly, hold down the power button until the "slide to power off" slider appears. Swipe the power icon and wait while the iPhone shuts down.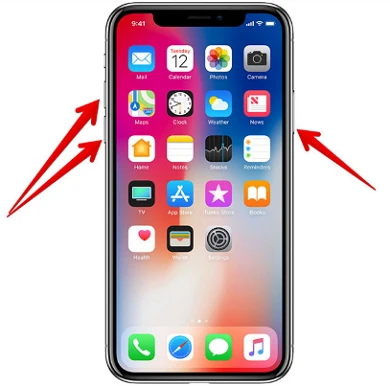 3.7 Disable Unnecessary Visual Effects
One of the main advantages of an iPhone is a Graphics Processing Unit that allows the device to display many beautiful visual effects. But the GPU and these effects can drain the iPhone's battery and should be the first to remove if your iPhone battery is suddenly draining too fast. Here's how:
Step 1: Go to Settings > General and then tap "Accessibility".
Step 2: Tap on "Reduce Motion" and then tap on the switch next to it to turn it off.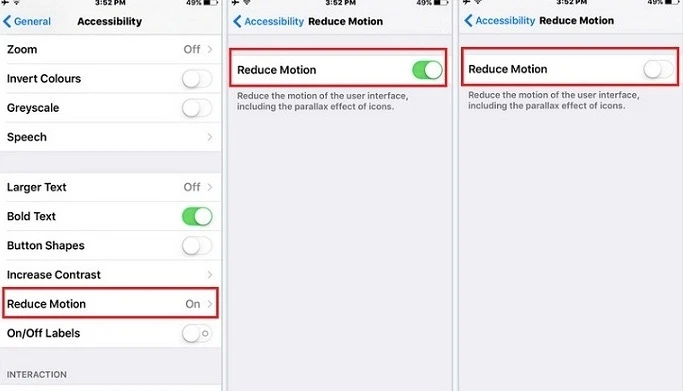 3.8 Remove Inactive Apps from Background
App on iPhone will refresh itself if your iOS version is iOS 11.4.1 or later. But this will consume your iPhone battery if the apps are running in the background. So you should swipe up to close all apps you don't use very often from the background.
3.9 Contact Apple
If your iPhone hardware goes wrong, you can contact Apple for help to repair the hardware issue.
Part 4. Tips to Save Battery for iPhone
Enable Low Power Mode: 'Low Power Mode' option on iPhone will prevent the battery from draining fast. Go to iPhone setting, click on Battery and turn on 'Low Power Mode'.
Disable Location Services: Many location apps would use your live location for different purposes. However, this will result in the huge loss of the iPhone battery. Thus you can disable location services if you don't use these apps.
Turn on Airplane Mode: If you are in a poor signal area, you'd better turn on Airplane Mode. This will prevent your iPhone from constantly searching for wifi signals.
The iPhone's battery issues can be caused by a lot of factors. But however old the device, the solutions above should be able to help you get your device working normally again.

Joan J. Mims is interested in researching all tips about iPhone, iPad and Android. He loves to share useful ideas with all users.

Home
>
iPhone Issues
>12 Tips to Fix iPhone Battery Drains Fast All of a Sudden after iOS 15 Update