iPhones' cameras are among the best in the smartphones market no doubt. Sometimes though these great cameras tend to have some issues. One of them is the iPhone camera not focusing as it should. While this issue is pretty common, it always results in an unpleasant experience, especially if you often rely on your iPhone for taking photos.
You won't be able to take high-quality photos using your iPhone camera. Instead, you're likely to end up with blurry and hazy photos. However, it doesn't have to be that way. In this post, we will outline various fixes that can quickly solve this iPhone camera not focusing issue so that you can keep taking high-quality photos as you did before. Let's first start by explaining why your iPhone camera won't focus.
Why Won't My Camera Focus on iPhone?
The camera not focusing problem often occurs on certain iPhone models like the iPhone X and iPhone 8/8 Plus. The most possible cause could be a new iOS update or loss in lens position. A fault in your iPhone's software could be at play here too.
You may as well get blurry pictures if the lens of your camera is dirty or has fingerprint smudges. Your iPhone case could also be bulky or not really set properly such that it's covering the camera's lens.
If you've been asking yourself "why is my iPhone camera not focusing", these are generally the most common reasons. With that in mind, below are quick solutions to this problem.
1. Take Off the iPhone Case
iPhone cases are no doubt good but some tend to be bulky or feature several attachments on them that could partially block the lens, hence preventing the camera (especially the rear one) from focusing properly. It's the same issue when the case isn't set properly.
Even metal cases are not a good choice either because they can end up producing magnetic fields that may cause focusing issues. So, try removing the iPhone case first to see if it helps.
2. Clean the Camera Lens
The camera lens may not focus properly because it's dirty, or has dust and some fingerprint smudges. In this case, you should clean the lens using a soft cloth so that you don't scratch it. Try now to take a photo.
If the dirt or dust is inside the lens instead, we recommend you take the iPhone to your local Apple Store or any authorized service provider. It may seem a small thing but this could be the reason why your iPhone camera won't focus.
3. Set the Focus Point
It's possible that the reason for your iPhone camera not focusing could be that the focus point isn't set correctly, especially if there are various elements in the scene. You can resolve this by tapping on the particular object you want to photograph on the Camera app.
The object could be someone's face, a building, or some other subject. By directly tapping on it, you basically tell the iPhone that that's the element it should focus on.
4. Disable the AE/AF Lock
AE/AF is the abbreviation for Auto Exposure/Auto Focus. You might have enabled it on your device and that's why the camera won't focus. When it's turned on, the phone camera automatically gets locked to a particular section in shots.
So, if the subject you want the camera to focus on is not within where the AE/AF is set, then it would appear blurred. As such, it would be ideal to turn the feature off. Follow these steps to disable AE/AF lock:
Launch your device Camera app.
Hold the phone's screen until there's an AE/AF lock displayed.
Now tap the screen so that you can turn off the feature.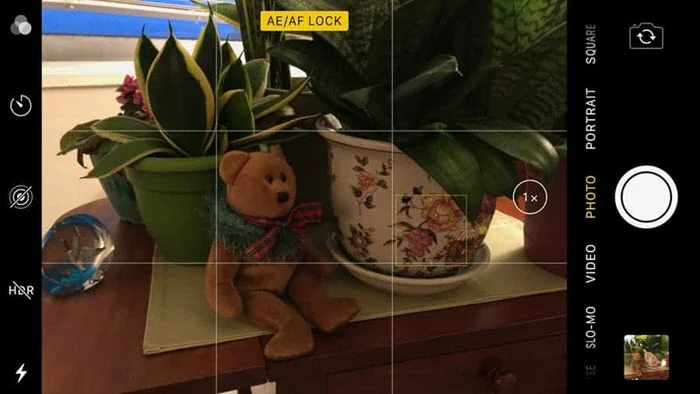 5. Force Close the Camera App
If the phone's camera app is still giving you problems, then try force-closing it and then restarting it again. You can do so by:
Swiping up your iPhone's screen to open the App preview.
Find the Camera app on the list by scrolling left or right.
Now close it by swiping up on the app's icon.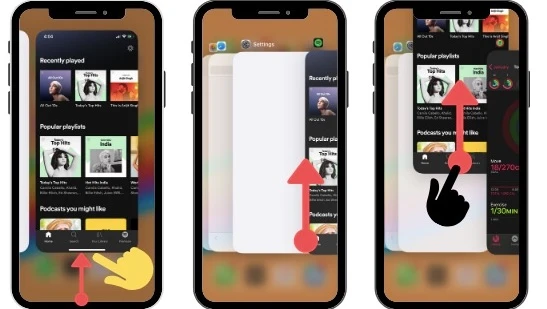 6. Restart the iPhone
Although it's a simple method, restarting iPhone often helps get rid of most problems, especially if they're due to a software glitch or bug. If you're still having the Camera app issue on your iPhone, then you should restart it and try once more.
Press volume up or down button along with the power button concurrently and continue holding them until a slider comes up.
Drag the slider. Wait around 30 seconds and then long-press the Power button again.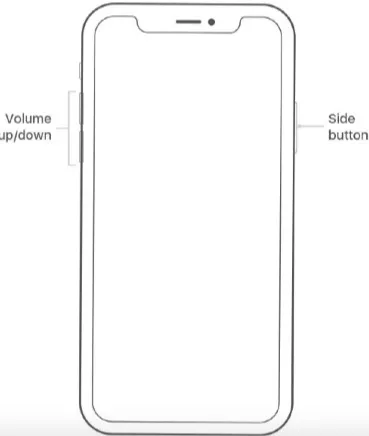 Note that these steps apply only to iPhone models with Face ID. If it's an iPhone with a physical home button, then you'll need to long-press the Side/Power button for the power-off slider to show up so that you can reboot the phone.
7. Update iOS
The Camera updates are often included with the iPhone iOS build. Apple frequently releases iOS updates that also come with new camera features and even bug fixes. For you to enjoy all these goodies, you have to get the latest iOS version. To do that:
Open Settings on the phone.
Head to the General menu.
Tap the Software Update option. Now Install the available iOS update if there's any in the following menu.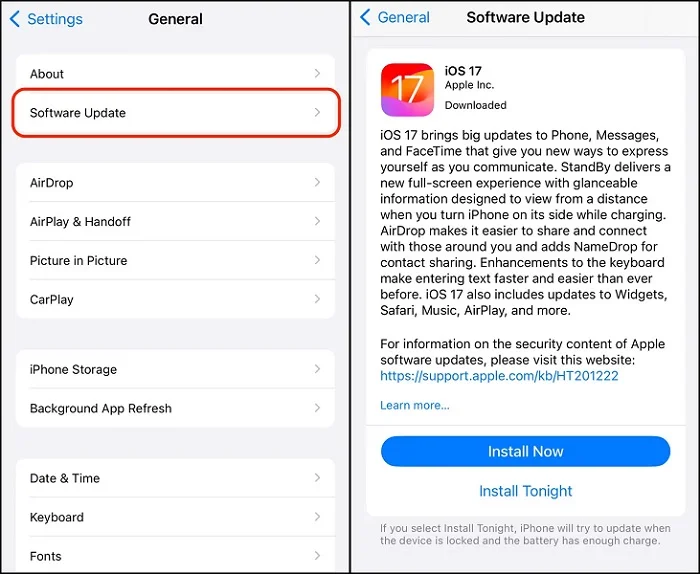 8. Factory Reset iPhone (Data Loss)
If the software update fails to solve the issue or if there's no pending update, resetting all your device settings can help fix this camera not focusing iPhone problem you're facing. It's an effective way of deleting and eliminating any possible setting that interferes with your iPhone's camera focus.
However, everything (all your files and data) will get wiped out too, so ensure you first back up the iPhone before proceeding. Once you do that, follow these steps to factory reset the iPhone:
Launch Settings. Open the General menu.
Choose the Transfer or Reset iPhone option. Next, tap Erase All Content and Settings.
Finally, tap Continue so that you can confirm the action.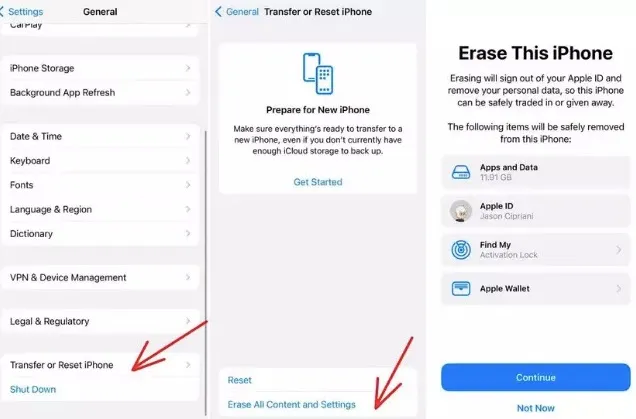 Once you do that, the iPhone will get cleaned up along with the camera not focusing iPhone problem. So, launch the Camera app to confirm.
9. Fix iPhone Camera Won't Focus without Data Loss
Many users have been complaining that they started having the iPhone camera won't focus issue after upgrading to iOS 16. There were also complaints about the camera and even the flashlight of iPhone not working. However, with the FoneGeek iOS System Recovery, all these issues can get fixed easily.
This professional iOS repair tool can effectively fix all iOS problems and bugs, including the latest ones. It also fixes iPhone stuck issues and other system glitches without iTunes restore. Moreover, it will do all these without causing data loss.
Here are steps to fixing the iPhone camera won't focus problem with FoneGeek iOS System Recovery:
Download FoneGeek iOS System Recovery onto your computer, install it, and then run the program. Amongst the two provided modes, choose Standard Repair.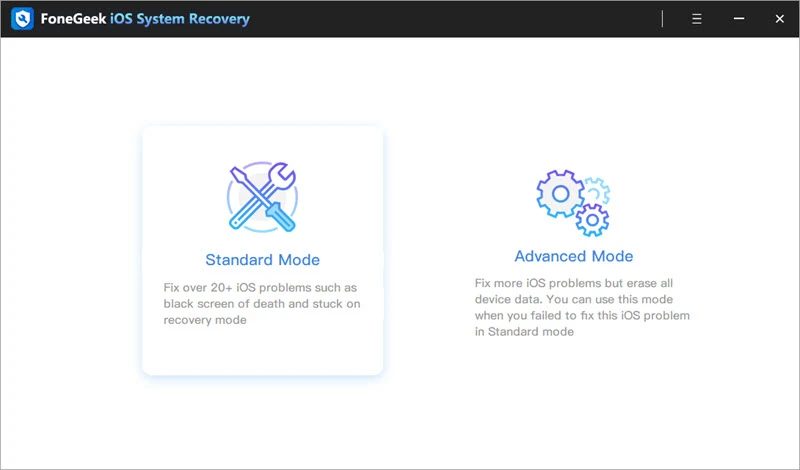 Now get the iPhone and the computer connected using USB cable. Next, head to the button labeled Next and click it.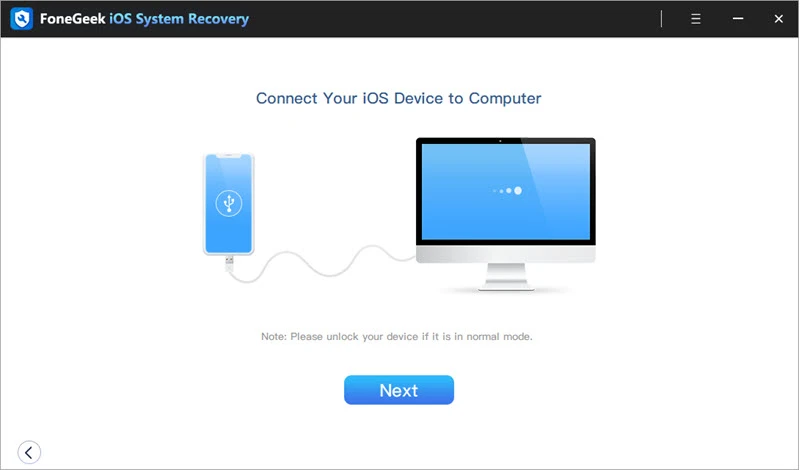 Download the ideal firmware package for repairing the system. Your iPhone's iOS version will get updated after completing the system recovery.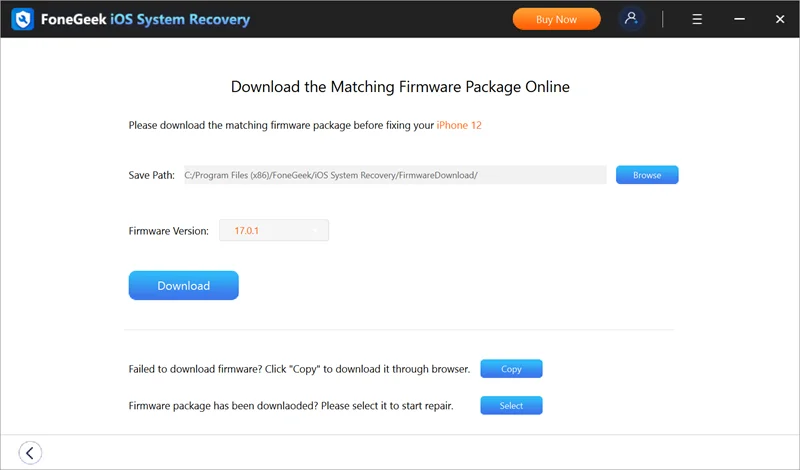 Once the firmware file has been downloaded to your computer, click Fix Now to begin the repair process. Now allow the process to finish.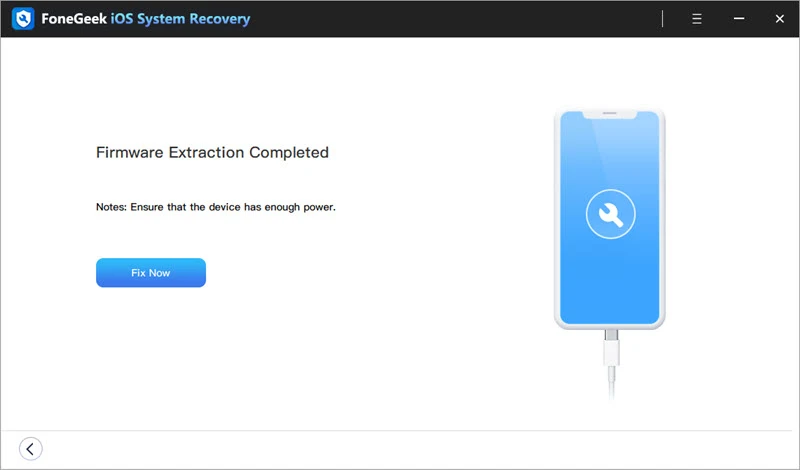 After the successful system repair, launch the phone's Camera app. The camera should now focus properly, so take a photo.
10. Contact Apple Support
If still iPhone camera won't focus after trying everything, it's time to take the phone to Apple to get it repaired or for a replacement. The repairs would be absolutely free if your iPhone is under warranty, otherwise, you'll have to pay a fee for the repairs. iPhone warranties usually last one year but it's possible to double this period if you pay for the AppleCare+ coverage during the purchase of the phone.
Conclusion
It's difficult to take high-quality photos when your iPhone camera won't focus as it's supposed to. However, the solutions we provided above can fix this, so try them out. They can work for any iPhone model. However, the ultimate solution is the FoneGeek iOS System Recovery. We highly recommend it if other methods fail because it can completely fix the camera focus problem very quickly and there's no data loss at all. Try it out and you'll have your iPhone camera focusing again in no time.