iPhone deleting contacts randomly by itself is a common problem that many iOS device users face, especially after updating their iOS version. So, if you're experiencing such a situation, you're not alone and it shouldn't put you in great worry.
In this post, we'll share steps you can take to solve this issue and recover your deleted contacts. Let us first look at the exact reasons that might be causing your iPhone to delete contacts on its own.
Part 1. Why Does My iPhone Keep Deleting Contacts?
There are a few reasons that can lead to an iPhone deleting contacts randomly. These reasons include:
Changed the email password linked with contacts: Your contacts are generally synced with an email account, so if you've changed the password of that email account because of any reason, then you're likely to see that your iPhone deleted your contacts.
Inactive iCloud Sync: If you save your contacts on iCloud and by accident or chance you happened to disable the "iCloud Contact Sync" option, then this could be the reason why you're finding your contacts deleted from your iPhone.
Deleted the email account synced with contacts: As you've learned above, your contacts can get deleted in case the password of the email account synced to them is changed. Other than that, if you remove or delete that email account, then the chances of your contacts also missing on your iPhone are very high.
Updating iOS Version: Apple releases iOS updates regularly that also comes with bug fixes. Sometimes though, these updates also come along with other bugs or cause new ones to surface. Therefore, there's a high chance that your iPhone keep deleting contacts randomly due to some bugs contained in your latest iOS update.
An unknown reason: Sometimes Apple might not know why a certain bug surfaces. It could be due to any reason that needs further investigation. Therefore, if your iphone keep deleting contacts, then the cause of it could be an unknown bug or some other unclear reasons.
You now know the reasons behind your iPhone deleting contacts, so here are some of the solutions that can help you out.
Part 2. Directly Solve iPhone Keeps Deleting Contacts Issue
Enable the iCloud Contact Sync
We did mention that one common reason for this issue is when you disable the iCloud Contact Sync. Therefore, turning it on can definitely solve it if that's the case and also help you recover your deleted contacts. Follow these steps to enable the iCloud Contact sync on your iPhone.
For iPhone running on iOS 10.2 or earlier version, head to Settings and then iCloud. However, if your iPhone runs on iOS 11 or a later version, head to Settings, click your Apple ID (Name), and then go to iCloud.
Under the "Apps Using iCloud" section, check if "Contacts" is enabled (the toggle is green). If not (the toggle is grey), tap the toggle to turn it on.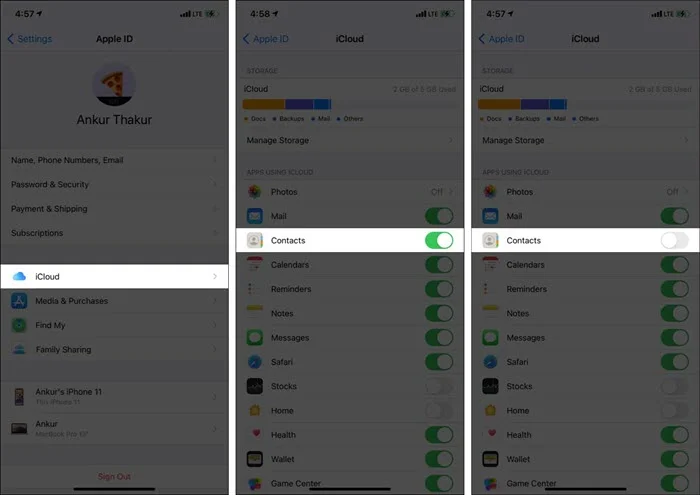 Change Group Settings for Contacts
Changing the group settings for your contacts is yet another easier way that can help recover your missing contacts. Follow these steps to do so.
Launch the Phone app from your iPhone's Home page. Tap the "Contacts" tab.
Next, tap the "Groups" option (at the top-left corner).
Tap the "All Contacts" option to deselect it, then tap "Done" to finish.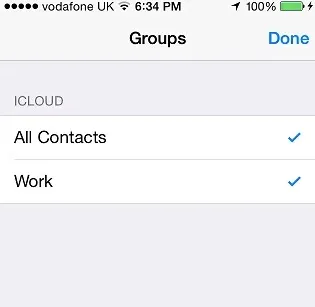 Once you do this, all the contacts saved on your iPhone will appear. So, select those that are missing and then add them to your address book.
When you save back all the contacts that were missing, follow the steps above again to head to the group settings and activate the "All iCloud" option.
Make Sure "On My iPhone" is Enabled
The other way you can recover all your missing contacts is to have all your contacts stored on your iPhone by default, i.e, your iPhone becomes the default storage account for the contacts. You can do this by:
Heading to Settings on your iPhone.
Tap "Contacts" and then tap "Default Account"
Make sure the "On My iPhone" option is enabled/checked.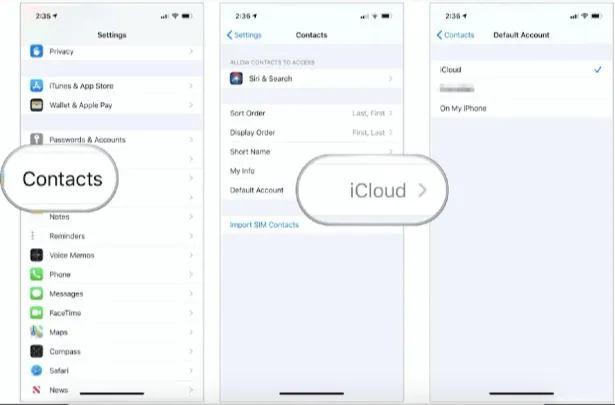 Check Your Email Accounts
If you've disabled syncing with your email account, the contacts that were saved before will still be there and you can recover them by following these steps.
If you use iOS 10 or older version, open Settings and go to Mail. Locate Accounts and tap it. Next, tap your account. Go to Contacts and tap the toggle to turn it on.
If you use iOS 11 or newer version, open Settings and tap the Accounts & Passwords option. Under the "Accounts" section, tap your mail account and then Turn Contacts on.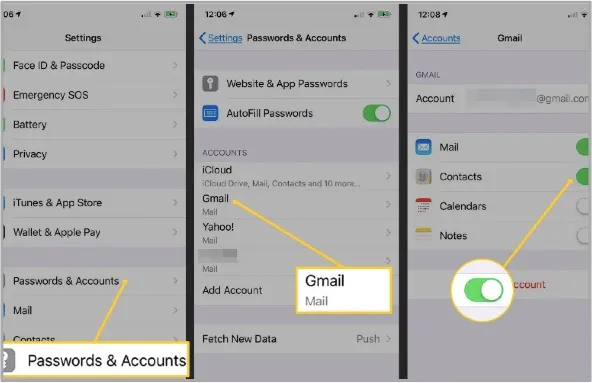 Sign Out of Apple ID and Sign In Again
The last solution you can try is to sign out of your Apple ID and then sign back in once more. To do that:
Launch Settings and tap your profile image at the top.
Head all the way down the page and tap "Sign Out."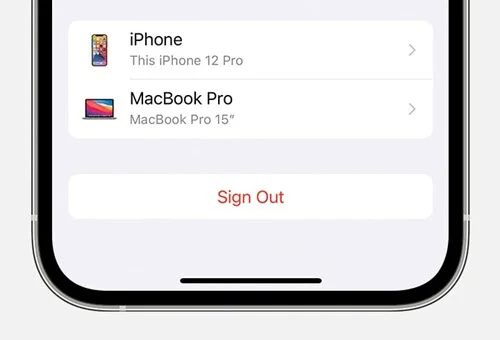 Note: if you enabled Find My iPhone, you'll be prompted to provide your Apple ID in order to disable it. So, enter the Apple ID to proceed.
Go through the "Keep a Copy of" part and check that the "Contacts," "Keychain," "Safari", etc. are enabled.
Tap "Sign Out" option once more. Restart your iPhone and again log in to your Apple ID.
Keep in mind that signing out of iCloud will have the following impacts:
Every optimized photo and video on your iPhone will be removed.
No original photo and video stored on other devices using iCloud Photos will be removed.
Any document or data contained in the iCloud will get removed.
Any data contained in the Apple Health app on your device won't be removed.
Part 3. Flexible Ways to Recover iPhone Deleted Contacts
Recover iPhone Contacts with iTunes
If you've tried the above solutions and none has worked, then it's likely that the problem is due to an error within the iOS system. If that's the case, the best solution is to restore your iPhone from a previous backup containing your contacts. You can do that using iTunes/Finder on your computer. Follow these steps:
Have your iPhone connected to the computer (the one you synch it with) using a lighting cable.
Launch iTunes (for PC and macOS Mojave or older). Launch Finder if you use macOS Catalina.
From the left menu of iTunes/Finder, select your iPhone when it appears. Click the "Restore Backup" option (bottom right corner). Select the latest backup and then wait for the process to finish (ensure the device is connected throughout the process).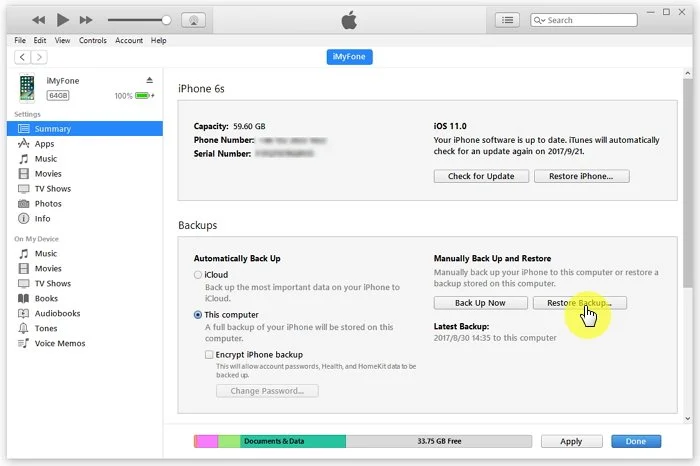 You'll see all your present and deleted contacts in your iPhone's Contact app.
Using FoneGeek iPhone Data Recovery
FoneGeek iPhone Data Recovery is the ultimate solution if at this point you've made no progress and the reason leading to the deletion of contacts on your iPhone is unknown. It's an effective and reliable tool that can recover any lost data including contacts and messages. Moreover, it's compatible with iPhone 6 (Plus) to iPhone 14 and iOS 7 to iOS 17. Follow these steps to recover your deleted contacts.
Launch the FoneGeek iPhone Data Recovery program once you download and install it onto your PC/Mac.
Select the "Recover Data from iOS Devices" mode and connect your iPhone to the computer using a USB cable.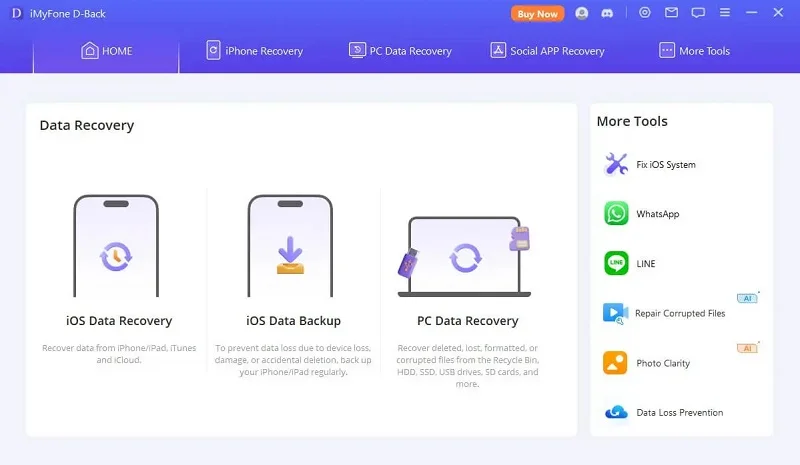 Once your device is detected, select Contacts from the "System Data list" and click "Scan." The program will begin scanning for the deleted contacts on your iPhone.
When done, the program will generate two categories of contacts: deleted and undeleted. Click "Show Deleted" to view the deleted contacts. Select the ones you want and then click "Recover to PC." The program will then save them onto your computer.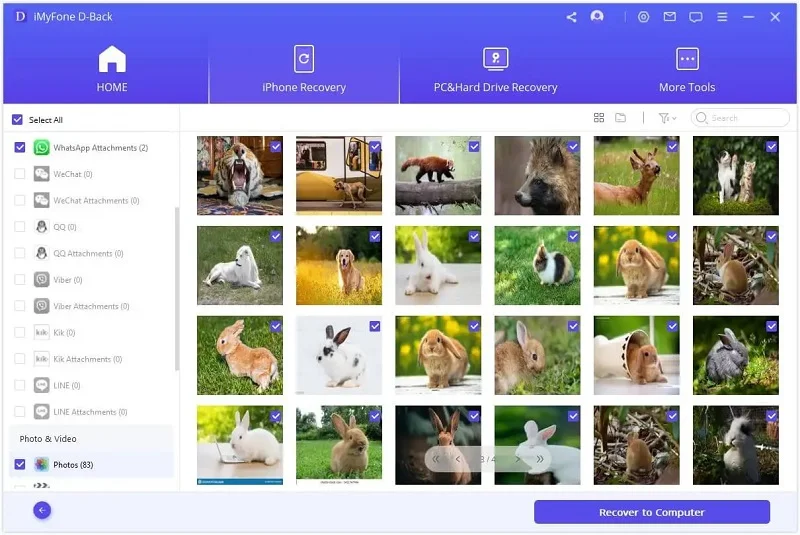 Conclusion
If your iPhone keeps deleting contacts, then the five practical solutions we've highlighted above can help you recover them and even fix the cause of the problem. If all fails, including recovering with iTunes, we recommend you use FoneGeek iPhone Data Recovery. It will certainly recover the deleted contacts from your iOS device, iTunes, or iCloud. Plus, it's simple to use and 100% safe.