User Concern
"Yesterday I dropped my iPhone 12. And when I picked it up nothing happened - at least what I could see. When I came home I realized that my flashlight weren't working. The phone has not been in contact with water. Any ideas what I could do to fix it."
iPhone flashlight feature is an essential part for illumination. If you are encountering the issue that the iPhone flashlight is not working due to unknown reasons, you may be lost in a fog anxious.
Actually, you can take heart from the fact that this problem is not necessarily meaning that a hardware issue exists on your iPhone, iPad. Users who have experienced the iPhone flashlight problem also shared simple fixes to resolve the problem. Below are the details of ideas of us and the users.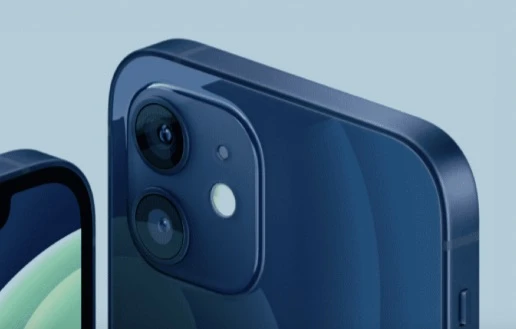 Part 1. Basic Solutions for iPhone Flashlight Not Working
1.1 Force Close the Camera App
If the Camera app is turned on, it will disable the flashlight feature on your iPhone. Since the flashlight and camera cannot be used together. This method sounds to be powerless but still worth trying.
If your iPhone model is newer than iPhone X, you can swipe up from the home button, find and force close the Camera app.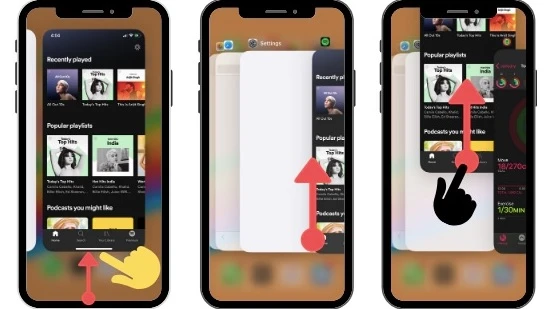 1.2 Turn Off Do Not Disturb
Go to Settings, find the option of "Do Not Disturb" and enable the "Manual" option by toggling the switch. When Do Not Disturb is turned on, a moon icon will appear in the status bar and all the calls and alerts arrive will be in silent.
It seems to be impossible to tackle the flashlight problem, but it is indeed a useful choice available.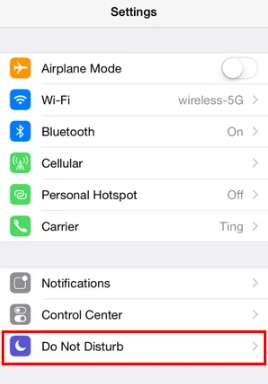 1.3 Turn On Show on Lock Screen
Have you checked whether "Show on Lock Screen" is turned on in Notifications? If the feature is turned off, the flashlight will not work when your iPhone is locked or new notifications arrive.
It is also very easy to turn on the feature. Go to Settings > Notifications > Under the Alerts to turn on "Show on Lock Screen".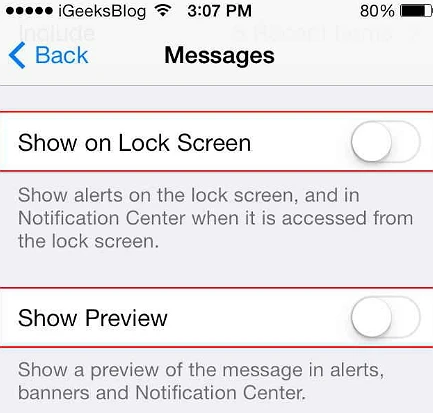 1.4 Restart Your iPhone
It is always a potential way to fix most iPhone problems. Here is how to:
Keep pressing and hold the Power button for 3 seconds until the slider appears.
Tootle the slider to turn off your iPhone.
Then press the hold the Power button to turn on the device.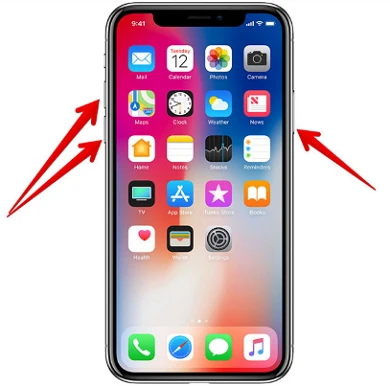 1.5 Reset All Settings on iPhone
You may have tried this method for several times before. The tip actually does make a difference to resolve some issues.
Go to Settings > General > Reset > Reset All Settings.

Note
Some of the Settings on iPhone will be reset to factory default, including the preferences for Wi-Fi, Bluetooth, Do No Disturb, Notifications, General, Sounds, Brightness & Wallpaper and Privacy.
1.6 Restore Phone to Factory Settings
This is possibly the most extreme and time-comsuming way for iPhone flashlight issue. You can restore your iPhone to factory settings and restore the device to previous versions.
Connect the iPhone to computer and tap on 'iPhone' icon.
Click on 'Summary' and 'Back Up Now' button.
After the backup process, tap on 'Restore Backup...', select your iPhone name and choose the previous backup to restore the backup to iPhone.

Note
Factory reset iPhone will delete all the data on your device. It's important that your
backup your iPhone data
before factory resetting the device.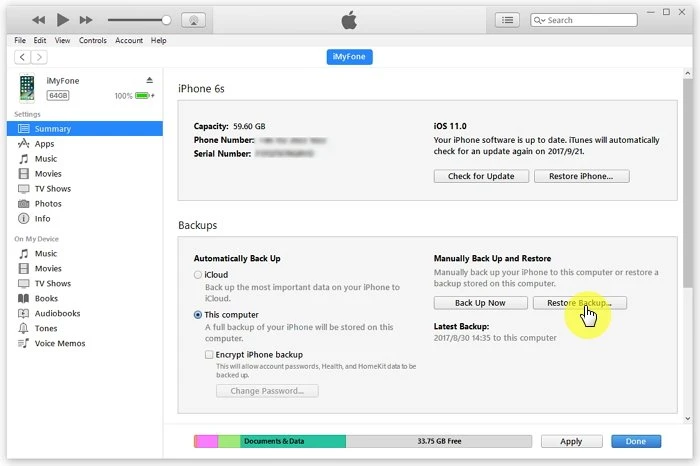 Part 2. Software Issue: Fix Flashlight Issue without Data Loss
If the flashlight is still unable to work after trying the methods above,  FoneGeek iOS System Recovery software is recommended. This program is mainly used to fix any difficult problems arise from time to time, such as iPhone stuck at upgrade request, black screen of death, etc. FoneGeek iOS System Recovery will not erase information on your iPhone, and almost all the iOS devices running iOS 15, 14, 13, 12, 11 are supported.
Step 1. Download and launch the iOS System Recovery on your computer. Then choose "Standard Mode". 
Step 2. Using an USB cord to connect your iPhone to computer. After the device being detected to be unnormal, the device information will also be detected and displayed. Check if the information is correct and click "Download" button.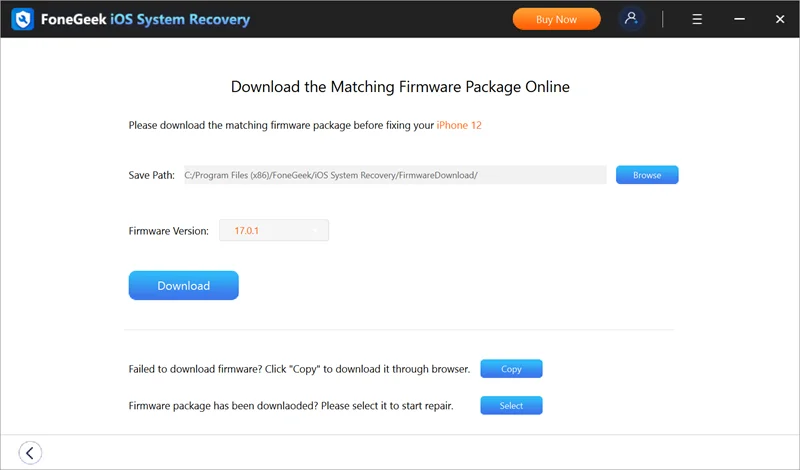 Step 3. The program will start to download the firmware package that locates your iPhone problem. Once the process has finished, your device will restart automatically and be back to normal.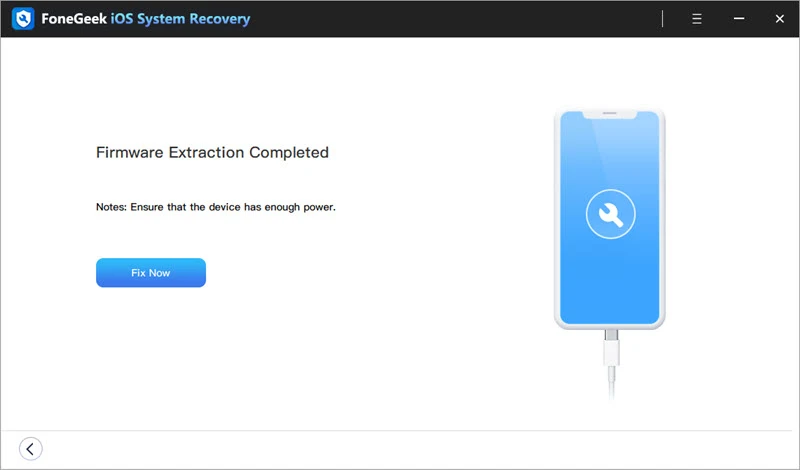 Part 3. Hardware Issue: Contact Apple Store
If the flashlight is still not working when the button is normal, it's possibly the hardware issue on the device. You should go to Apple store to repair the device by professional staff. It should be free is the device is under warranty.

Fay J. Melton has explored the area of technology and software for more than 5 years and he is enthusiastic about helping users solve various technology issues.

Home
>
iPhone Issues
>8 Quick Solutions to Fix iPhone Flashlight Not Working in iOS 15