It can be frustrating if you can't make calls on your iPhone normally. Although Apple has worked hard to improve the cellular connectivity, iPhone users may still face the called failed error frequently.
If your iPhone keeps saying call failed, continue reading this article. Below, we will explain the common reasons that cause iPhone call failed repeatedly and walk you through the fixes you can try to solve this error.
What Does Call Failed Error Mean on iPhone?
You are trying to make a call over the cellular network on your iPhone. You find the number and tap on the call button, which brings the calling screen. After a few seconds, you see the "Call Failed" message, as well as "Cancel" and "Call Back" buttons.
Sounds familiar? Well, you are not alone. That is a common issue that a lot of iPhone users encounter. Usually, you should be able to make the call successful by tapping the "Call Back" button. In some cases, you may get the call failed error response repeatedly.
Why Does My iPhone Keep Saying Call Failed?
The reason why your iPhone keeps saying call failed error can vary depending on several factors, including the iOS version, cellular network, iPhone model, and many other things. Below, we will elaborate on some of the common causes:
Poor Cellular Network: The call failed on iPhone error typically happens when you try to perform the call from a location where the network is very weak.
Problem with SIM: Malfunction in the SIM card may prevent iPhone from making the call efficiently.
Wrong Network Settings: You can only perform the call if the network setting is properly installed/updated by your iPhone. If the phone fails to update the setting, you may end up with the call failed error.
Low/No Credit: Check if there is enough credit to make the phone call. You will need to recharge credit if there is no or low credit to make phone calls again.
Software Issues: Have you recently updated your iPhone to a new iOS version? Although chances are very low, this can also cause call failed on iPhone.
How to Fix iPhone Keeps Saying Call Failed
1. Dail *#31#
One of the most common solutions you can try to solve the call failed error on iPhone is by dialing *#31#. Dialing the code will disable the outgoing anonymity status on your phone if you accidentally turned it on and let you make the calls successfully.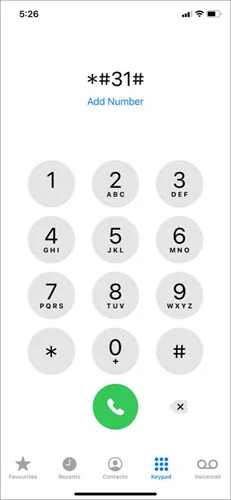 2. Check the Phone Number Plan
When you attempt to make a call from your iPhone, the iPhone may say call failed when the phone number doesn't have an active plan. Thus it's essential to verify that you have paid the Postpaid bill if you are a postpaid customer. If you have prepaid before, make sure that the phone number has enough balance and validity to make calls.
3. Turn Airplane Mode On & Off
Another simplistic solution you can try is turning the Airplane Mode on and off. It can refresh the WiFi and cellular network of your iPhone, which may help solve any issues related to the networks.
Open the Control Center by swiping down from the top-right corner of your iPhone (or swiping up from the bottom of the screen on iPhones with Home button). Find the Airplane Mode icon and turn it on. Wait a few seconds and turn it back off.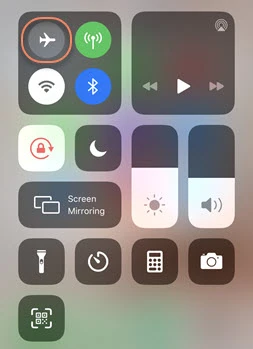 4. Check Blocked Phone Numbers
Are you trying to call a blocked phone number? You may have blocked a person's number by accident and then forget, then it is very normal to encounter a failed call. Here is how to check if the number is blocked:
Open the Settings app on your iPhone and go to Phone.
Now locate and tap on Blocked Contacts.
Make sure that the number you're trying to call is not on the blocked list.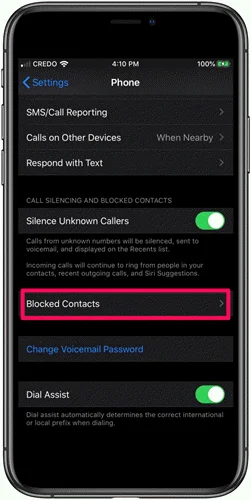 5. Check the Date & Time
Make sure that the date and time of your iPhone are set correctly based on the location. Especially if you have traveled to a different time zone, you need to update it to the correct one to use the call function smoothly.
You can update it from the Data & Time option under the General tab of Settings. Another thing you can do is to toggle on the Set Automatically, which will update the time automatically based on the location.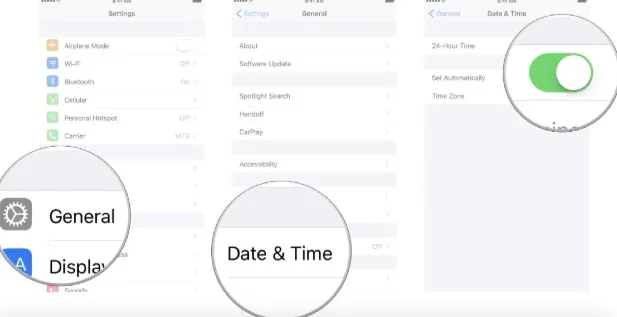 6. Restart Your iPhone
A lot of issues on your iPhone can be solved easily by simply restarting the device, including the call failed error.
Simply press the Side button and wait until the red slider occurs.
Turn the slider to the right, and it should turn your iPhone off.
Finally, wait for a moment and press the same button to turn on the device again.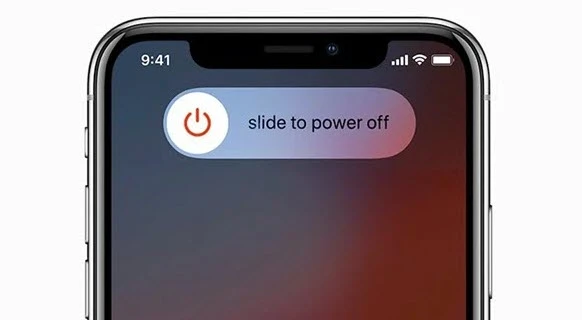 7. Quit All Apps
The iPhone calling issue may be caused by the app glitch on your iPhone. In such a situation, we suggest you close app the apps to avoid more issues.
For iPhones that have Face ID, double-press the home button to activate the app switcher.
For iPhones that have no Face ID, swipe down from the upper screen to open the app switcher.
Then swipe all the app to the top right corner to get them closed.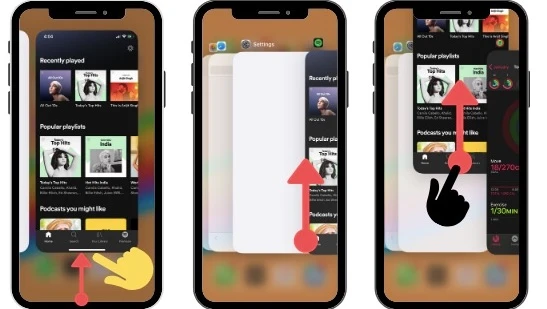 8. Disable 'Call Forwarding' Feature
The call forwarding may also cause the call interference, thus it is essential to check and make sure that call forwarding is disabled on iPhone to avoid the call issue.
Just open Settings on iPhone and click on 'Phone'.
Then toggle off the switch of 'Call Forwarding' feature.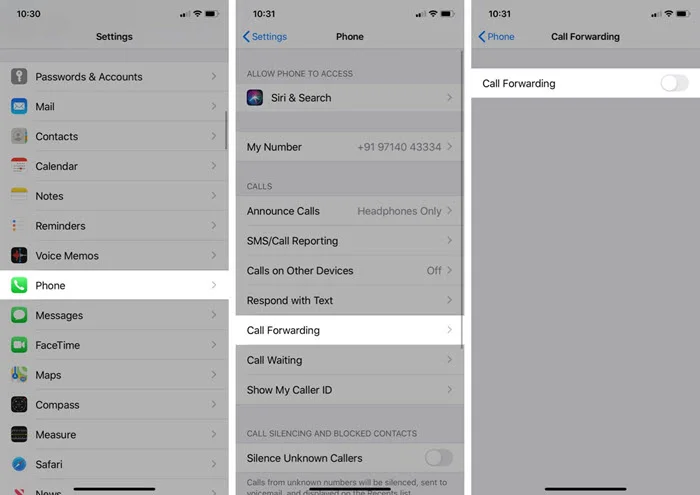 9. Remove & Reinsert SIM Card
iPhone keeps saying call failed can also be caused by a damaged SIM card. So you'd better check your SIM card for damage if you have used it for a long time. It's pretty easy to remove and reinsert the SIM card on your iPhone.
Simply utilize the SIM ejector tool to bring out the slim slot and put it back if you don't find any damage. If you find any, you should consider getting a new SIM card and try to make the call again.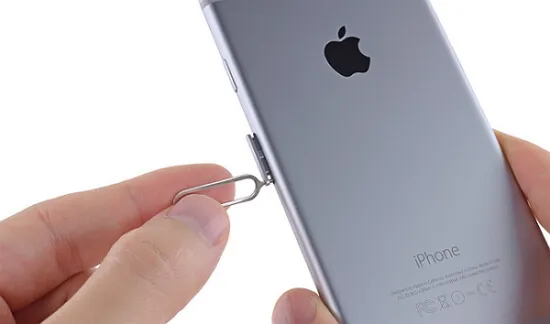 10. Update Carrier Settings
Updating the carrier settings on your iPhone may help to solve various issues, including call dropping, call failure, etc. Here is how to update carrier settings:
Turn on your iPhone's cellular data or connect to a strong WiFi.
Now open Settings and Go to General > About.
Now you will get a notification if the update is available.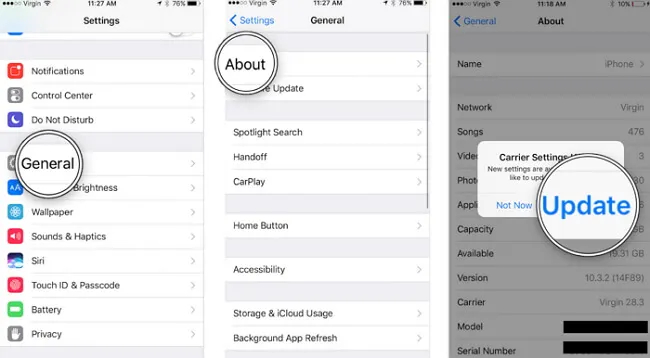 11. Check LTE and Roaming
LTE is a newer and updated version of the cellular network that provides smoother performance. However, you may encounter the Call Failed error on your iPhone if 4G LTE is not working. And this pronle may also happen is have disabled Roaming when you travel abroad.
In such case, you can either try switching to 3G and enable data roaming by going to Settings > Cellular > Cellular Data Options.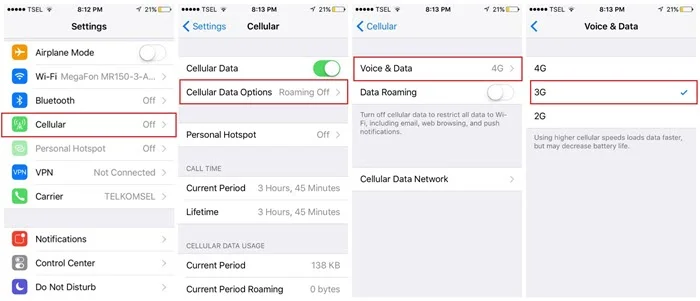 12. Reset Network Settings
If you still cannot solve the call failed error on your iPhone, consider resetting the Network Settings. Note that this will eradicate all the saved settings of cellular networks, Bluetooth, and WiFi. Here is how to do this:
Open Settings and go to General > Reset. Then press on Reset Network Settings and enter your iPhone's passcode to confirm.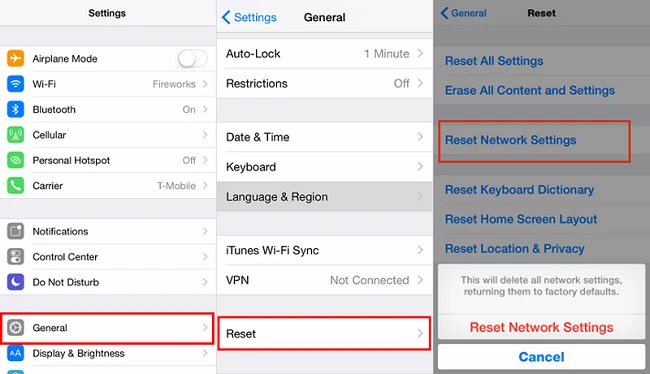 13. Update to Latest iOS Version
Are you using an outdated iOS version? It may cause a lot of issues, including call failure. Consider updating your iOS version to the latest version. You can easily update the iOS version by going to General from Settings and then Software Update.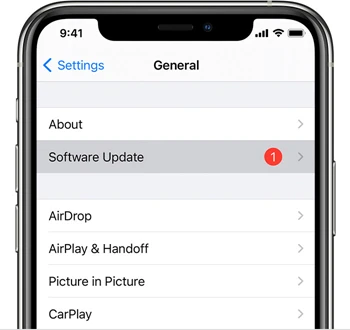 14. Factory Reset Your iPhone (Data Loss)
If you have tried all the solutions above, consider factory resetting your iPhone if the problem persists. Note that this will remove everything from your device. So, consider creating a backup before doing that. Here is how to do it:
Go to General from Settings. Then tap Reset.
Press on Erase All Content and Settings.
Enter your passcode and confirm.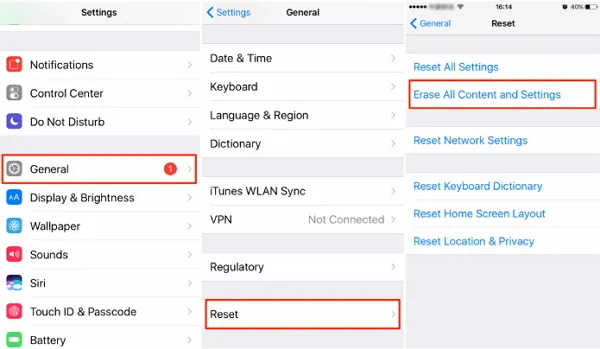 15. Fix iPhone Keeps Saying Call Failed without Data Loss
If a system issue or bug causes the problem, don't worry, third-party iOS repair tools can help you fix it. If you are unsure about which one to choose, we recommend FoneGeek iOS System Recovery. It is a top-notch system recovery tool for iOS devices that can help you solve various issues, including iPhone says call failed error, without data loss. This tool works well on all iPhone models and iOS versions, even the latest iPhone 15/14 and iOS 17/16.
Now let's see how to use FoneGeek iOS System Recovery:
Step 1: Download this iOS repair tool from FoneGeek official site and install it on your computer. Launch the program and select the "Standard Mode" from the home page.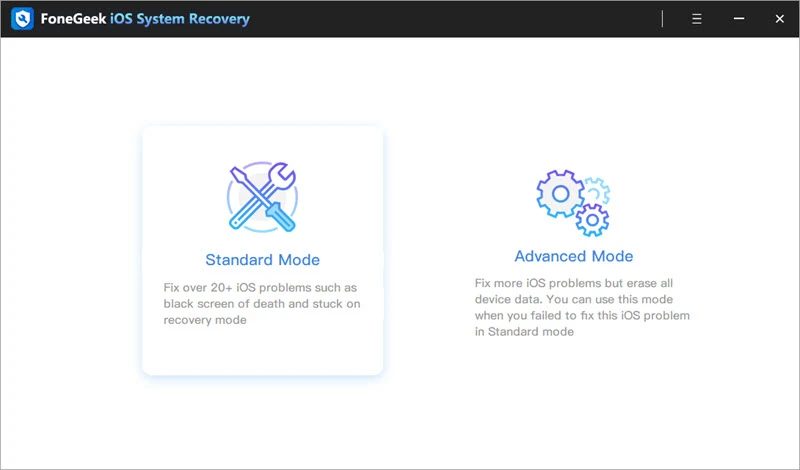 Step 2: Now connect the problematic iPhone device to your computer. If the iPhone is not detected, you will need to put the device to Recovery Mode or DFU mode to get detected.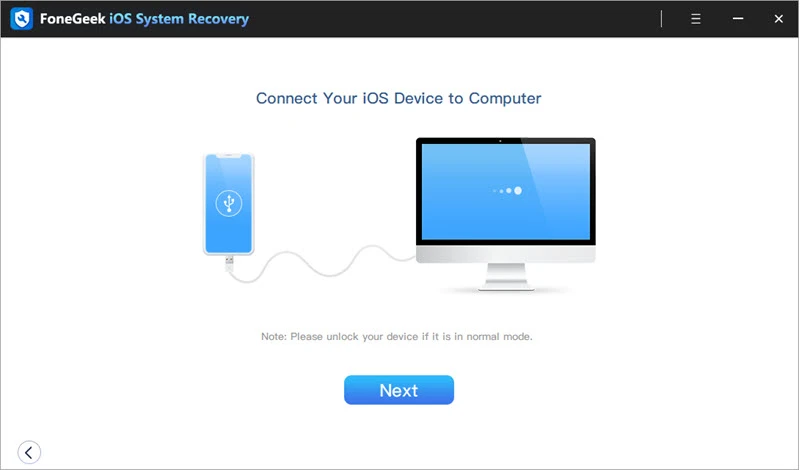 Step 3: Once the device is detected, you should find its model and available iOS versions. Simply choose the matching firmware and click on "Download".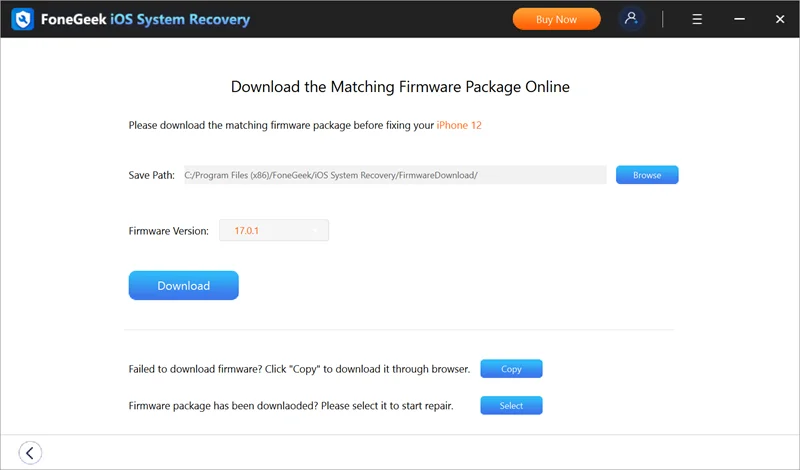 Step 4: Wait for the firmware download to be completed. It will then verify the downloaded iOS firmware. After that, you will need to press "Fix Now." That's it, the recovery tool will fix your iOS, and it should be ready to use within a while.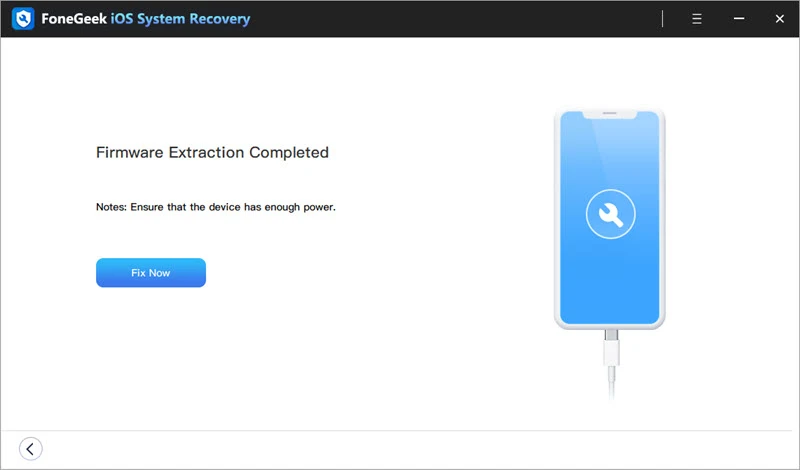 16. Contact Your Carrier or Apple
Your last resort can be contacting your cellular carrier or the Apple Support. Their customer support can help you detect the error and assist you in solving it.
Bottom Line
As you see, there are different causes behind the iPhone call failed error. If you can detect the specific reason, it can be easily solved by trying the intended solution. However, if you cannot catch the problem, you will need to try all the solutions one by one.
If you are not interested in going through the hassles of trying all the solutions, we will recommend you to make use of the FoneGeek iOS System RecoveryTool. The tool can surely fix the call failed error if it is caused by a system issue. This advanced tool can also help you solve other iOS system errors efficiently.