User Concern
"Does anyone know why and how I can get my iPhone to stop uninstalling all my apps? They're not getting deleted, they're still there but always have the cloud beside them. I checked my storage and it tells me I still have room. Please help!"
Have you noticed that some apps on your iPhone are getting deleted randomly or they are uninstalling themselves? If you're experiencing this, don't worry. It is an iOS feature, not a bug.
In fact, your iPhone is not actually deleting or uninstalling the app, instead it is trying to offload some unused apps to free up storage space. This feature is called Offload Unused Apps, and you can turn it off at any time you like.
In this article, we'll show you what is Offload Unused Apps and how to stop iPhone from uninstalling apps automatically. Also, you can learn how to individually offload unused apps and reinstall offloaded apps on your iPhone.
Part 1. Why Does iPhone Keep Unistalling Apps?
Well, the Offload Unused Apps feature was introduced in iOS 11, which provides an easy way for users to optimize storage usuage on iPhonr. It automatically offloads apps that you never use or use very rarely when your iPhone is in limited storage.
The offloaded apps are not really deleted, instead the app icons will remain on the home screen, but the icon will turn grey with a cloud logo nearby indicating they are disabled. Different from deleting an app, the offloading process will save the apps data and documents on your device.
When you reinstall the offloaded app, it will automatically restore the related data and documents. If you want to delete an app but don't want to want to erase all its data, you can choose to offload it.
Part 2. How to Stop iPhone from Uninstalling Apps Automatically
By default, the Offload Unused Apps feature is enabled on your iPhone. If you prefer to disable this feature, then you have to carry out this in App Store settings. Follow the steps to turn off this auto delete option in your iPhone:
Unlock your iPhone and go to the Settings option.
Scroll down and click App Store.
You will be able to find a toggle button next to Offload Unused app. It is enabled if the toggle is green. Tap on the toggle to disable it.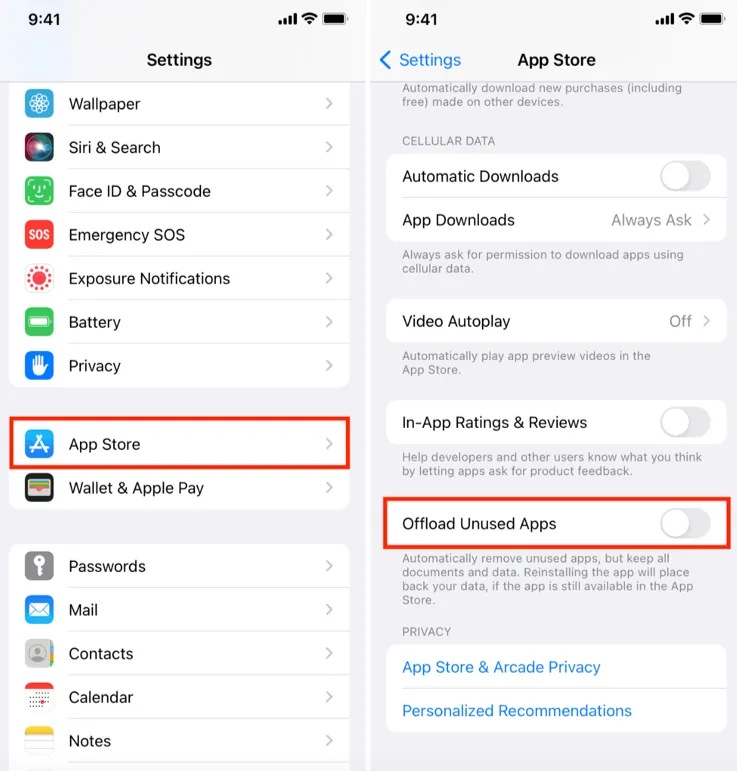 Individually Offload Apps on iPhone
If you have an app you don't use much, but you don't want to erase its data, you can offload it manually instead of deleting it on your iPhone. The procedures below will guide you to do so:
Go to Settings > General and click on "iPhone Storage".
Hit the app that you need to offload and click on "Offload App" in the next interface.
In the pop-up dialog box, tap "Offload App" again to confirm.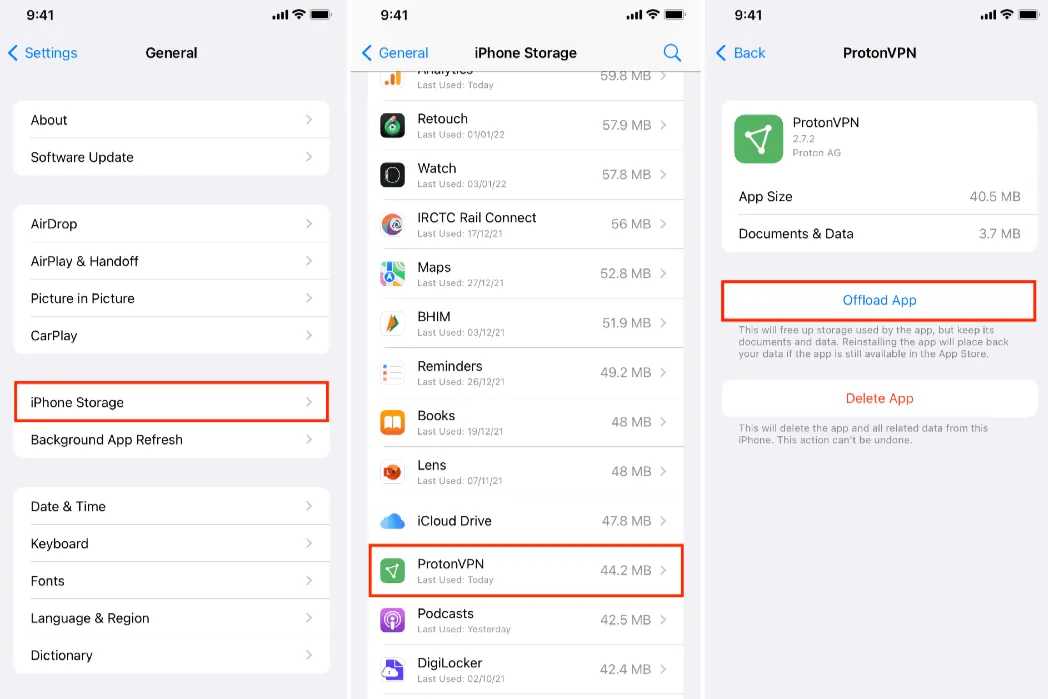 Same as automatic offload unused apps, the individual offloading apps will also keep the app data and docuemtns on your iPhone. That's to say, when you re-install the app, the app data will be fully restored.
Part 3. How to Reinstall Offloaded Apps on iPhone
After automatic or individual offloading apps, you won't be able to use them again. To regain access to the offloaded apps on your iPhone, you will need to reinstall them.
To reinstall offloaded apps, you can go to Settings > General > iPhone Storage, select the app that you want to reinstall and tap "Reinstall App". Also, you can simply tap on the app icon on the home screen to reinstall it.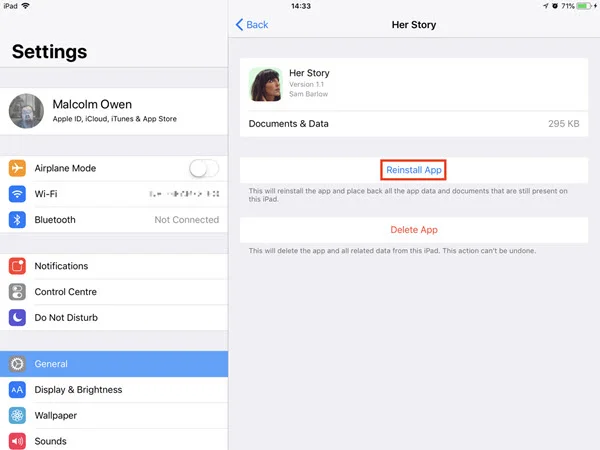 Extra Tip: How to Fix Other Issues with iPhone
If the Offload Unused Apps feature is disabled and your iPhone still keeps uninstalling apps, or you are facing other issues with your iPhone like black screen, you'd better use a third-party iOS repair tool.
FoneGeek iOS System Recovery (iOS 17 supported) is one of the best software to fix common issues related to apps installing and uninstalling process. Apart from this issue, you can also resolve various iOS problems like iPhone stuck in recovery mode, iPhone black and white screen of death, boot loop, etc.
Using the standard mode, you will be able to repair your iPhone effectively without data loss. Also, you can uninstall the iOS and reinstall it again for optimum performance. You can bring back your device to a normal state using FoneGeek iOS System Recovery software. It is an effective tool to overcome all issues with the device. Download and have a try.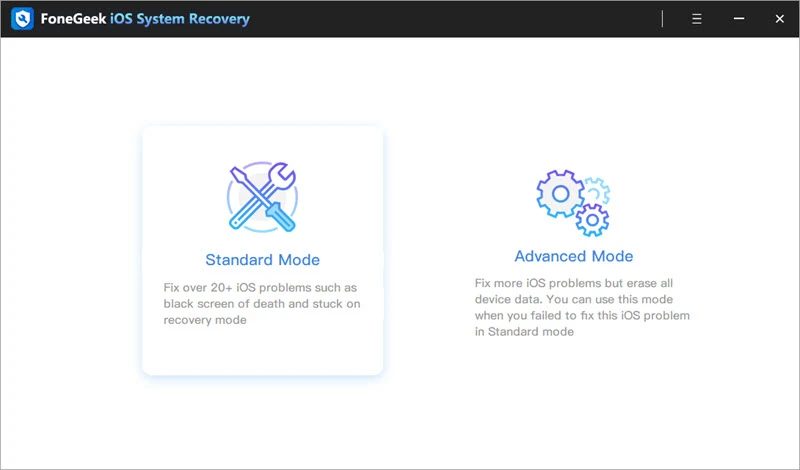 Conclusion
You may not be concerned about the iPhone randomly uninstalling apps issue after reading this article. Just as what we mentioned before, the Offload Unused Apps feature was added in iOS 11 to uninstall unopened apps randomly to optimize the iPhone storage. When this new feature is enabled, the apps that you don't use for a long time will be removed automatically.
What's more, a reliable tool: FoneGeek iOS System Recovery is highly recommended to repair any issues on your iOS devices without data loss.