iPhone keeps uninstalling apps seems to be a common issue with most of users. The real fact is that the device is not deleting or uninstalling the app instead it tries to offload the unused apps in the device for optimum usage. Sometimes this feature may be annoying for the users because you have to reinstall the apps every now and then. It is better to turn off this feature to overcome this issue.
In this article, let us learn to disable this control to avoid the automatic deleting process.
1. Why iPhone Keeps Uninstalling Apps
The basic mechanism behind this offloading feature is that in the iOS 15, the app will be automatically offloaded retaining its related data and documents. This is done in order to free up space when you face low storage issue on your device.
Actually, the app is not deleted, instead the icon turns grey with a cloud logo nearby indicating the app is disabled. It selects the apps based on your usage. If you use the app rarely or unused then this app will be subjected to offloading process.
When you reinstall the disabled app, it will automatically restore the related data and documents with the newly installed application.
iPhone keeps uninstalling app in order to maintain memory for further use. When you face shortage of memory space then this process will be triggered automatically.
2. How to Turn Off Auto Delete Apps on iPhone
By default, this option will be enabled in the iPhone. Sometimes the user may try out just for testing process. If you want to disable this feature then you have to carry out using iTunes, App Store settings. Follow the steps to turn off this auto delete option in your iPhone.
Unlock your iPhone and go to the Settings option.

On the Settings, select General.

From the expanded list click iTunes and App Store.

Go through the data given below the iTunes and App store. You will be able to find a toggle button along with the description besides stating Offload unused app. By default it will be enabled and now you have to disable it in order to turn off the auto delete apps feature.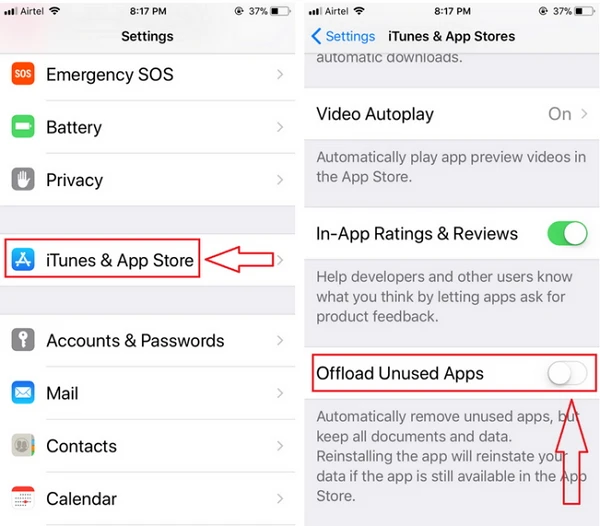 3. How to Fix Common Issues on App Install and Uninstall
FoneGeek iOS System Recovery is one of the best software to fix common issues related to apps installing and uninstalling process. Apart from this issue you can also resolve various iOS problems like sudden stuck in recovery mode, blank out with black and white screen etc. Using the standard mode, you will be able to repair your iPhone effectively without data loss. Also, you can uninstall the iOS and reinstall it again for optimum performance. You can bring back your device to a normal state using FoneGeek iOS System Recovery software. It is an effective tool to overcome unnecessary issues with the device.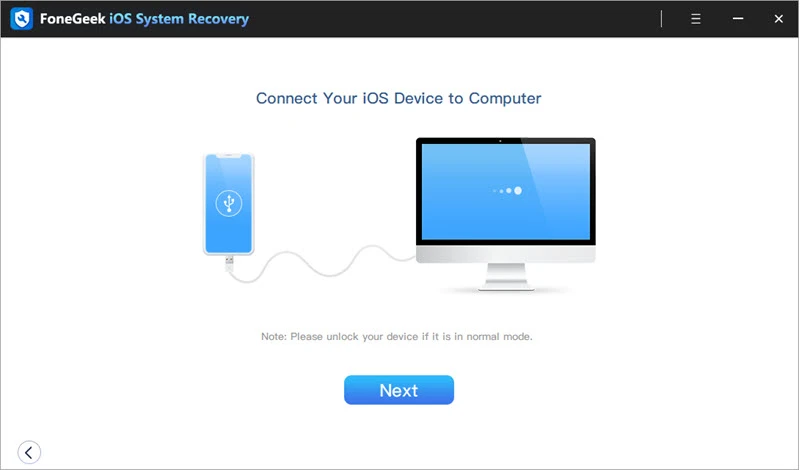 4. Individually Offload Apps on iPhone
You'll probably have to offload some apps manually instead of deleting them automatically on iPhone. The procedures below will guide you to do so:
Go to Settings > General and click on iPhone Storage.

Hit the app that you need to offload and click on "Offload App" in the next interface.
Manually offloading apps will also keep the app data on your iPhone. That's to say, when you re-install the app, the app data will be fully restored.
5. How to Reinstall Offloaded Apps
After turning off the automatically offload app feature,all the apps will not be removed automatically in the future.
If you need to reinstall offloaded apps, you can go to Settings > General > iPhone Storage to click on the app and reinstall it.

Joan J. Mims is interested in researching all tips about iPhone, iPad and Android. He loves to share useful ideas with all users.

Home
>
iPhone Issues
>iPhone Keeps Uninstalling Apps? How to Prevent Apps from Getting Deleted