There are times when iPhone messages can just disappear due to various different reasons. If you've had such an experience, you'll be happy to know that there are several solutions that can help you fix this iPhone messages missing problem. They can be simple actions such as restarting the device or more sophisticated fixes such as restoring the iPhone from backup.
In this post, we'll tell you exactly what you can do when your iPhone text messages disappear, plus how you can get back the messages that disappeared on your iPhone even without any backup.
Why Are My Text Messages Missing/Disappeared On iPhone?
iPhone text messages can disappear due to several different reasons. Here are some of the main ones:
The auto-deletion feature is enabled in your iPhone's Messages app.
You made changes to the configuration of your iPhone's message settings.
You mistakenly deleted the text messages someday without knowing.
Your iPhone system could have crashed or experienced a downgrade failure.
An iOS update may have experienced some unexpected error that caused your text messages to disappear.
The text messages on your iPhone inbox could have disappeared due to some unknown reasons.
Now that you're aware of some possible reasons that can cause iPhone messages to disappear, here are the solutions that can help you resolve it.
1. Restart Your iPhone
Start by performing a simple restart and checking whether the problem is resolved or not. Most of the time, it could be a temporary background process that's causing the messages to disappear on iPhone. In this case, simply restarting your iPhone will end that process and instantly restore your messages.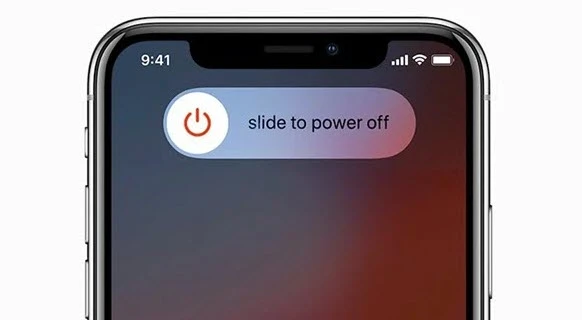 2. Restart the Messages App
Besides the device itself, try to restart the Messages app and see if the problem gets fixed. To do that, double-tap the Home button on your iPhone and a new window with recent applications will appear. Find the Messages app, swipe it up so that it can get removed from the list. Wait a few seconds and open the Messages app once more and confirm if you can now view your messages or not.
For the latest iPhones that have no Home button, you can open the background applications by swiping up your phone's screen right from the bottom and pause at the center. From there, find the Messages app, then just close it.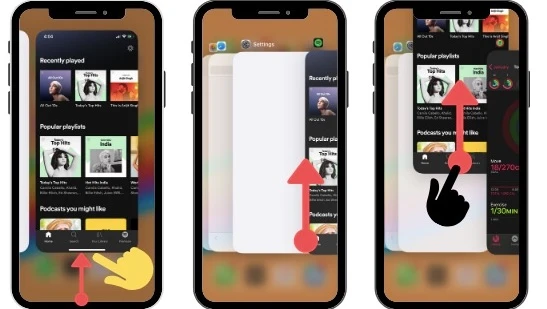 3. Turn Off iMessage and Turn It On Again
You can disable the iMessage and MMS messaging services from the settings and enable them again to clear any possible glitch that may have been the reason why the iPhone messages disappeared.
Go to Settings. Click the Messages option. Check the active buttons which show iMessage and MMS are on. Disable the two services for some seconds and then enable them again.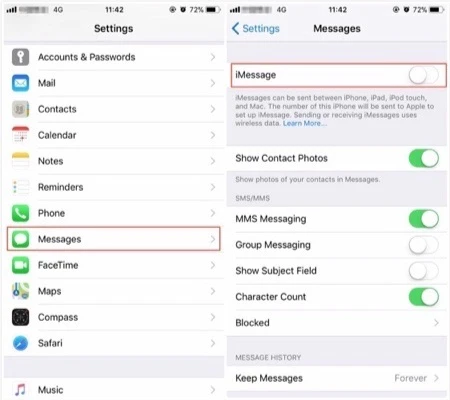 4. Enable and Disable Airplane Mode
Turning on the Airplane mode and then turning it off is another quick solution to this iPhone messages disappeared problem. You just need to open the Control Center. Once you do that, just tap the icon for the Airplane mode to turn it on.
Give the device a few seconds and then disable the Airplane mode. Now, head to your Message app and check if the messages that had disappeared are restored or not.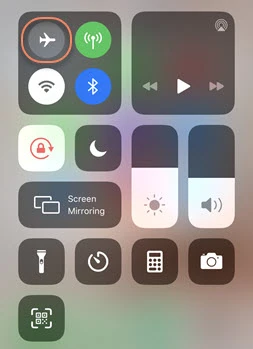 5. Turn iCloud Messages Off & On
The iCloud Messages sync is yet another solution you can consider. If you enable Messages in iCloud, then all the text threads on your iPhone sync to the iCloud server. Therefore, head to Settings and tap on iCloud. Next, tap Messages and then turn it off. Tap on Disable and Download messages when prompted. After a couple of seconds, turn on Messages again.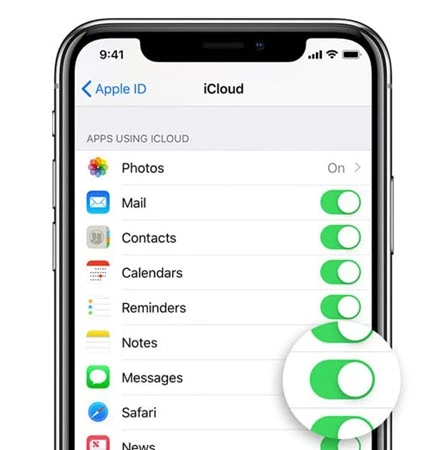 6. Keep the Messages Forever
You can set an iPhone to keep messages for a certain period of time. It can be 30 days to a year or permanently. So, you may consider checking these settings if your iPhone messages disappeared. Change it to keep the message in your phone's storage forever. To do that:
Launch Settings and head to Message.
Find the Keep Messages option and then tap it.
There will be three other options to choose from: 30 days, 1 Year, or Forever.
Choose the last option. The messages on your iPhone should now stop getting deleted automatically.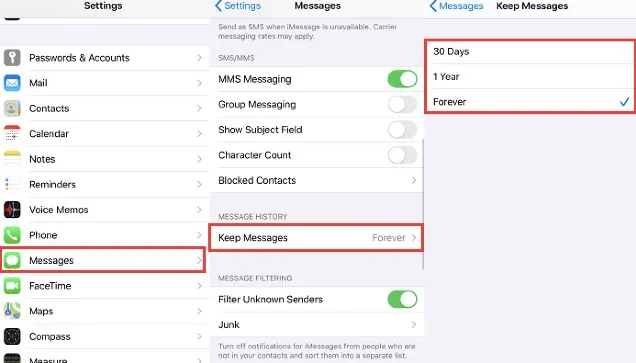 7. Update The iPhone
When your iPhone runs on an older iOS version, it can always experience some unexpected errors. Therefore, if the above solutions haven't worked, check and update your iPhone's iOS to the latest version.
To check for available software updates for your iPhone, open Settings. Go to the General option and click it. Next, click on Software Updates. The Download and Install option will show up if there's any new update. Click the option and when the update is done and your iPhone restarts, go to your inbox and check whether the lost messages are back or not.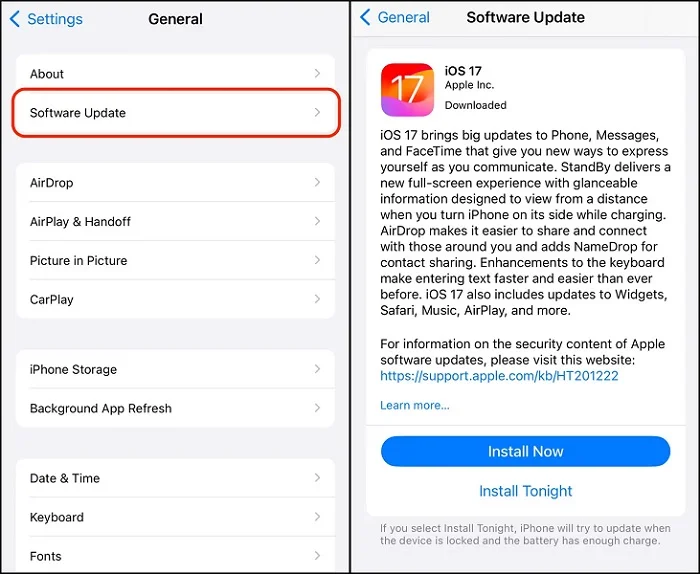 8. Reset All Your iPhone's Settings
Resetting all settings can equally fix this iPhone messages disappeared problem you're facing. The data in your device won't be affected in any way but all the settings will be reverted to their default state which will effectively get rid of all bugs that could have been causing this issue.
Launch Settings and open General.
Head to the Transfer or Reset iPhone option and tap Reset.
Finally, tap the Reset All Settings option. That's it!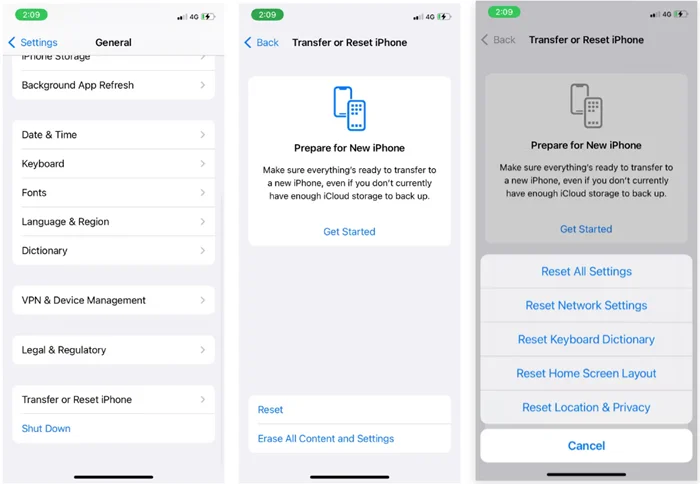 9. Restore Disappeared iPhone Messages from Backup
If you're still not successful at this point, check if you recently backed up your iPhone before the messages disappeared. When you're certain that the iPhone messages that disappeared are available in your most recent iCloud/iTunes backup, then you can reset your device and restore it from your last backup to retrieve the messages.
Restore iCloud Backup
Head over to iPhone Settings and then General, click Reset and tap on Erase All Content and Settings.
Your iPhone will reboot and set up as new device. In the Apps & Data Screen, choose Restore from iCloud Backup.
Sign into your iCloud account and choose the backup that contains the messages you want to restore.
When the iCloud restore process is completed, you can check the missing messages on your iPhone.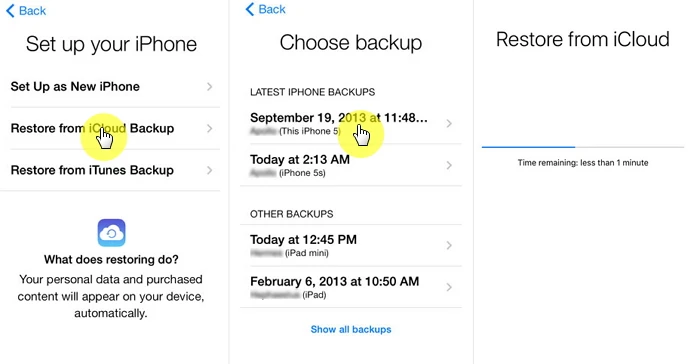 Restore iTunes Backup
Connect your iPhone to the computer with USB cable and open iTunes. On Mac running macOS Catalina or above, open Finder.
When your iPhone is detected successfully, click on the device icon.
Click Restore Backup. Choose the resent backup and click Restore to confirm.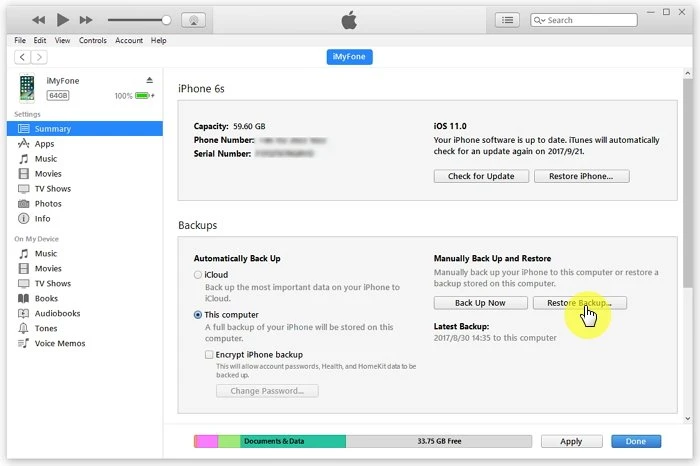 10. iPhone Messages Disappeared? Get Them All Back without Any Backup
If your disappeared messages not come back after trying all above methods, you may need to consider a professional data recovery program for iPhone. Provided that the texts that have disappeared are only hidden in the phone's internal memory and not overwritten by any new data files, it's possible to recover them back.
FoneGeek iPhone Data Recovery is a smart program that's able to scan your device thoroughly and discover files that can be recovered. Furthermore, the tool can help you retrieve only the message conversations from a recent iCloud or iTunes backup.
Here's how to recover disappeared/missing messages on iPhone without backup:
Step 1. Install and run the iPhone data recovery software and select the Recover from iOS Devices mode. This mode can effectively help users who do not have any backup.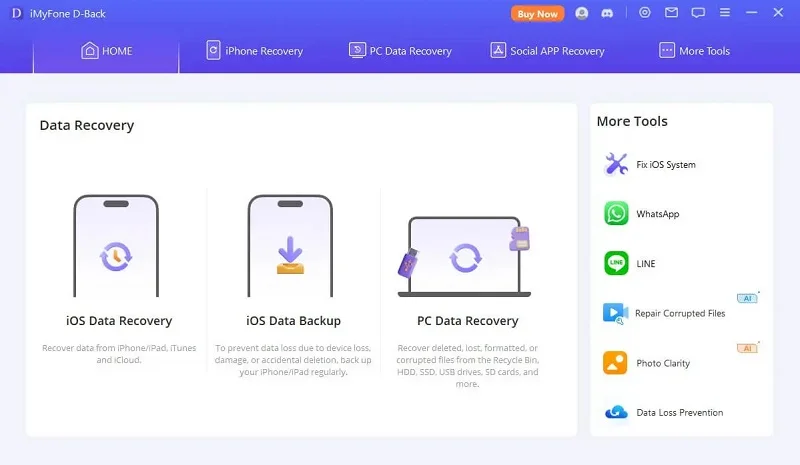 Step 2. Now connect your iPhone to the computer using a USB cable and wait for the problem to detect the device.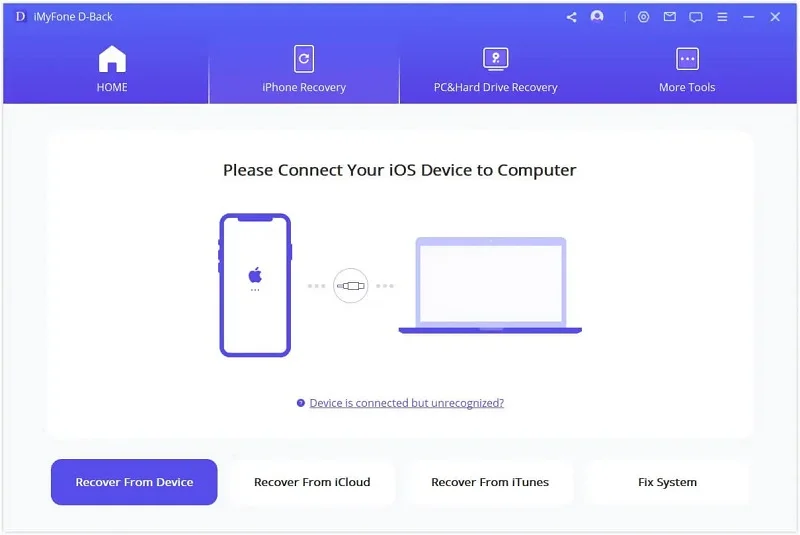 Step 3. When the device gets detected, choose Messages or other data that you need to recover and click Scan.
Step 4. After scanning, the disappearing text message will be displayed. Check the messages you want to get back and click Recover to save them to your computer.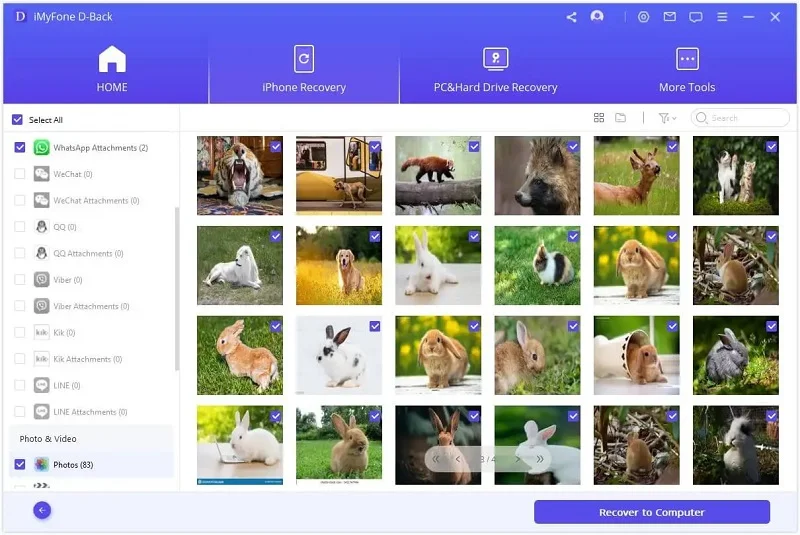 The Bottom Line
Having your iPhone messages disappear should not be a cause of worry. You just need to ensure you've checked the settings as shown by the methods above. A better option would be to use FoneGeek iPhone Data Recovery to effectively recover all missing or disappeared messages on iPhone without using any backup. Besides that, it's useful for recovering messages that have been deleted by mistake and also other files and data on iPhone or iPad.