Is your iPhone keep saying messages indexing after updating to the latest version of iOS? Well, you are not alone. Many other iOS users are also claiming to encounter the same issue. The good news is you should be able to solve it by trying some easy fixes.
In today's guide, we will let you know what causes the messages indexing issue and what you can do to fix it. Keep reading!
What Does It Mean When Messages Are Indexing?
After every major software update, your iPhone will require reindexing some of its content. This may include the text messages and multimedia included in the messages. Typically, the indexing process requires a few seconds to be done.
However, in some cases, it may require more time. It usually happens when the iPhone face an indexing error. You will be unable to view the messages. Instead, you will get a notification that says, "More results will be shown once Messages finishes indexing".
Don't worry, the text messages are not removed from your iPhone and can still be accessed. If the situation continues for a long time, you can follow the solutions below to solve the problem.
1. Restart Your iPhone
The first thing you should do is restarting the iPhone. It might help to solve the messages indexing error. Here is how to do this:
Open "Settings" and go to "General". Scroll down to find and press "Shut Down".

Now, you will see a slider. Move it to the right to shut down the phone.

Long-press the power button to turn on the iPhone again.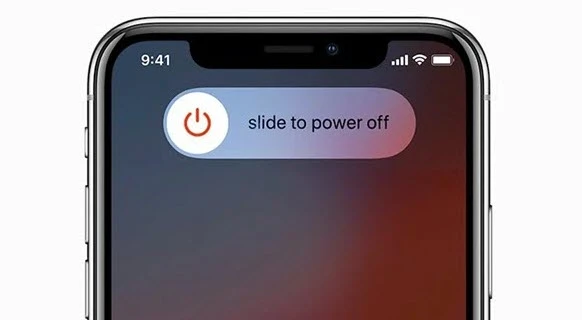 2. Turn iCloud Messages Off and On
Sometimes the error can be caused by the iCloud syncing. In this case, you can consider turning off the iCloud Messages and turning it back on again. It might help by restarting the indexing process. Here is what to do:
Open "Settings" on your iPhone and press "Apple ID". Click "iCloud" on the next page.

Find the "Message" option. It should be already enabled.

Disable the toggle for Messages and restart your iPhone.

Turn on the iPhone and enable iCloud Messages by following the first 3 steps.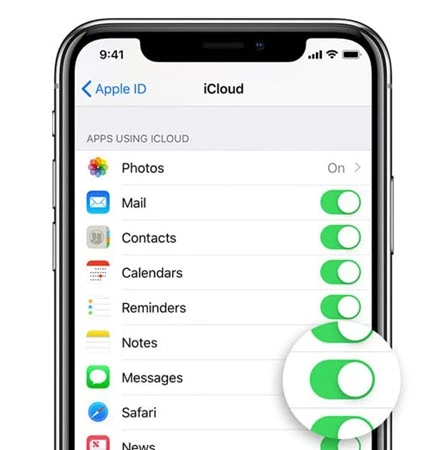 3. Change the Search Indexing Settings
iPhone enables you to update or alter the indexing settings. Updating the settings might help you to get rid of the issue. Here is how to do this:
Open iPhone's Settings and select "Siri & Search".

On the new page, scroll down to find and click on "Messages".

You will see different options under Messages. Make sure they are all enabled.

If any settings are disabled under Messages, you need to enable them.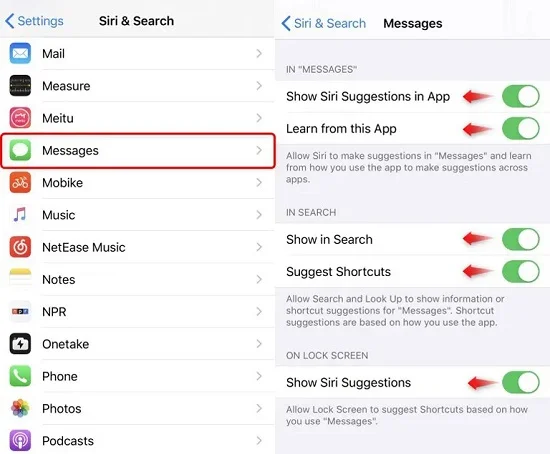 4. Change iPhone's Language Settings
Incorrect language settings can also cause indexing errors. Check the language settings of your iPhone and make sure that it is correctly set. Here is how to do it:
Open iPhone's Settings and go to General. Then press on "Language & Region".

You will find a list of languages. Select the one you want to use.

Once you are done, go to the main Settings page and then open "Siri & Search".

Find and open "Languages" on the new page. Choose the preferred language like earlier.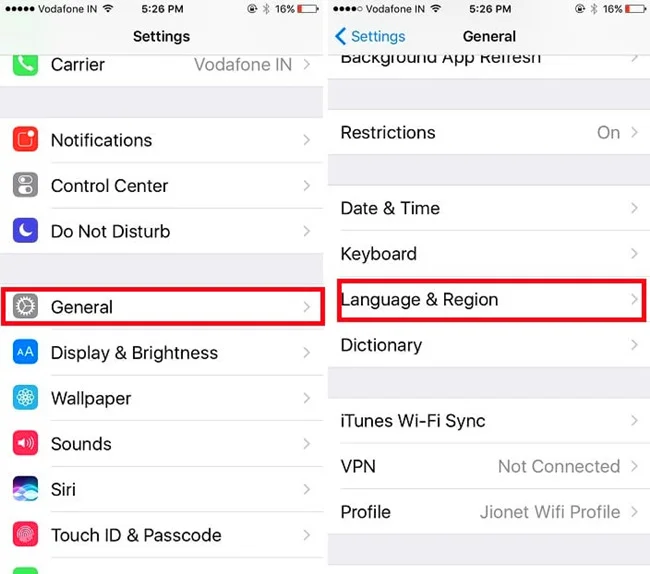 5. Update iPhone to Latest Version
Is your iPhone running on an old iOS version? If so, consider upgrading to the latest version. That is because Apple has brought fixes to the new versions of iOS. Follow the below steps to check for updates:
Open Settings and go to General. Find and press "Software update".

Wait a while to let iPhone check for available updates.

If it's available, you will find the "Download and Install" button.

Make use of the on-screen instructions to proceed with the iOS update.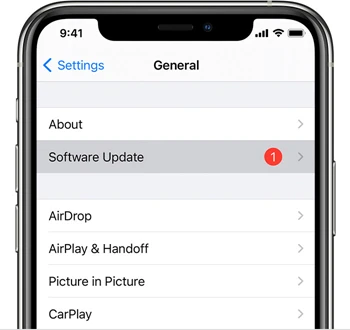 6. Sync Messages from iPad or Mac
If you have iCloud enabled on your iPhone, then there is no need to worry about losing the messages. That is because all the data, including the messages, will be backed up in the iCloud's server. That means you can retrieve the messages anytime on your Mac, iPad, or other Apple devices.
7. Turn Off iCloud Backup
You can temporarily stop iCloud backup to see if it is causing the indexing error. If you want to do so, follow these steps:
Go to Settings > Apple ID and then iCloud.

Disable the "iCloud Backup".

Now, you will be asked whether or not you want to download all the content. Press "Yes".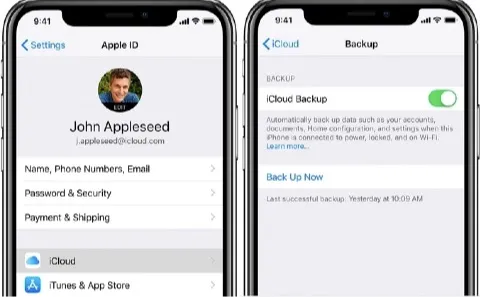 This will make sure all the messages and other content of the device are locally accessible.
8. Restore from iTunes Backup
If none of the above options works for you, consider restoring iPhone from a previous iTunes backup. Here is how:
Open iTunes/Finder on your PC and connect the iPhone. Enter the passcode if needed.

Press on the iPhone icon from the top-left of the screen on iTunes.

After that, press Summary and then press "Restore Backup".

Choose the latest iTunes backup file to restore. When the restore is complete, all messages will be backup to your iPhone.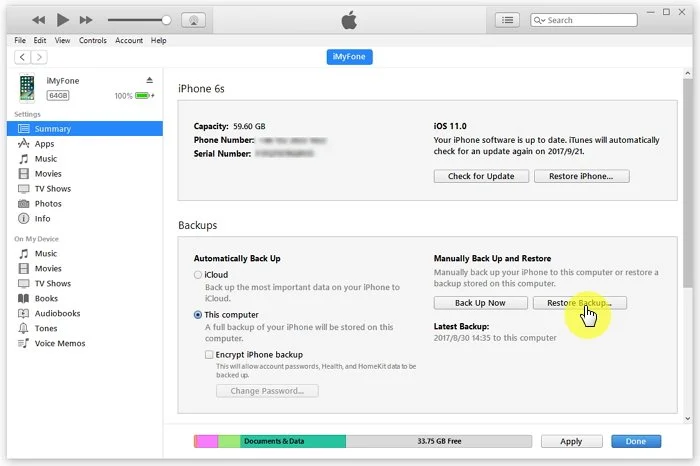 9. Recover Old Messages Using Data Recovery Software
If you still cannot sort out the problem, third-party data recovery tool might be the best option. You can utilize the FoneGeek iPhone Data Recovery program to quickly recover the old messages. It also enables you to access other types of content as well, including contacts, photos, videos, notes, WhatsApp messages, Safari history, and more. The powerful program has a higher recovery rate and is pretty easy to use.
Let's see how to employ the FoneGeek iPhone Data Recovery app:
Step 1: After downloading FoneGeek iPhone Data Recovery to your PC, install it with the on-screen guide. Then launch it and attach the iPhone to the PC. Press "Recover Data from iOS Devices" on the app interface.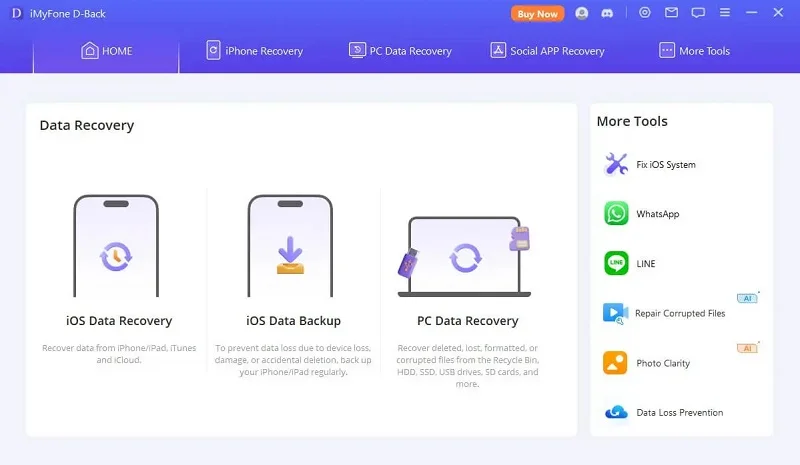 Step 2: Now select Messages or other types of data you want to recover. Then press "Scan". This will begin scanning for the deleted files of the device.
Step 3: Once the scan is completed, you will find all the removed and available data listed as categories. Select "Messages" and click "Recover". That's it; the file will be downloaded on your PC.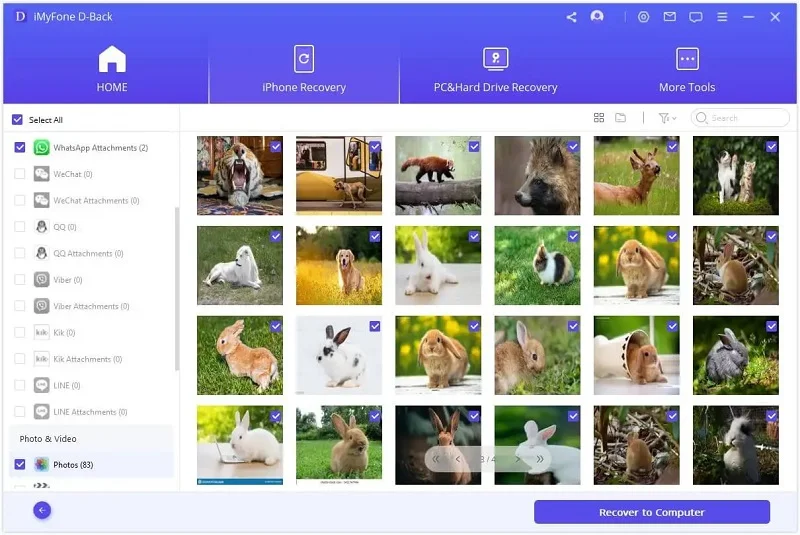 The Bottom Line
Being unable to check the important messages on your iPhone can be very frustrating. However, now you can easily solve the iPhone messages keep indexing issue by following the above fixes.
If you are in a hurry and want to view your old messages quickly, consider using the FoneGeek iPhone Data Recovery program. By using it, it can quickly recover the messages and check them.

As a professional writer who is interested in technology, Edwin J. Parke has helped thousands of users by offering various tips to solve their problems.

Home
>
iPhone Issues
>9 Tips to Solve iPhone Messages Keep Indexing Issue