Getting an iPhone fully charged is time consuming and things can be even worse when your connect your iPhone to the charger and later find out it's not charging. Although the problem is very annoying, you should be able to solve it easily in most cases.
In this write-up, we will introduce you to the possible problems that can prevent iPhone from charging and walk you through the solutions to fix 'iPhone won't charge' issue.
Why Won't My iPhone Charge?
There are several things that can prevent your iPhone from receiving the charge. Some of the common causes include:
Malfunctioned charging cable/power adapter.
Uncertified or fake charger.
Dirt accumulation in the charging port.
Bad/irregular charging practice.
Apart from these, sometimes software bugs, damaged battery, incompatible case, etc. also cause the charging issue. Below, you will find further details on possible causes as well as their solutions.
Part 2. Basic Tips for You When Your iPhone Won't Charge
Try Wireless Charging (Temporary Fix)
If you want a temporary and quick fix to the iPhone not charging problem, wireless charging can be the solution for you. iPhone 8 and newer devices support wireless charging. If you have the Qi-certified charger, simply put the phone in its center and the device will start charging immediately.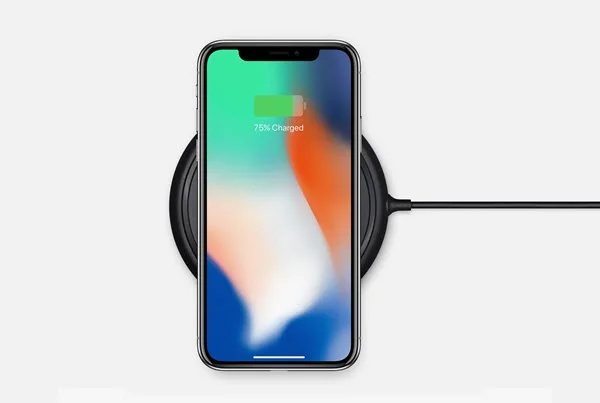 It's great if your iPhone can be charged wirelessly. If you are wondering why your iPhone is not charging with a wired connection, keep reading.
Check Your Lightning Cable for Damage
Damages in the lightning cable can also lead to this charging issue. Give a close look at both connectors of the USB cable you use to charge your iPhone. If there is any damage, then you will need to invest in a new cable. Usually, these cables are not fixable.
Try A Different iPhone Charger
Along with the wall socket, a lot of us also use the car charger, speaker dock, laptop's USB port for charging the iPhone. Sometimes, the iPhone software may detect a power fluctuation and prevent the device from charging. In this case, consider trying a different iPhone charger.
Check Case Compatibility
Using an incompatible case can cause difficulties with charging, as it can block access to the ports and buttons. If you're having trouble making a strong connection, try removing the case. If you're using a wireless charger, make sure that the case is compatible with it. If you still encounter problems, it may be the cover causing it, not the iPhone.
Clean Out Your iPhone's Charging Port
Dirt and debris can prevent your iPhone charger from establishing a connection, which can avert it from charging. Give a closer look at the charging port in the bottom of your iPhone and check if there is any dirt or debris in there. If there is any, use a toothbrush or toothpick to get rid of it. Do this carefully to prevent any damages.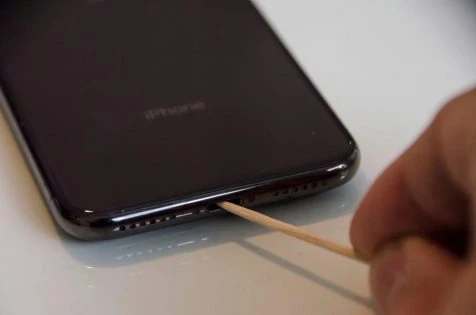 Prevent Liquid Damage from Interrupting iPhone Charging
Did you know that liquid damage can cause charging issues with your iPhone? When liquids come into contact with the connections in the charging port, it can short them out and prevent charging. If your device has been exposed to water, it is crucial to dry it thoroughly before attempting to charge it. Even a small amount of water in the port can cause problems with charging and other functions on your device.
Cool Your iPhone Down
The recent iPhone models include a feature that prevents it's battery from becoming too warm. When your iPhone is too warm, it will limit the charging capability to 80%. So, if you see the charging is stuck, consider cooling down the phone and then charging it.
Optimize the Battery Charging Feature
The optimized battery charging feature on the iPhone is designed to improve the lifespan of the battery. The feature tracks your daily charging routine and delays charging past 80% in certain situations. While this feature is well-designed, it can be an inconvenience if you want more control over the charging of your device.
To disable this feature, head to the Settings app on your iPhone, select Battery, and then Battery Health. From there, turn off or on Optimized Battery Charging as desired.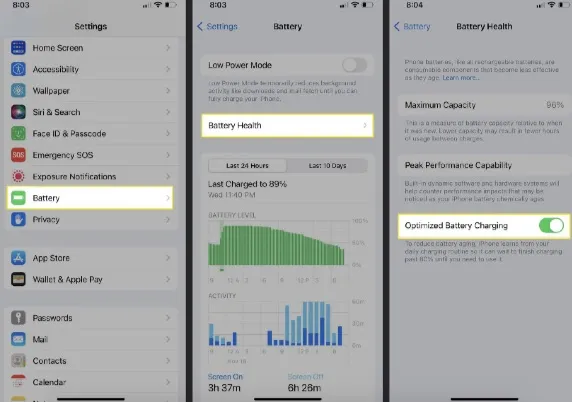 Part 3. Advanced Ways to Fix iPhone Not Charging Issue
Hard Reset Your iPhone
Sometimes your iPhone won't charge because of a system issue or bug. In such a case, you can consider hard resetting the device. This will help to clean the cache and temporary files which cause the charging issue with your iPhone. Here is how to do this:
For iPhone 8 or later, press and release the volume up button, then press and release the volume down button. Tap and hold the side button and wait till the screen becomes black and the Apple logo arises.
For iPhone 7/7 Plus, tap and hold the volume down button along with the side button together and wait for the Apple screen to occur.
For iPhone 6/6s Plus or earlier, tap the side/top button and the home button together and wait till the Apple logo occurs.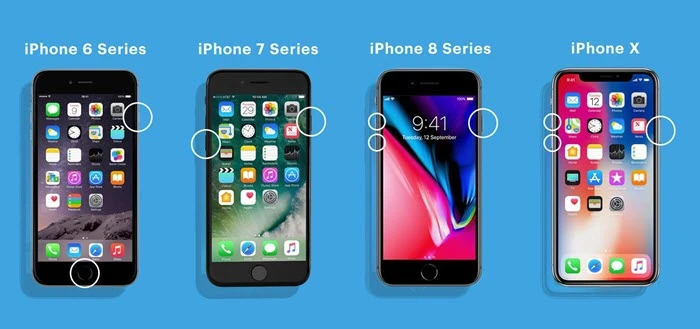 Reset All Settings
You can also try to reset all the settings on your iPhone to get rid of the issue. Here is how to do this:
For iOS 15 or later: Go to the Settings and then General. Find Transfer or Reset iPhone and tap on Reset from there. Then press Reset All Settings.
For iOS 14 or later: Open the Settings and go to the General tab. Locate and open Reset and press on Reset All Settings.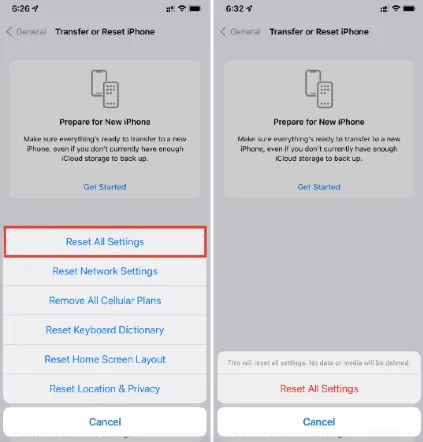 Update iPhone Software
Another solution you can try if your iPhone got affected by bugs or system issues is updating the iPhone software. Here is how to update the iPhone software:
Open the Settings of your iPhone and go to General. Open Software Update and if there is a new iOS version available, download and install it.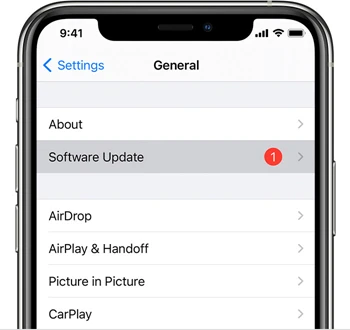 Restore to Factory Settings on iTunes
You can also restore your iPhone to factory defaults using iTunes. This will be the best option if you failed to solve the issue following the above methods. Here is how to solve this:
Attach the iPhone to the PC via USB cable. Then launch iTunes and select the device and create a backup.
After completing the backup, press Restore iPhone. The device will be restored and it will begin like new.

Along the set up, you will get the option to restore the device from iCloud or iTunes backup.
Fix iPhone Not Charging without Data Loss
If you are still unable to solve the iPhone won't charge issue, consider making use of a third-party app. And, the FoneGeek iOS System Recovery will be the best choice for you. This professional iOS repair tool enables you to fix all the system-related issues including iPhone not charging safely without any data loss.
Step 1: Go to the official website of FoneGeek iOS System Recovery. Download and install the tool for your Windows/Mac PC. Launch the program and select Standard Mode from the home interface.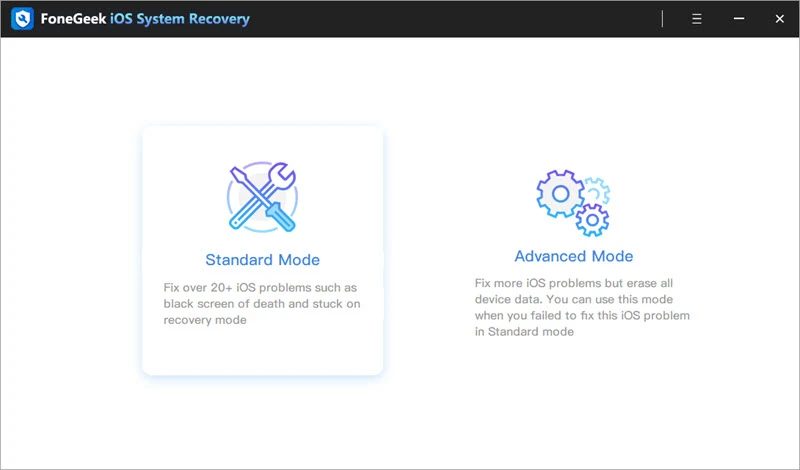 Step 2: Connect your iPhone with the PC using a USB cable. Unlock the iPhone and press "Next". If the phone is not detected, the app will ask you to boot the iPhone into recovery or DFU mode. Simply follow the on-screen instructions.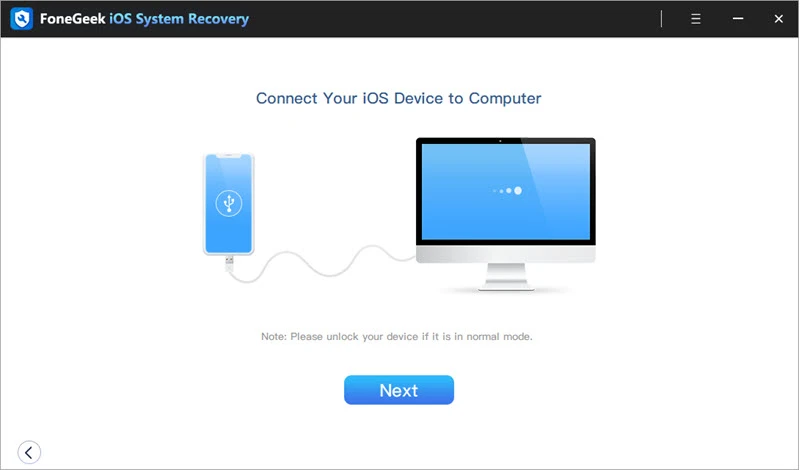 Step 3: Now you will find your iPhone model and available iOS versions. Pick the preferred version and press Download to start downloading the firmware package.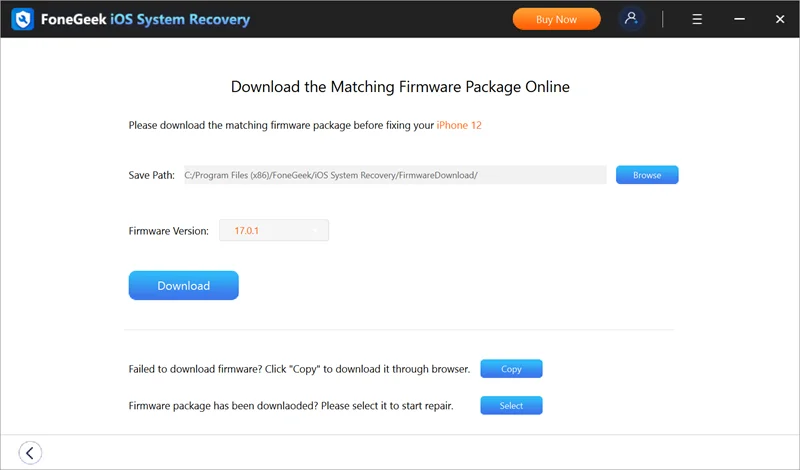 Step 4: Once the download is complete, the program will verify the downloaded firmware. Press "Fix Now" to begin fixing the device. Once you are done, the device should become a normal state.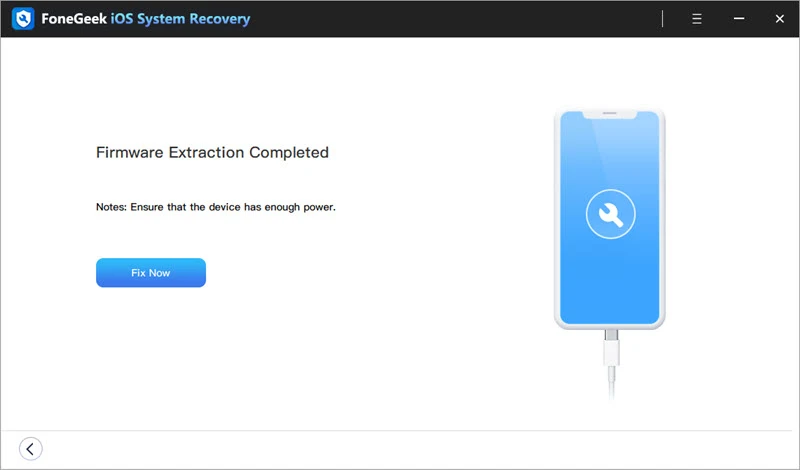 Take Your iPhone to Apple for Repair
If the iPhone is still not charging, your last resort will be to take it to Apple's Support Center. They will assist you to solve the issue and if the battery is problematic, they will replace it for you.
iPhone Charging Again!
iPhone not charging can be a troublesome issue. However, you can easily solve it by trying the above solutions. Especially, FoneGeek iOS System Recovery can help you to solve the issue quickly without much effort. Hope the article will help you to make your iPhone charging again, perfectly!