It can be quite frustrating when you miss important calls or can't respond timely to calls simply because your iPhone does not ring when locked. This problem often occurs after doing an iOS update on your iPhone.
However, the cause could also be something as basic as the volume being set low or your phone accidentally being set to silent mode. It may as well be due to some system glitches or various other reasons as you'll learn below.
Fortunately, there are many troubleshooting tips and steps for rectifying iPhone not ringing when locked. We've outlined all these fixes herein. They are pretty effective and will get your iPhone back to ringing normally in no time. So, let's check them out.
Why Does My iPhone Not Ring When Locked?
There are various reasons behind iPhone not ringing when locked. In most cases, it's because the ringer is accidentally set to a silent position, the volume being set low or some other minor settings like iPhone set in Do Not Disturb mode, Driving mode, or Earphone mode. Besides, your iPhone may not be ringing when locked because of minor system glitches or some hardware-related problems.
So, any of these reasons we've highlighted could be the culprit but you can easily rectify the issue using the following troubleshooting steps and solutions.
1. Check the Silent Switch
Before anything else, check if your iPhone is in silent mode. You can do this by checking the silent switch on your iPhone (on the top left side). If it's pushed down, that means your iPhone is set to silent mode hence the reason why it's not ringing when locked.
To fix the issue, turn off the silent mode by lifting the switch. Once you do that, ask a family member or friend to call you to see if your iPhone will ring.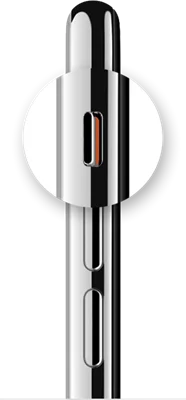 Note: If you have an old iPhone, it's likely that the silent switch may be a bit loose or wobbly. If that's the case, ensure you push it up with much pressure.
2. Check iPhone Speaker
After checking the silent switch, check your iPhone speaker next to confirm that it's working. You can do this by playing a song on any Music App or YouTube on your iPhone. Try increasing the volume using the Volume Up button (on the left side).
If you hear the music very clearly and loudly, then you know your iPhone speaker is working fine. What a relief! It's not a hardware issue which would probably be costly and time-consuming to fix.
3. Turn Off Do Not Disturb Mode
As we mentioned before, one reason why the iPhone does not ring when locked is that the Do Not Disturb mode is enabled. To fix this, you have to turn off the Do Not Disturb mode.
Open Settings. Tap the Focus option and then Do Not Disturb.
In the resulting screen, tap the toggle that's beside the Do Not Disturb option to turn it off (should toggle to the left side).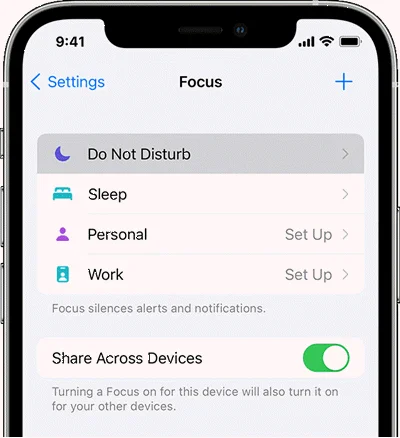 4. Turn Up the Volume Level
It's likely that you previously lowered the volume level on your iPhone and didn't remember to raise it afterward. That's why you're having your iPhone not ringing when locked. Therefore, turn up the volume level:
Launch the Settings app and tap the Sounds option.
Go to the RINGER AND ALERTS slider and drag it to the far right end to raise the volume.
Besides that, ensure that the Change with Buttons option is disabled.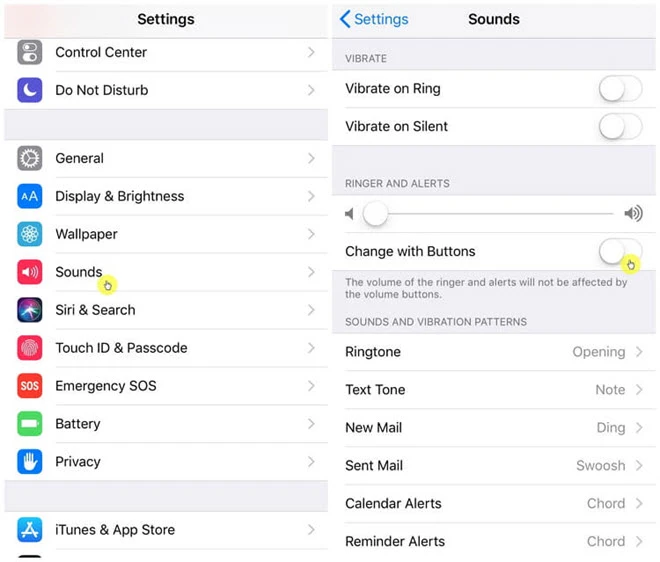 5. Disconnect Paired Bluetooth Devices
Open Settings and tap the Bluetooth option. Now tap the toggle next to Bluetooth to the OFF position to disable it.
You can alternatively remove all the paired Bluetooth devices by simply tapping the "i" icon that's beside the connected Bluetooth Device and then tapping the Disconnect option.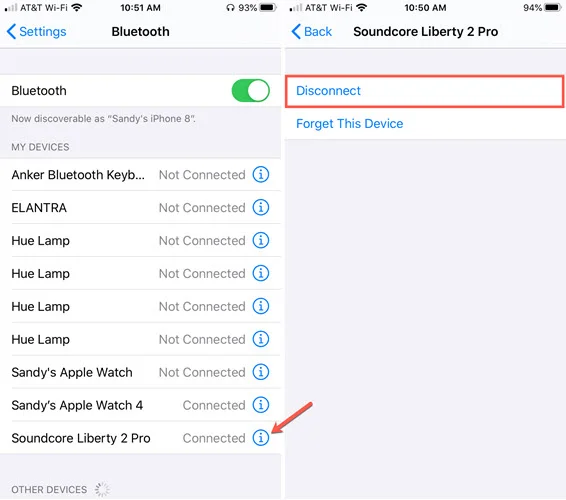 6. Ensure iPhone is Not Stuck in Headphone Mode
Occasionally, your iPhone may get stuck in Earphone mode hence causing it not to ring out when there's an incoming call - any ringing sound will get transmitted to the headphone or any connected audio device. Even when you remove the headphone or audio device, your iPhone would still think it's connected to it.
It's a weird situation that seldom happens with iPhones but you can't rule it out as it could be one of the causes for your iPhone not ringing when locked. To know if your iPhone is stuck in Headphone mode, press either the Volume Up or Volume Down button on the device and check the Volume indicator when it appears on the screen. If there's a "Headphone Icon" on the indicator, then your iPhone is probably stuck in Headphone mode.
You can plug in and plug out the headphones again to get rid of the Headphone mode. You can as well turn off Bluetooth to see if it will help. In case any of these fail to work, you may need to restart your phone now.
7. Disable Call Forwarding
If you've enabled Call Forwarding on your iPhone, all your incoming calls are getting diverted to another/forwarded Phone number and this is probably why your iPhone does not ring when locked. To fix this, turn off Call Forwarding.
Open the Settings App. Tap on the Phone option.
Now tap Call Forwarding and ensure that the Call Forward toggle in the next screen is set to the OFF position (grayed out).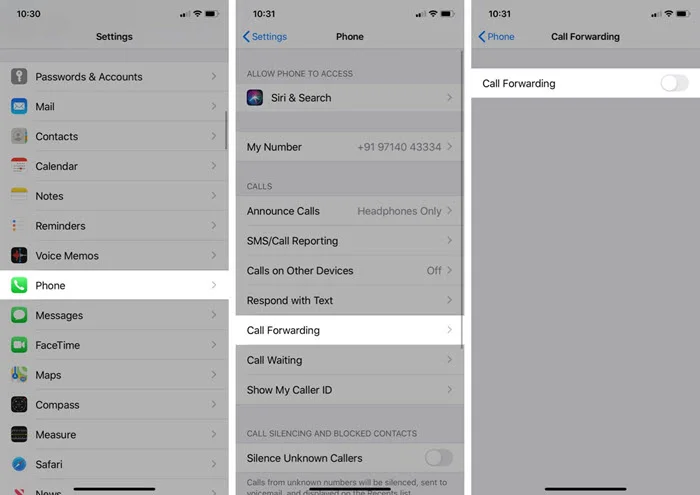 8. Turn Off Silence Unknown Calls
Silence Unknown Callers is a handy feature on iPhone that allows you to silence all incoming calls from unknown callers. It's convenient for a few people but in case you turned it on without knowing, then it means your iPhone won't ring when someone whose number is not in your Contact list calls. So, turn it off by following these steps:
Go to Settings. Tap the Phone option to open it.
Now disable the Silence Unknown Callers feature by tapping the toggle next to it to the OFF position.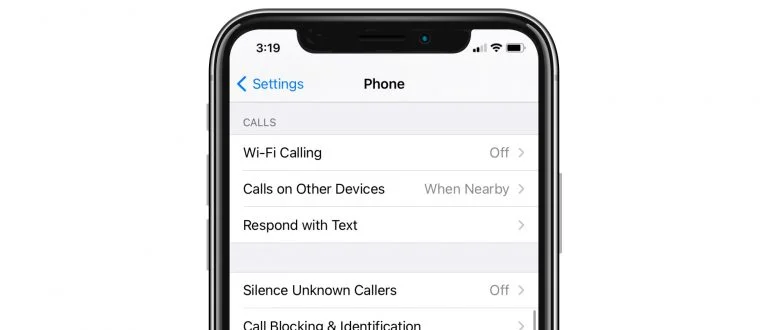 9. Check Your Blocked Numbers
You may have accidentally blocked a particular Phone Number on your iPhone in the past and as such, you're not receiving Calls from that particular Number. That could be the reason you can't hear your iPhone ringing out. Therefore, confirm that the particular number is not actually blocked.
Open Settings. Tap Phone and then tap on Blocked Contacts. You'll see a list of blocked calls on the next screen.
Check if the particular Phone number is included in the list. If it is, remove it from the list so that you can receive calls from the number.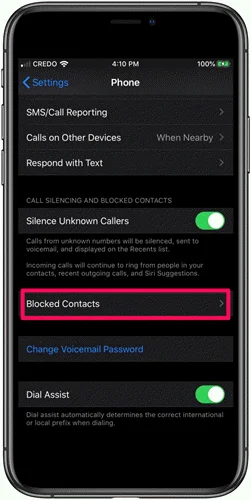 10. Restart Your iPhone
A simple quick restart of your iPhone could actually fix the iPhone not ringing when locked issue you're facing. To restart the phone, just use the buttons as you normally do.
Alternatively, you can launch the Settings app and tap General. Then, tap Shut Down. Wait for about a minute and turn on your iPhone again. When it's up and running, you can ask a family member or your friend to call you.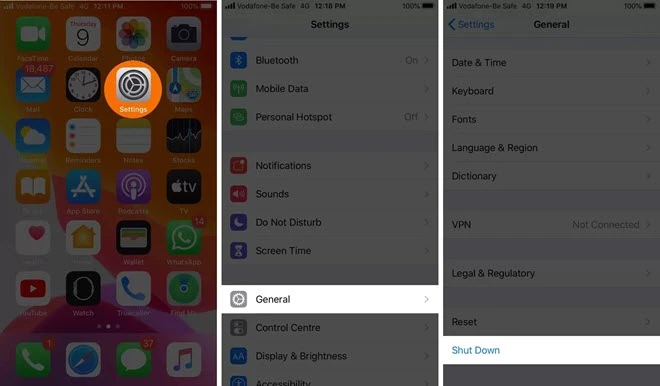 11. Update iPhone
The root cause of your iPhone not ringing when locked could be some system glitches or bugs that can easily get fixed by an iOS update, especially if your iPhone's iOS was outdated.
To update your iOS to the latest version, open the Settings app. Tap on General. Now tap on Software Update. If there's an avialable update, just tap on Download and Install to get it.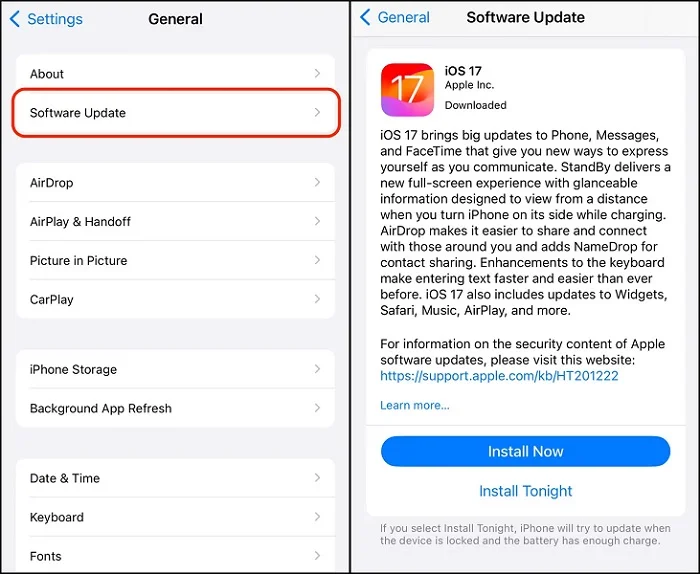 12. Factory Reset iPhone (Data Loss)
If you're still not successful at this point, it's time to consider factory resetting your iPhone and see if the problem will get fixed. Keep in mind that once you factory reset the phone, all the data in it including the corrupted and broken files that could be causing this issue will get completely wiped out. Once the process is done, you'll be prompted to set up the iPhone as a new device or restore it using a recent iCloud or iTunes Backup if it's available.
13. Use iOS Repair Tool (No Data Loss)
In case you have some important data on your iPhone and don't want to lose it, you can fix the iPhone not ringing when locked issue using an iOS repair tool. FoneGeek iOS System Recovery is a perfect choice as it's a professional tool developed for iOS system repair.
It can fix any iOS problem within a few minutes without losing any data on the phone. All the data on your iPhone will remain intact but any system glitches or issues causing your iPhone not to ring will be wiped out. Besides being simple to use, the tool can work with the latest iOS 16 version and iPhone 14 models.
Simple steps to fixing iPhone not ringing issue without data loss:
Step 1: Install FoneGeek iOS System Recovery on your computer once you download it. Launch it and select the Standard Repair option on the main interface.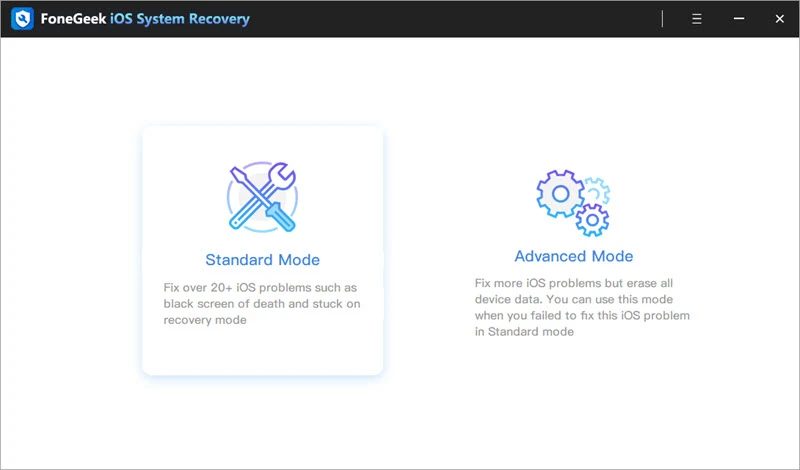 Step 2: Using the right USB cable get your iPhone connected to the computer and click Next. When the program detects your device, move to the next step. If it fails to detect the device, follow the instructions on the screen to put your device into DFU/Recovery Mode.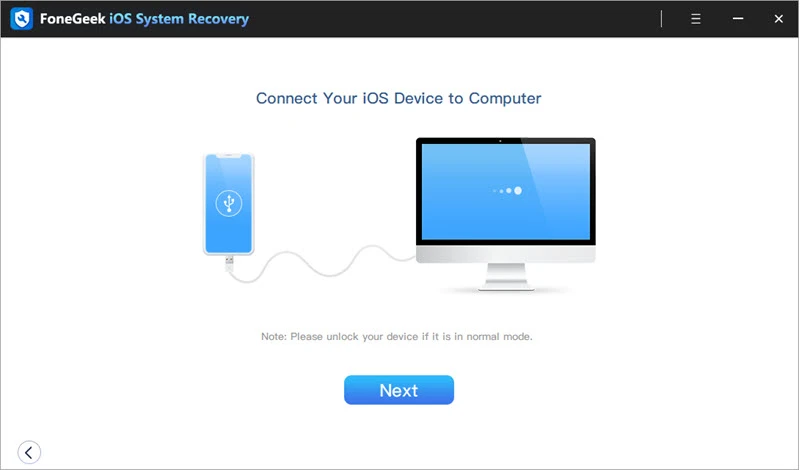 Step 3: Once it's detected, the program will display all suitable firmware packages for your device. Choose the right one and then click Download to start downloading the firmware.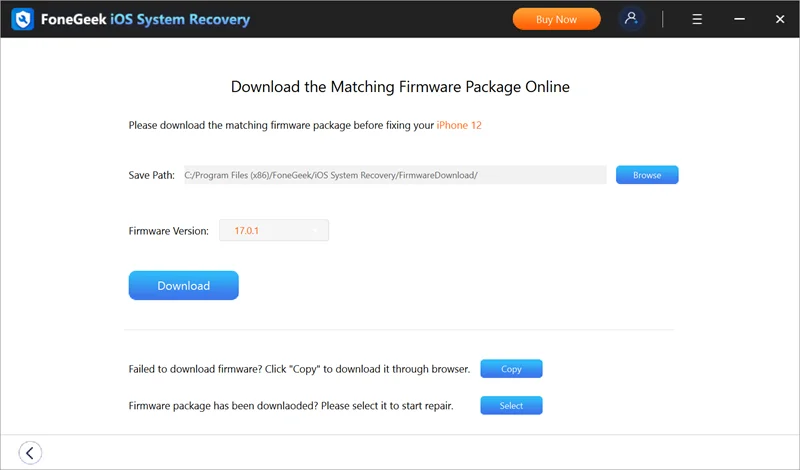 Step 4: When the firmware completes downloading, head to the Fix Now button and click it. Allow the repair process to run until it's done. You'll get a message that the iPhone is successfully fixed. The phone will restart and the problem of iPhone not ringing will no longer be there.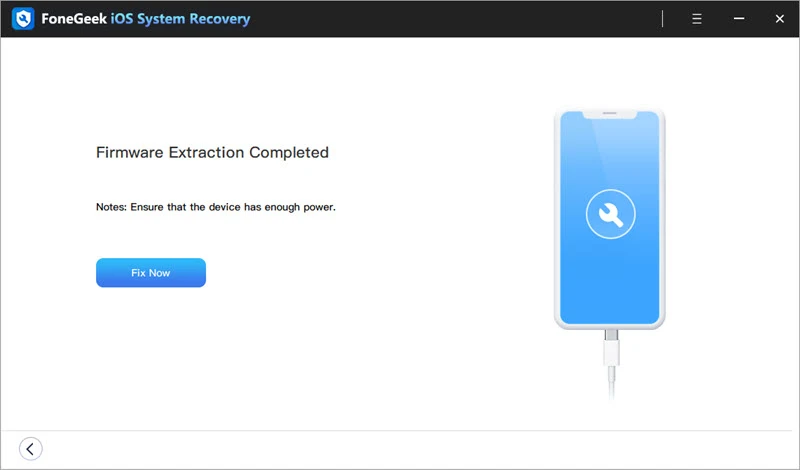 Conclusion
You should be able to overcome the iPhone not ringing when locked issue after trying the troubleshooting methods we've shared above. However, if you don't wish to try all of them or want a quick yet effective solution that won't result in losing any data that's on your device, then FoneGeek iOS System Recovery is certainly the best. It will resolve the iPhone not ringing problem plus any other iOS-related issue on the phone without losing data. Just download it and try it out!