We have received a lot of complaints from users who said their iPhone was not showing up on PC when it was connected. This can prevent you from syncing and backing up the iPhone with iTunes or restoring the backup back on to the device, not to mention you may not be able to fix some stubborn iOS issues that require connecting iTunes.
In this article, we are going to discuss some of the reasons why your iPhone is not appearing when connected to the PC as well as effective ways you can try to fix this problem.
Why Can't I See My iPhone When I Plug it into My Computer
Before we find the solutions to fix iPhone is not showing up on PC problem, we should first understand some of the causes for this problem:
The Apple Mobile device drivers installed on your computer could be outdated or corrupt.
You may have clicked "Don't Trust" the very first time you connected the iPhone to the computer and the "Trust this Computer" alert came on the screen.
The iPhone lighting cable you are using could be damaged or fake.
The USB port you are trying to connect the iPhone is broken or damaged.
There are no photos or videos stored in your iPhone Camera Roll.
Your PC may have too many conflicting settings and may need to be restarted.
After understanding the reasons of iPhone not showing up on computer, the next thing is to fix this issue so that the iPhone data can be smoothly transferred to PC. Below are the introduction of different solutions to this issue. We have tested each solution one by one and listed the solutions to be effective.
Common Ways to Fix iPhone Not Showing Up on PC
The following are just some of the initial steps you can take when your computer fails to detect your iPhone:
First of all, the iPhone should be unlocked.
Restart your iPhone and computer.
Connect your iPhone to computer with an original USB cable.
Make sure that the latest version of iOS is installed on your iPhone. Go to Settings > General > Software Update to check if an update is available.
Only use the original Apple USB cable to connect the device to computer and make sure the cable isn't broken.
Try using a different USB port in the computer.
Restart both the Windows PC and the iPhone.
Ensure that there are photos or videos in the device's camera roll because an iPhone may fail to show up in Windows Explorer when the camera roll is empty.
Ensure you tap "Trust this Computer" when you connect the device to the computer.
Disable the security lock on the device. You can do that by going to Settings > Touch ID & Passcode and then find "Turn Passcode Off".
Advanced Ways to Make iPhone Discoverable on Computer
Update Apple Mobile Device USB Driver
If none of the simple solutions above work, you may want to update the Apple Mobile Device USB drivers on your PC. Outdated drivers can cause a malfunction of hardware components , and then make it difficult for the computer to recognize the device. You can update the drivers manually or automatically.
To update the drivers manually, go to the Apple support page and search for the most recent Apple Mobile Device USB driver. Ensure that you select drivers compatible with the versions of Windows running on your computer.
Get iPhone to Show up on Computer via Driver Easy
You can also use Driver Easy to get your iPhone connected with computer. Driver Easy can detect your device system automatically and find the corresponding driver. Here's how you can do that:
Download and install Driver Easy on to your computer, then run the program.
Click on "Scan Now". Driver Easy will scan your computer and detect any problems with drivers.
Click on "Update" next to the Apple Mobile USB Drivers you need to update or simply click "Update All" to update every driver on your system.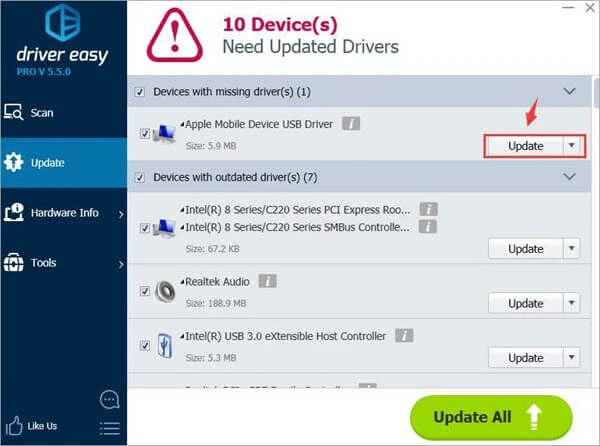 Now connect the iPhone to the computer to see if it shows up in Windows Explorer.
Install Windows Updates
This problem can also occur when Windows is not running the latest version. To install Windows updates, follow these simple steps:
For Windows 10: Click on Start menu > Settings > Update & Security > Windows Update > Check for updates, then the system will be updated automatically.
For Windows 8/7: Open up Control Panel and click on Windows Update > Select Check for Updates, then tap on 'Install updates' to update the computer system.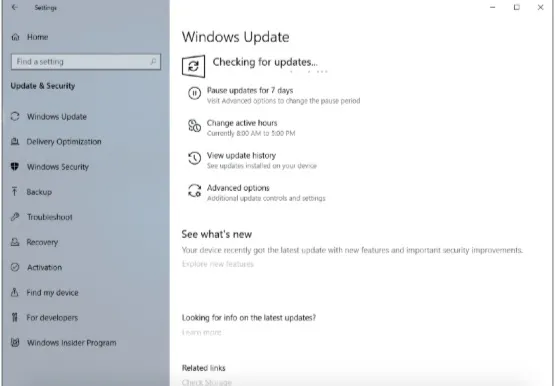 Once the Windows Update process is complete, connect the iPhone to the computer again to see if it appears in Windows Explorer.
Update iPhone Driver
You might also be able to fix iPhone not showing up on PC using Device Manager. Here's how you can do it:
Click on "Start" and use the search function to search for "Device Manager". Click on it when it appears in the search box.
In the window that opens, click on "Portable Devices" and then right-click on "Apple iPhone".
Select "Update Driver " from the options that appear and then click "Browse my Computer for driver software".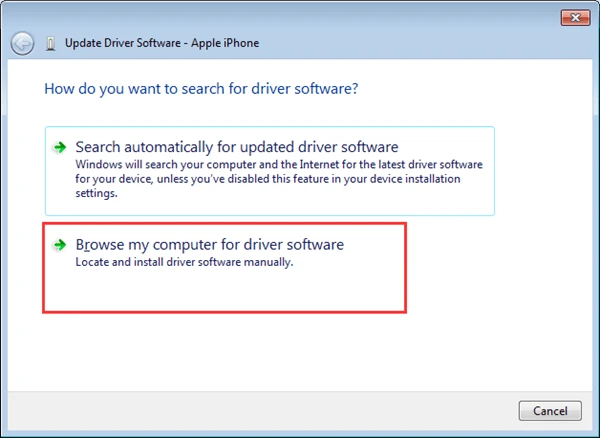 Finally click on "Let me Pick a List of Device Drivers on my computer" and then select a driver to update.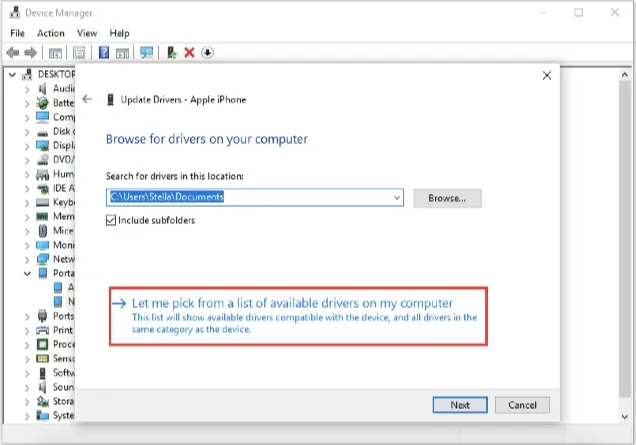 Fix iPhone Not Showing in Computer via Control Panel
To fix the iPhone not appearing in computer problem using the Control Panel, follow these simple steps:
Click on "Start" on your PC and the use the search function to search for "Devices and Printers". Click on it when it appears in the search results and the Control Panel will open.
In the "Unspecified" column, find "Apple iPhone". Right-click on it and then select "Troubleshoot".
When the problem is detected as "the device was not enabled", select "enable device".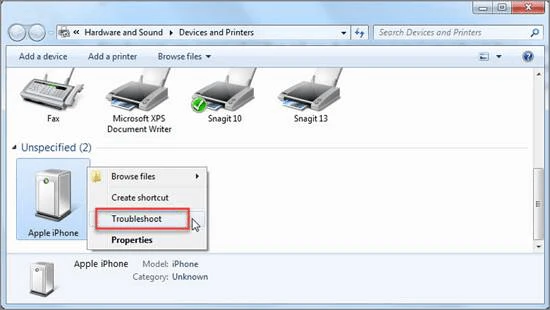 Windows should now be able to detect the connected iPhone without any problems.
Check Device Manager
If you still can't see your iPhone when you plug it into computer, you should check whether the driver is installed properly.
Step 1. Right click on 'Start' button and select 'Device Manager' option.
Step 2. Click on 'Universal Serial Bus controllers' and select 'Apple Mobile Device USB Driver'.
If the driver is not listed or you see "Unknown Device", you can use a different USB cable to connect the device.
If you see the error icon next to the driver, you should restart the Apple Mobile Device Service.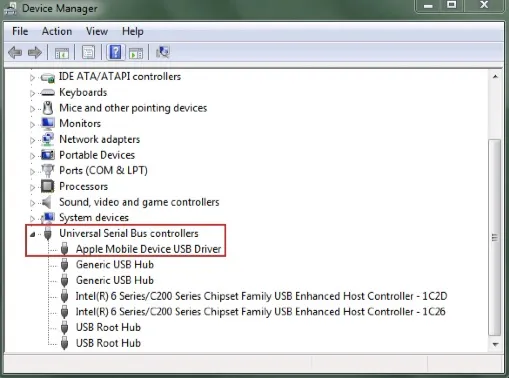 Alternative Way to Transfer iPhone Data to Computer
If all the above solutions don't work, you can choose to use a third-party tool like FoneGeek iOS Data Backup & Restore to transfer iPhone data to your PC to free up space or create safe backup. It is very easy to use and could be the best alternative to iTunes, allowing you not just to transfer data from your iPhone to your computer, but also easily restore the backup back on to the device.
The following simple steps will guide you transfer and backup data from iPhone to computer even if iPhone not showing up on PC:
Step 1: Download and install the program on to your computer. Launch it and then in the main window, select "Backup & Restore".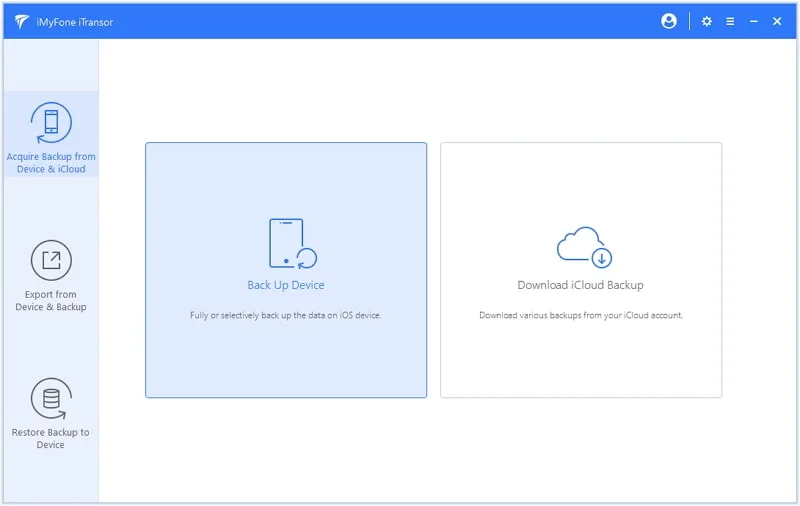 Step 2: Connect the iPhone to the computer using the lighting cable and the software will automatically detect the device, then click on "Backup".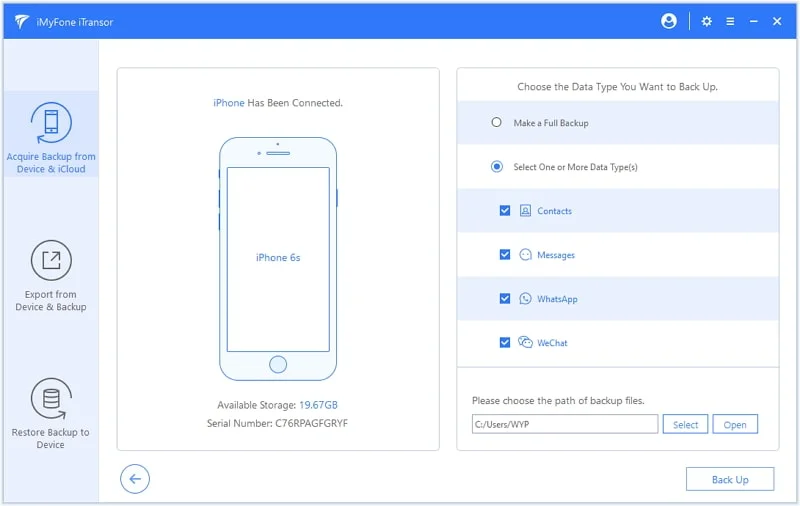 Step 3: In the next window, select the file types you would like to transfer from the device to the PC. Click on the "Backup" button to begin the process.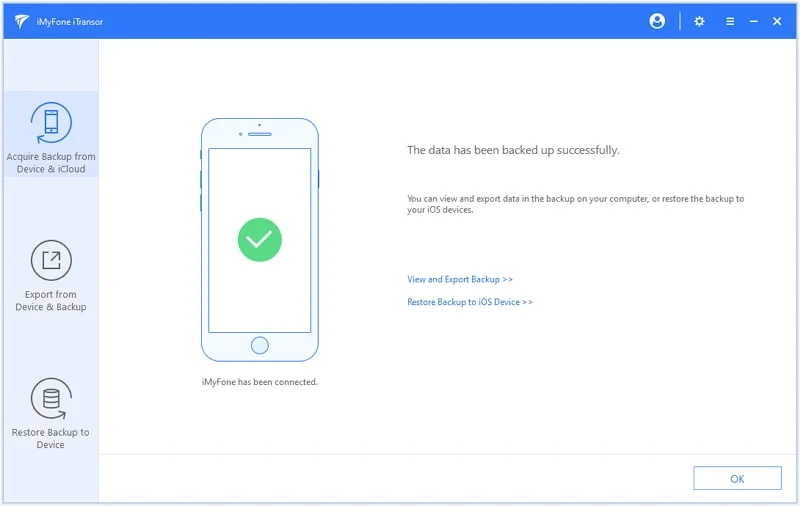 Once the transfer & backup process is complete, you will be able to check the contents in the backup file and export them to your computer.
Wrap Up
You shall successfully connect your iPhone to computer after reading this article. If your computer still fails to recognize your iPhone, you can use a different computer and try again.