Using GPS and Locations Services, iPhone can tag photos or videos that you capture with geolocations. This feature allows you to easily organize, search, and view your photos and videos by location. You can see where exactly your photos and videos are taken and you can even see them on a map (based on the GPS location of where they were taken).
However, while this is a handy and convenient feature, cases of iPhone photos not showing location or accurate location tags have been rampant. If you're having this issue too, then you've just landed in the right place. This post will explain the reasons for your iPhone photos not showing location and how you can get them to show the location again. So, keep reading to learn all these.
Why Won't My iPhone Photos Show Location?
Apple introduced a new feature in their iOS 16 that allows users to tag their photos or videos with geolocations. This handy tool is especially ideal for users that like to explore the world around them. Through the built-in Photos app on iPhone, users can access the GPS information about where a particular photo was actually taken.
However, there are a lot of users that have been complaining that the photos captured from their iPhones aren't showing location of where they were exactly taken. Here are some reasons why they are suddenly having this iPhone photos location not showing issue.
Recently updated their device
Several users said that they had their iPhone photos not showing location after they updated the iOS version, particularly from the iOS 14 to the new iOS 16. It's possible that the problem is being caused by some minor bug within the new iOS version.
Only certain photos have this issue
Some users mentioned that this problem affected only certain photos. Users noted too that all the images on their devices took longer than they usually do to process or upload on photo galleries such as Instagram and Facebook - which makes sharing them frustrating.
How Can I Get My iPhone Photos to Show Location?
If your iPhone is running iOS 8 or a later version, then it's easy to have the photo location tool enabled on your device. However, it's necessary that your iPhone is connected to Mobile Data or a WiFi connection while taking the photos. Herein, we're going to share how you can make your iPhone's photo location utility work.
You should ensure that the Camera App on your iPhone has permission to access your iPhone's Location Services utility. It's a pretty straightforward method as shown by the following steps:
Open your iPhone's Settings and choose the Privacy option.
In the resulting window, tap the Location Services option and then turn it on.
Next, find the Camera app and open it by tapping on it.
When opened, go to While Using the App and just tap it. Now, choose the Always option.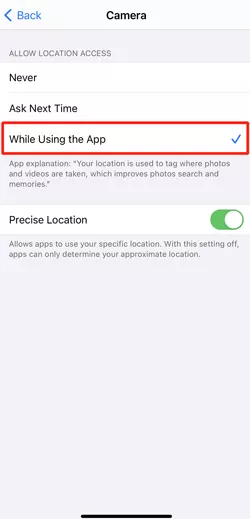 Once you follow the steps listed above, any new picture you capture through your iPhone camera will now get geo-tagged. If this solution fails to work, though, simply restart your iPhone and verify these changes.
How to Fix iPhone Photos Not Showing Location Issue
Update iOS to the Latest Version
One way of fixing iPhone photos location not showing is getting the device's iOS updated to the latest version. To check for the updates, navigate to Settings and tap on the General option. Next, tap Software Update. In case there's any available update, follow the displayed instructions to install it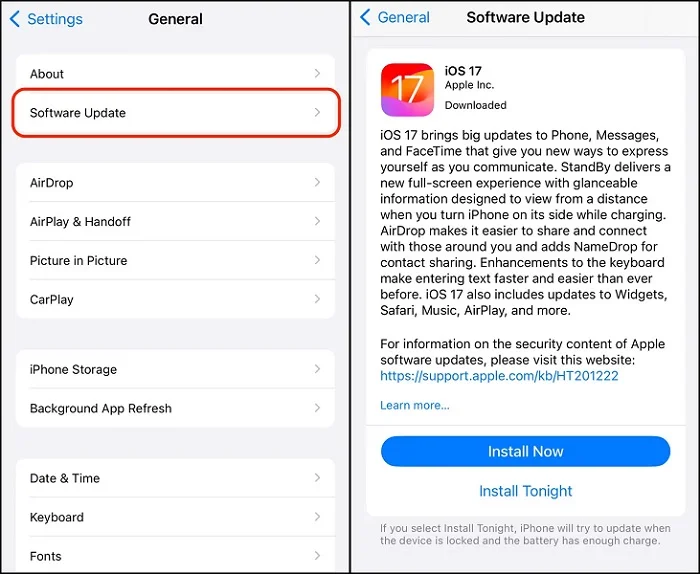 Ensure to Enable Location Services
You can also easily fix this photos not showing location iPhone problem by ensuring that you've turned on Location Services. To do that, open Settings and then tap on Privacy. After that, tap Location Services and then ensure that your Location Services is turned on.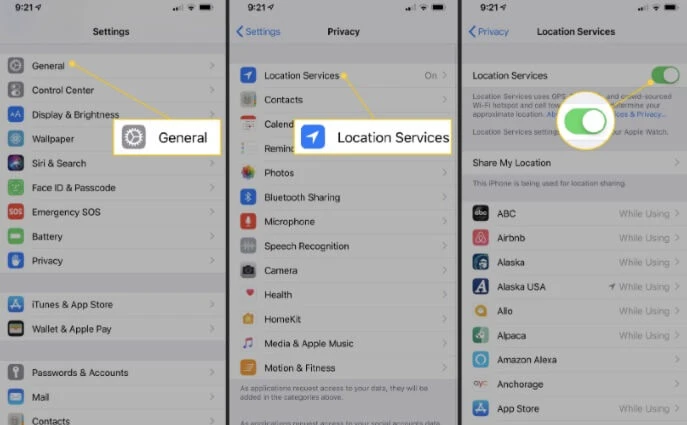 If it's already enabled, disable it, wait around 10 seconds, and turn it back on again. Moreover, ensure that you have Maps and Camera apps on your iPhone allowed to access and use Location Services. You can do this by having them set to the option, "While Using the App".
Check Your iPhone's Date & Time
Confirm that you have your iPhone's date and time set correctly according to your location. Open Settings on your iPhone or iPad, tap General and then tap on Date & Time. Check if there's anything wrong. If there is, change it. Moreover, you can turn on Set Automatically to have the date and time set automatically.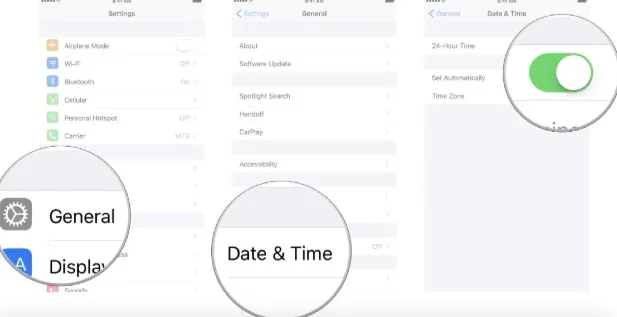 Move to A Different Location
iPhone usually utilizes GPS Satelite to get location and if it's not available, then it can triangulate your location using cell tower location. Therefore, if you take photos from within, let's say, a tunnel or any other place that has low sky visibility, then the problem could be that the cell tower signal data or the GPS Satelite locations are not available. If that's the case, the solution is basically to move to a different location where your iPhone can actually get your location data.
Reset the Location Services
You may be having your iPhone photos location not showing because the Location Services are not working correctly. It's essential that Location Services on your device work properly since the Camera and Photos apps rely on your phone's location through GPS to tag your photos or videos. So, you may consider resetting Location Services to fix this issue.
On your phone, head to Settings, tap the General option, and then tap on Reset. Next, tap on Reset Location & Privacy. Now follow the displayed instructions. Doing so will immediately reset your device's location settings to their factory default state.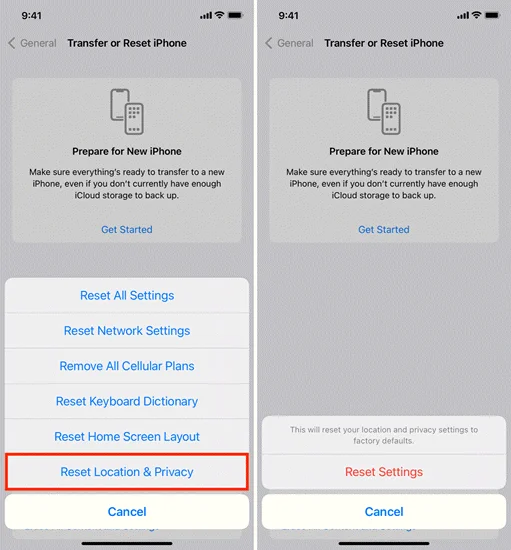 Reset All Settings
If you reset the Location Services and still the issue doesn't get fixed, you can decide to reset all settings then. Once you do this, all your iPhone's settings will go back to the defaults, including display settings, location settings, network settings, and so on. Your data or media like your photos won't get erased or deleted by this method. Therefore, open Settings on your phone, tap General and then tap Reset. Next, tap Reset All Settings and just follow the provided instructions.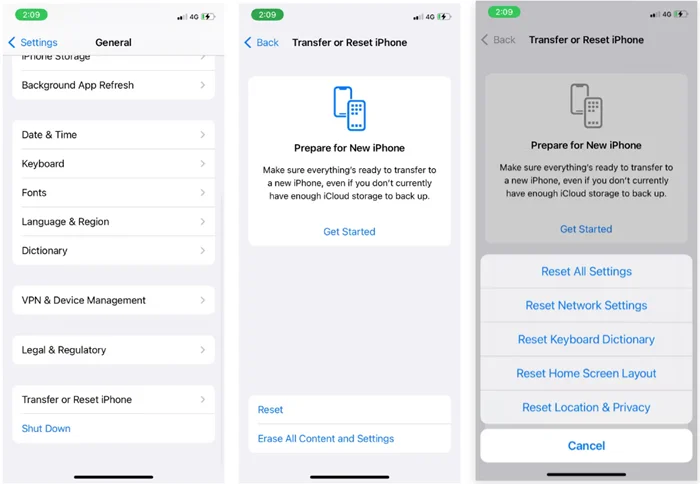 Correct Location via the Apple Maps
If the location address or map is inaccurate, Apple Maps might be responsible. Like most other apps, Apple Maps isn't really perfect, plus it's common for Apple Maps not to work. Your device may not have any issues and it's possible that it's working as expected. However, Apple Maps does provide a correction feature which you can use to resolve this iPhone photos not showing location problem. Here's how to use it:
Open the particular photo that's showing an inaccurate location. Once it's opened, swipe up to reveal the map.
You'll see the address of the photo right under the map. Tap that so that you can get the address opened in Apple Maps.
When Apple Maps opens, head to the top-right corner and tap the info (i) button. Next, tap on Report an Issue.
Now follow the displayed instructions to report the photos not showing location iPhone issue.
Best Way to Fix iPhone Photos Location Not Showing
If the above conventional methods still don't yield the expected result, probably there's a certain system issue with your iPhone that's causing this trouble after updating to iOS 16. Taking the device to a technician to fix the issue could be both time-consuming and costly.
In such circumstances, the best solution would be to use FoneGeek iOS System Recovery software to fix any hidden or apparent iOS 16 system bugs. It's a robust program that can resolve the iPhone photos location not showing problem in no time and without any data loss. It's able to fix over 200 system issues, plus its interface is intuitive and easy to understand.
Here are steps to using FoneGeek iOS System Recovery to fix the issue of iPhone photos not showing location:
Launch FoneGeek iOS System Recovery once you've installed it and then get the iOS 16 device connected right to the PC. Now, choose Standard Mode and then click on Next.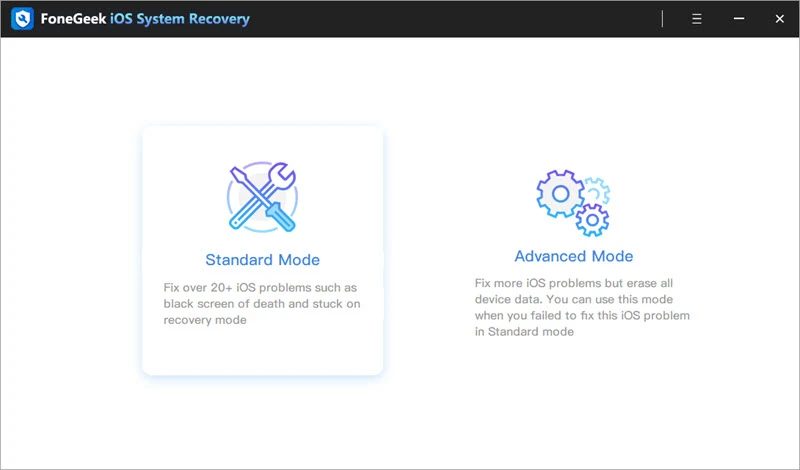 After that, click Download from the next window. The software will then download the iOS 16 firmware for your device. Select where the file should be saved on your PC.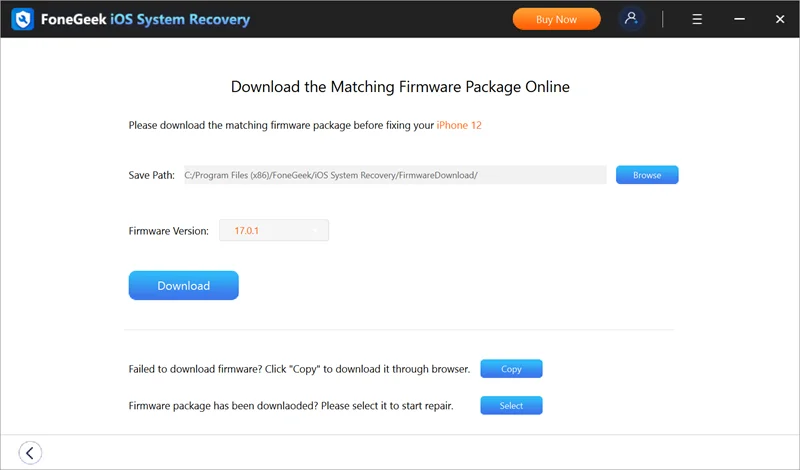 Finally, click Fix Now. The software will immediately begin fixing the photos not showing location iPhone issue you're facing. When it's done, disconnect your device from the PC and start taking photos.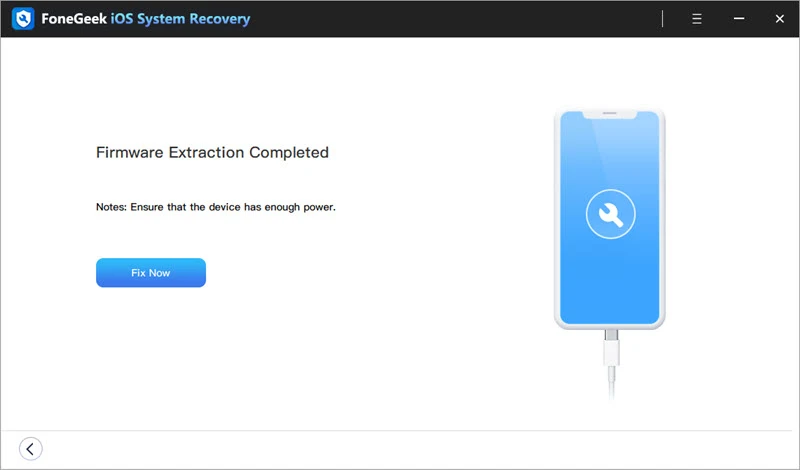 Bonus Tip: How to Spoof Photos Location on iPhone?
Once you get the iPhone photos location not showing iOS 16 bugs fixed using the FoneGeek iOS System Recovery program, it's easy to manage the site of your images. Furthermore, you can spoof your photo's location on your iPhone to any region or area you want using the FoneGeek iOS Location Changer. With a smooth interface and great performance, this user-friendly program will instantly teleport you to your entered location.
Besides that, the iOS Location Changer is incredibly useful when it comes to playing location-based games like Pokemon GO. It's able to work with both the latest iPhone 14 models and iOS 16 version. The software is equally able to run on any modern macOS or Windows version. Not only that, you can jump your iPhone to multiple locations simultaneously, which is handy when you want to avoid getting tracked or stalked.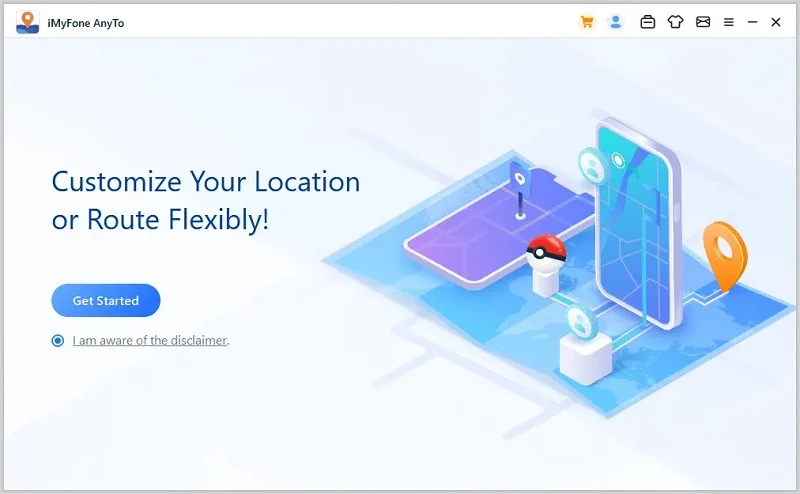 Conclusion
After going through the methods we've provided herein, you should be able to easily resolve this issue of photos captured on your iPhone not showing location. Just try each method from the start until you get your problem fixed. However, we recommend using FoneGeek iOS System Recovery as it's more reliable and will effectively fix any hidden or apparent system bugs causing this problem. It's the best solution, especially if you're short on time or find going through all the other methods cumbersome. Try it and you'll have your iPhone photos location showing in no time.