Quick Start is a function on Apple devices which helps users to transfer data from their old device to their new device. To use Quick Start, you will need both the old and the new device, and they must both be running on iOS 11 or later. 
However, you may face the problem of iPhone quick start not working. Don't worry, we will be exploring various solutions to this problem. First, let's see what Quick Start is all about.

Part 1. How to Use Quick Start on iPhone
Pick up both your new iPhone and the old iPhone and place them side by side. Switch on the new iPhone and turn on the Bluetooth, then choose the option to set up the new iPhone using your Apple ID. You will see an animation displayed on the new iPhone. Center it in the viewfinder and wait till you see the prompt: "Finish on New". Enter your passcode after that.
The next step after this is quite simple. You can follow the on-screen instructions which include setting up your Touch ID or Face ID on the new iPhone. At this point, you should have gained access to your new iPhone, and you will be able to connect to a Wi-Fi connection and restore your data, applications, settings and payment information.
You can do all of these with Quick Start, but this is not to say that you will not encounter problems with Quick Start. Let's check out how to fix the problem of iPhone quick start not working.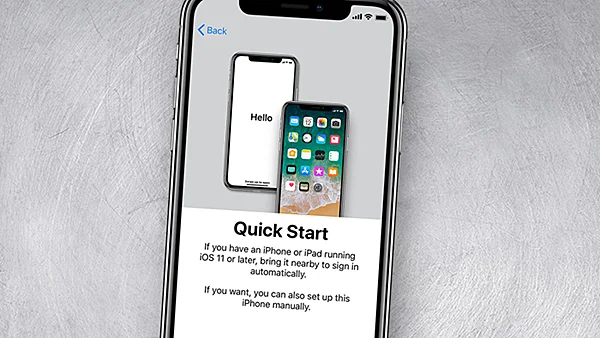 Part 2. How to Fix Quick Start Not Working on iPhone
2.1 Ensure Both Devices Upgrade to iOS 11 or Later
As mentioned earlier, to use Quick Start, both your new iPhone and your old iPhone must be on iOS 11 or later. Your iPhone Quick Start problem may be as a result of your iPhone being on an old operating system version.
A simple fix for this problem is to update your iPhone's iOS version by navigating to Settings, tap "General" and then "Software Update". Tap "Download and Install", and the most recent iOS version will be downloaded to your iPhone. 
Once the new iOS version has been downloaded, the problem of iPhone Quick Start would be solved, and you can try to use it.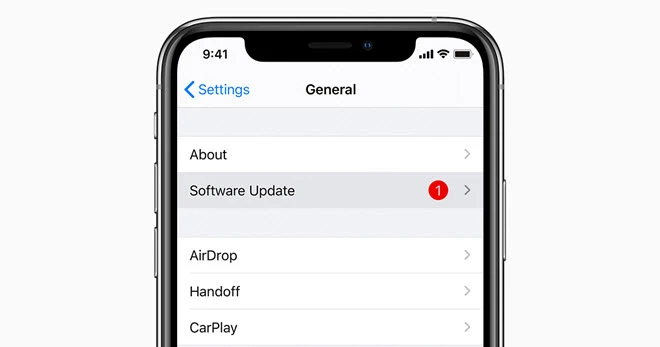 2.2 Turn On Bluetooth on Both of the 2 iPhone
People usually do not remember or know that iPhone Quick Start cannot work without Bluetooth. If the iPhone's Bluetooth is not on, Quick Start will not work. 
So, if you are facing the iPhone Quick Start not working issue, go to Settings and turn on the Bluetooth. The problem should get solved after doing that.
2.3 Change the Lightning Cable
If you connect the 2 devices with 3rd-party lightning cables, the Quick Start may not work as expected since the devices may not be compatible with the USB cables. 
So check whether the USB cables are original and if not, connect the 2 devices with original USB cables will solve this problem.
2.4 Restart the 2 iOS Devices
If your iPhone is on the latest iOS version and you have turned on the Bluetooth, and then perhaps, you have to restart the two iPhones.
Press the power button and volume button at the same time and hold for some minutes until you see the slider. Drag the slider on the screen, and your iPhone will restart after this. Then Quick Start should work on both of them.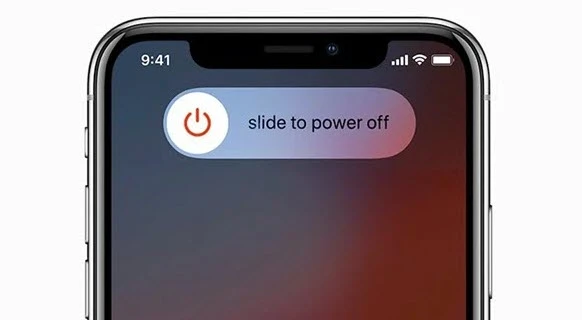 2.5 Fix Quick Start Not Working without Data Loss
Sometimes the problem of iPhone Quick Start not working may not be solved with solutions above. It could be a problem with your iPhone's iOS system issue, and you have to fix the problem using a third-party iOS repair tool. 
A tool that we recommend to fix this problem is FoneGeek iOS System Recovery program. It is one of the most effective software that ensures to fix various iOS issues without losing the data on your device. It is easy to use, user-friendly and highly effective.
Here's how to fix Quick Start not working on iPhone/iPad without data loss:
Step 1: Download, install and run FoneGeek iOS Repair tool on your PC or Mac. From the main interface, choose "Standard Mode" to begin the process.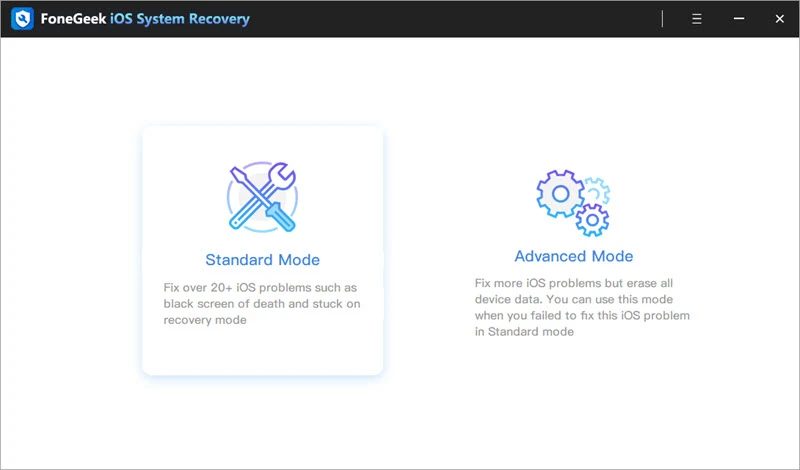 Step 2: Connect your iPhone to the computer via USB cable and click on "Next". If your device is not recognized by the program, you need put your iPhone into Recovery mode to get it detected.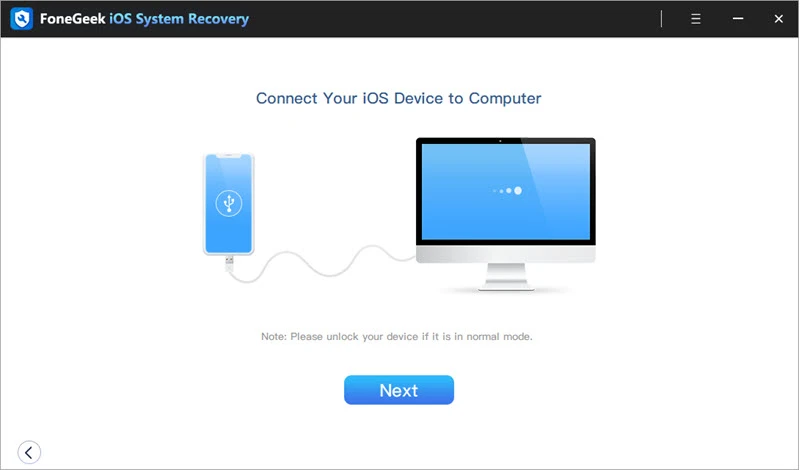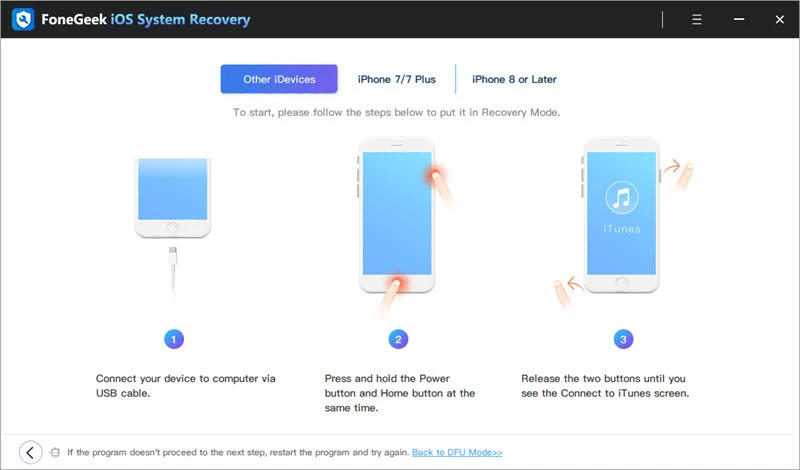 Step 3: The software will detect your phone model and suggest the available firmware for your iPhone model. Click on "Download" to download the matching firmware package.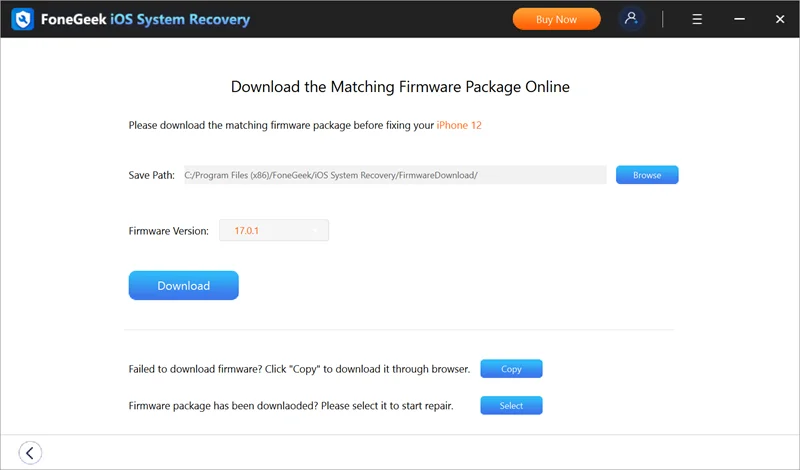 Step 4: When the firmware is downloaded successfully, click on "Fix Now" and the FoneGeek will start repairing your iPhone for you.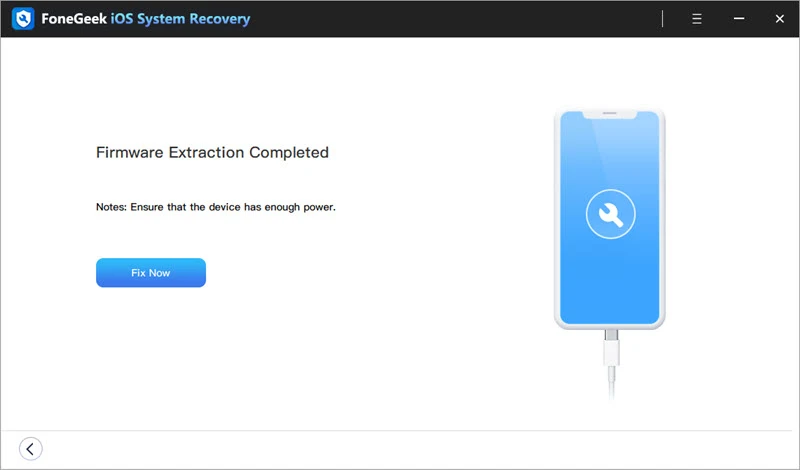 2.6 Contact Apple Support
If the methods highlighted above do not work, then your next option is to contact Apple Support to fix the problem for you. There might be a problem with your iPhone that only a professional Apple technician can help you to fix. Check out Apple's website to find out the various ways in which you can get in touch with an Apple support representative.
Conclusion
Quick Start is an impressive feature that makes switching between iPhones easy and seamless. But when you are faced with the problem of iPhone Quick Start not working, the solutions listed above should fix the problem. FoneGeek iOS System Recovery is one tool that you need to fix any iOS software problems that you might have on any of your devices.

Friday on May 17, 2019, 11:14:43 GMT / Post By Edwin J. Parke to iPhone Issues
As a professional writer who is interested in technology, Edwin J. Parke has helped thousands of users by offering various tips to solve their problems.

Home
>
iPhone Issues
>Quick Start Not Working on iPhone/iPad? Check 6 Fixes Here