iPhone Reminders are of great help in reminding you to perform or finish a particular task on time, or about important days, meetings, upcoming projects, etc. It's a lifesaver, especially during those hectic workdays when you can't keep track of time or activities that you should be reminded of.
Unfortunately, as much as the feature is quite helpful, sometimes you can find the iPhone Reminders not working and the reason for this could be anything. Maybe you turned off notifications, set a faint alert tone, or there's a problem on Apple's side.
Whatever the cause, don't worry, we will help you out. In this article, we'll walk you through various ways you can fix the issue and have your iPhone Reminders back to normal working order. Let's dive straight in.
Why Is Reminders Not Working on iPhone?
Most of the time you may experience the iPhone Reminders not working issue when you turn off notifications or select a faint alert tone. If you've not restarted or updated the iPhone in a while, you could also end up with the same problem.
Sometimes the problem might be on Apple's side. It could be bugs/glitches in the iOS or probably a temporary downtime of iCloud servers that leading to a failure in syncing new reminders to your device, hence you don't get notified on time.
Whatever the cause, the following solutions will help you fix the issue. So, try them one by one.
1. Check App and Notifications Settings
Before proceeding to any other method, the first thing you need to do is to check the app alerts as well as the notifications settings. It's possible for the alerts to get misconfigured after a software update, hence here's how to put things back to the way they should be:
Launch the Settings app. Head to Sounds & Haptics and tap it.
Navigate down and tap on the Reminder Alerts option.
Ensure the Alert Tone and also the Vibration setting are selected.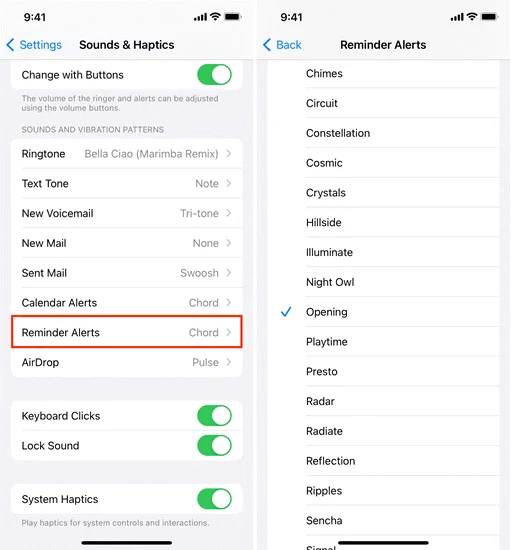 With the alert tone and the vibration setting for Reminders enabled, the next thing is to ensure the notifications are also enabled. To do that:
Go to the Settings apps. Open the Notifications option.
Navigate down to Reminders and tap on it.
Check if the Allow Notifications option is disabled. Tap the toggle next to it to enable it if it's disabled.
Ensure the following options are as well enabled: Alerts, Sounds, Badges, Time Sensitive Notifications.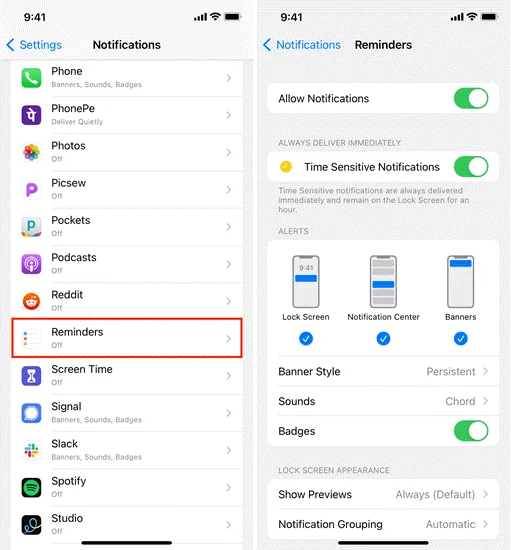 While going through the various options listed above, you can also set custom notification alerts or sounds for Reminders. Doing so will help you to better identify the kind of notification you've received on your iPhone since it will stand out from other dongs and gongs that you hear.
2. Restart the iPhone/iPad
Having turned on notifications for the Reminders app, you should try next to restart the iPhone. You may often experience issues like Reminders not working due to small temporary glitches which your iPhone/iPad may get from regular use. A simple restart can resolve these temporary glitches, so give it a try.
You can turn off the iPhone using the button and turn it on again as you usually do. Alternatively, you can open the Settings app, tap the General options, and then tap Shut Down to turn off the phone. Wait at least a minute and then turn the phone back on.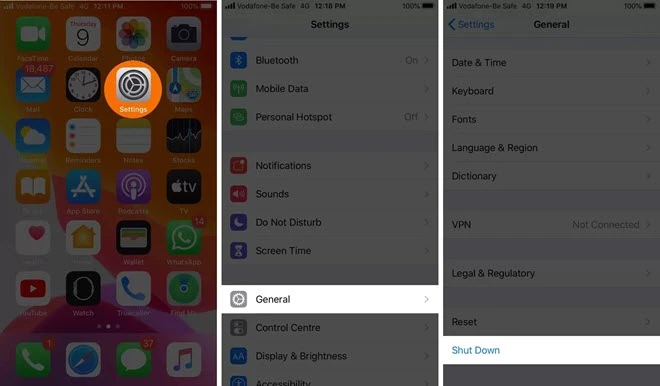 3. Turn Off Reminders from iCloud and Then On
This is another viable solution to the iPhone Reminders not working problem. All reminders are usually synced through iCloud to each of your Apple devices. There are instances when iCloud runs into problems that stop it from functioning correctly. This can be resolved by turning off Reminders from iCloud and then turning it on again. Follow these steps:
Open Settings app. Head to the top and tap on your name card.
Tap the iCloud option in the next window.
Turn off Reminders by tapping the toggle next to it.
Next, tap the Delete from My iPhone option.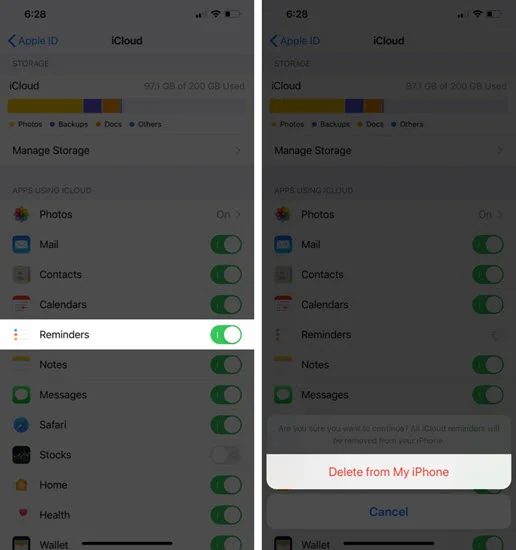 Wait about 30 seconds and tap the toggle again to enable Reminders and allow iCloud sync once more.
4. Remove the Reminders App Widget
While it may be a surprise, some users reported that the Reminders sometimes fail to work properly when the widget is being used. Temporarily removing the widget often solves the problem. We've tested it on our iPhones and it worked successfully. Use these steps to do it:
Unlock the iPhone. Tap the Reminders widget and hold onto it until a context menu appears.
Tap the Remove Widget icon. If asked to confirm, tap OK to do so.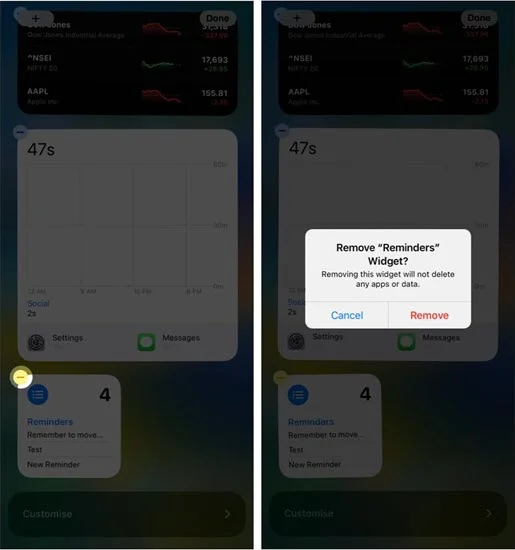 Before you add the widget again to your iPhone's Home Screen, we recommend you first create a test reminder so that you can make sure the Reminders app really works as normal.
5. Enable Location Services for Reminders
Location-based Reminders is another handy feature that Apple offers. With it, you can create location-based tasks such that when you arrive at a particular location, you get a buzz from the Reminders app to remind you something like to pick up milk, grocery, or something else.
It's an extremely handy feature but to ensure that everything works as expected, you have to first enable the Location Services for Reminders.
Open Settings. Head down to Privacy and tap it.
Next, tap Location Services (upper part of the page). Navigate down to Reminders and tap on it.
Finally, head to the Allow Location Access part and tap on While Using the App.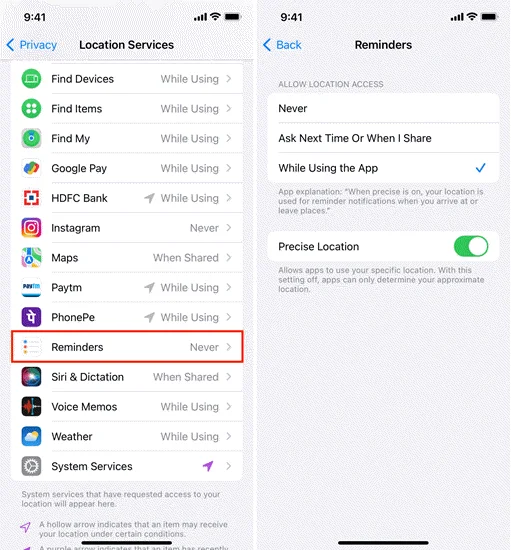 The Reminders app usually prompts you when you create the first location-based Reminder. But, the above steps will help make sure the app gets proper access.
6. Uninstall Reminders App and Reinstall It
If you're still having issues with Reminders not working in iOS 17, try uninstalling the app and then reinstalling it again. To do this, tap the Reminders app icon and hold onto it until a context menu appears. From the menu, tap Remove App and then tap on Delete App. Now, tap Delete once more to confirm.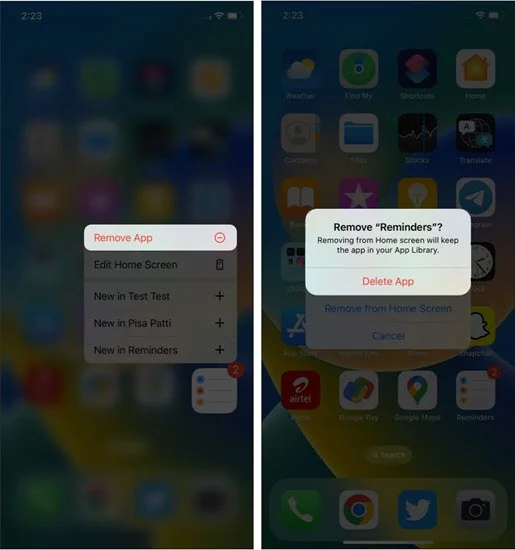 From there, restart your iPhone. Once it's up, go to the App Store and then search for "Reminders" by typing the word in the search tab. Next, install the app by tapping on the download icon.
7. Update iPhone to the Latest iOS Version
As mentioned earlier, an outdated iOS could lead to reminders not working on iPhone due to possible bugs in it. These bugs often get fixed with every iOS update. So, to get your Reminders app working properly again, update your iPhone's iOS by opening the Settings app and tapping the General option.
In the next window, tap Software Update. In case there's an available update, simply tap on Download and Install. Now your phone's iOS will be updated to the latest version.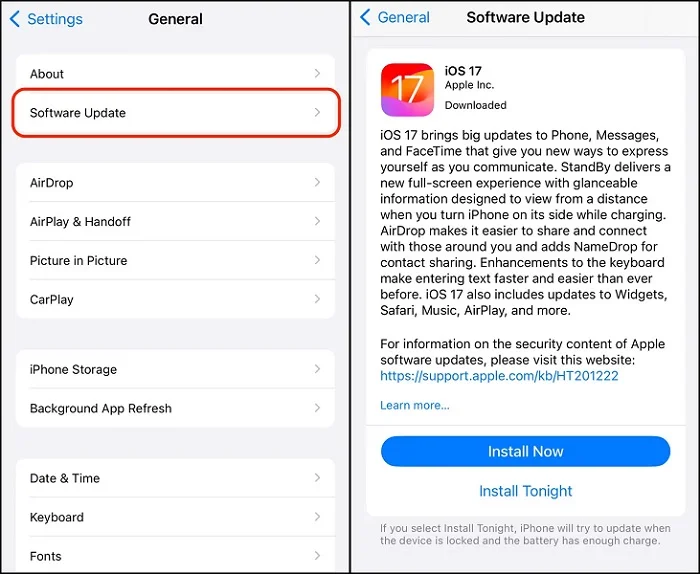 8. Reset All Your iPhone Settings
Most general app breakdowns on iPhone get easily fixed by just resetting all settings. Therefore, this is a solution that can as well work for the iPhone Reminders not working issue. Your iPhone files and other data won't get erased. Only all your iPhone settings will get restored to their default settings.
Start by launching Settings on your device. Tap the General option.
Look for Reset and tap it. Next, tap the Reset All Settings option.
Put your passcode in order to confirm the action.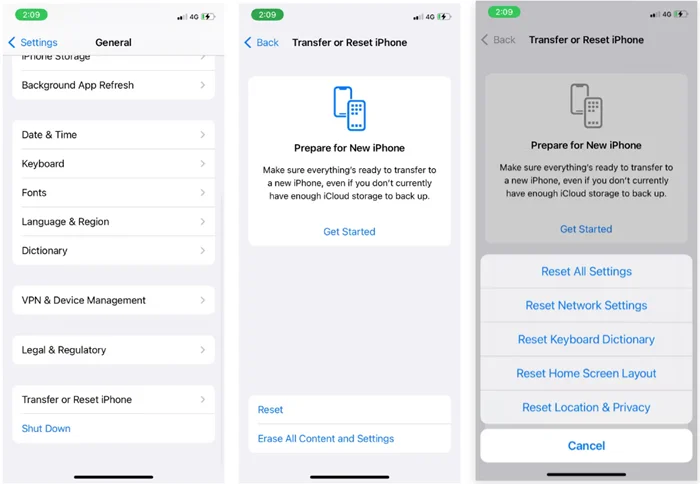 After the whole process finishes, set up your iPhone settings afresh and then check if the Reminders returned to a normal working state.
9. Restore iPhone Using iTunes
If Reminders still not working on iPhone, you can try to delete all your iPhone content and settings and then restore it from a saved backup using iTunes. It's a very viable solution but before you do it, ensure you've done a full backup of your device. Once you do that, follow these steps to restore your iPhone/iPad using iTunes.
Ensure you have the latest iTunes version on your Mac or Windows computer.
Use a cable to connect the iPhone to the computer. A message requesting to Trust This Computer or to put your passcode may pop up on your device. So, click on it to Trust the computer.
From the iTunes window, select your device and then select Restore Backup. A list of all your backups will show up.
Choose your most recent backup. Now click on Restore and wait the process to complete.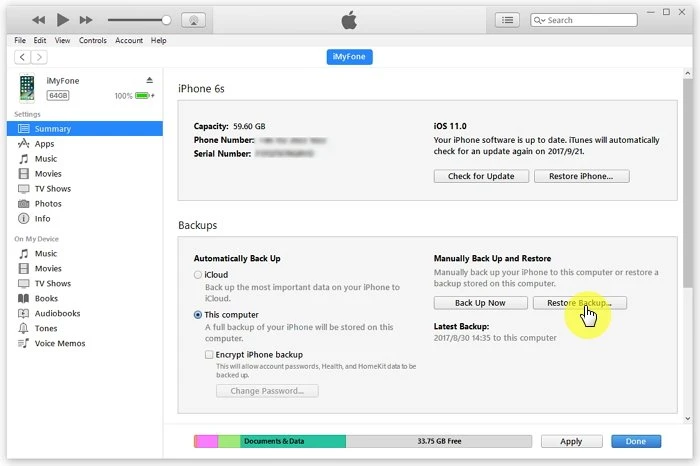 10. Fix iPhone with iOS System Recovery Tool
If all the above steps don't work, it's time you utilize an iOS repair tool - provided the cause of the Reminders not working in iOS 17 is not a hardware-related failure. FoneGeek iOS System Recovery is the tool we would recommend as it's designed to fix all the system issues on iOS devices, like iPhone reminders not working, iPhone iMessage not working, and more. No data is lost during the Standard Repair process.
Here are steps to fix iPhone Reminders not working without data loss:
Download FoneGeek iOS System Recovery. Install it onto your PC and run it. Then select the "Standard Mode".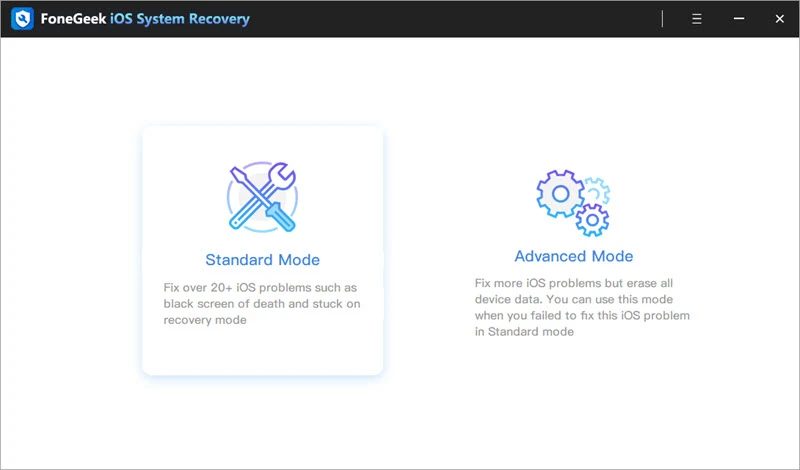 Connect your iPhone to the computer with a USB cable. When it gets detected by the program, click the "Next"button to proceed.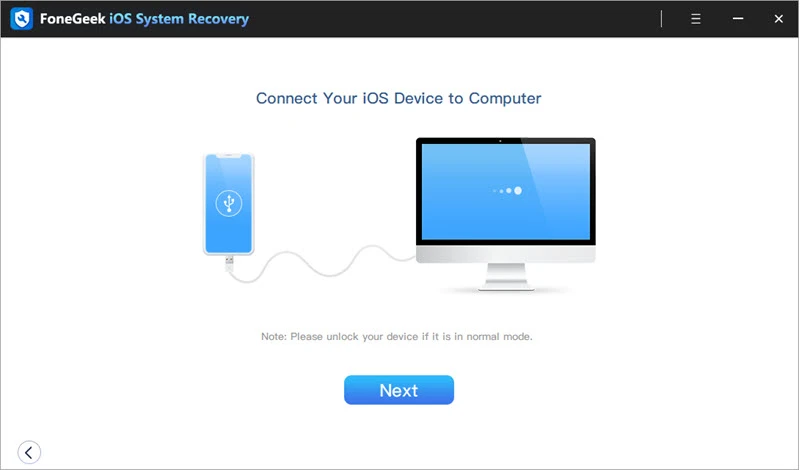 Now download the appropriate firmware package by selecting your iPhone model and confirming its info as recognized by FoneGeek. After that, simply hit the "Download" button.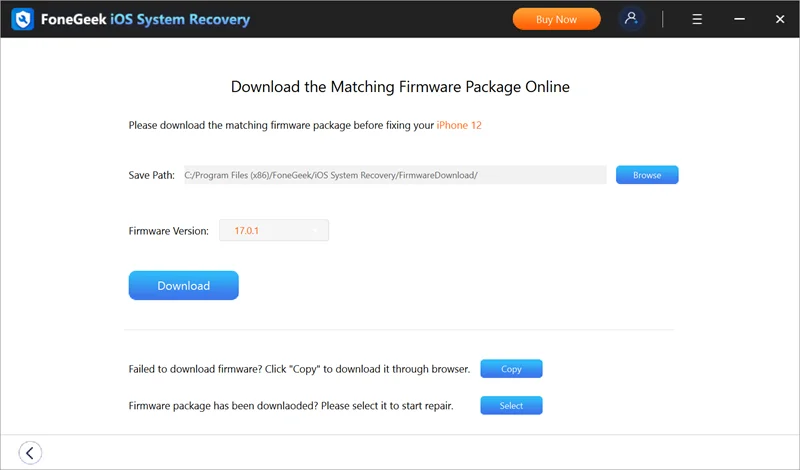 Wait until the download and verification of the firmware for your device finishes. Once it's done, hit "Fix Now" to allow the program to unzip the firmware and automatically begin fixing the reminder not working on iPhone issue without data loss.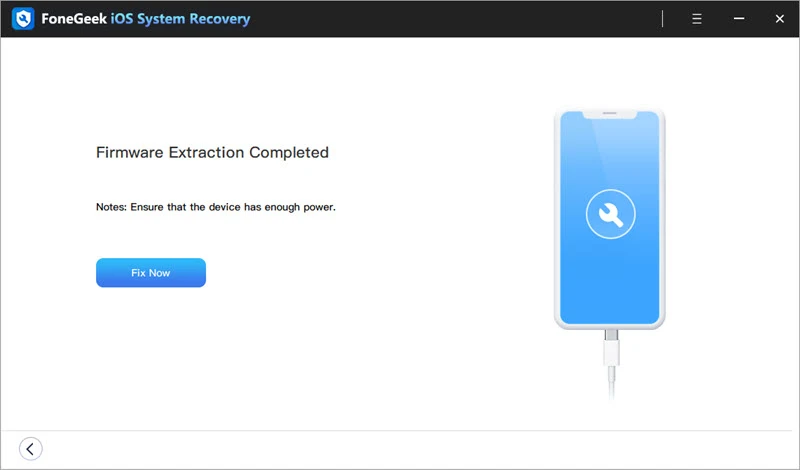 Conclusion
These 10 proven solutions will resolve the issue of Reminders not working on iPhone or iPad. Try them all if you're not sure of the reason behind the issue. Alternatively, you can avoid going through them one by one by using the FoneGeek iOS System Recovery. It saves you lots of time as it will fix the Reminders app issue quickly and completely. You won't have to try another solution. Moreover, none of your iPhone data will get lost. The tool is simple to use too. So, have a go at it.