Many users have encountered a problem of iPhone getting stuck on "Attempting data recovery" screen when updating the iOS version. Do you have the same issue?
In this post, we have collected valuable solutions to help you get rid of this issue.
#1. What Does iPhone Saying Attempting Data Recovery Mean?
Not many iPhone users around the world know what it means when iPhone says attempting data recovery. However, most of them claim that their iPhone got stuck in this attempting data recovery loop after they had tried installing iOS updates.
While some users find updating iOS via iTunes more preferable, the "Attempting data recovery" error often occurs when doing an iOS update via iTunes. It occurs when you try updating an iPhone/iPad to iOS 16/15/12/11.2/11.3/11.4, whether through iTunes or OTA. This causes the update to delay and also it can end up deleting some or all the data on the iPhone.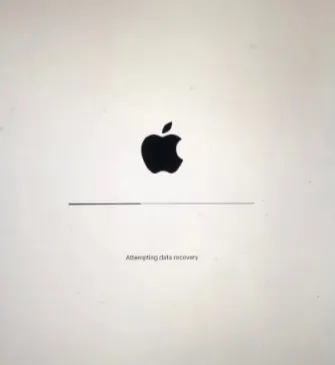 #2. Why Does My iPhone Say Attempting Data Recovery?
If you've been wondering why my iPhone says attempting data recovery, then you know by now it usually occurs when you update iOS through iTunes. However, there are 3 probable scenarios that can lead to iPhone saying attempting data recovery.
When downgrading an iOS from let's say iOS 16 to iOS 15 version or below.
When you disconnect the iPhone from Mac or PC when updating through iTunes.
When you update iOS after a jailbreak.
These are the most common reasons why iPhone says attempting data recovery and there are several solutions you can try to fix this loop. Let's check them out.
#3. How Can I Fix iPhone Attempting Data Recovery Error
Lots of users found themselves ensnared in endless "Attempting data recovery" loop, which drives them crazy. Regardless, there are several methods that you can try to successfully address the iPhone attempts at data recovery issue.
Way 1. Force iPhone to Restart
If your iPhone keeps saying attempting data recovery, you can fix it by simply force restarting it. The procedures are different based on different device models:
On iPhone 8 or any other recent version:
Press Volume Up button fast and release it.
Press Volume Down button fast and release it.
Press Power/Side button until Apple logo comes up.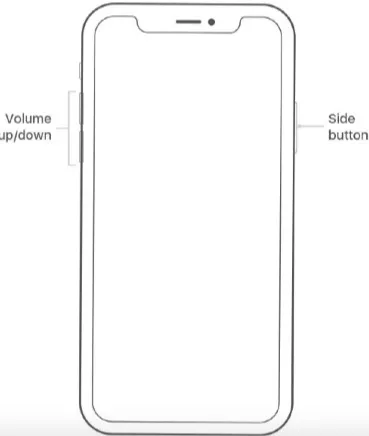 On iPhone 7/7 Plus:
Start by pressing Volume Down button and Power button simultaneously.
Continue holding the two buttons until when Apple logo comes up.
On iPhone 6 and earlier models:
To force iPhone to restart, press Home button together with Power button at the same time.
Hold them until an Apple logo comes up.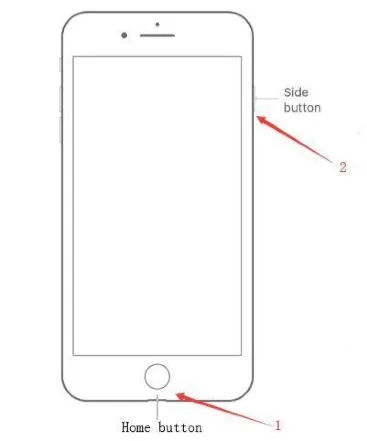 Way 2. Put iPhone in Recovery Mode
If the error is still there even after doing the force restart, you may try putting the iPhone into recovery mode to get rid of the error. Keep in mind though that the data in your iPhone will get erased when you use this method. So, ensure you back up your iPhone and when you're done fixing the issue, you can restore it with iTunes.
Launch iTunes (the latest version) on your computer and connect the iPhone to computer.
Using the steps we provided above, force-restart the iPhone.
You'll see a pop-up window with several options; Cancel, Restore, or Update your device. Select "Update".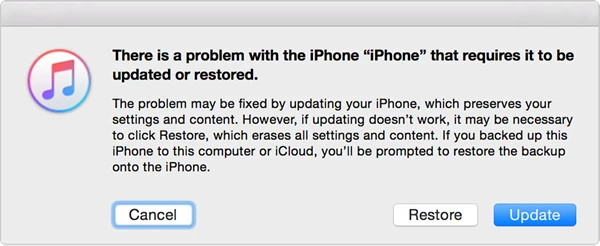 Let the iPhone get updated. When the process completes, you can now set up your iPhone.
What will happen when you put your iPhone into Recovery Mode?
When your device gets into the Recovery Mode, all the data on device will be erased. You have to set up again like a new one. If you have backed up the iPhone before, you can recover the data by restoring them with iTunes. If you haven't backed up your iPhone, you can download the data you want from iCloud.
Way 3. Ged Rid of iPhone Attempting Data Recovery in One Click
FoneGeek iOS System Recovery offers the ultimate solution to fixing this attempting data recovery issue. It's the best choice because it's a powerful software that's capable of fixing over 200 different iPhone software issues including this "attempting data recovery" error and others like downgrade stuck, app crashing, a frozen screen, recovery mode loop, and many more with 100% success rate.
Step 1. Begin by downloading and opening the program, then click the 'Standard Mode' button.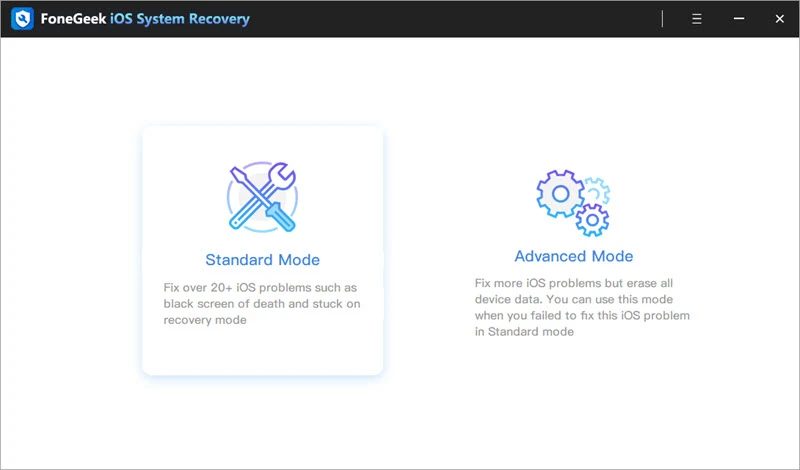 Step 2. Have your iPhone connected to it and click 'Next'.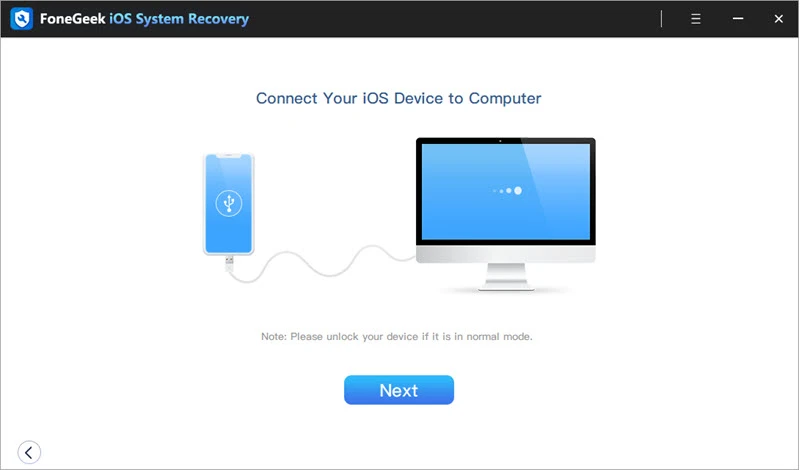 Step 3. Now you'll need to download a firmware package that corresponds to your device model. Just click 'Download' to do so once the software prompts you. Ensure though that you download the correct package before starting the repair process.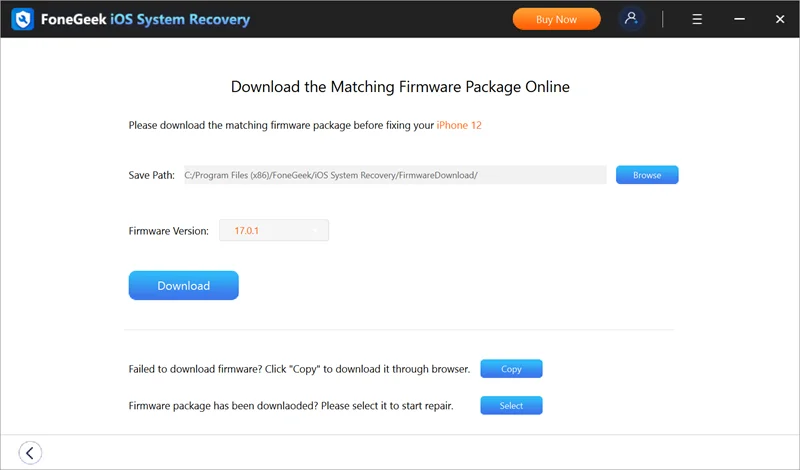 Step 4. Immediately after the firmware download is done, hit the 'Fix Now' button to initiate the process. The software will take a couple of minutes to fix the issue, after which, your iPhone will reboot.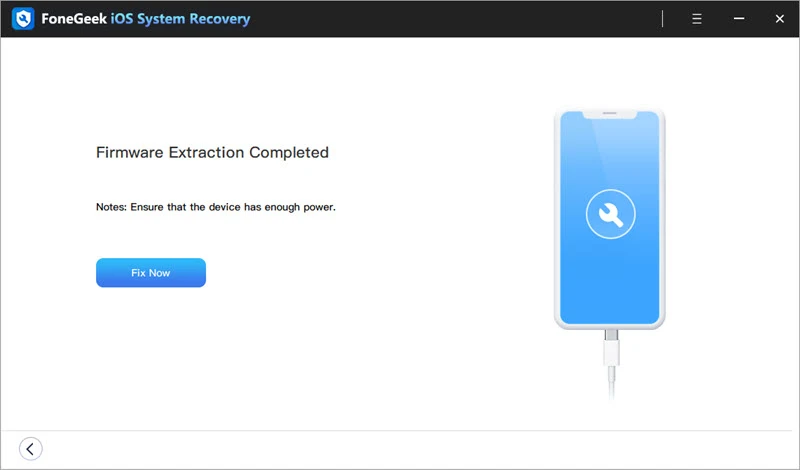 FoneGeek iOS System Recovery will ensure all the data in your device is intact. In case there are any files missing before the repair, you'll need additional help from a data recovery tool to get them back.
#4. Bonus Tip: Recover Lost Data on iPhone
Recover iPhone Data without Any Backup
Once you have iPhone attempting data recovery problem fixed, chances are that some of your iPhone data may have been lost. Therefore, how can you recover them? Well, the most simple way is using an iPhone data recovery tool like FoneGeek iPhone Data Recovery which is third-party software.
You need to download it, install it onto your computer, and connect your iPhone. From there, the software will automatically start scanning your iPhone to find lost or deleted iPhone data. It's able to restore contacts, call history, voice memos, notes, WeChat history, photos, videos, etc. It only takes three simple steps to easily get back the deleted data.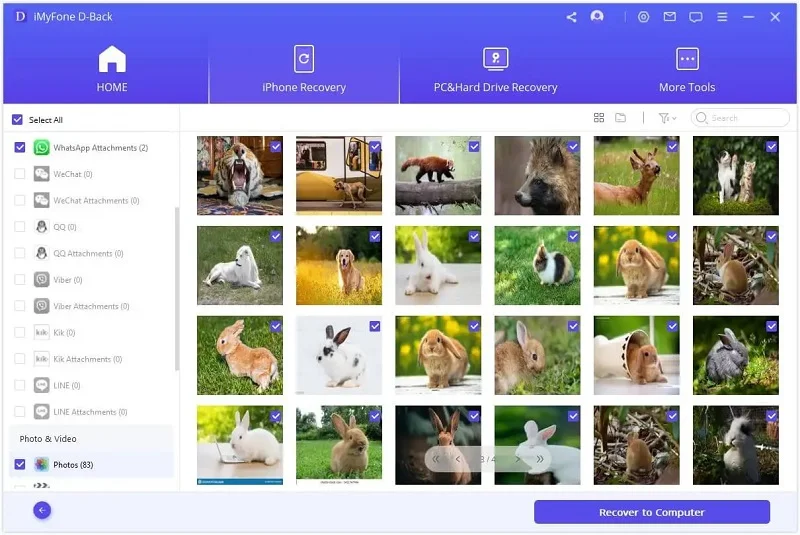 Restore from iCloud Backup
The iPhone data could also be restored from iCloud backup if your have reset the device.
On the resetting screen of Apps & Data, click on "Restore from iCloud Backup".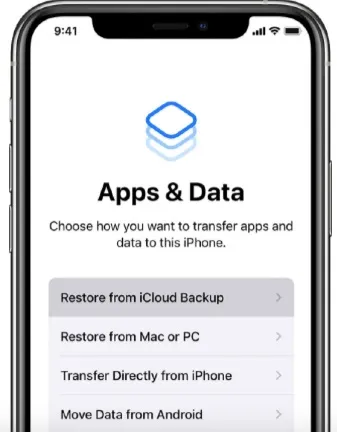 Log in with your Apple ID and choose the latest iCloud backup to restore data from.
Restore from iTunes Backup
Check the instructions below to recover your lost iPhone data from iTunes backup:
Connect your iPhone to a computer that you have created a backup with iTunes before.
When you click the device button, the iTunes backups will be accessed. Select 'Restore Backup' and choose the latest iTunes backup to restore from.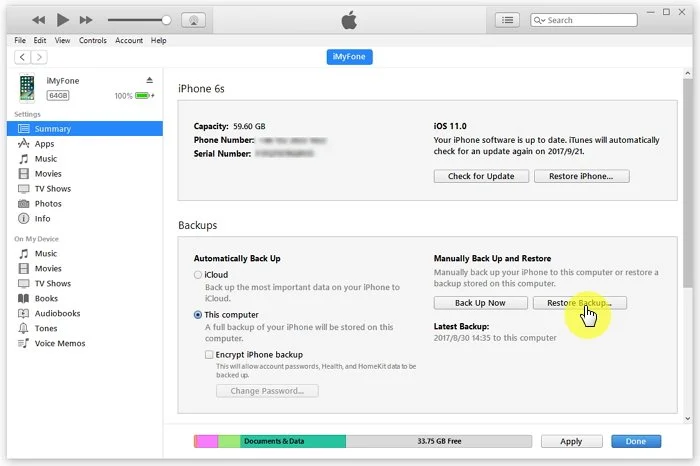 Conclusion
As you've seen, when your iPhone says attempting data recovery, you can be able to easily fix it using several methods that we've mentioned above. The best and most reliable choice is definitely FoneGeek iOS System Recovery. This is the ultimate solution to this error. It will fix it completely and have your iPhone working normally again. In case some of your iPhone data is lost, then you should use FoneGeek iPhone Data Recovery to get them back with ease.