Has the issue of 'iPhone screen flickering' ever come up in your daily life? When you take a shower and suddenly have a call, but when you are answering the call, you can't successfully slide across the screen. Not angry! This is not the most terrible thing, and when we can slide the screen, the iPhone screen is flickering. What should we do in this situation?
Don't panic. To eliminate the problem thoroughly, we must first know why iPhone screen flickering first!
1. Why is My iPhone Screen Flickering?
The iPhone screen flickering problem is usually caused by various reasons. Let's check the causes one by one at first.
Voltage instability: Every click on the iPhone screen will consume a certain amount of power. When the battery power is lower than 15%, the touch screen will be insensitive! In addition, when charging the device, instability voltage may also result in the phone screen screen flickering problem.
Incompatibility between software and system If you have recently downloaded any software not compatible with the phone system,  the iPhone screen will flicker when you open the application.
iOS upgrade: If this issue arises after upgrading to the newest iOS 12, then this issue may be closely related to iOS upgrade.
2. Turn Off Auto-Brightness
Many iPhone/iPad users who have the same issue gave us the feedback that turn off the settings of Auto-Brightness could fix the iPhone/iPad screen flickering problem. And we have also tested that it indeed works for the issue.
Step 1. Go to iPhone Settings and click Brightness, then turn off the feature of Auto-Brightness and set the iPhone brightness to the lowest state for several minutes.
Step 2. Then adjust the Brightness to original state and check whether the screen will flicker or not.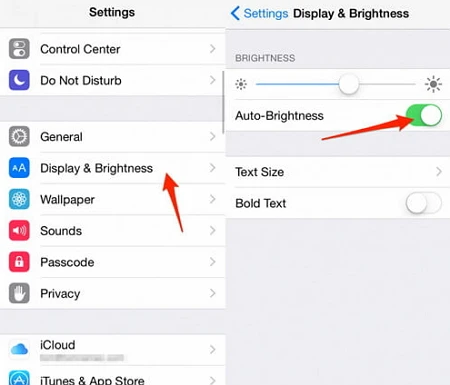 3. Turn on Reduce Transparency
Apart from turning off Auto-Brightness settings, enable the Reduce Transparency is another solution that you can try to make iPhone screen responsive normally. Here are the general steps that you can follow:
Step 1. Go to Settings interface on iPhone and click General option. Then scroll down and click 'Accessibility'.
Step 2. Then go to 'Increase contrast' and turn on 'Reduce transparency'.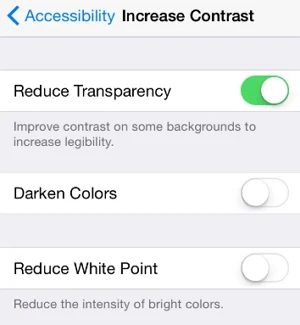 4. Force Close Specific App
The iPhone screen will sometimes flicker for specific applications installed on the device. If this problem occurs when you open one app, then we hope that you can force close this application and see whether this issue is still persisted or not. To force quit specific app, follow these steps:
Step 1. For iPhone 8 or earlier, Double click the Home button to display the recent-used apps. For iPhone X or earlier models with iOS 12 version, swipe up from the bottom of the home screen to show the apps.
Step 2. Swipe right or left to find the app that you want to close.
Step 3. Swipe up and force quite the app.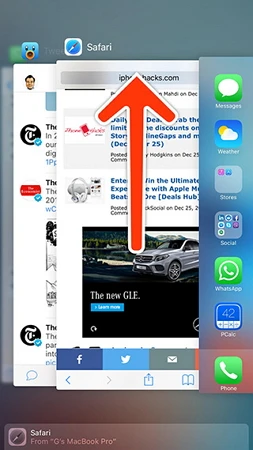 5. Fix iPhone/iPad Screen Flickering via DFU Restore
iPhone/iPad users should more or less hear about DFU mode. Whenever the iPhone is dead, the iPhone screen is flickering, or the iPhone password is not working, you may be advices to settle down this kind of issue through DFU mode. Then how to enter DFU mode to fix phone screen flickering problem?
Step 1. Connect the iPhone to computer and launch the newest iTunes.
Step 2. Press the power button + volume down button (down button) at the same time for about 10 seconds.
Step 3. When the screen goes black, release the power button and continue to hold down the "Volume Down" screen.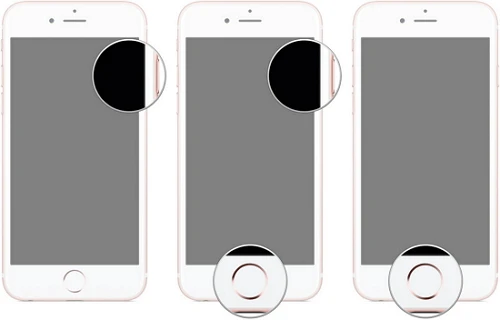 It means that your iPhone has successfully entered the DFU mode, you can release the button now.
If the iPhone is not in black screen but displaying Apple logo, it indicates that the device has not successfully entered the DFU mode. You may have pressed the button for too long. We recommend you to turn off the device again, and then follow the steps above to re-enter.
Step 4. After the iPhone enters DFU mode, the iTunes will prompt a warning: "iTunes has detected an iPhone in recovery mode. You must restore the iPhone before it can be used with iTunes'.
Step 5. Finally, click 'Restore iPhone' to update the iPhone system.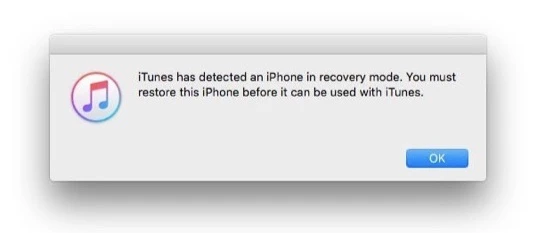 6. Best Way to Fix iPhone Screen Flickering
FoneGeek iOS System Recovery (iOS 14/13 supported) is developed by excellent professional team to resolve all iPhone, iPad, iPod Touch and iTunes issues without erasing or damaging all the information on the device, including iPhone battery drains fast, iPhone keeps dropping wifi, caller id not showing names, etc.
You can easily fix any difficult issues with our program. It is 100% safe to use and supports all modes of iPhone, iPad and iPod Touch. Besides, several authorized sites have highly recommended our products such as PC World, PC Advisor, etc.
Nowadays, when it comes to repairing iPhone or iTunes issues, FoneGeek iOS System Recovery is gradually a better choice than iTunes.
Now download and launch the windows or Mac version of FoneGeek program on your computer, then follow the given steps below to fix iPhone screen flickering without data loss.
Step 1. Launch the program and select 'iOS System Recovery'.
Step 2. Make the device connected with computer using an usb cord. Then click on 'Start' tab.
Step 3. Following the steps on the interface to enter the device into DFU mode.
Step 4. When the repair program detects that the device into DFU mode, various firmware package files will be available for you. Choose the most relevant firmware that will locate the existed problem on iPhone and click 'Repair' button.
Step 5. When the repair process finishes, the iPhone will soon get rebooted and run normally.
You can feel free to contact us or leave a comment below if you have other better solutions or you still have different iOS issues on your iPhone. We are dedicated to offering the best solutions for iPhone/iPad users to fix any system issues.

Tuesday on Apr 09, 2019, 14:06:26 GMT / Post By Fay J. Melton to iPhone Issues
Fay J. Melton has explored the area of technology and software for more than 5 years and he is enthusiastic about helping users solve various technology issues.

Home
>
iPhone Issues
>Why is iPhone Screen Flickering? 6 Free Ways to Fix it with Ease