The screen mirroring feature is ideal to share the iPhone screen, videos, photos, games, and other content to a large resolution screen like TV and PC. It can sometimes be annoying because it isn't error-free and some users complained that iPhone screen mirroring is not working as expected.
Are you having the same trouble to mirror your iPhone screen to a TV or PC? Don't worry. In this article, we will explain why is screen mirroring not working on iPhone and what you can do to get rid of this issue. Keep reading!
How to Mirror Your iPhone to a TV?
You can cast your iPhone or iPad screen to a smart TV by using AirPlay. Before screen mirroring, check with the manufacturer of your TV to see if it is AirPlay 2-compatible. Then follow the steps below to mirror your iPhone once you're sure that the two are compatible.
Step 1: Connect your iPhone, Apple TV or Airplay 2-compatible smart TV to the same Wi-Fi network and make sure they are powered on.
Step 2: On your iPhone or iPad, launch the Control Center:
Swipe down from the top-right edge of the display on iPhone X or later versions.
Swipe up from the bottom edge of the screen on iPhone 8 or earlier versions.
Step 3: Click on "Screen Mirroring". Then choose your Airplay 2-compatible smart TV, Apple TV, or Mac from the list that pops up.
Step 4: If an Airplay confirmation code appears on your TV or Mac, enter it on your iPhone.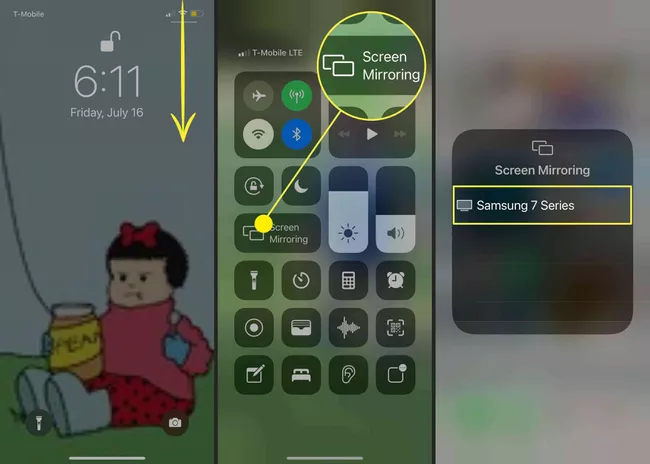 To stop the screen mirroring, just go to the Control Center and click on "Screen Mirroring", then tap "Stop Mirroring". Alternatively, you can use the MENU icon on your Apple TV Remote.
Why Is iPhone Screen Mirroring Not Working?
Not every device or iPhone works flawlessly. New technology is frequently picky and requires some diagnostics to work correctly. A few of the common issues that may cause your iPhone screen to stop mirroring are:
Software or incompatibility: Your iPhone and the smart TV may stop mirroring if the software is outdated and cause incompatibility issues between the devices.
Connectivity issues: Your target screen cannot accept your wish to mirror due to poor Wi-Fi connection or physical distance. Bluetooth may interfere with your attempted signal. Also, insufficient bandwidth may result in poor video quality.
Multiple devices: There's an alternative to screen mirroring numerous devices simultaneously, but this can lead to an issue.
Screen setup: iPhone screen mirroring not working may be a result of incorrect screen setup. Always ensure the screen is on and the configuration is accurate.
How to Fix Screen Mirroring Not Working on iPhone
1. Check for AirPlay Devices Compatibility
If your iPhone does not screen mirror to a TV or PC, the first step to troubleshoot is to check the device's compatibility. Check if your TV is AirPlay 2-compaitble and the devices are turned on and close to each other. Click here to learn more about which devices support AirPlay 2 and AirPlay on Apple's official website.
To quickly check whether your iPhone has AirPlay:
Swipe down from the right-corner of your Home screen to access the Control Center. If you are using an older iPhone with the home button, swipe from bottom to top.
If the Screen Mirroring option appears, then your iPhone is Airplay compatible.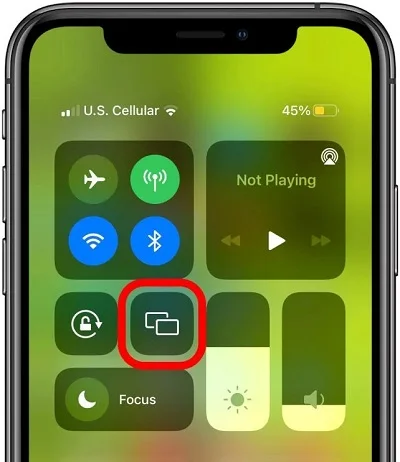 2. Check Your Wi-Fi Network
Sometimes, your network settings may cause issues with screen mirroring on your iPhone. To screen mirror your iPhone to a TV or PC, you should connect both devices to the same Wi-Fi network. You can try to turn off Wi-Fi and then turn it back on to fix the screen mirroring issue.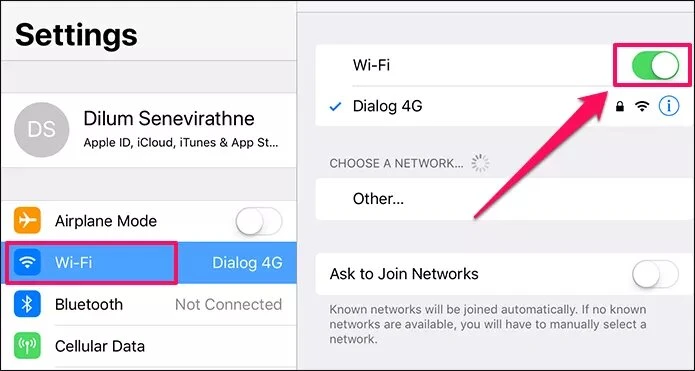 Also, you can reboot your Wi-Fi modem/router and see if that helps. This quick-fix has been known for solving a wide range of network problems. When your router is operational, check if screen mirroring is functioning. If not, it's time to proceed to the subsequent stage.
3. Restart Your iPhone and TV
When the screen mirroring fails to work, the next option to try is to restart your iPhone and TV. To quickly restart your iPhone, navigate to Settings > General and tap on "Shut Down".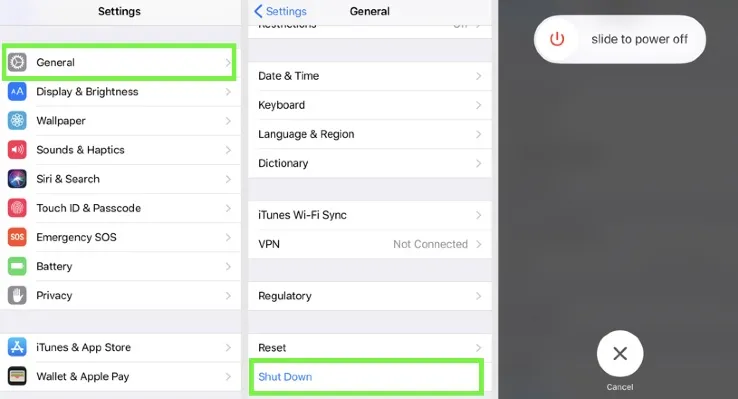 The simplest way to restart the TV is unplugging it from the power source, wait for a moment and then plug it back in. Allow the TV a couple of minutes to start up before attempting to mirror your iPhone again.
4. Screen Mirroring One Device at A Time
As mentioned above, you have choice to mirror multiple devices at a time, however, this can cause conflicts. If your TV detects that you are attempting to connect multiple devices, it may reject the connection, resulting in the screen mirroring stops working problem.
5. Update iOS and TV System
Keeping your TV and iPhone up to date is critical for flawless screen mirroring. If the screen mirroring isn't working on your iPhone, ensure you have the latest updates installed.
Go to Settings > General on your iPhone, and then tap "Software Update" to check if there are new iOS update available. If yes, go ahead and install the new update on your iPhone.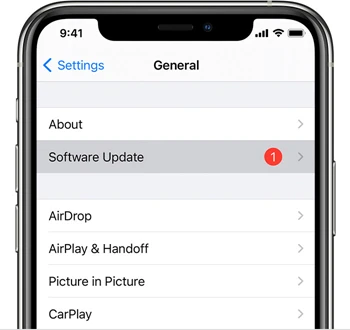 You can update your Apple TV or smart TV by going to the System or Support and checking to see if you are running the most recent system. Once you have the latest updates installed on both devices, try screen mirroring again.
6. Check AirPlay Settings (Apple TV)
Troublesome settings may also result in the screen mirroring not functioning on the iPhone issue. Therefore, if none of the aforementioned solutions helped you resolve the problem, this method might be handy in a pinch.
Follow the below steps to check and correct the AirPlay settings on your Apple TV:
Open the Settings app on your Apple TV.
Choose "AirPlay and HomeKit".
Tap "Allow Access" and select "Everyone".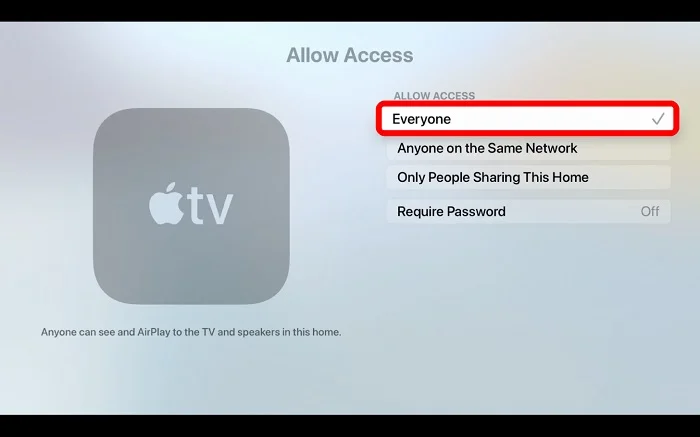 Ultimate Solution for iPhone Screen Mirroring Not Working
Are you still having trouble mirroring your iPhone screen to a TV or computer? Look no further than FoneGeek iOS System Recovery. This program can fix any iOS system problem and bring your iPhone or iPad to normal operating conditions, including screen mirroring not working, white Apple logo, DFU/recovery mode, startup looping, frozen or disabled, etc.
You can repair your iPhone with just a single click and in most cases, you don't have to fret about losing any data. FoneGeek iOS System Recovery is compatible with all iOS devices and versions, including the latest iPhone 15/14/13 and iOS 17/16. Download it to your computer and follow these simple steps to fix iPhone screen mirroring not working:
Install and launch FoneGeek iOS System Recovery on your computer, then connect your iPhone using a USB cable.
On the home screen, choose the "Standard Mode". Once your device is detected, download the matching firmware for it.
Press on "Fix Now" and the program will start repairing. Once it is done, your iPhone will back to normal and you should be able to screen mirror again.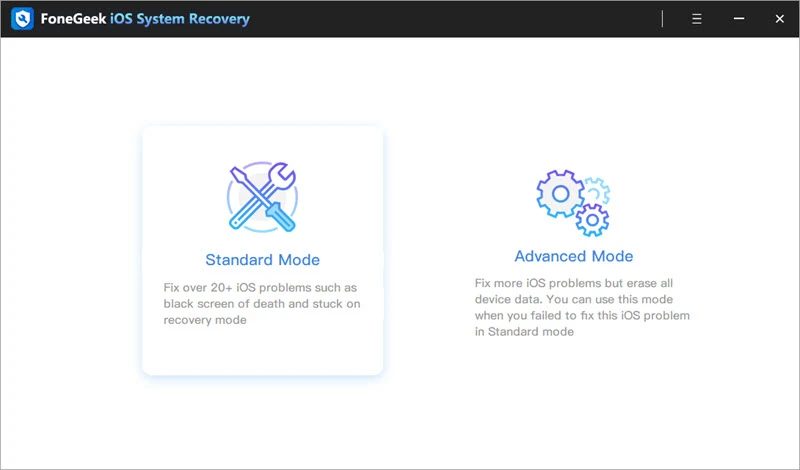 The Bottom Line
This simple guide should have given you all the necessary information to resolve screen mirroring not working issue on your iPhone. Hope you can mirror your iPhone screen to Apple TV, smart TV or computer without any errors. If you've followed all these solutions and are still having problems, you should consider contacting Apple Support for help.