User Concern
"Today I noticed that the screen rotation on my iPhone 12 is not working anymore. Currently, iOS 16 is installed on the deivce. To clarify, the screen rotation lock is not enabled. How can I fix this?"
One cool feature of the iPhone and iPad is that the screen can rotate based on how you're holding the device. But sometimes, your iPhone or iPad screen may stop rotating.
If your device's display gets stuck in portrait or landscape orientation, you've come to the right place. In this article, we'll explain why your iPhone screen won't rotate and what you can do to fix the issue.
Why Is My iPhone Screen Not Rotating?
Normally, the iPhone and iPad screen cannot be rotated due to:
Accidentally touch the lock screen button in the upper right corner of the device.
Accidentally turn on "Lock Screen Rotation" of AssistiveTouch.
Jailbreak iPhone/iPad or download conflict plug-ins.
How to Fix Auto Rotate Not Working on iPhone
Turn Off Orientation Lock on iPhone
The Portrait Orientation Lock is used to prevent your iPhone from rotating no matter how you turn the device. If you screen won't rotate, check whether you've turned on this function. If it is turned on, just go to Control Center and disable it. Follow these simple steps:
Swipe up from the bottom edge (or swipe down from the top-right corner) of the screen to open the Control Center.
Click the lock and arrow icon to disable screen rotating. You will see a message "Portrait Orientation Lock: Off" display at the top of the Control Center.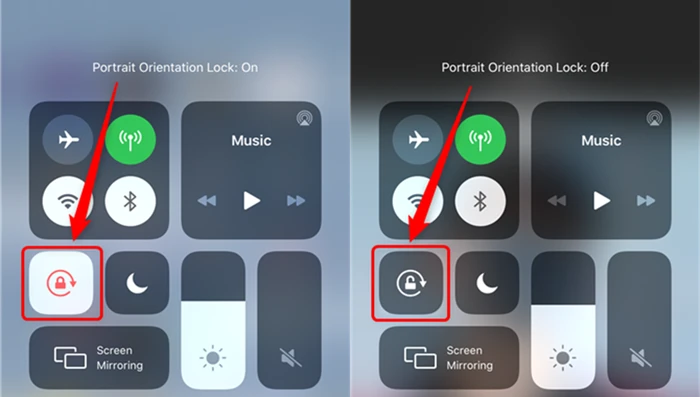 Turn Off Rotation Lock on iPad
The screen rotation of iPad works a little differently with iPhone. It is called Rotation Lock and can be locked in both the portrait and landscape orientation. You can use the same method descriped above to turn off the Rotation Lock on the iPad.
For iOS 12 or above, swipe down from the top-right corner of the screen to reveal the Control Center.
For iOS 11 or earlier, double-click the Home button.
If you have disabled this option but still been unable to rotate the screen, then keep reading to try the solutions below.
Check If Your App Supports Screen Rotation
Nevertheless, not all of the apps or contents support automatic screen rotation. For example, the home screen cannot rotate on most iPhone models while some apps are only available to work in one orientation. If you found the app won't rotate even though the rotation lock is turned on, it's time to verify whether the app is designed to rotate or not.
On the other hand, some apps only work on Landscape mode. You can try an app that does support rotation like games or Safari web browser. Simply launch this type of app to check if the screen rotation feature works properly or not.
Restart the App
If your app supports screen rotation but you still facing the issue, you can try to quit and restart the app.
For iPhone or iPad with Home button, double-click it to reveal the App Switcher.
For iPhone or iPad without Home button, swipe up from the Home bar and hold a second. Locate the app, quit and then re-open it.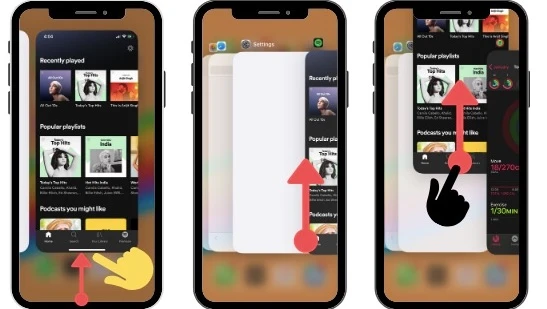 Turn Off Display Zoom
Home screen can auto rotate if you have an iPhone 6 Plus or earlier models. If the home screen is having issue with the rotation on these models, and Rotation Lock is disabled, the Display Zoom could be the cause. Just follow these steps to turn off Display Zoom:
Go to Settings > Display & Brightness and in the Display Zoom section, tap "View".
Choose "Standard" and tap on "Set". Your iPhone will restart in the new zoom setting and get rotation normally again.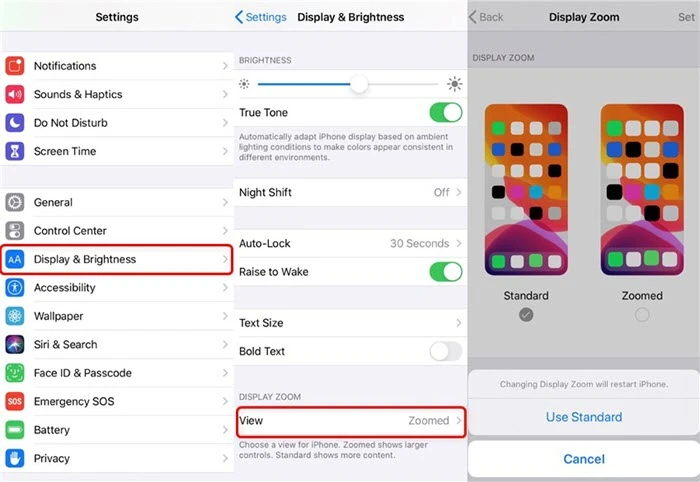 Restart Your iPhone or iPad
If the screen rotation issue persists across several apps, there might be issue with your iPhone or iPad. In such situation, a simple restart can help to fix it. Restarting your device can solve many minor glitchies, including not rotating screen.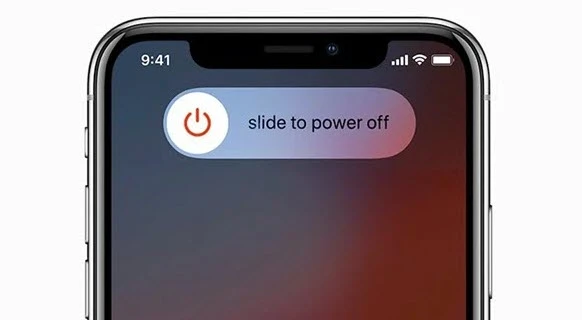 Reset All Settings
If a simple reboot doesn't help, you can try to reset all settings on your iPhone or iPad. You won't lose your important data like contacts or photos, however, you will lose all of your preferences and settings like Wi-Fi password.
It is very simple to reset all your iPhone or iPad settings. Go to Settings > General > Reset and coose "Reset All Settings".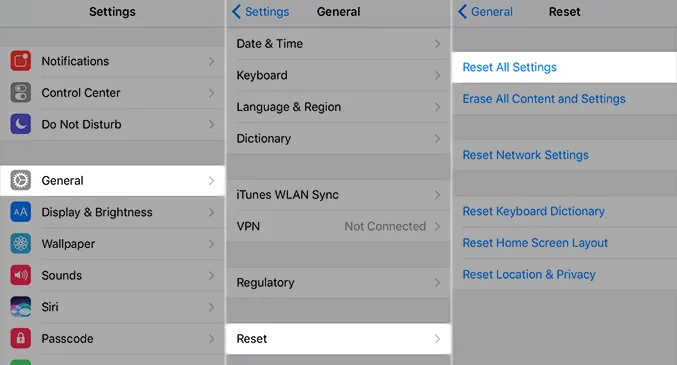 Note
Your personal data such as photos, music, app, videos, app data, etc will not be deleted after resetting all settings. But the device settings such as Bluetooth, WiFi will be changed to the default state.
Fix iPhone/iPad Screen Won't Rotate without Data Loss
If the screen rotation issue still persists after rebooting the device or resetting all settings, you can try a one-stop solution - FoneGeek iOS System Recovery. This program can help you fix all system issues including iPhone/iPad screen won't rotate in simple clicks. And there is no data loss when using the Standard Mode. It is fully compatible with the latest iPhone 14/13 models and iOS 16/15.
Just download the FoneGeek iOS System Recovery on your computer, then follow the steps below to fix your iPhone screen rotation issue:
Step 1. Run the iOS repair software on your PC or Mac, then choose "Standard Mode" to proceed.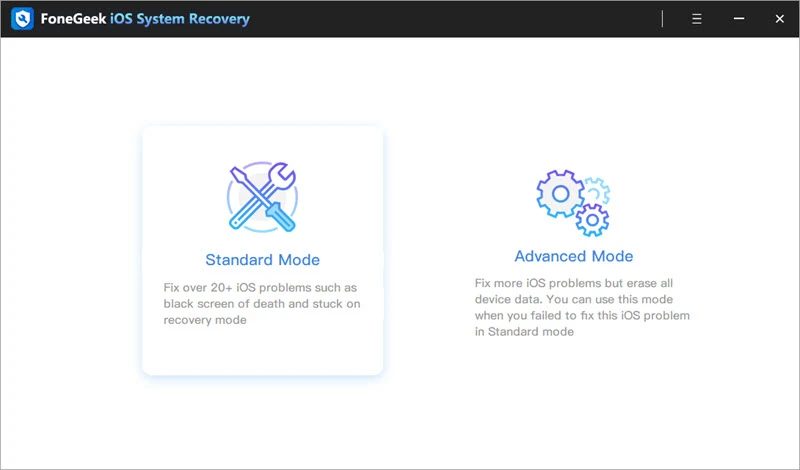 Step 2. Connect your iPhone to the computer using USB cable. Once your device is recognized, click "Download" to download a matching firmware for it.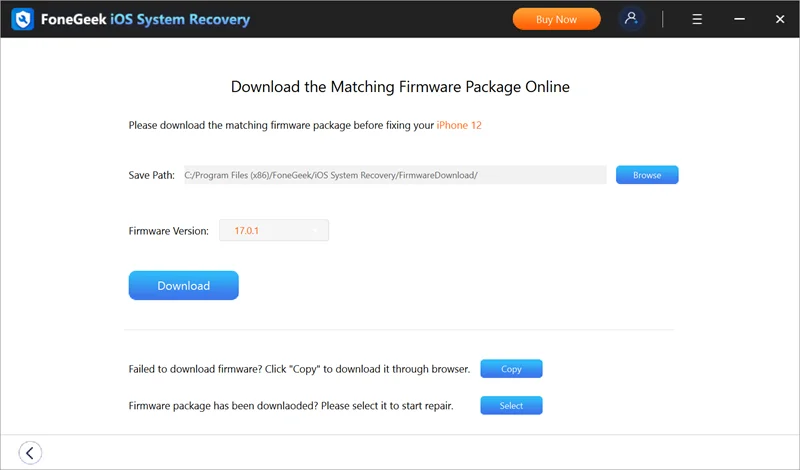 Step 3. Once the download is completed, click "Fix Now" to start repairing your iPhone. Do not disconnect your iPhone during the repair process, or the process will be interrupted.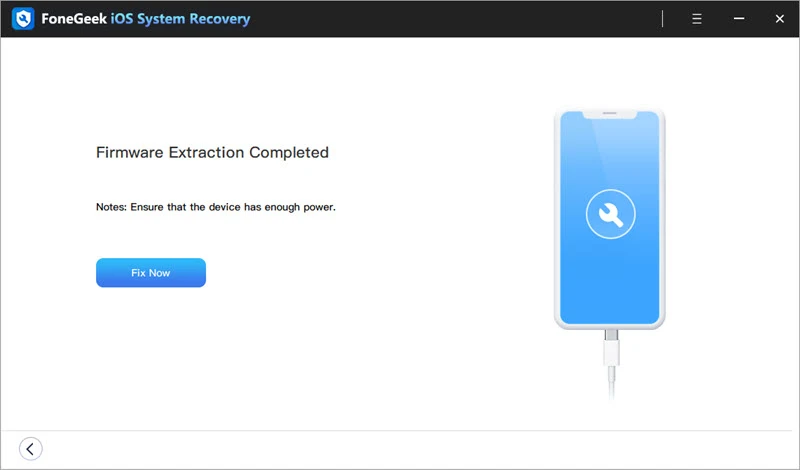 Ensure Your Accelerometer Is Not Broken
If the solutions mentioned above don't work, there could be a problem with your device's hardware. Few people know that the screen rotation of iPhone is controlled by the built-in accelerometer, which also manipulate the movement of iPhone. In other word, if the accelerometer doesn't work, it will not detect the rotation of the device.
If you suspect a hardware problem, you'd better make an appointment with Apple Support and take your iPhone or iPad to the local Apple Store to have it checked and repaired.
The Bottom Line
Well, that's the 8 tips you can try to fix iPhone or iPad won't rotate. Hope that you have fixed the iPhone/iPad screen not rotating problem after following the above steps. And we'll appreciate a lot if you can share any better solutions. For any other question or problem, just leave it in the comments below.