The iPhone's silent switch allows you to quickly and easily put your phone in mute or silent mode while in a meeting, class, or other situations. So, when you try to mute your iPhone, and the silent button fails to work, that can cause unwanted issues.
Fortunately, you can easily fix this problem, and that's what this post is about. Below, we will share 9 effective methods for solving the iPhone silent switch not working problem. But before we jump to these solutions, let's first learn what could be the possible cause of it.
Why Is My iPhone Silent Button Not Working?
Normally, your iPhone is supposed to mute immediately once you switch off the silent button on top of the volume button. When it doesn't work, there is an issue, and various reasons can cause it to happen. Some of these possible causes include:
Hardware Problem - Hardware damage could cause the silent button not working issue. It could be that the mute button is broken or something else. Apple Support can assist you here if you're not certain about that.
Wrong Settings - You could have turned the volume off without knowing, leading to the silent switch not working. If you set DO Not Disturb Mode, this could also be the cause.
Using Old Software - Outdated software is likely to cause the silent switch not to work on iPhone. Updating the iOS could therefore solve the problem.
System Glitches or Bugs - Malware intrusions and system glitches affect different iPhone functions, including the silent mode.
How to Fix Silent Switch Not Working on iPhone
1. Check and Clean the Silent Button
As mentioned earlier, one of the apparent reasons for the iPhone silent mode switch not working is hardware damage. Therefore, you first need to check your iPhone's mute button to ensure it's not broken. Look around it carefully. If it's not broken, check if anything is blocking it from sliding down and up.
Clean it if you find any dirt or debris. If it's clean and not stuck, then check the phone case was blocking the mute button. If it has a protective film instead, then remove it. Now, try to switch on and off the silent mode to confirm if it's working.
2. Use the Assistive Touch
The Assistive Touch is a useful feature that you can use to mute your iPhone, especially in case the mute button is broken or stuck. It provides various shortcuts to help you access and manage different iPhone functions. You have to enable it first to use it. Open Settings, head to General, click Accessibility and head down to Assistive Touch, then tap it to turn it on.
A grey circular floating option will appear on the screen. This is the Assistive Touch, and you can tap on it if the silent switch on your iPhone isn't working. Locate the Device option from the menu. Tap it to access the Mute option.
Now, tap the Mute option (bell icon) to put the phone in silent mode. Follow the same procedure when you need to switch off the mute mode. Generally, the Assistive Touch can serve as a substitute for the silent switch if it's not working.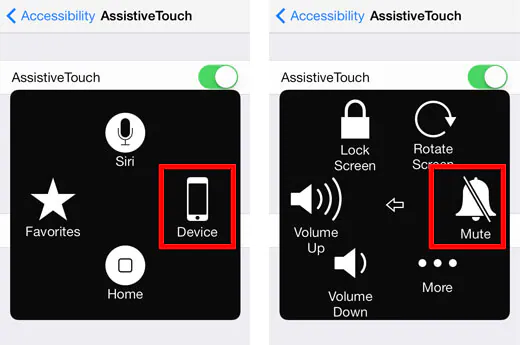 3. Turn the Ringer Volume Down
You can still silence your iPhone even if the mute button isn't working. Just turn down the ringer volume to the lowest value, similar to the mute mode. One way to do it is by opening Settings and heading to Sounds & Haptics.
Now, with the slider under Ringers and Alerts, slide the volume down to the end (left side), which should mute your device if you're still facing the iPhone silent button not working problem.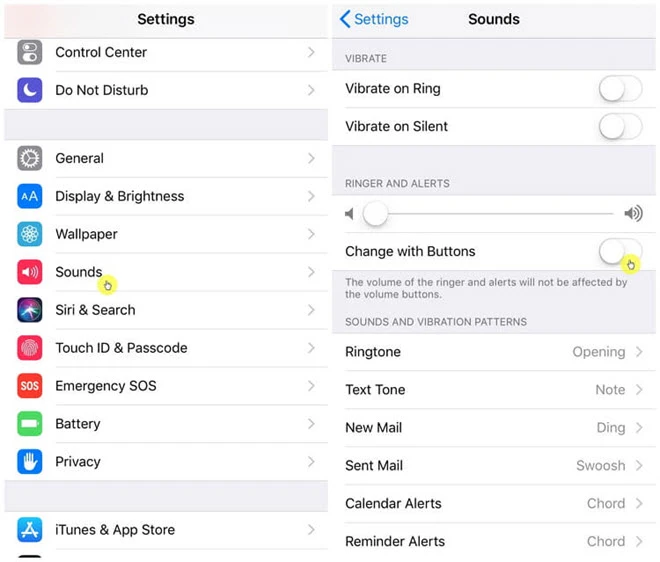 4. Set Up a Silent Ringtone
Setting up a silent ringtone is another simple way to achieve the same mute effect when your iPhone's silent button does not work or is broken.
To do this, open Settings, go to Sounds & Haptics, then tap on Ringtone. From there, tap Tone Store to find a silent ringtone. Once you have it, set it as the default ringtone.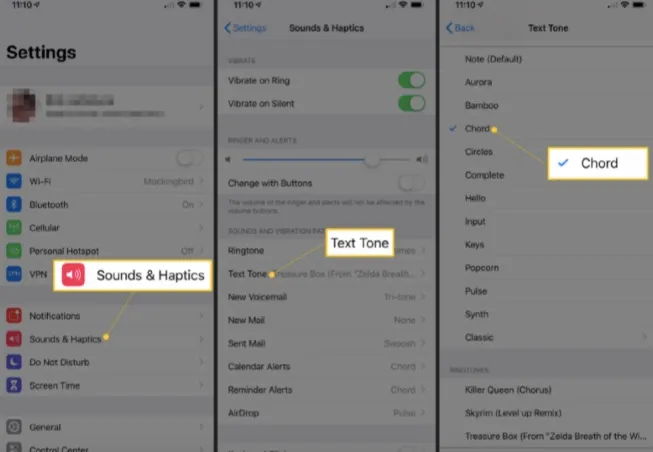 5. Restart Your iPhone
A quick restart can clear out software glitches that could be the reason behind your iPhone silent switch not working. How you restart the iPhone will depend on your device's model.
If it's iPhone X, 11, or any latest model, restart it by pressing the Side and Volume buttons simultaneously. Continue holding the buttons down to launch the power slider. When it appears, slide it to shut down the iPhone. Then, turn the iPhone back on.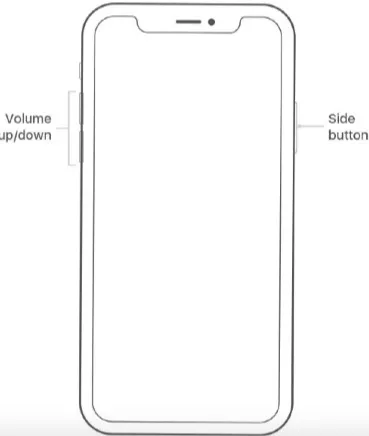 If it's iPhone SE (2nd Gen), 8, 7, or 6, you can restart it by holding down the Side button for some seconds to launch the power slider, which you then slide to turn off the iPhone. Then, long press the Side button again to switch on the phone.
If it's iPhone SE (1st Gen), 5, or an older model, just long-press the Top button to launch the Slider, then slide it to shut down the iPhone. Now, hold down the Top button to turn it on.
6. Enable the AirPlane Mode
You can use Airplane Mode to mute your iPhone too. It's a temporary fix to the silent switch not working on the iPhone issue, but one that works. Once you enable the Airplane Mode on your phone, it will automatically disable the default network; hence you won't receive calls, SMS, and other similar notifications.
To enable the Airplane Mode, head to Control Center by swiping down your iPhone. Please tap on the small plane icon on the menu to turn it on. You can as well enable it through Settings.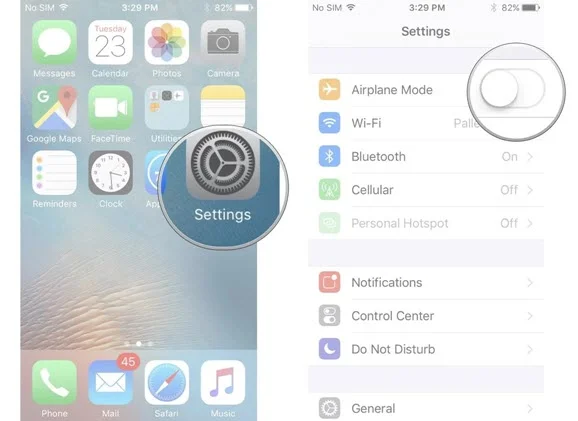 7. Turn On Do Not Disturb
Enabling the Do Not Disturb mode is yet another way to mute your iPhone when the mute button stops working. Open Settings, head to Focus and then tap Do Not Disturb. Next, tap the toggle in front of Do Not Disturb.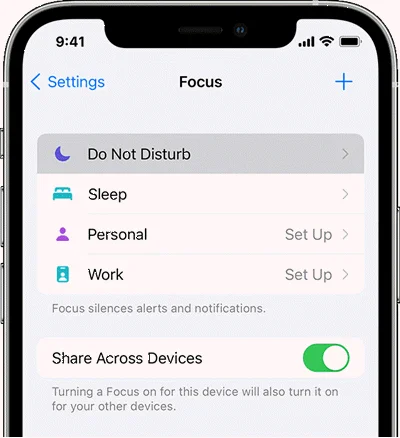 8. Set the Text Tone to None
When you enable the Text Tone to None, your iPhone will receive notifications silently. However, when something else is set up for the Text Tone, it will overwrite your iPhone's silent mode.
So, ensure that it's set to None if the iPhone silent mode switch is not working. Launch Settings, go to Sounds & Haptics, and scroll down to Text Tone (under Sound and Vibration Patterns). Confirm if it's set to None. If not, click on it, head to Alert Tones, and then press None.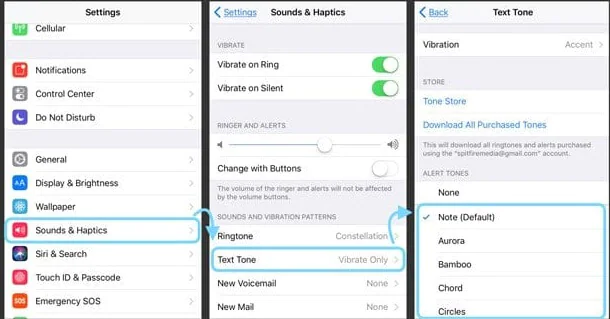 9. Fix iOS System without Data Loss
Finally, you can use an iOS repair tool when nothing happens after trying the above methods. The cause could likely be a software issue that can only be fixed by a professional tool like the FoneGeek iOS System Recovery. It can easily fix the software issues that cause the iPhone silent button not working problem without data loss. Moreover, it's able to work with all iPhone models, including iPhone 14/13 running on iOS 16/15.
Fixing iPhone Using the FoneGeek iOS System Recovery:
Step 1: Install FoneGeek iOS System Recovery on your computer after downloading it.
Step 2: Run the Program. Once opened, select "Standard Mode." Next, connect the iPhone you wish to fix to the computer using use its original USB cable.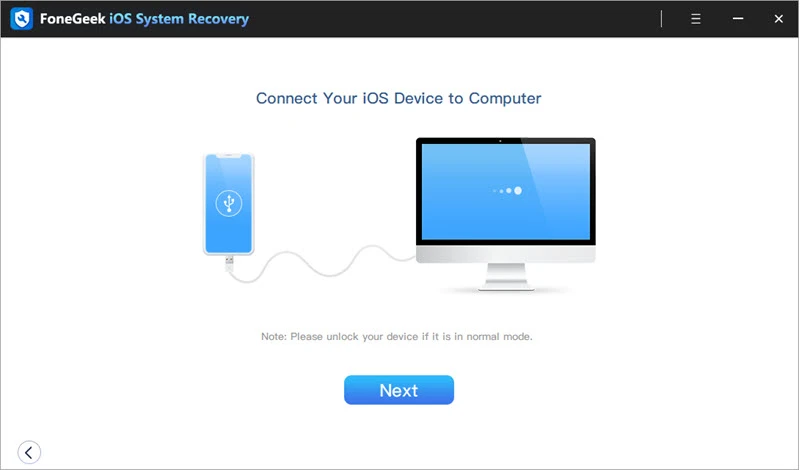 Step 3: When the FoneGeek software detects the iPhone, you can select the iOS package that matches your iPhone model, then click "Download." The program will start automatically downloading the firmware package.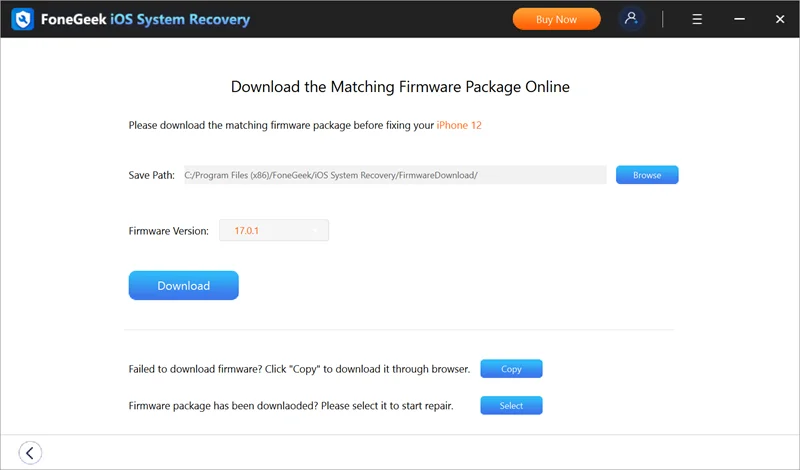 Step 4: After the download is finished, click "Fix Now" once the iOS firmware is verified. From there, the program will initiate the repair process to fix your iPhone.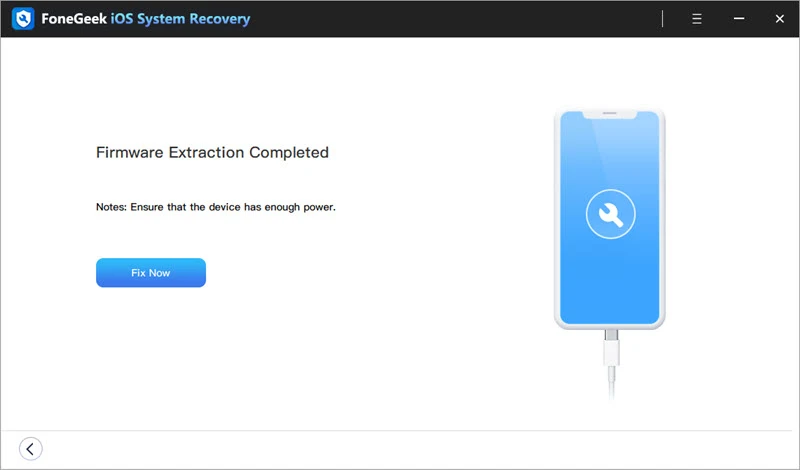 The repair process should take a few minutes. The silent switch on your iPhone should work now when the entire process is done.
The Bottom Line
These are simple but effective ways of resolving your iPhone silent switch not working problem. They can all work if you give them a try. However, we recommend using FoneGeek iOS System Recovery if the problem persist. It will fix the software issue causing it and many other malfunctions happened on iPhone/iPad.