User Concern
"I accidentally entered guided access by clicking the home button on my iPhone 3 times while I was on the app Snapchat and now I can not leave the app. I've tried clicking the home button three times but nothing happened. What shoule I do?"
Guided access is an impressive feature of iOS devices that helps you stay focused on a specific task. It basically restricts other apps and features of the phone, which may cause an interruption in your work. Although an useful feature, some users reported that their iPhone gets stuck in guided access mode and can't get out of it.
When your iPad or iPhone is stuck in guided mode, it can be hard to get it back to normal mode. However, the good news is there are several ways to solve this issue. This guide will introduce you to some of the best methods to solve iPhone stuck in guided mode.
Part 1. What is Guided Access on iPhone or iPad?
Guided Access is a productive feature on iPhone, iPod, and iPad devices that lets you limit the device's functionality to a single app. You can even confine which features of the app will be available. It's very beneficial while using applications like Compass, TD Snap, etc.
Here are the features of iPhone Guided Access in a nutshell:
Limit the functionality of your iPhone to a single app.
Disable hardware buttons (Ex: Home Button).
Restrict touch or gesture in a specific area of the screen.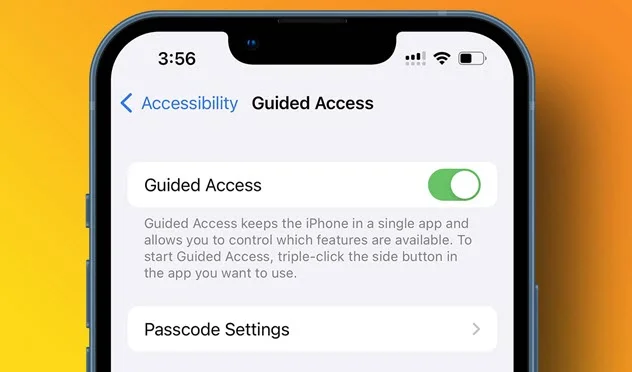 Part 2. Methods to Fix iPhone Stuck in Guided Access
Triple-click the Home/Side Button
When your iPhone is stuck in the guided access mode, you should try the accessibility shortcut of Apple before anything else. It should be either at the bottom or on the side. Then follow the below steps:
Press three times on the Home button with short intervals. If you're using new devices like iPhone 12 or 13, then press the Side buttin three times.
Now you will be requested to enter the passcode of the guided access mode. Once you enter the digit, the device should be back to normal mode.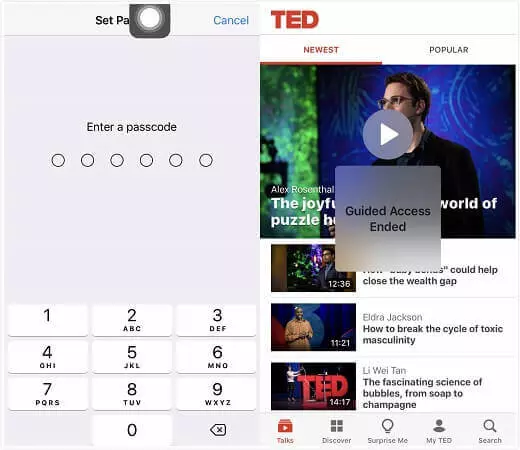 Force Restart Your iPhone/iPad
If you can't get out of the guided access mode following the above method, try force restarting the device. The steps of force restarting depend on the model of the iPhone you're using:
For iPhone 8 and newer models (iPhone 15/14 included): Press and quickly release the Volume Up, then do the same with the Volume Down button. Then press the Power button until the Apple logo appears.
For iPhone 7 and 7 Plus: Press the Volume Down button and Power button together until you see the Apple logo on the screen.
For iPhone 6 and earlier models: Press the Home button and Power button simultaneously until the Apple logo shows up.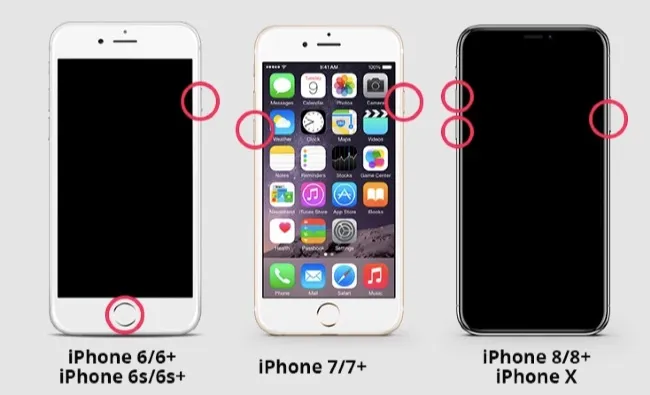 Use iCloud Lost Mode to Exit Guided Access
The iCloud lost mode can be another way to get your iPhone out of the Guided Access. Here is what you need to do:
Go to iCloud.com and sign in with your iCloud account from a Mac computer or iPad.
Tap on Find My iPhone and find your iPhone that is stuck in guided access mode, then turn on the Lost Mode.
You will see an alert on your iPhone. Simply ignore it and enter your passcode. Done!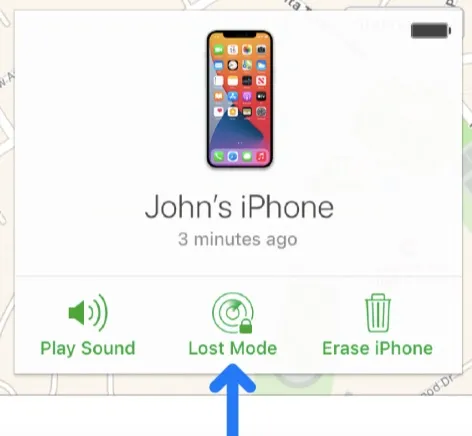 Get iPhone Out of Guided Access without Data Loss
If none of the above methods works for you, you might need to use a third-party application to get rid of the guided access mode. One of the best options for you can be FoneGeek iOS System Recovery. It's a professional iOS repair tool that you can utilize to solve various iPhone issues, including this one.
Apart from getting rid of the guided access, you can also use it to solve iPhone black screen error, boot loop, white Apple logo, and a variety of other issues without losing data. You can even use it on the latest iOS 17 and all iPhone 14/13 models. Let's see how to use the FoneGeek iOS System Recovery to get iPhone out of Guided Access mode:
Step 1: Start with downloading and installing the FoneGeek iOS System Recovery on your PC. Then run the program and click on Standard Mode.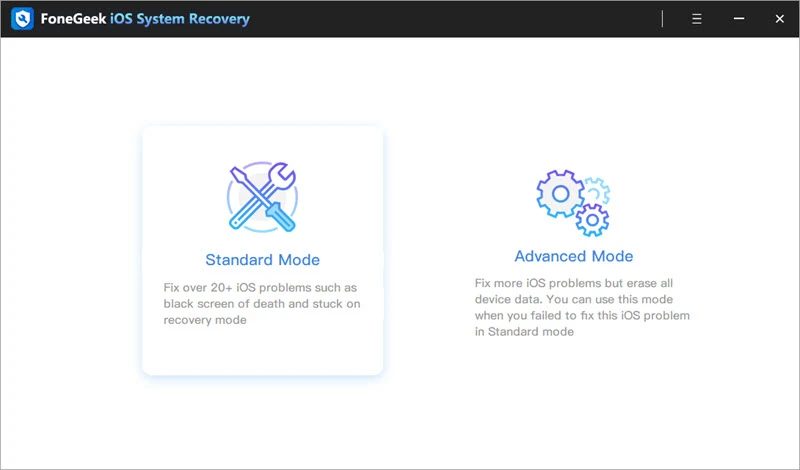 Step 2: Now connect the iPhone/iPad to the PC with USB and press Next to continue.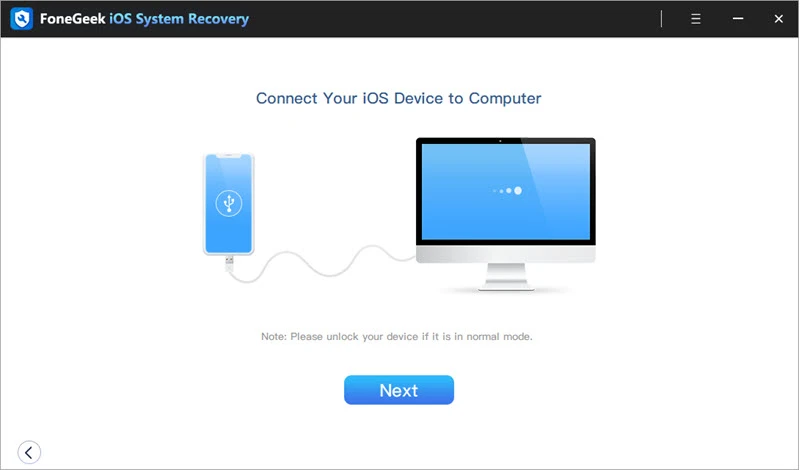 Step 3: Select the device model and firmware version you want to download for the fix and press Download.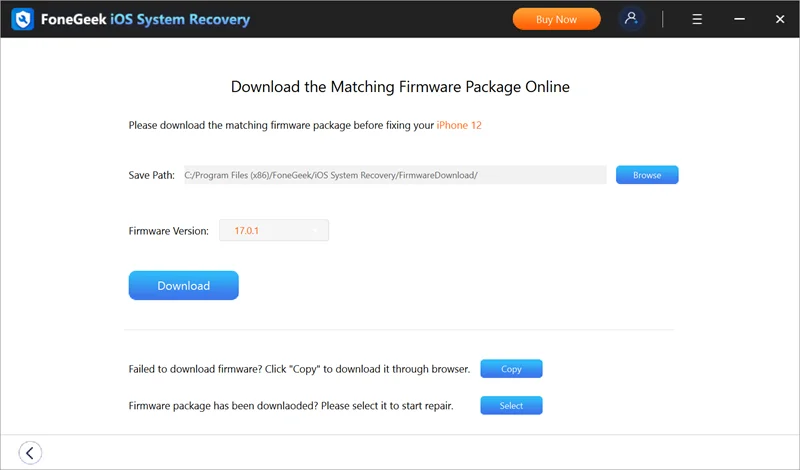 Stet 4: Once the download is complete, press Fix Now to fix the issue. After doing so, your iPhone should reboot and get out of the guided access mode. Then you can begin using the device normally.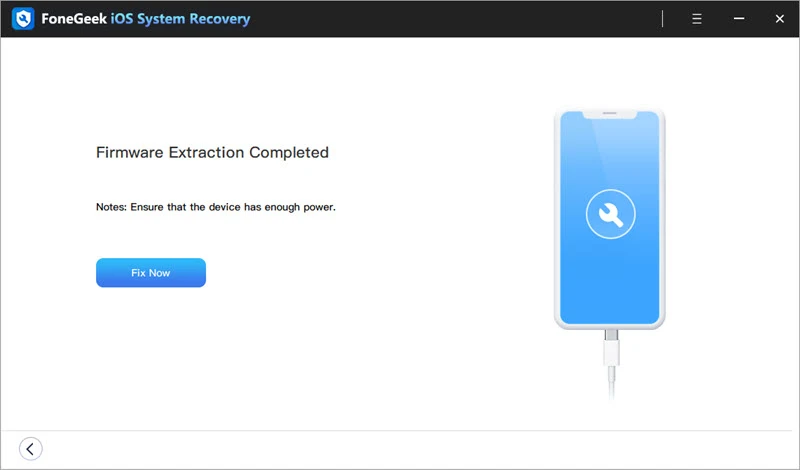 Restore iPhone with iTunes (Data Loss)
There is another way to get iPhone out of the Guided Access mode through iTunes. However, this method will restore your device to factory settings and erase all your data, you'd better back up your iPhone before doing this.
First, open iTunes on your computer and connect your iPhone via USB cable.
Now click on the Device icon and go to the Summary tab.
Next, find and press on Restore iPhone to fix the iPhone stuck in guided access.

This will return your iPhone to the default settings, and you will get rid of the guided access.
Part 3. FAQs About Guided Access on iPhone
Q1. How long is guided access on the iPhone?
Apple first introduced guided Access on the iPhone devices in 2012. However, all other older versions of iOS can also access this feature through updated software.
Q2. Can you receive phone calls in guided access?
You cannot receive the phone calls and Facetime calls when the guided access is on. The call will either end or go to voicemails. Note that you will still get a non-actionable notification about the call.
Q3. Does guided access drain the battery?
Yes, your iPhone will consume a lot of battery when it is in guided access mode. It will run in the background and devour the battery even with the auto-lock turned on.
Q4. Does guided access disable calls?
Guided Access lets you restrict all other apps and features of your iPhone to focus on the running app more efficiently. It also limits incoming calls, messages, and other notifications.
Q5. How to set a new passcode for guided access?
It's pretty easy to set up a new passcode for your guided access. First, go to the Accessibility option from Settings. Then press on "Passcode Settings". That's it; now, you will find an option to "Set Guided Access Passcode". Enter your new password, and you are done.
Conclusion
The Guided Access mode in your iPhone is a handy feature, but sometimes it may prevent you from returning to normal mode. However, thanks to the fixes we discussed above, you should be able to get rid of the iPhone stuck in the guided access mode issue.
We will recommend you using the FoneGeek iOS System Recovery software if none of the options works. This professional tool lets you get rid of the guided access stuck easily quickly. You can also use this tool to eliminate other issues on your iOS devices.