It's fairly easy to set up a new iPhone considering that Apple provides step-by-step instructions to help you do it once you boot up the iPhone. However, the process doesn't always run smoothly. Sometimes, the iPhone can get stuck on setting Apple ID step during the setup process. When this happens, you can't continue with the setup process, meaning you can't use the phone.
The good news though is that there are ways to get around this stalemate. In this guide, we'll explore these methods and how to implement them to allow your iPhone to complete the setup process. So, let's jump into the details right away.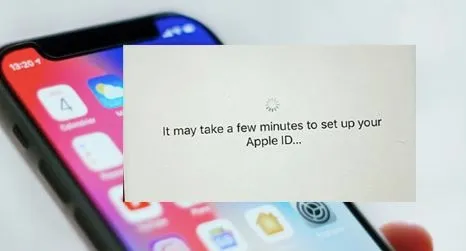 Part 1. How Long Should Setting Up an Apple ID on a New Phone Take?
Provided that you aren't restoring a backup, it shouldn't take more than a few minutes to set up Apple ID. But if you're restoring backup from iTunes or iCloud, then the process will take a bit longer since you have to retrieve the files from iCloud or your computer and then restore them on your iPhone. You can set up a new iPhone by following these steps.
The first thing is to switch on your new iPhone and then select the language of your choice.
Tap the "Set Up Manually" option if you don't intend to transfer any data from another iPhone.
Now have your device connected to a Wi-Fi network.
You'll get a prompt asking you to set up a security feature like Face ID/Touch ID or a passcode. So, do so.
Finally, follow the displayed instructions to complete the setup of your iPhone.
This iPhone setup process mainly involves turning on specific functions. Once you're done, you can access and use your phone.
Part 2. Why is My New iPhone Stuck on Setting Up Apple ID?
Your iPhone can get stuck on setting Apple ID because of various reasons. The most common ones could be:
Your new device has an old iOS version that hasn't been updated for a long time.
Probably an error on Apple's server end.
Your SIM card isn't inserted/placed correctly into your device.
There's something wrong with your iPhone.
You didn't follow the setup steps as specified.
Part 3. How to Fix 'New iPhone Stuck on Setting Up Apple ID' Issue
Force Restart Your iPhone 15/14
Force restarting your iPhone 15/14 is one quick and viable way to fix it when it's stuck during the process of setting up Apple ID. It's a method that basically forces your iPhone operating system to switch off and then you just turn it on after several seconds. The steps are as simple as follows.
Long press both the Power and Volume buttons simultaneously.
Immediately the Apple logo shows up, let go of the two buttons.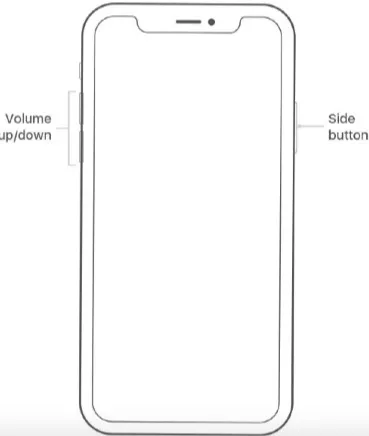 When the iPhone restarts, head to settings and check if everything is fine now. Try setting up your Apple ID and see if it works. If the same problem appears, try the next method.
Reinsert the SIM Card
After turning on your iPhone, it will detect your SIM card because it's through the SIM card that it's able to receive network signals and perform different network operations like making/receiving calls and messages. This can only happen if the SIM card works and it's inserted properly. As such, some assistance may be required when setting up your new SIM card on your device, especially if it's your first iPhone to use.
Don't take this for granted because your iPhone won't recognize the SIM card should you not insert it correctly. The outcome of this as we mentioned earlier is you end up having your new iPhone stuck on setting up Apple ID step and it can't proceed beyond that. In such a case, the best solution is to remove the SIM card and insert it again into your iPhone. To do that:
Start by switching off your iPhone and eject the SIM card tray.
Take the SIM Card out of the tray and place the SIM card again onto the tray (ensure it sits properly).
Insert the SIM card tray into the phone.
Then switch on the iPhone. You should now be able to finish the setup process.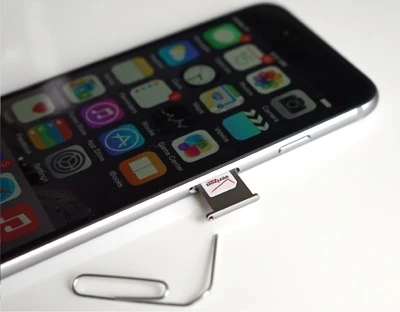 Skip Setting Up Apple ID
This is an effective method if you're activating your iPhone. You still need to put the SIM card into the device. Besides that, once you're setting up your iPhone, you'll have to head to the Settings app and set up your associated Apple ID. Follow these steps to set up your iPhone without Apple ID:
Turn on the iPhone and then select your preferred language.
Select the "Set Up Manually" option and have your iPhone connected to Wi-Fi.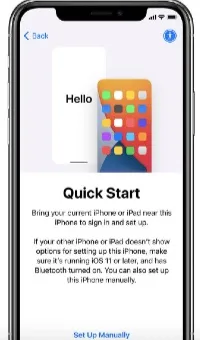 In Settings, tap the "Set Up Later" option. Don't set the screen passcode for Face ID.
Select "Don't Transfer Apps & Data" and Forgot password/don't have an Apple ID.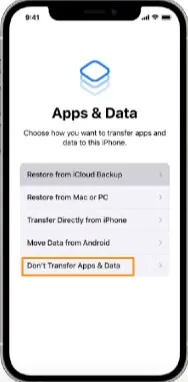 Once you've done that, click on "Settings and select Set Up Later".
Allow your iPhone to receive the latest updates by tapping Continue. Now complete the remaining steps to activate your iPhone.
Launch the Settings app when setup is done. Select "Sign in to your iPhone" and then sign in using your Apple ID.
Restore iPhone 15/14 with iTunes
Having iPhone stuck on setting up Apple ID during the setup process is a problem that you can resolve by restoring the iPhone using iTunes. You don't need any technical skills to do it. It's an easy method plus it can fix other iSO glitches too. Note that you may lose some important data after attempting it. Fortunately, though, iTunes usually backs up your iPhone data before restoring it.
Before proceeding, ensure you put your device into DFU/Recovery mode. If you don't, then this procedure won't work. Here are the steps to restore your iPhone using iTunes.
Start by having your iPhone 14 connected to your PC with an authentic Apple USB cable.
Launch the iTunes software. Let it identify that your device is set into Recovery Mode.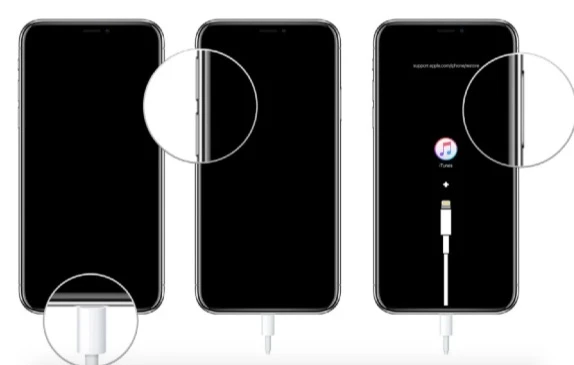 From there, select the Restore option and follow the on-screen instructions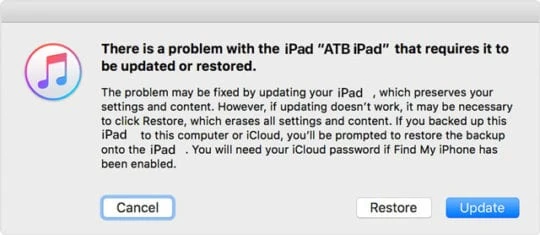 After this, your iPhone will be restored.
Fix iOS Issues with Reliable System Repair Tool
FoneGeek iOS System Recovery is the last and most effective solution to this error of iPhone stuck on setting up Apple ID, especially if the cause is due to a system glitch. This iOS system repair tool can successfully fix various iOS system issues including this one without causing any data loss.
Key Features of FoneGeek iOS System Recovery:
Resolve most iOS system issues with no data loss.
Allow downgrading of the iOS version without iTunes.
Supports all iPhone/iPad models and all iOS versions (even iOS 17).
Intuitive interface that's easy to use.
Steps to fixing this iPhone stuck on setting Apple ID problem using FoneGeek iOS System Recovery
Download FoneGeek iOS System Recovery into your computer. Install and launch it. Select "Standard Mode" from the resulting home page.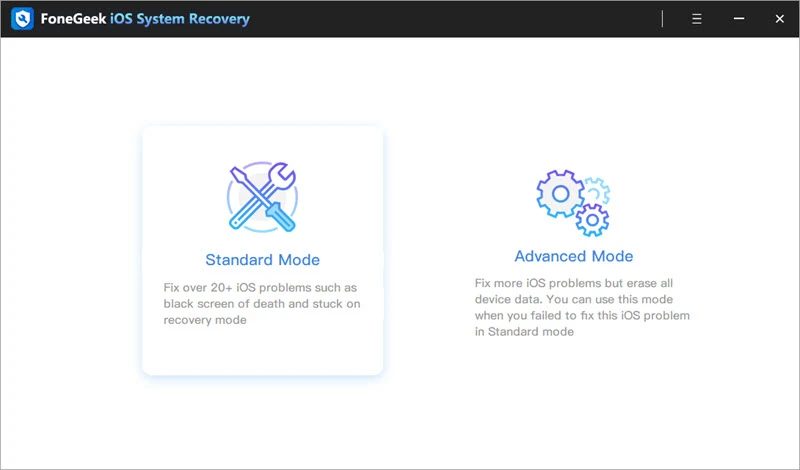 Using a lighting cable, attach your iPhone to the computer. Let FoneGeek detect your device.
Once detected, select the system version that matches your iPhone model and click "Download" to download the selected firmware package.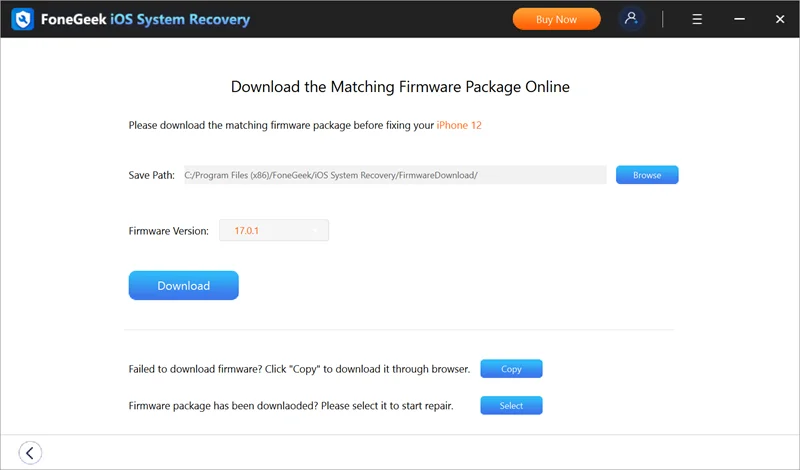 When the firmware package is successfully downloaded and verified by the program, click "Fix Now." FoneGeek will start fixing your iPhone's iOS and resolve the iPhone stuck on setting Apple ID problem.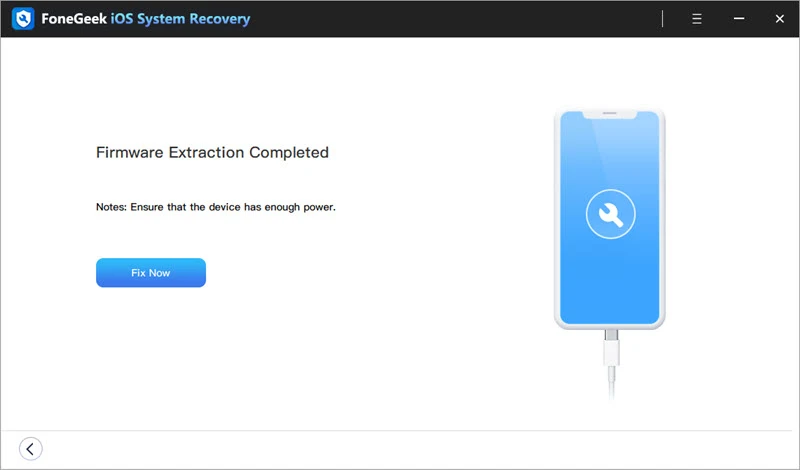 Part 4. FAQs about Setting Up Apple ID
Q1. How to set up Apple ID for the first time?
It's easy to set up Apple ID on your iPhone. Here's how to do it.
Open Settings and tap the Apple ID or Forget Password option.
Tap "Create a Free Apple ID."
Now, select your birthday and name, then tap the "next" option.
Select your preferred option between using your email address and getting a free iCloud email address. Wait to get the message.
Finally, verify your email address to create your Apple ID.
Q2. How to complete setting up the Apple ID?
You can finish the settings by following these steps.
Begin by launching Settings on your iPhone
Tap the "Finish Setting up your iPhone" error.
In the new screen, enter all the details you missed like your Apple ID, and also Set Up Siri or iMessage.
When you're done adding the correct details, the setup process will be completed.
Conclusion
As you've seen above, there are multiple ways of solving iPhone stuck on setting up Apple ID issue. All of them are simple to implement and will definitely fix this issue. FoneGeek iOS System Recovery in particular is very reliable. It will solve this issue and any other iOS glitches that your iPhone may have without removing your data. Moreover, it doesn't need any technical skills to use and it supports all iOS versions and iPhone models.