The environment is getting more and more noisy while the sound of our mobile phones is getting smaller and smaller. Are you still feeling annoyed when not hearing the ringing tone and missing the call? Did you miss important information because you didn't receive text notifications from one person?
Part 1. Why is iPhone Text Sound Not Working?
The default text volume of multiple mobile devices is really small, whenever it is an Android phone or an iPhone. Although sometimes we have adjusted the text volume to the maximum, we still feel that the sound is very low. Why? Don't worry, we will teach you different methods today to fix the problem of 'iPhone custom text tone not working'.
Part 2. How to Fix the Issue of 'iPhone Text Sound Not Working'
1. Text Sound is Not Working for Specific Contacts
Some users complained that they don't get any notifications from one specific contact on their phone. If you are also in this case, check the custom settings of this contact. Follow the steps below.
Step 1. Open the Contacts app and search for the contacts that don't alert you when sending messages.
Step 2. Click the contact and tap on 'Edit' option in the top right corner. Scroll down and you will view the default Text Tone set for this contact.
Step 3. If the Text Tone is set as none, just select another alert option from the sound list. Then click 'Done'.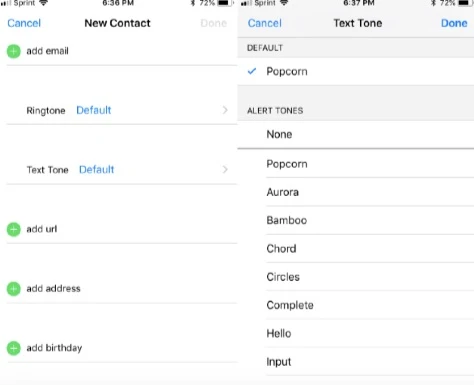 2. Change Text Tone to Default Settings
If the text sound is not working for all contacts, you can try this quick solution. This solution is approved to be useful by most iPhone users: Change the iPhone text sound to default settings of Note or Ding. You may notice that the text sound always occur when you set long alert tones. Thus try to change it to default simple settings.
Step 1. Click Settings on the home screen of iPhone.
Step 2. Tap on 'Sounds & Haptics' (for new devices) or Sound (for easier devices).
Step 3. Click Text Tone and you will know which ringtone is currently being used. Just select 'Note (Default)'.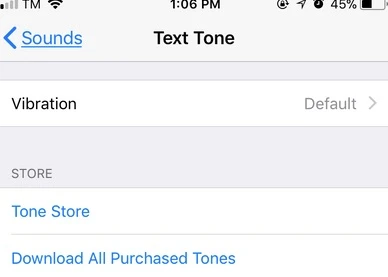 3. Turn Off and Turn on Date & Time
If the date and time of iPhone is not set correctly, this may also affect the text notifications, as the text sound will not respond in time. Thus it is always good to check the date and time settings. Try the steps listed follow:
On the screen of your device, browser for Settings > General > Date & Time and check whether 'Set Automatically' is turned on. If it is not turn on, just toggle it on. If it is already turned on, just turn it off and re-turned it on.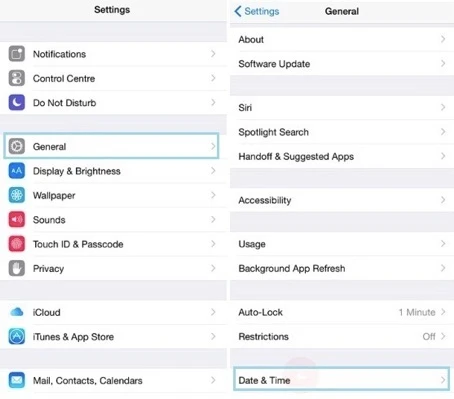 4. Turn off Do Not Disturb Option
If 'Do Not Disturb' feature in turned on, you will not receive any sound notifications when getting a new text message or iMessage. So you have to make sure that the 'Do Not Disturb' option is turned on.
Open Settings app on iPhone, find 'Do Not Disturb' option and turn it off.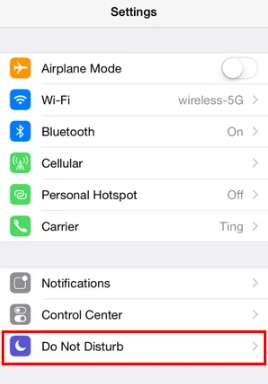 To check whether you have enabled 'Do Not Disturb' for specific contact, go to Message app and view all the incoming text messages you received. If you found a grey moon icon in front of the message, it could mean that you have set 'Do Not Disturb' feature for this contact.
Just swipe left on this message and turn off 'Show Alerts' option.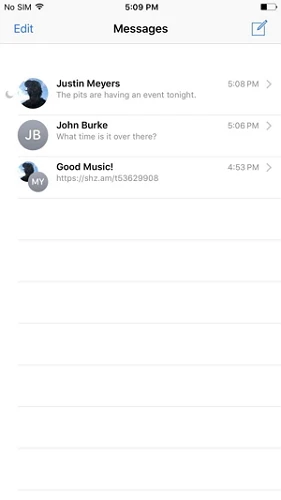 5. Test Sound Not Working When iPhone is Locked
You can't get any notifications or hear any sound of incoming messages when your iPhone is locked? You may need to toggle on 'Show on Lock Screen' from settings.
To check it, go to Settings > Notifications > Messages and turn on 'Show on Lock Screen' .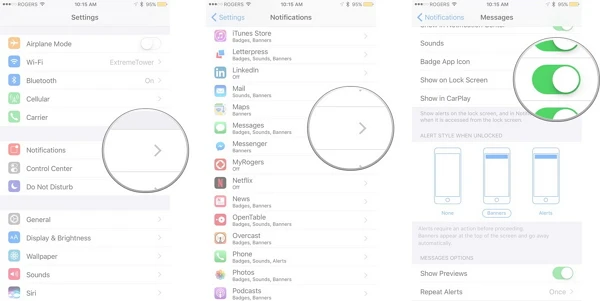 6. Fix 'iPhone Text Sound Not Working' without Data Loss
The text sound problem may still not be resolved if you read it here. You can try iOS System Recovery here. This FoneGeek OS System Recovery is developed by profession experts to fix all iPhone/iPad issues. It is secure to use and no data will get lost. Here are the reasons why iOS System Recovery is a relatively preferred choice for most iPhone users.
It is a better iTunes alternative to fix iPhone problems, including the issues of iPhone boot loop, won't turn on, stuck in black/white screen, recovery/DFU Mode, etc. 
This iOS System Recovery program is one of the hot stars in our company that is highly recommended PC Advisor and PC World. 
It is completely secure and easy to use. 
Download the iOS System Recovery on your computer then initial the steps below to fix this text sound issue on iPhone.
Step 1. Run the software and select 'iOS System Recovery' mode.
Step 2. Using an USB cable to connect the device to computer, then click 'Start'.
Step 3. Then you need to put your iPhone into DFU mode. All the details are displayed on the screen. If you fail to put the device into DFU mode, you may also enter the Recovery mode.
Step 4. After successfully putting the iPhone into DFU or Recovery mode, the software will detect the iOS version, device generation of your iPhone. You can also manually select the device information if it displays the wrong details. Then click 'Repair' button.
Step 5. Your iPhone will reboot automatically after the fixing process is complete. Then check whether the iPhone text notification issue is resolved or not afterwards.
You can try all the tips mentioned above to fix the text alert issue. Or you can also take your iPhone to Apple store if the device is still within the warranty. Hope that this post will be good for you.

Sunday on Feb 17, 2019, 22:31:25 GMT / Post By Fay J. Melton to iPhone Issues
Fay J. Melton has explored the area of technology and software for more than 5 years and he is enthusiastic about helping users solve various technology issues.

Home
>
iPhone Issues
>iPhone Text Sound Not Working? Check 6 Fixes Here (2021 Update)