Facing volume issues such as when the iPhone volume keeps going up and down constantly on its own for no reason is not pleasant. Not only is it annoying but it makes it troublesome to make or receive calls and notifications, listen to music or watch a video.
So, what causes it and how do you fix it? Well, we're going to look at all that in this guide.
Why Does iPhone Volume Keeps Going Up and Down?
There are various factors that could cause the volume of your iPhone to keep going up and down constantly on its own. They include:
Hardware Damage - stuck, faulty, or malfunctioning volume buttons on your iPhone could cause the volume to keep going up and down.
iOS Glitches - temporary iOS glitches, especially with iOS software updates is another common cause of this problem. In such a case, your AppleCare ID would be of great help since once you purchase from the Apple store, you get unlimited technical support without paying any additional cost.
iPhone Case Pressure - when the iPhone case is very tight, it pushes against the volume keys which can result in them malfunctioning. Blocked access between the hardware components like speaker grilles (should be open) could as well lead to volume issues.
Problematic Apps - Bluetooth accessories or any other wired connection might cause interference leading to volume issues. If that's the case, then check those specific devices and give them another shot, without pairing if it's possible.
How to Fix Volume Keeps Going up and down on iPhone
Remove iPhone Case
As much as it may seem silly, a low-quality or worn-out case could be the cause of the iPhone volume issue you're facing. It may not fit the iPhone properly hence putting pressure on the volume buttons under it. This can cause the buttons to get stuck in a position that could result in the iPhone volume going up or down constantly.
So, take off the case and check it as well as the buttons to ensure everything is working correctly.
Restart Your iPhone
Any temporary glitch or bug in the iOS system that could have caused the volume issue can easily be fixed by restarting your iPhone. It's the quickest way to resolve most system glitches like this as it only takes a minute to execute.
For iPhone X and any other later models: start by long-pressing your iPhone's Volume Up/Down button and the Side button simultaneously. Keep holding them down in order to launch the power-off slider. Drag the slider to switch off the iPhone. Give it a minute, then restart the iPhone by long pressing the Side button.
For older iPhones like iPhone 8 and earlier models: start by long-pressing your iPhone's Top/Side button to launch the power off slider. Drag the slider to switch off the iPhone. Give it a minute, then restart the iPhone by long-pressing the Top/Side button again.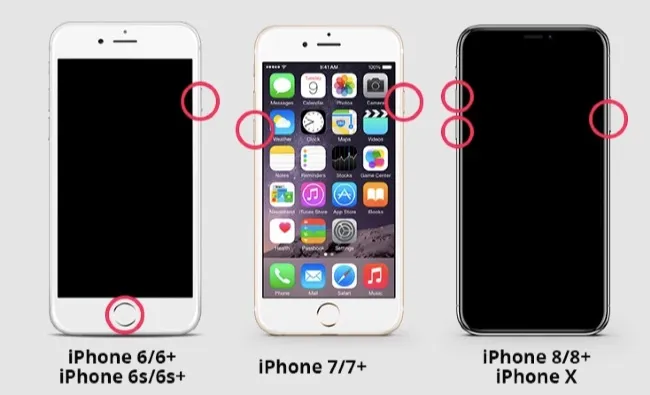 Disable Change with Buttons
We mentioned that a faulty/mulfunctioning volume button can be the reason why the volume keeps going up and down iPhone. So, the right volume button setting can really help you avoid this issue. What this means is disabling Change with Buttons, which is a feature that allows adjusting the iPhone's volume using the volume buttons. Thus, if they are not functioning as intended you can turn them off. Follow these steps.
Head to your iPhone Settings, tap Sounds or Sounds & Haptics.
From there, go to Change with Buttons option, then tap the toggler to turn it off.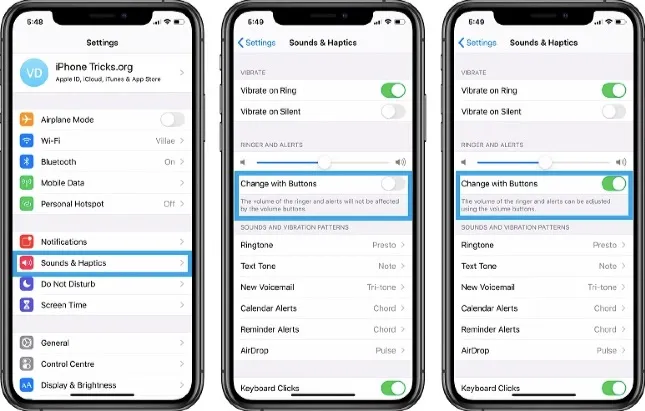 Now check if the same problem still persists.
Turn off Attention Aware Features
When using the TrueDepth camera/front camera on iPhone X and other later models, the Attention Aware Features tend to automatically lower the volume based on whether you are looking at the camera or not. Therefore, if you're experiencing this issue on your iPhone X or other newer iPhone model, then you should check the settings of these Attention Aware Features. Disabling them can fix the issue in case the volume keeps going down. To do so:
Head to Settings, then tap Face ID & Passcode.
Now, turn off the Attention Aware Features by tapping the toggler in front of it.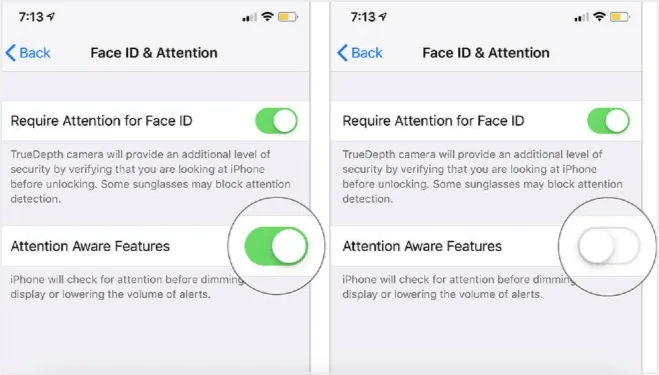 Check iPhone Bluetooth
Sometimes an external Bluetooth accessory or device connected with the iPhone can cause interference that could lead to iPhone volume keeps going up and down problem. Therefore, turning the Bluetooth off and on (without pairing the devices) could fix the interference if the issue is something related to Bluetooth. To disable Bluetooth:
Head to Settings, scroll down to the Bluetooth option and then tap it.
Next, tap the toggler that's in front of Bluetooth to turn it off.
Wait a couple of seconds, tap the toggler again to turn on the Bluetooth.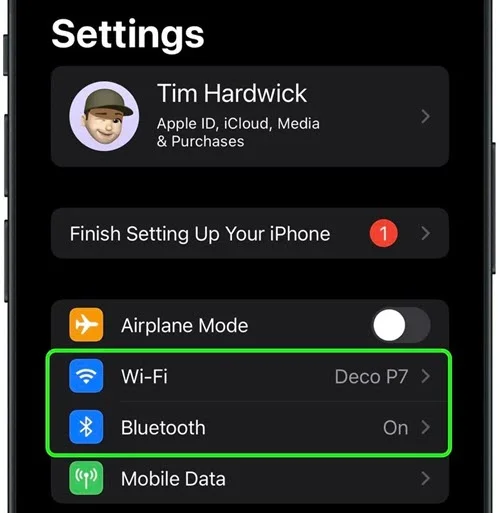 Reset All Settings on iPhone
Like restarting your iPhone, resetting all settings on your iPhone is another viable solution to fixing many of the iOS system glitches that could be the cause of this issue or other errors in your iPhone's factory settings. Follow these steps to do so:
Head to Settings, click General, then the Reset option.
Under the Reset menu, tap Reset All Settings.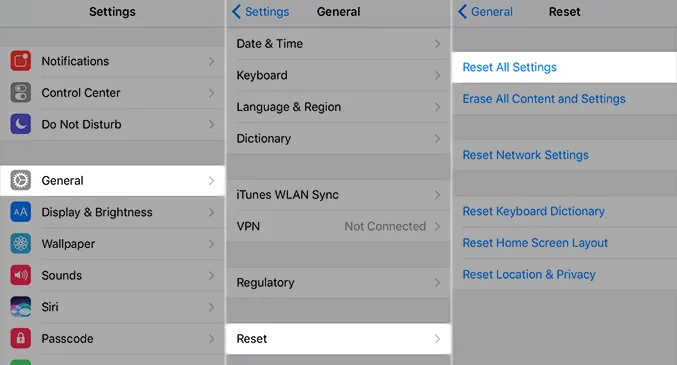 Fix iOS Glitches without Data Loss
A third-party iOS repair software would be the best option at this point if the common solutions above haven't worked. The problem could be likely software-related which is something that an iOS system repair software such as the FoneGeek iOS System Recovery could surely fix without much hassle. FoneGeek iOS System Recovery is generally a professional iOS repair tool that can fix a wide range of iOS issues without data loss, including this one.
Here are the steps to fixing iPhone volume keeps going up and down issue using FoneGeek iOS System Recovery:
Download the program first on your computer. Install and launch it. Take your iPhone and connect it to the computer and click "Standard Mode" from the program's interface.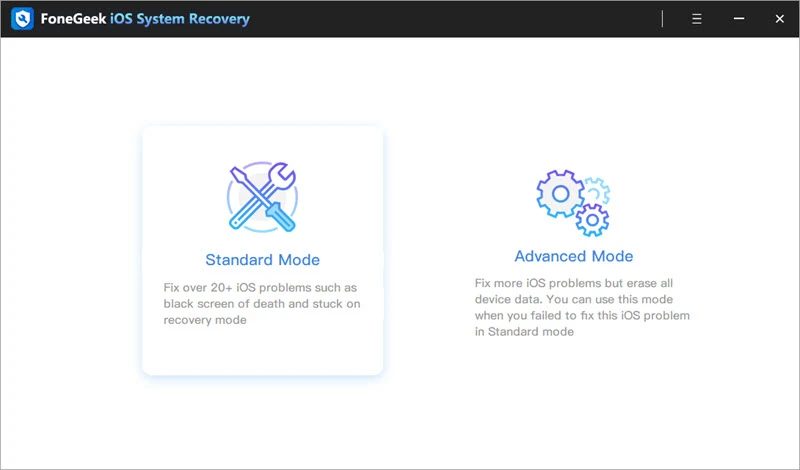 As soon as your phone gets detected by the program, it will move to the next step. From the resulting "Download Firmware" interface, select the right firmware from the list.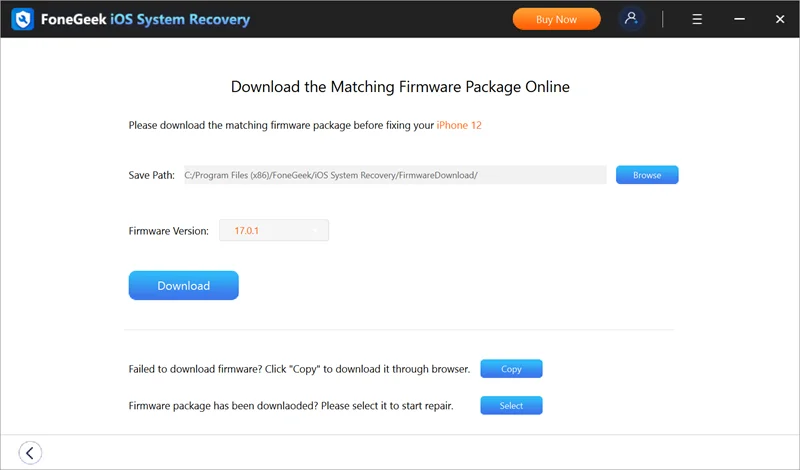 Now click the blue Download button to proceed. Once the firmware downloads, click "Fix Now" to initiate the repair process. Within a few minutes, the volume issue as well as other iOS issues on your iPhone will be fixed.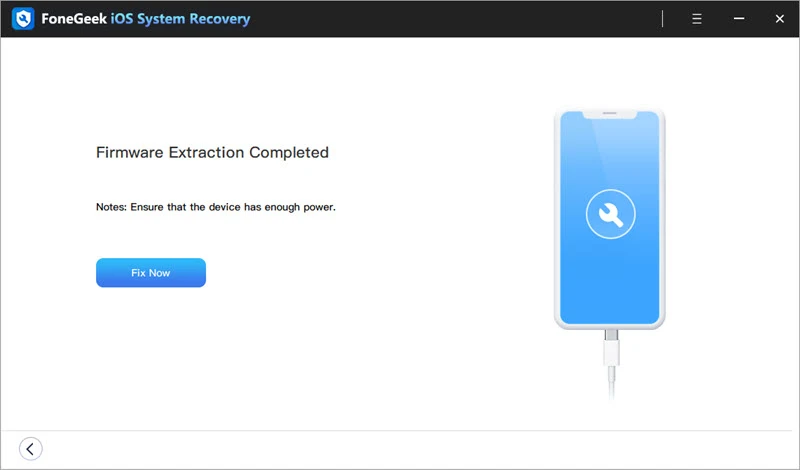 Check for iOS Update
iOS updates can fix many common iPhone issues and it's another viable solution that can resolve your volume issue as well, especially if it's because of a software-related bug. To check for iOS updates:
Head to Settings, then General. Tap Software Update.
Let the iPhone search for an update.
In case it finds an available iOS update, tap Download to install it automatically.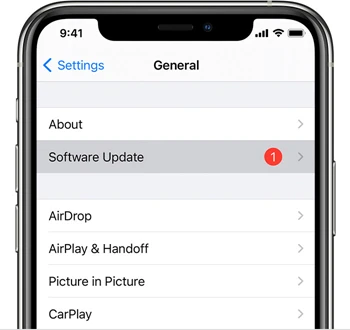 You may get a message saying there's not enough memory available to carry out the update. If that's the case, then asses the situation and do the necessary adjustments to create space before you're able to update the iOS on your iPhone.
Go to the Apple Store
In case the volume still keeps going up and down on your iPhone after you've tried the methods above, it's likely something is wrong with the volume button itself. We recommend you get in touch with the Apple store to get advice and help.
Conclusion
We've outlined above simple and viable methods for fixing iPhone volume keeps going up and down problem. They'll work for you if you're patient enough to try them one by one. We highly recommend using FoneGeek iOS repair tool should the simple methods fail. It will address the root cause of your volume issue and fix it without any data loss. If that doesn't work too, then your last resort is to contact Apple store for help.