"My iPhone 8 is stuck on a white screen whie a black Apple logo. It has been that way for almost 24 hours. I tried connecting to my iMac but it does not recognize it. Any suggestions?" - Posted on Apple Discussions
Have you ever run into the same situation? Your iPhone is suddenly stuck on while screen with black Apple logo. Well, this is a common iOS problem and usually caused by system errors, hardware issues, jailbroken, iOS upgrade or other unknown reasons. Fear not, it is not scary. This can be easily fixed with the solutions introduced in this article.
Part 1. Why is iPhone Shows White Screen with Black Apple
As mentioned above, iPhone shows white screen with black Apple logo can be caused by a number of things, the following are the most common ones:
Low Battery: The most likely reason behind the iPhone white screen is the battery issue. If there is no enough battery on the device, all the system functions will stop working.

iOS Update Error: Any iOS update will fix some system bugs for iPhone/iPad, however, it may also lead to new problems, such as iPhone black screen, white screen issue, etc.

Failed Jailbreak: You decided to jailbreak your iPhone, but the jailbreaking process may be interrupted for unknown reasons. If the device fails to jailbreak, it may be stuck on white screen of black Apple.

Hardware Problem: Your iPhone may encounter some hardware problems, for example, the cable that connects the device's motherboard to its screen comes loose or is breaking.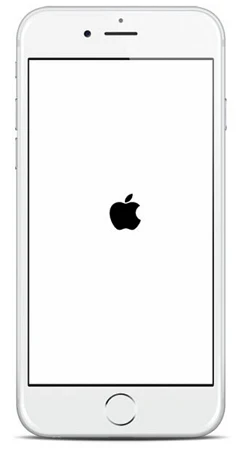 Part 2. How to Fix iPhone Shows White Screen with Black Apple
1. Fix iPhone White Screen with Black Apple by Hard Resetting
The easiest way to fix any iPhone issues is to hard reset the iPhone. If your iPhone shows white screen with black Apple logo, you can try performing a hard reset.
For iPhone 8 or later: Press the volume up button and release it quickly. Press the volume down button and release it quickly. Hold down the Side button until the Apple logo appears.

For iPhone 7/7 Plus: Press and hold the volume down and power button at the same time until the Apple logo shows up.

For iPhone 6s or earlier: Press and hold the home button and power button simultaneously until you see the Apple log.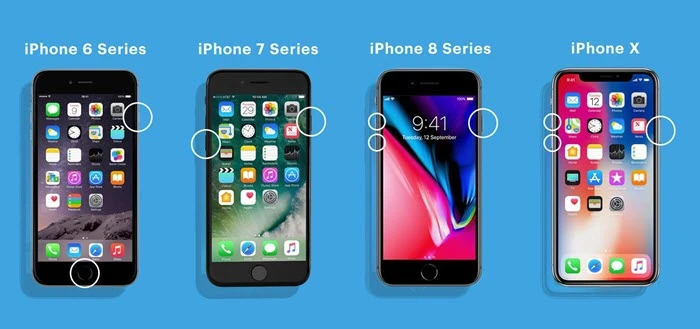 2. Fix iPhone White Screen with Black Apple by Entering Recovery Mode
To put your iPhone into Recovery mode, you need to make sure the computer is connected with a stable network.
Step 1. Open your computer, launch the latest version of iTunes. If the iTunes is launched already, you need to close it and re-open it.
Step 2. Keep holding the iPhone buttons we descriped in Way 1 until the Recovery mode screen appears (Connect to iTunes).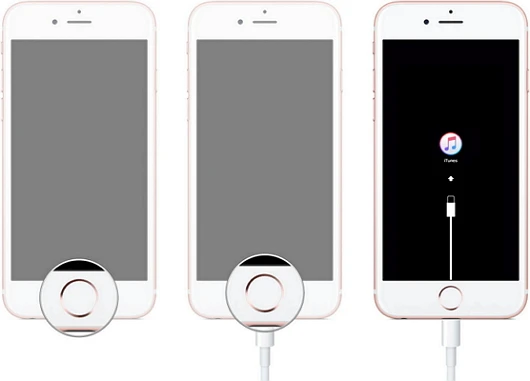 Step 3. Then iTunes will detect that "There is a problem with the iPhone that requires it to be updated or restored". Select "Update" option, then the newest iOS version will be installed and your data and settings will be erased as well. After updating, reset your device settings and it will be back to normal.
3. Fix iPhone White Screen with Black Apple by DFU Restore
Sometimes, put the iPhone in DFU mode will fix various issues, including the white screen with black Apple issue. To perform the DFU restore, follow the steps below:
Step 1. If you have the newest version of iTunes installed on your computer, just run it. Then connect the iPhone to computer.
Step 2. Turn off your iPhone. For iPhone 7 and later, hold down the side button and volume down button. For iPhone 6s and earlier, hold down the power button and home button.
Step 3. Hold down the buttons for 10 seconds, then release the power/side button but keep holding the other button.
Step 4. Once your device is in DFU mode, iTunes will detect it and you can follow the on-screen instuctions to update or restore it.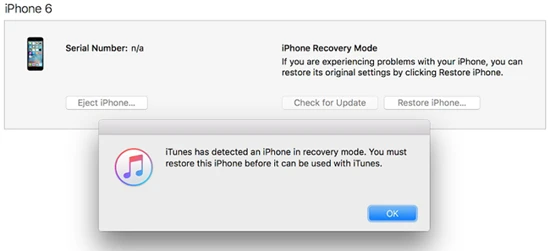 4. Fix iPhone White Screen Issue without Data Loss (Recommened)
If you have tried the options mentioned above but still don't solve the white screen issue, a powerful 3rd-party program - FoneGeek iOS System Recovery come in handy. Any iOS issues, such as iPhone white screen, black screen, screen lock, bluetooth, cellular data and other issues can be resolved with this iOS repair tool. It is 100% secure and easy to use. The latest iOS 15/14 and iPhone 13/12 mini/12/12 Pro (Max) is fully compatible. Also, this program is highly recommended by Software.Informer, CNET and many other media sites.
Download FoneGeek iOS System Recovery on to your compute and follow the steps below to fix your iPhone shows white screen with black Apple logo issue:
Step 1. Lauch this iOS repair tool on your computer and in the home screen, choose "Standard Mode" to get stared.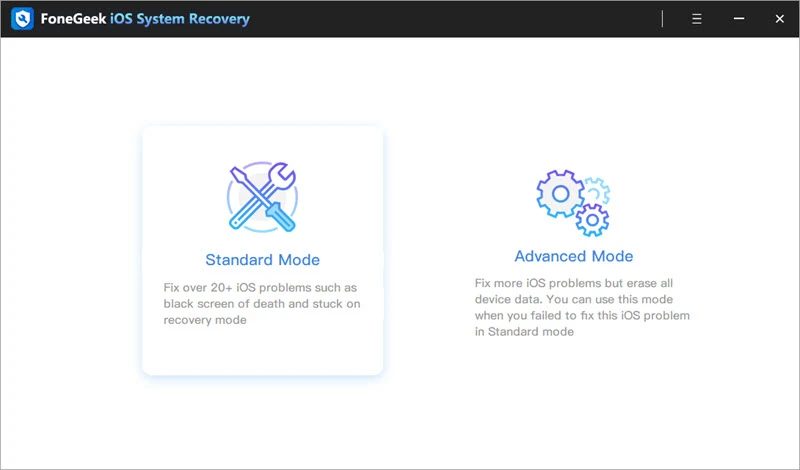 Step 2. Connect your iPhone to the computer using USB cable and follow the on-screen instruction to put the device into Recovery mode or DFU mode.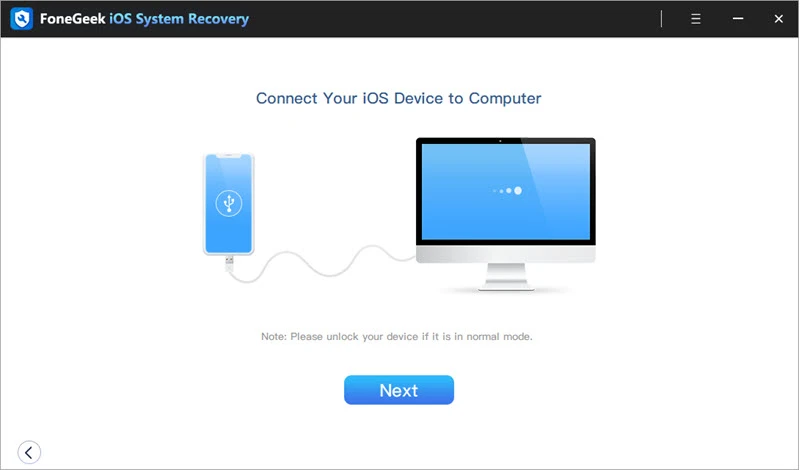 Step 3. Your iPhone model, name, iOS version and serial number should be detected. If the device information is correct, click "Download" button to download the firmware package.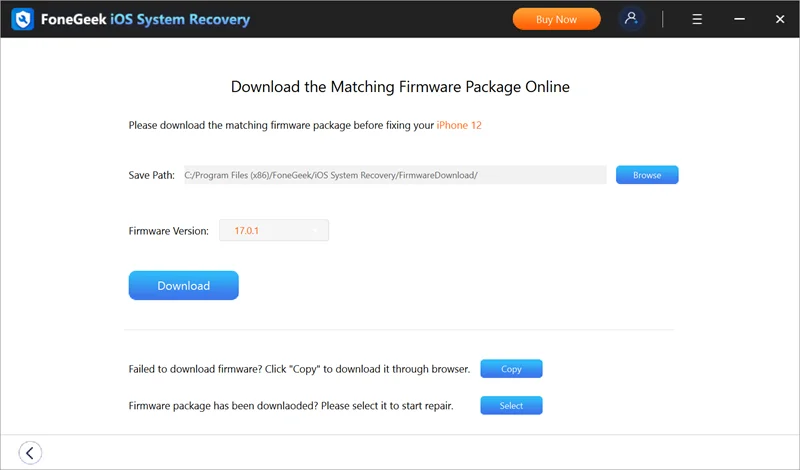 Step 4.When the download is finished, click on "Fix Now" and the program will begin to fixing your iPhone automatically. After the repair process, the white screen of black apple shall be resolved.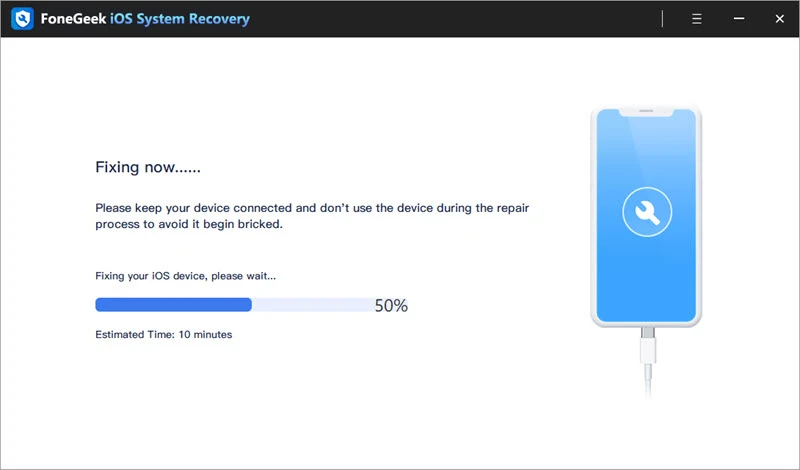 5. More Tips to Fix iPhone White Screen with Black Apple Logo
Try Triple-Finger Tap:
You may enable screen magnification accidentally and thus cause the iPhone white screen issue. In such situation, you can try triple-finger tap to fix magnification. Just hold three fingers together and double-tap the screen. Once the screen is magnified, it will back to the normal view.
Take the Battery Off iPhone:
Do you know that the device battery may bring some problems, which in turn leads to the iPhone white screen issue. Thus removing or replacing the battery will thereby resolve issues that arise for it. If you have no any ideas to remove the battery yourself, just take it to the Apple Store or consult with a professor.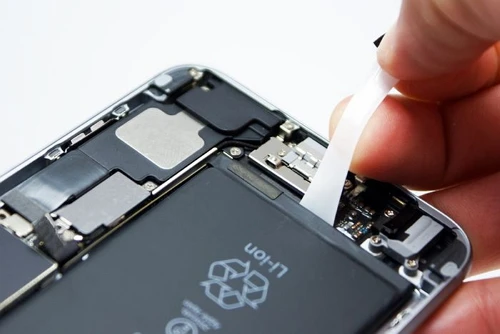 Turn Off Auto Brightness on iPhone:
Turning off iPhone's Auto Brightness feature is proved to be useful to fix the iPhone white screen of death issue on numerous circumstances. Why not have a try?
For iOS version earlier than iOS 11: Go to Settings, click "Display and Brightness" and turn it off.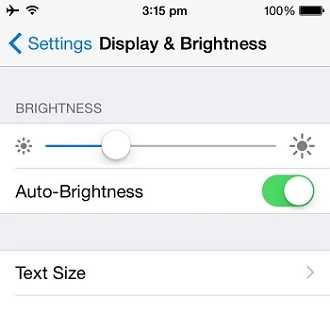 For iOS version later than iOS 11: Open the Settings app, go to Settings, click "Accessibility" and select "Display Accommodations", then disable "Auto-Brightness" feature.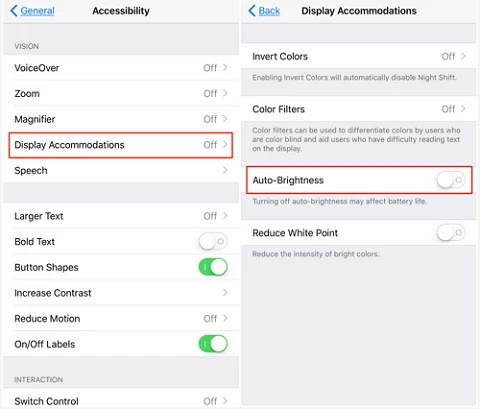 Conclusion
This article is mainly about the solutions to iPhone shows white screen with Apple logo. If unfortunately, your iPad has the same issue, you can also try the solutions here. To make a comparison of these tips, FoneGeek iOS System Recovery is the most effective and time-saving choice for you. Download it and have a try.

Fay J. Melton has explored the area of technology and software for more than 5 years and he is enthusiastic about helping users solve various technology issues.

Home
>
iPhone Issues
>How to Fix iPhone White Screen with Black Apple Logo? (iOS 15 Included)