iOS users usually face various software issues. Fortunately, there are several iOS system repair tools in the market that let you fix these problems without much hustle.
Among these tools is iToolab FixGo, which is the focus of this post. This is a tool that's able to fix software issues on iOS devices running on iOS, iPadOS, or the tvOS system. It can address over 200 system problems that your iPhone/iPad/iPod Touch/Apple TV may have including iPhone failure to update, frozen iPhone, iPad stuck on a white screen, and much more.
In this FixGo review, we will not only look at the various problems it can fix, but we'll also give you a full review of it that includes how it works, things to consider before getting it, and much more. We'll also share an alternative tool that you can as well look at. First, though, let's see what iToolab FixGo can fix.
1. Problems That iToolab FixGo Can Fix
iToolab FixGo is an all-in-one solution that can fix various system problems that iOS devices often face. While testing the tool, we used it to actually fix the frozen iPhone issue and it indeed worked as advertised. Entering and exiting the recovery mode was pretty easy too.
Here are most of the problems that it can resolve. Note that it also works for both iPad and iPod touch.
iPhone stuck in a boot loop.
iPhone/iPad stuck on the Apple logo or won't turn on after an OS update.
iPhone failing to power on.
iPhone stuck on white spinning circle.
Frozen iPhone with a completely black or white screen.
Forgotten your iPhone passcode.
iPhone/iPad frozen or stuck on the update screen or can't install the update.
iPhone stuck while preparing a downloaded update or estimating the time remaining screen.
iPhone bricked following an update.
iPhone restore fails to run successfully.
iPhone unable to check for an iOS update or to verify it. Or freezes when checking or verifying an update.
iPhone won't update.
Resolve iTunes errors (error 9, error 3196, or error 4013) while updating, backing up, or restoring your device.
Fix tvOS system and Apple TV issues such as being stuck on Apple logo, Recovery mode, or airplane mode.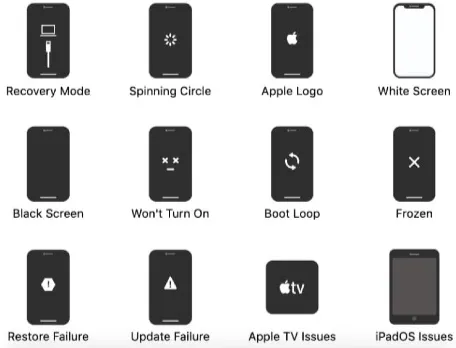 There are much more problems besides all these. To fix all of them, FixGo utilizes two modes, Standard and Advanced. We'll talk more about them plus how you can use them later on in this iToolab FixGo review. Let's first check what you need to consider before you actually use FixGo.
2. Things You Should Consider Prior to Using FixGo
FixGo can fix only software-related problems. It can't do anything if it's a hardware-related problem. You have to contact Apple Support in such a case for repair options.
Once your iPhone/iPad gets fixed, FixGo will automatically update its iOS to the latest version that's compatible with it.
The device will become non-jailbroken if it's jailbroken.
The frozen, stuck, or dead iPhone/iPad must have some charge prior to using the FixGo tool to resolve the issues.
3. How to Actually Use iToolab FixGo
As we mentioned before in this FixGo review, there are two modes that the iToolab FixGo offers. You can use either the Standard Mode or the Advanced Mode to fix your issue.
For most of the usual or common system problems, the Standard Mode is the best option. Furthermore, no data gets lost after it fixes the issue. All the photos, videos, apps, messages, and your other personal files will remain intact after using Standard Mode to fix your device.
Standard Mode
Well, the first step to use iToolab FixGo is to download it, which you can do for free. From there, you install the tool onto your computer (Mac or PC) and then launch it. Next, follow these steps to use the Standard Mode:
Get your iPhone connected to the Mac or PC. Click on "Standard Mode" option.
Next, place the iPhone/iPad into Recovery/DFU mode. You'll see a screen saying Download Firmware. Click on 'Download' in case you've not yet downloaded it.
The following screen will confirm the successful download of the firmware. Click on 'Fix Now' to start the process.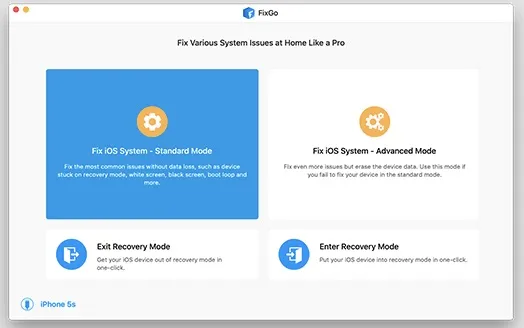 These are the steps to using the FixGo Standard Mode to solve typical iOS issues like a white or black screen, stuck in the boot logo, recovery mode, etc.
Advanced Mode
In case the problem isn't solved in Standard Mode, then you move to Advanced Mode. The steps are actually similar. The only difference is that you'll need to choose "Advanced Mode" rather than Standard Mode once you've connected your iPhone to computer.
Note that the Advanced Mode option will clear out all the data you have on your device. Therefore, before using it, ensure you first back up your photos, videos, and other data to your computer or cloud storage.
4. FAQs About The iToolab FixGo
Q1. Is iToolab FixGo Free?
Well, it's actually not free. However, it doesn't cost anything to download it and you can also use it to enter/exit the recovery mode without any cost. You must purchase the license, though, in order to use the Standard or Advanced Mode to fix iOS problems as they are limited to only the paid version. So, if you need to fix any common iOS problem, you must purchase the program first.
Q2. Is FixGo Legit and Safe to Use?
Of course, Yes. Just like the alternative product, we'll look at later, iToolab FixGo is legit and safe to download and also use. At no point will your privacy be intruded upon.
Q3. Does FixGo Actually Work?
After testing it and also like you've seen how it works, it's clear that FixGo does really work, although there have been reports of it failing a lot during the process.
Q4. Can I Use FixGo Without Computer?
No. You need to download and install the software first on a computer to start the fixing process, so it definitely requires a PC to fix iOS-related issues successfully.
5. The Ideal Alternative to iToolab FixGo
As we've mentioned earlier, there are many users' complaints online about iToolab FixGo. As such, you may consider getting a much better alternative tool, which in this case would be FoneGeek iOS System Recovery.
We highly recommend this iOS system repair tool as it's not only powerful but also has all the perks that FoneGeek iOS System Recovery offers and probably even a bit more. It can fix all the iOS issues as well as any problem with the iPadOS or tviOS. Moreover, no data gets lost in the process. Besides, it's faster with a higher success rate when it comes to bringing your iPhone or iPad back to its normal working state.
FoneGeek iOS System Recovery Main Features:
Fix all kinds of iOS issues without causing any data loss.
Use Advanced mode to downgrade your iOS 16 beta to the iOS 15 version with just several clicks.
Update and restore iPhone without using iTunes or incurring unknown errors - it's 100% secure and won't intrude on your privacy.
Reset iPhone/iPad/iPod touch without using a password.
Enter/exit the recovery mode with one click and without any cost.
Works with every iOS device and every iOS/iPadOS version (even the latest iOS 16).
The steps to fix iOS issues using FoneGeek iOS System Recovery are quite straightforward compared to the iToolab FixGo. You don't need expertise at all to use it. Simply follow these steps:
Download FoneGeek iOS System Recovery for free, install it onto your Mac or Windows PC, and launch it. Click on Standard Mode. Afterward, click Next.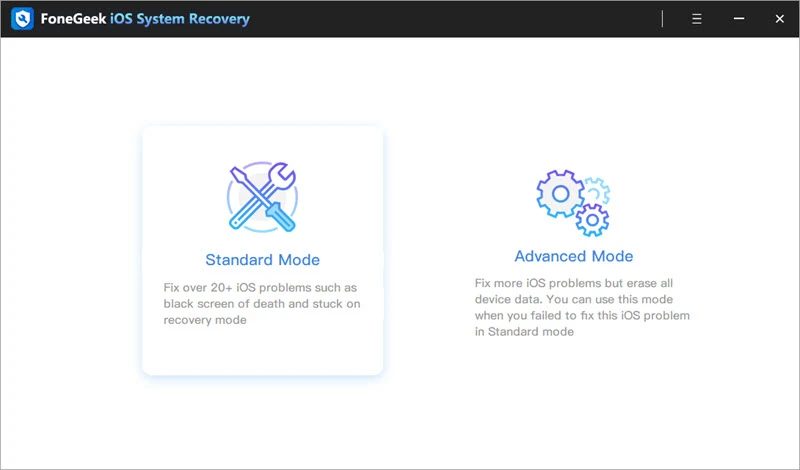 Get the iPhone connected to the Mac or PC using a USB cord. Unlock it. In case something is wrong with the device, put it in DFU/Recovery mode.
You'll need to download a firmware package on the following screen. Therefore, click Download when the screen comes up. From there, FoneGeek will automatically verify and download the right firmware package for your device.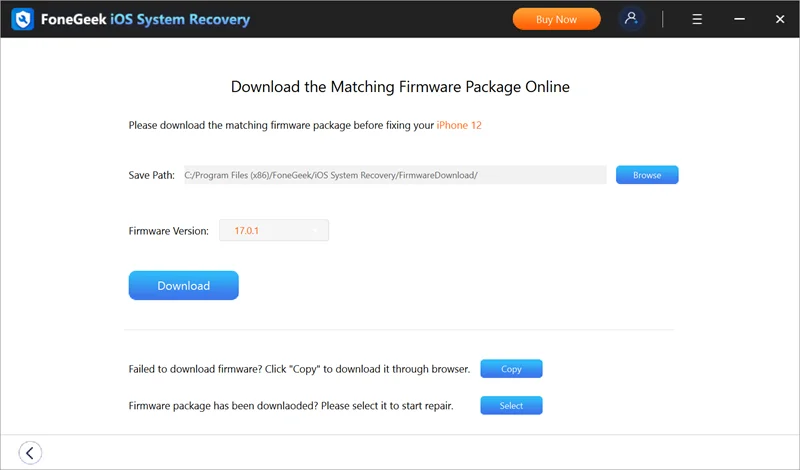 Now click Fix Now button. The repairing process will begin right away. Once FoneGeek solves the issue, your iPhone/iPad will reboot automatically without any problems.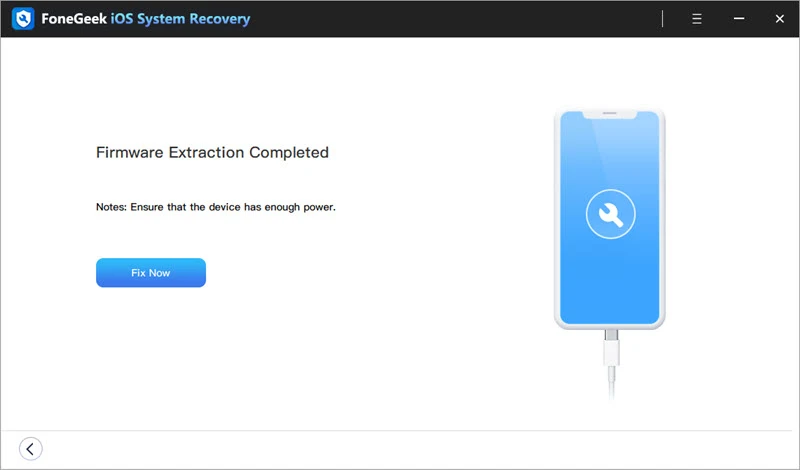 Conclusion
The iToolab FixGo is no doubt a potent tool for fixing a wide range of iOS issues. It's able to fix several of these issues without data loss when you use the Standard mode. It's available at a reasonable price and it's relatively easy to use. However, FoneGeek iOS System Recoveryis a more perfect alternative considering that there have been reports that iToolab FixGo fails a lot during the fixing process.
It's a more powerful tool and offers everything that FixGo has and even more, including the fastest speed and highest repairing success rate. It's also extremely easy to use, making it ideal for everyone - no particular expertise is needed whatsoever. We highly recommend it.