YouTube usually performs well without many issues thanks to its intuitive and user-friendly design. Recently though it has been running into problems on iPhone/iPad. A common issue that many users have been experiencing is having no sound on YouTube. It's a minor glitch but one that really ruins your watching experience considering that audio always makes watching videos more interesting.
There are several things that could cause this audio issue on YouTube. It can be faulty settings, software issues, or hardware errors. If you're currently facing the same problem and wondering what's wrong, this post will definitely help you. Below, we will tell why you're having YouTube sound not working on iPhone, and most importantly, we'll share some solutions you can follow to fix this problem. So, let's begin.
Why is the Sound on YouTube Not Working on iPhone?
There are many factors that could lead to no sound on YouTube. These are the most common ones:
Silent Mode Enabled: You should first check if you turned on silent mode on your iPhone. If you have done so, toggle the Silent button on and check if the voice will work properly again.
Possible Software Issue: The iOS system doesn't always run smoothly. Sometimes it runs into problems and bugs, which can cause the YouTube no sound issue. You can try upgrading the iOS system to see if it will fix it.
Settings Could Be Faulty: If your iPhone's settings aren't set properly, then you're likely not to hear sound from any programs or apps. You can try resetting all your iPhone settings in case you previously changed them.
How Do I Get YouTube Sound Back on My iPhone?
1. Check Volume Settings
The first step you need to take is to check that your iPhone hasn't been set to mute. You can do this by checking the Ring/Silent switch on the side of your iPhone. It should be flicked up so that it's in ring mode. You can raise the volume now through the Settings app. Alternatively, you can increase the volume using your iPhone's sound buttons to see if it solves the YouTube sound not working issue or not.
Make sure also that the YouTube volume setting has not been set to mute. The iPhone volume setting might be fine and even work for all the other apps, but it's only the YouTube application that's having the problem. It's possible that you just need to change the volume settings inside the YouTube app for the video sound to work.
2. Clear the Cache on Your iPhone
Your iPhone/iPad usually collects browsing data like cache, cookies, web pages' history, browsing sessions, etc. This data keeps on piling up as you use your device and can reach a point that it hinders your browsing experience or causes other issues leading to no sound on YouTube iPad or iPhone. Sometimes clearing the cache and other browsing data can fix this problem.
On the Safari browser, you can clear your cookies, web pages' history, and other browsing data by simply opening Settings and tapping Safari. From there, you just tap Clear History and Website Data. If you want to keep your web pages history and delete cookies instead, just open Settings, go to Safari, tap Advanced, and then tap on Website Data. Finally, tap Remove All Website Data.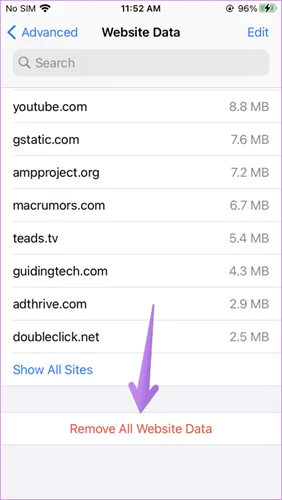 In case you're having the YouTube no sound issue on your Chrome browser, you can clear the browsing data by simply launching Chrome, heading to Settings, and tapping the Privacy option. Next, tap on Clear Browsing Data, choose the data you want to delete, and then just tap the Clear Browsing Data option.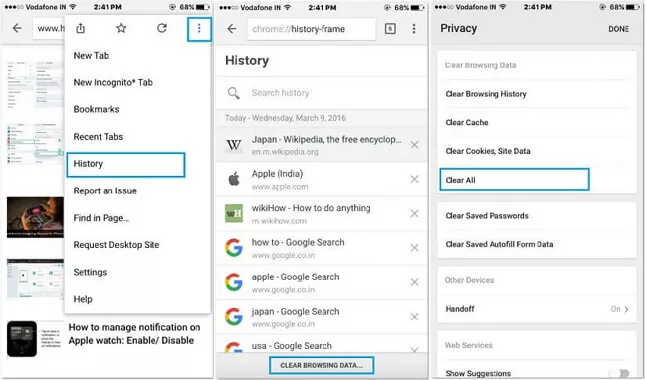 Try cleaning your YouTube app data too from Settings. Open Settings, tap on General, and then tap the iPhone Storage option. Search for the YouTube app and then tap the Delete App option. Now head to the App Store and reinstall the YouTube app again.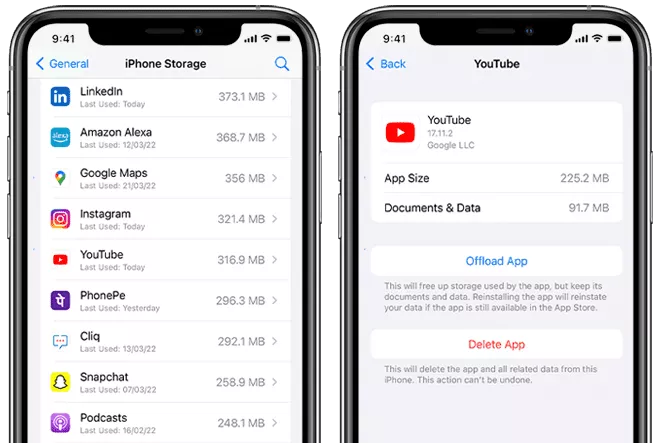 3. Turn Off Bluetooth
Have you enabled Bluetooth on your iPhone or iPad? Well, probably there's a connected device that you forgot about that's playing your YouTube audio. You can stop this by turning off the Bluetooth feature on your device.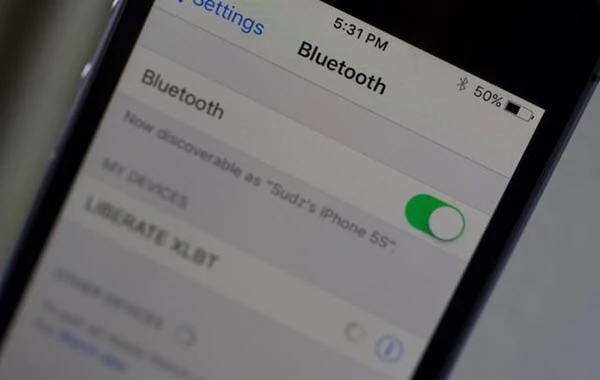 4. Restart Your iPhone
The iPhone no sound YouTube problem you're facing could be due to a software glitch that occurred when you switched from headphones to your iPhone's speakers, or probably a system error that resulted in the audio/sound card not getting activated to play audio. Such issues are often resolved by simply restarting your iPhone, which in turn allows your YouTube sound to work again.
To restart the iPhone, start by concurrently pressing the power button together with the volume down button. Keep holding them for a couple of seconds and when the power-off slider pops up, slide it to power off the iPhone. Next, hold down the power button again to power your device.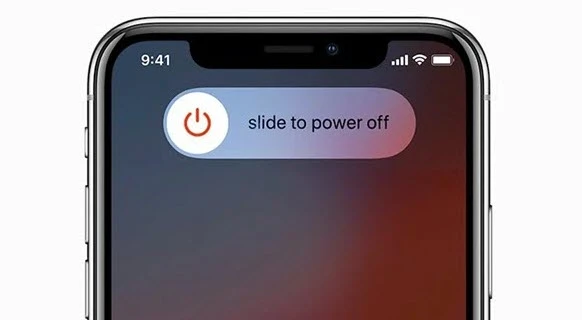 5. Update or Reinstall the YouTube App
Check if there's an update available for the YouTube app if you're facing YouTube sound not working when playing a video using the YouTube app, because various errors are usually constantly fixed through updating by developers. If that's the case, the YouTube developers would probably release an update of the app to fix the audio issue you're facing right now.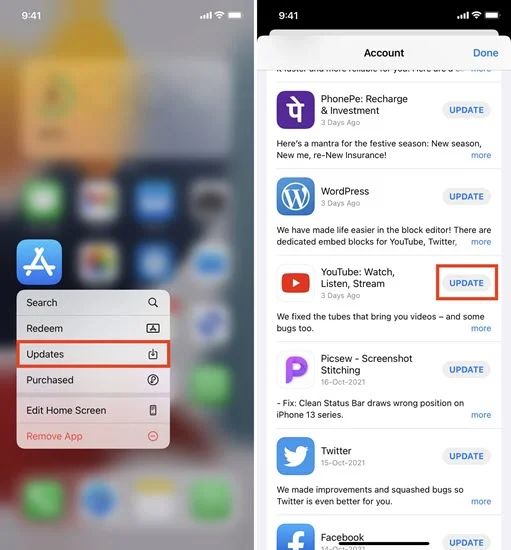 Alternatively, you can decide to simply re-install the YouTube app. You just delete it and then install it again from the App Store. Doing so can resolve any iPhone-specific issues you're facing since sometimes a specific iPhone model can have problems with the YouTube app. Once you do that, open the app to check if the issue has been fixed.
6. Update iPhone to the Latest iOS
You may be experiencing the iPhone no sound YouTube issue because your iOS is outdated. So, if you've not updated your iPhone's system software for a long time, get it updated to the most recent iOS version. Launch Settings, open the General option, and tap Software Update.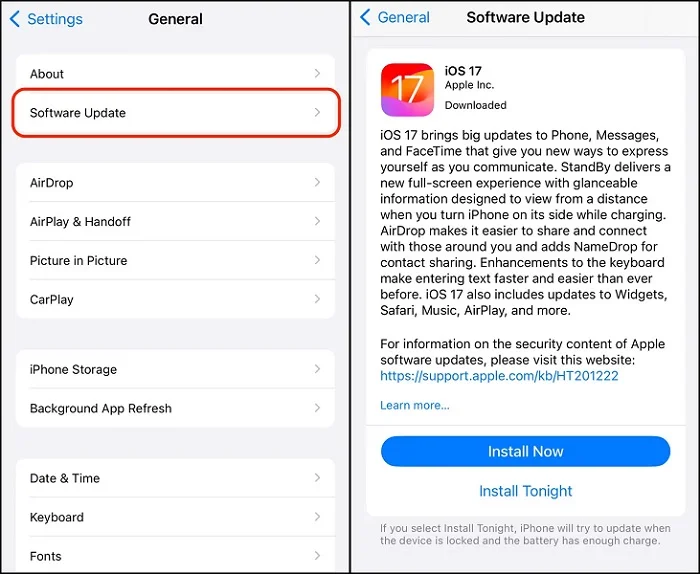 7. Fix No Sound on YouTube via iOS Repair Tool
In case you're still facing the no sound on YouTube iPad or iPhone issue after you tried all the above solutions, then you can consider using a professional tool. We will recommend the FoneGeek iOS System Recovery. This software can overcome almost any software issue affecting your Apple device. It's a powerful program and will no doubt fix the YouTube no sound issue completely. Here are some of its key highlights.
It's a highly reliable and trustworthy iPhone repair tool, which can fix all iOS-related problems and you can expect a 100% success rate.
It's simple to use and you can completely fix no sound on YouTube iPad/iPhone with just a few clicks.
It can resolve iOS issues without leading to data loss like WhatsApp calls failing to work on iPhone, notification sounds not working on iPhone, etc.
Employs the latest innovative technology to repair iOS - most famous sites usually recommend it, including Mobile Mall, GetDroidTips, Inspirationfeed, and so on.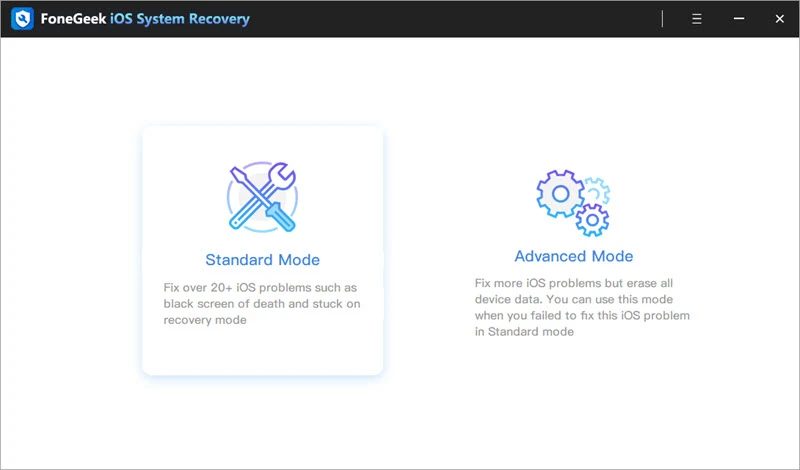 Conclusion
Audio problems like no sound on YouTube are common, especially now that technology is changing constantly. However, resolving such problems is quite easy. By using the solutions we've provided above, you should be able to fix this YouTube no sound issue. It takes a bit of work as you have to try them all until one works for you.
You can avoid all that hustle though by using FoneGeek iOS System Recovery instead. It will completely get rid of the YouTube sound not working issue in no time. You can use it also to fix all manner of other iOS issues your iPhone may be facing. So, install it and use it to get your YouTube sound working again.