You may see an orange dot, orange square, or green dot in the top-right corner of your iPhone screen after updating it to the latest iOS 17 version.
If you have no prior knowledge about the dot, you may find it confusing. However, it's something that you don't need to worry about. It's a new security feature to assure further protection of your privacy.
Below, we will discuss what the orange dot is, what it indicates, and whether you can remove it or not. Keep going through the article to find everything you need to know about the orange dot.
Why Is There An Orange Dot on My iPhone?
The orange dot on your iPhone screen indicates that the device's microphone is being used by an app. It is one of the new privacy features introduced in iOS 14, which can help you track how apps are accessing the device.
You will see the orange indicator on the right top corner of the screen whenever any apps on your iPhone use the microphone. You will encounter this indicator while making phone calls, using apps like Voice Memo, or using the Siri function, etc.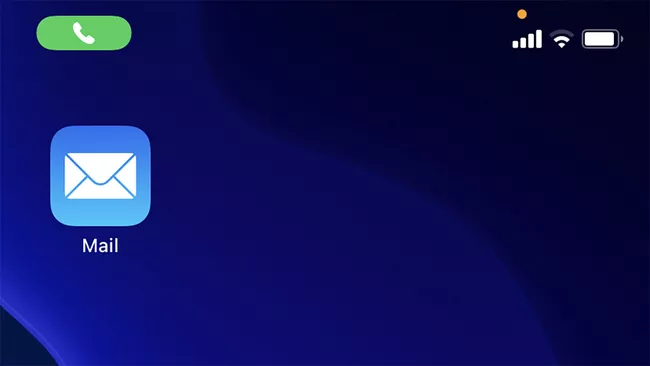 Sometimes you will also see a green dot in the same location. It occurs when your iPhone's camera is being used by an app. You will notice the green dot while using the camera, FaceTime call, and other third-party apps requiring camera access.
Does the Orange Dot Mean Someone is Listening?
The orange dot occurs whenever an application of your iPhone uses the microphone. Apps that require microphone access like WhatsApp, Messenger, Voice Memo, etc., will turn on this light.
Just because the orange dot arises doesn't mean they are listening or recording your conversation. It's just an indicator to assure that none of the apps is using your phone's microphone without your concern.
Is Orange Dot on iPhone Bad?
Absolutely not. You will notice this occurring a lot while making phone calls or using apps that need microphone access. Basically, it will appear every time your iPhone's microphone is being used. Therefore, it's completely normal, and you shouldn't be worried about this.
Even if you are not calling or running any application that requires the microphone, you may still notice this because of some apps with microphone access running in the background.
Can You Disable the Orange Dot on the iPhone?
It is impossible to disable the orange dot or the green dot as it's a privacy feature of your iPhone. However, if you find it hard to distinguish between the green and red dots, you can consider modifying them. Specifically, you can change the orange dot into an orange square to differentiate easily.
Check out the steps you need to follow to modify the orange dot on iPhone devices:
Press the Settings icon on the home screen of your iPhone.
Now find and open the Accessibility option from the settings list.
After that, find Display & Text Size and press the slider icon.
Now turn on the toggle bar aside Differentiate Without Color.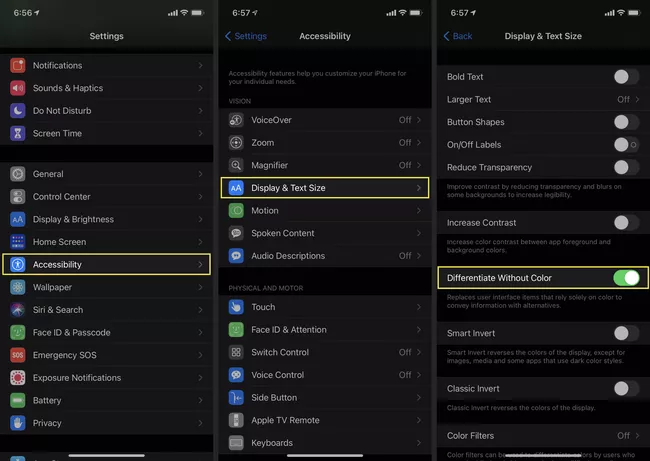 That's it; you will see an orange square instead of the orange circle from now on. Note that the camera indicator or the green dot will remain the same.
How Do I Get Rid of the Orange Dot on My iPhone?
Although there is no option to disable the orange dot, you can control its occurrence by monitoring the apps. If you find the dot occurs when you are not running any app, some background programs might be using the microphone even when they don't need it. In such a case, consider closing all the apps and check their permission.
There is an easy way to stop all the running apps together on iPhone X or newer devices. All you need to do is swipe up from the bottom to reveal all the running applications. Now swiping up each app window will shut them down.
If you have the older iPhones with the home button, you need to double-tap on the button to reveal the running applications. After that, simply swipe the app windows one by one to close them.
Once you've closed all the apps, you can follow the steps below to control who has access to your camera and microphone:
On your iPhone, go to Settings and choose Privacy.
Scroll down to find Microphone or Camera and check which apps have used your microphone or camera.
You can choose to deny access to those application when they don't need to be.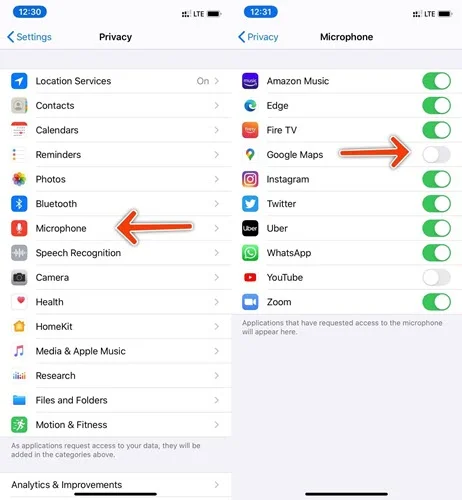 How to Tell Which App Is Using Your iPhone's Camera/Microphone?
The orange or green dot appears on your iPhone screen is to alert you when an app uses your microphone or camera. Then how do you tell which app is using it? Apple makes it very simple to find out.
Whenever you see a orange dot or green dot, you can access the Control Center by swiping down from the top-right corner of the screen. At the top, you will find the name of the app that is using your iPhone's camera or microphone.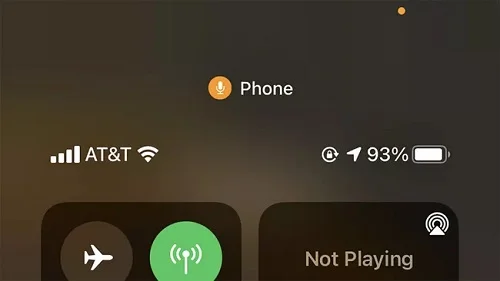 Extra Tips: How to Fix iOS 17 Issues without Data Loss
The latest iOS 17 arrives with various beneficial features, however, it also has some bugs and software issues that may impact your experience. In such a case, you can utilize the FoneGeek iOS System Recovery to eliminate these iOS issues. It's a well-designed and efficient application that lets you fix more than 150+ issues on iOS/iPadOS/TvOS.
Top Features of FoneGeek iOS System Recovery:
Let you fix more than 150 iOS system errors, including iPhone black screen, white Apple logo, boot loop, etc.
Fix any system errors without erasing the phone's data if you use the standard repair mode.
User-friendly and intuitive interface. You can solve any iOS problem in three simple steps.
Allow you to downgrade the iOS version without using iTunes or jailbreaking.
Repair iTunes errors while upgrading/restoring, such as iTunes error 9, 4013, 4014, etc.
Fully compatible with all iOS versions and iPhone models, even the newest iOS 17/16 and iPhone 15/14.
Recommended by Mobile Mall, GetDroidTips, Inspirationfeed, Techjury, Pakainfo and many other media sites.
Here are the detailed steps to fix iOS system problems without data loss
Install and launch FoneGeek iOS System Recovery on your computer. Connect your iPhone/iPad using a USB cable.
Choose "Standard Mode" and wait for the program to detect the device. If not, you can follow the instructions to put it into Recovery/DFU mode.
Now click on "Download" to download the matching firmware package for your device. Finally, click "Fix Now" and your iPhone/iPad will reboot and back to normal.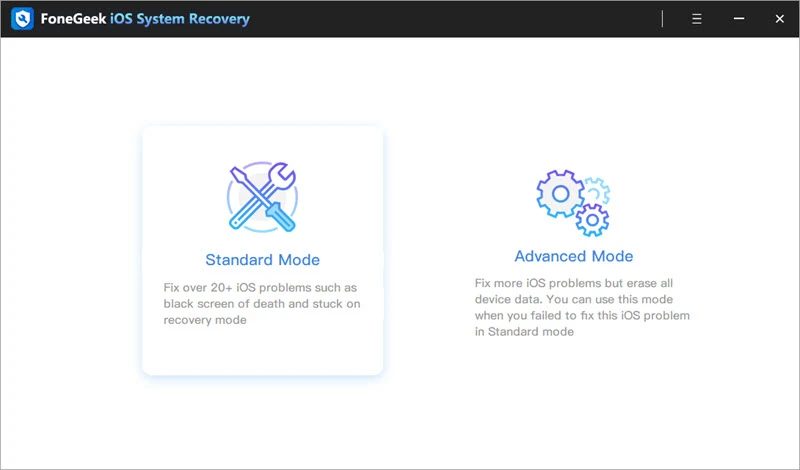 Fonegeek iOS System Recovery tool is an all-in-one solution for iOS system bugs or errors. Apart from fixing the problem efficiently, it also protects the phone's data and privacy. Therefore, we highly recommend this system recovery tool.
The Verdict
As we discussed above, the orange dot on the iPhone screen is something that you don't need to be worried about. Instead, now you can stay fully confident about privacy while using the iPhone. As it is a safety feature, you cannot stop it.
If you are facing other system errors or bugs in your iPhone, you can consider using FoneGeek iOS System Recovery tool. It's a high-efficient tool that lets you fix more than 150 iOS system issues with just a few clicks.