It seems like a common thing to find that Outlook app fails to work on your iPhone. Maybe you cannot send or receive email via this mail app or you cannot find any emails after setting up the mail app.
In this article, there are mainly 8 approaches to bypass the Outlook not working on iPhone issue.
It is a complicated error involving several factors. That is the network problem, software and hardware-related glitches, etc. The methods give below can be effective in fixing the error. Let's get to the details now.
1. Enable and Disable Airplane Mode
The Outlook will not work as expected if the iPhone has problems on network. And with most things, toggling on and off Airplane Mode is proven effective in handling this problem.
Step 1. First, tap on Settings on your device. Turn on Airplane Mode if it is disabled.
Step 2. Next, turn off this option after a few seconds.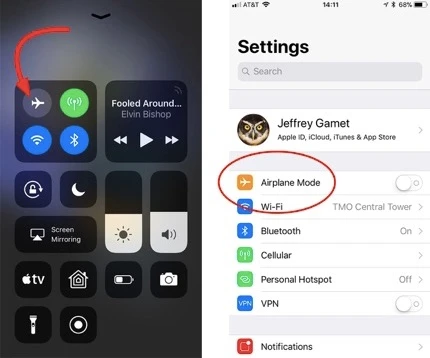 Note
One more direct approach to do this is through Control Center. Just find 'Airplane Mode' option from the Control Center to proceed.
2. Reset Network Settings
Reset network settings on your iPhone could also get the outlook problem solved.
Step 1. Click Settings app on your device.
Step 2. Tap on General -> Reset.
Step 3. Next, click on 'Reset Network Settings' to confirm the password. The device will reboot by default after that.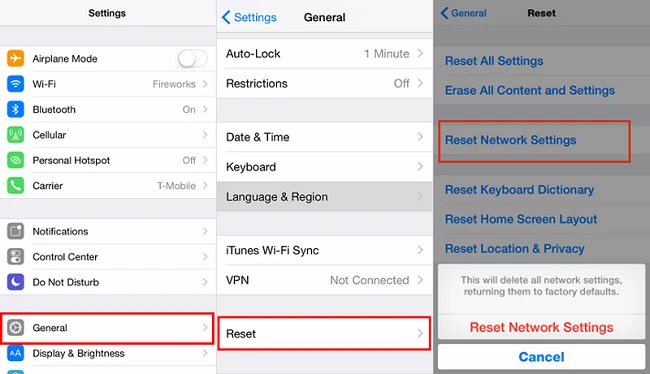 3. Check Outlook Mail Settings
If the Outlook mails on your computer can not be synced to iPhone, you'll need to check the mail sync settings by following the steps mentioned below.
Step 1. Open iPhone Settings app and go to your name > Account & Passwords.
Step 2. All types of accounts will be listed, select 'Outlook' option that you set and click on 'Mail Days to Sync.'
Step 3. It is better to choose the option of 'No limit' if you want all the emails to be synced to your iPhone.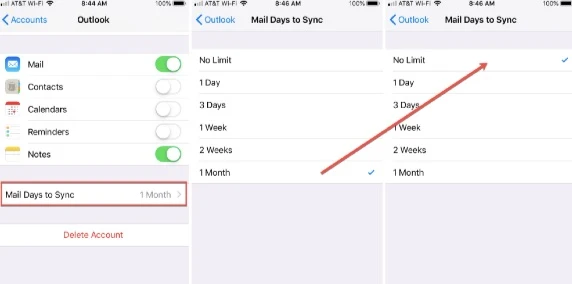 4. Connect Outlook Account to Sync Email
It's possible that the Outlook account is not connected to your mail app If you don't see any emails on your account.
Step 1. Click the outlook email that you received.
Step 2. Select "Continue using this email app" option that appears on the bottom of the screen.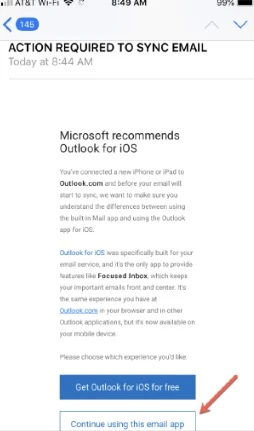 5. Sign out of and Sign into Outlook Account
If you have issues related to Outlook mails on iPhone, you may have to re-sign into this Outlook account.
Step 1. Tap the Settings app on iPhone and go to 'your name' > Account & Passwords.
Step 2. Select the Outlook mail that has issues and click 'Delete account'.
Step 3. A couple of minutes later, go to Add Account > Outlook to add the Outlook account again.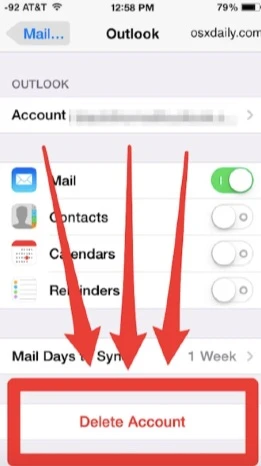 6. Reinstall Outlook App
When you cannot send or receive Outlook mails on iPhone, you should also delete and reinstall this mail app on your iPhone.
Step 1. On the home screen of your iPhone, press and hold Outlook app until it is shaking.
Step 2. Click the 'X' icon appeared on the app to delete this app.
Step 3. Then, go to App Store to install this Outlook app again and sign into this account after running this app.
7. Toggle on Fetch New Data
Outlook will not work on iPhone if you have disabled Fetch New Data sometimes. Thus toggling on this service is also a omnipotent method to fix this kind of problems.
Step 1. Launch Settings app on device and go to Passwords & Accounts and click on Fetch New Data.
Step 2. Enable 'Push' to allow new data to be uploaded from the server to iPhone.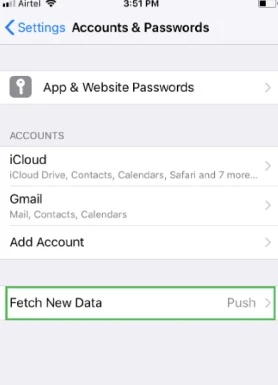 8. Ultimate Solution: with FoneGeek iOS System Recovery (No Data Loss)
The system errors caused by iOS 13 update could also pose Outlook not working on iPhone problem. By using a professional tool like FoneGeek iOS System Recovery, this Outlook mail not working on iPhone problem can be repaired without restoring the device, that's to say, any data on iPhone will not be affected.
FoneGeek iOS System Recovery aims to make it easy and convenient to fix all iPhone issues and the features below make it possible:
To repair the Outlook not working on iPhone issue with FoneGeek repair tool, just try the steps below.
Step 1. If you have installed FoneGeek iOS System Recovery on your computer, launch it and choose 'Repair'.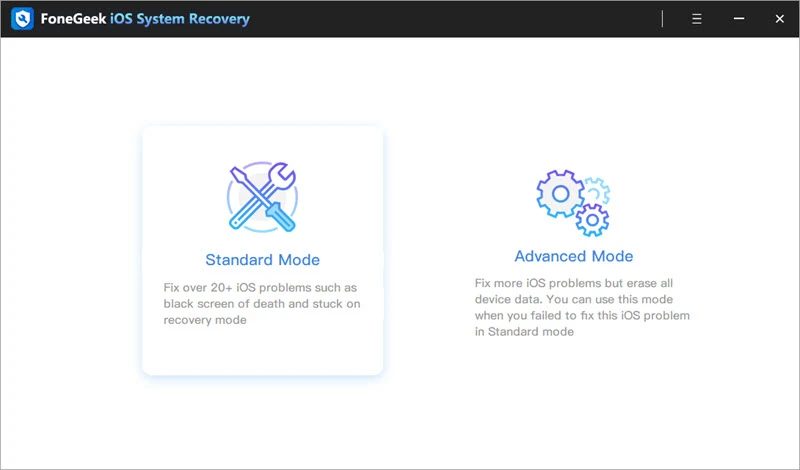 Step 2. Connect the device to this computer and choose a suitable repair mode (Standard Mode or Advanced Mode).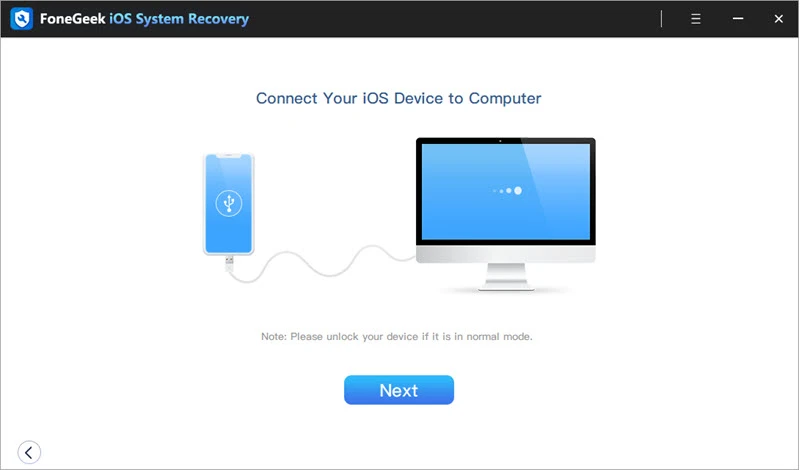 Step 3. Check the device info and click on 'Start' to download firmware file after confirming that the device info is correct.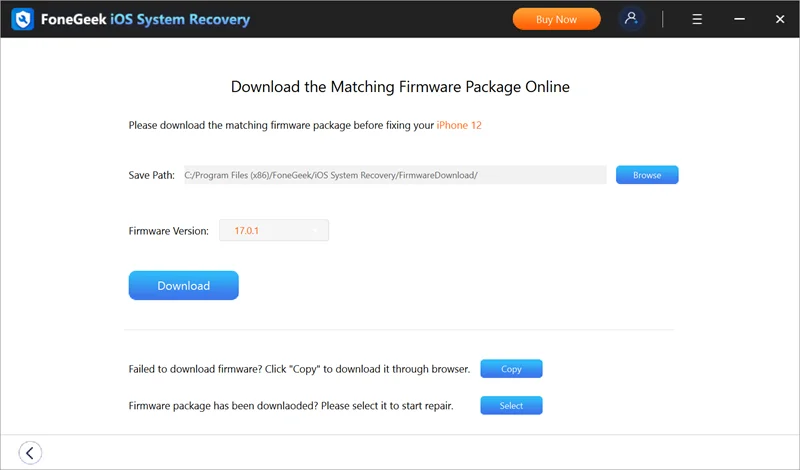 Step 4. The program will start to fix the Outlook email problems when you click on 'Fix Now'. You can disconnect the device when it is successfully rebooted.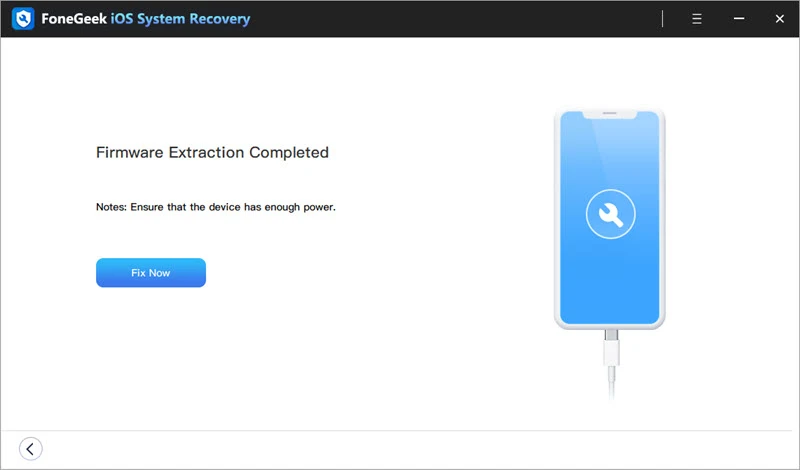 These methods shall effectively be helpful if the Outlook mail fails to work on your iPhone. Select one that you considered the best to suit your situation.

Monday on Feb 17, 2020, 20:26:58 GMT / Post By Joan J. Mims to iPhone Issues
Joan J. Mims is interested in researching all tips about iPhone, iPad and Android. He loves to share useful ideas with all users.

Home
>
iPhone Issues
>8 Tips to Fix Outlook Email Not Working on iPhone