Microsoft Outlook is the most prominent email client used on iPhone or iPad. Despit the huge popularity, users may still have troubles with Outlook.
Due to network errors, incorrect settings, software glitches and hardware problems, you might not sync, send or receive emails on Outlook.
We understand how annoying it can be when the Outlook app fails to work on your iPhone. In this article, we will show you how to fix the Outlook not working on iPhone issue.
Simple Workarounds to Fix Outlook Not Working on iPhone
Is the Outlook app not working on your iPhone or iPad? Don't panic and hurry up to try the advanced ways. Below are some simple workarounds you can try to fix this problem with ease.
Way 1: Check Outlook Mail Settings
If the Outlook mails on your computer can not be synced to iPhone, you can check the mail sync settings by following the steps mentioned below:
Open iPhone Settings app and go to your name > Account & Passwords.
All types of accounts will be listed, tap on "Outlook" that you have set up and choose "Mail Days to Sync."
It is better to choose the option of "No limit" if you want all the emails to be synced to your iPhone.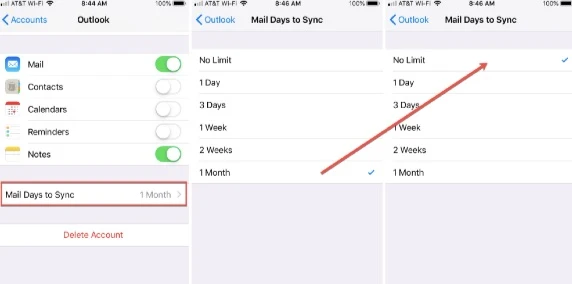 Way 2: Connect Outlook Account to Sync Email
It's possible that the Outlook account is not connected to your Mail app If you don't see any emails on your account.
Click the Outlook email that you received.
Select "Continue using this email app" option that appears on the bottom of the screen.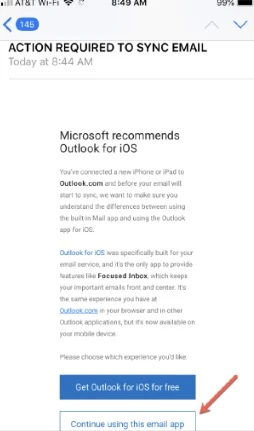 Way 3: Turn Off Do Not Disturb
The Outlook mail app will not work on your iPhone is you've enabled the "Do Not Disturb" mode. And you won't get any email notifications on the lock screen. Follow these steps to disable it:
On your iPhone, open the Settings app and ta on "Do No Disturb".
It is on, just toggle the option off. Then check if Outlook is working or not.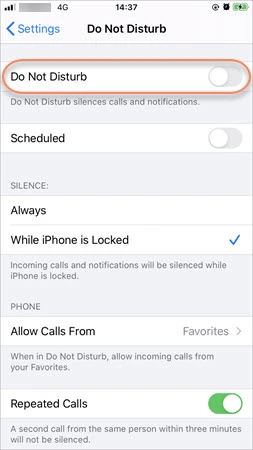 Way 4: Reset Network Settings
If the Outlook is not working on your iPhone due to issues with network settings. Resetting network settings may get the Outlook problem solved.
Open the Settings app on your device.
Tap on General, scroll down to tap "Reset".
Next, tap on "Reset Network Settings" and enter the passcode to confirm the reset.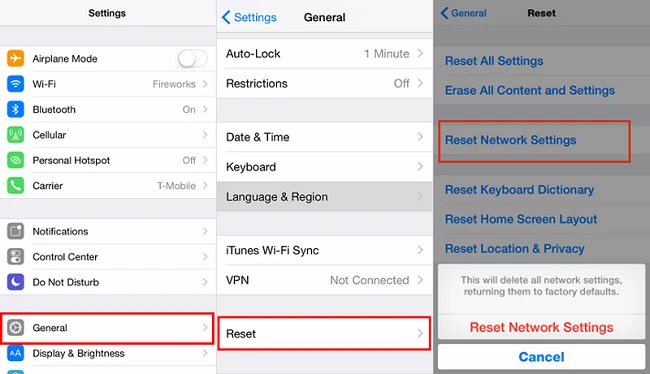 Way 5: Enable Fetch New Data
Outlook will not work on iPhone if you have disabled Fetch New Data sometimes. Thus toggling on this service is also a omnipotent method to fix this kind of problems.
Launch Settings app on iPhone and go to "Passwords & Accounts", then click on "Fetch New Data".
Enable "Push" to allow new data to be uploaded from the server to iPhone.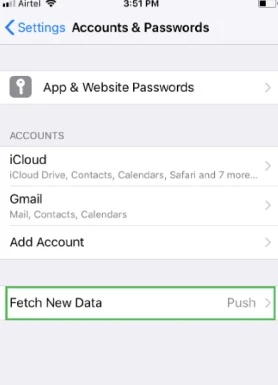 Way 6: Turn Airplane Mode On and Off
The Outlook will not work as expected if the iPhone has problems on network. And with most things, toggling on and off Airplane Mode is proven effective in handling this problem.
First, tap on Settings on your iPhone. Turn on Airplane Mode if it is disabled.
Next, turn off this option again after a few seconds. You can also do this from Control Center.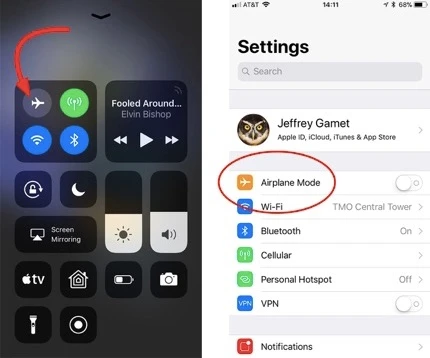 Fix Outlook Not Working on iPhone Due to Software-related Issue
In most times, the Outlook not working issue is caused by software glicthes on your iPhone. So, the simple changes in Settings cannot help to solve this problem. You need to try more advanced ways given below to fix it.
Way 7: Remove Outlook Account and Re-add It
If you have issues to send or receive Outlook mails on iPhone, you may have to delete the Outlook account that you've added before and then add it back.
Open the Settings app on iPhone and go to your name > Account & Passwords.
Select the Outlook mail that has issues and click "Delete account".
A couple of minutes later, go to Mail > Add Account > Outlook to add the Outlook account again.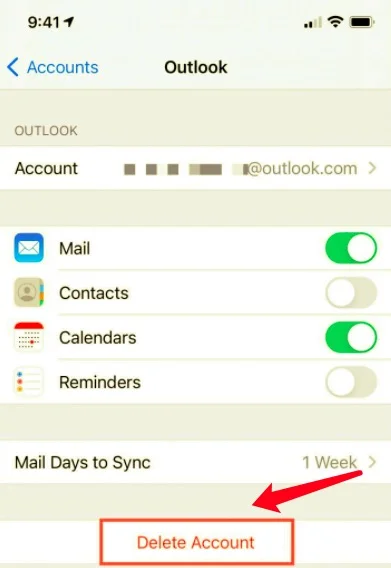 Way 8: Reinstall Outlook App on iPhone
If you can't open Outlook or the app keeps crashing on your iPhone, you can try to delete and reinstall this mail app to solve the issue.
On the home screen of your iPhone, press and hold the Outlook app until it is jiggling.
Taon the "X" icon appeared on the app to delete this app.
Then, go to App Store to download and install this Outlook app again.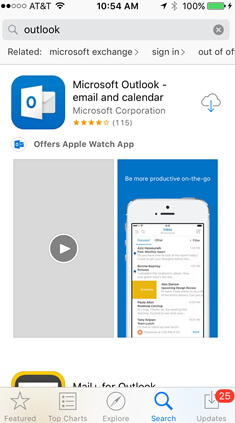 Way 9: Update iOS on Your iPhone
The Outlook mail app may not work if your iPhone is running an out-dated iOS version. In such case, you can update the device to the latest iOS version to get rid of the Outlook not working problem.
Plug your iPhone into a power source and connect it to a stable Wi-Fi network.
Navigate to Settings > General > Software Update.
If a new iOS update is available, tap on "Download and Install" to update your iPhone.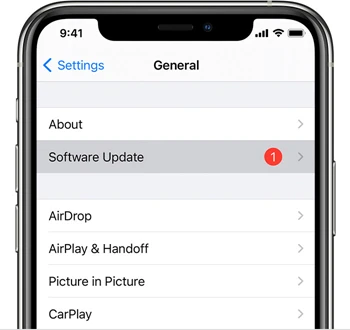 Way 10: Factory Reset Your iPhone (Data Loss)
If your Outlook app is still not working after trying all the above methods, you can try to factory reset your iPhone. However, this method will erase all data and settings on the device, so ensure to back up your iPhone before doing this.
Head over to Settings > General > Reset.
Tap on "Erase All Content and Settings". Enter the device's passcode when prompted.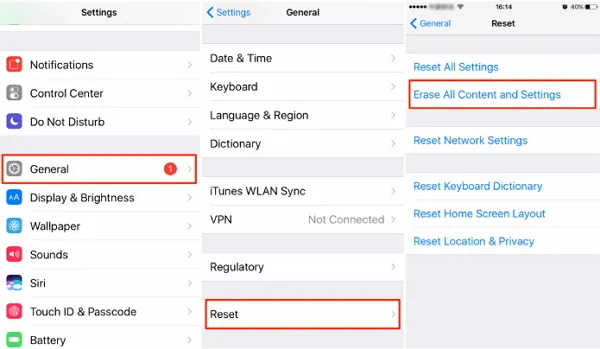 Way 11: Fix Outlook Not Working on iPhone without Data Loss
The system errors after iOS 17 update could cause the Outlook not working on iPhone issue. By using a professional tool like FoneGeek iOS System Recovery, all iOS system-related problems including this one can be repaired without restoring the device. That's to say, any data on your iPhone will not be affected.
FoneGeek iOS System Recovery aims to make it easy and convenient to fix all iPhone issues and the features below make it possible:
All iOS system issues can be repaired regardless of its complexity, such as iPhone black screen, stuck on recovery mode, DFU mode, boot loop, frozen or disabled, etc.
Guarantees 100% success rate to fix this Outlook not working and other iPhone problems without losing other data.
Recognized by most high-tech sites all over the world, including Filehorse, All PC Worlds, GetDroidTips, Lera Blog, Webku, TechTricksWorld, etc.
Works well with all iPhone/iPad models and iOS versions, including the latest iPhone 15/14/13 and iOS 17/16.
To fix the Outlook not working on iPhone issue with FoneGeek iOS repair tool, just follow the steps below:
Step 1. Download and install FoneGeek iOS System Recovery on your computer, launch it and choose "Standard Mode".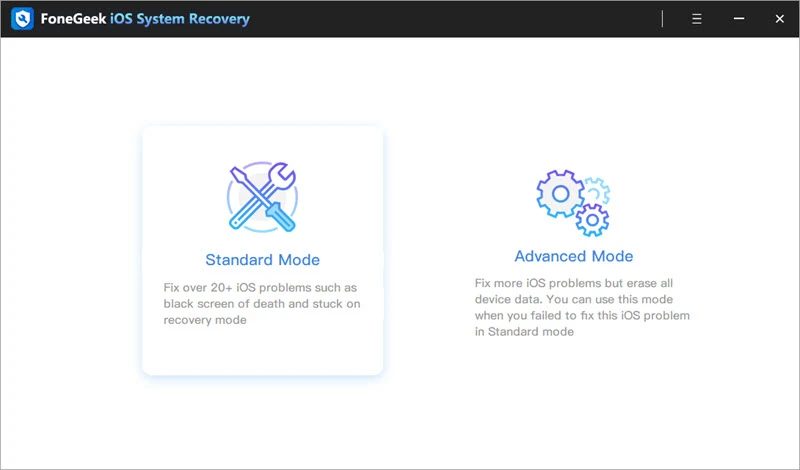 Step 2. Connect your iPhone to this computer via USB cable and wait for the software to detect the device.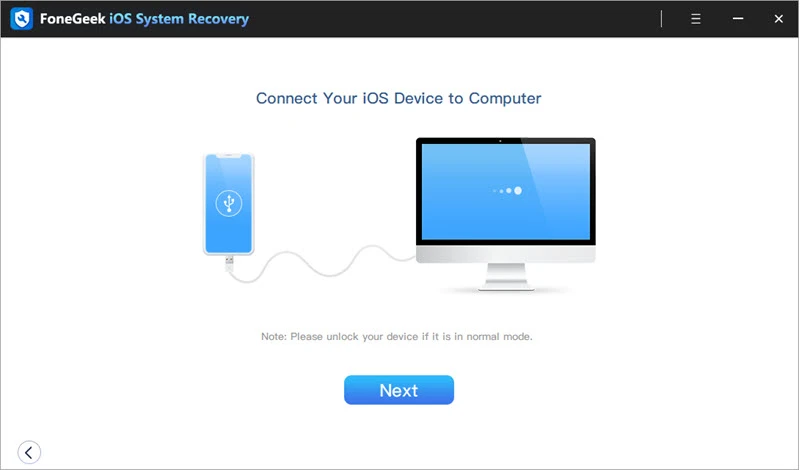 Step 3. Once the iPhone is recognized, check the device info and click on "Download" to download the matching firmware.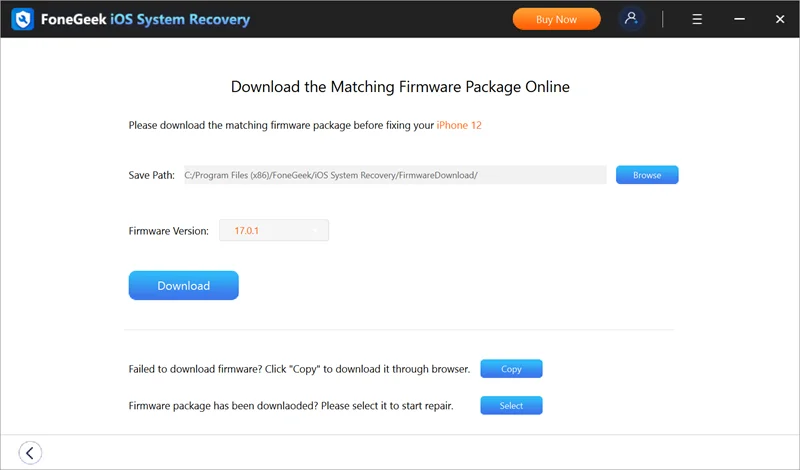 Step 4. Click on "Fix Now" and the program will start to fix the Outlook email problem. You can disconnect the device when it is successfully rebooted.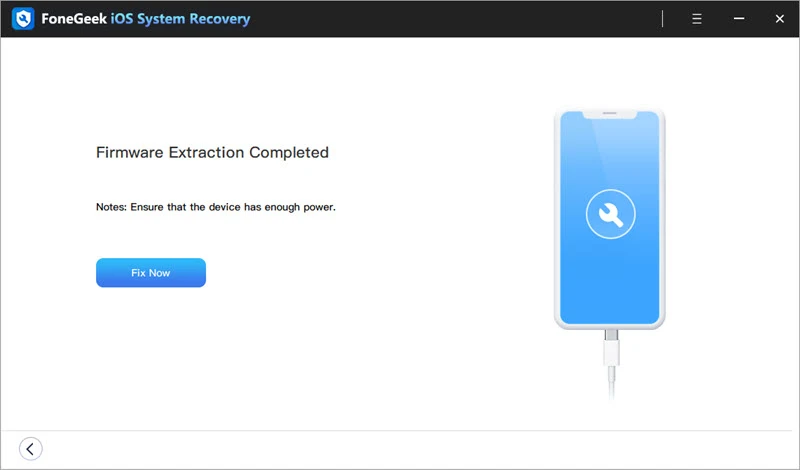 Fix Outlook Not Working on iPhone Due to Hardware-related Issue
Way 12: Contact Apple Support
The above methods shall effectively be helpful if the Outlook app fails to work on your iPhone due to incorrect settings or software glitches. Select one that you considered the best to suit your situation.
If none of the above methods worked in solving the Outlook not working issue, and you suspect that there is something wrong with your iPhone's hardware, you'd better contact Apple Support and ask for more professional help.