iCloud provides a very flexible data storage option for iPhone users. It allows you to back up and restore your data anytime, anywhere, right on your iPhone. No need for a computer.
However, that convenience can suddenly come to a halt when you try to restore your iPhone from iCloud backup, only for the process to end up getting stuck on estimating time remaining. It's an annoying experience that could occur for several reasons, such as poor Wi-Fi connectivity.
Nonetheless, there are several ways you can fix it, and that's exactly the purpose of this post. Herein, we'll outline 8 effective methods that you can utilize to resolve this iCloud restore stuck issue safely. Let's check them out.
Why is My iPhone Stuck on Restore from iCloud?
If you have your iCloud restore stuck on estimating time remaining, then it's better to have a clue of some of the reasons that could have probably caused it to get stuck. The most common ones are:
The internet connection is not strong.
iOS update error.
Possible application bugs.
An outdated iOS software.
A glitch in iOS software.
Possible hardware problem.
Wait for A While
Before trying out any other thing, it's a good idea to give the process ample time to run and complete. Chances are it's slow for some reasons you can't control. For instance, the files you intend to restore to your iPhone might be too large, so the process is taking longer than expected. Or perhaps your Wi-Fi network is weak, or the Apple Servers are down due to ongoing maintenance.
If these are the reasons, then there's little you can do about them other than to be patient and wait for the process to finish. However, if still there's no progress several hours later and you're certain the process stopped, try the solution below.
Check iCloud System Status
If you think the restore from iCloud is stuck, even after hours of waiting, you should confirm that the iCloud system is working by checking its status on the Apple System Status page. Check "iCloud Backup," "Apple ID," as well as the "iCloud Account and Sign In" services.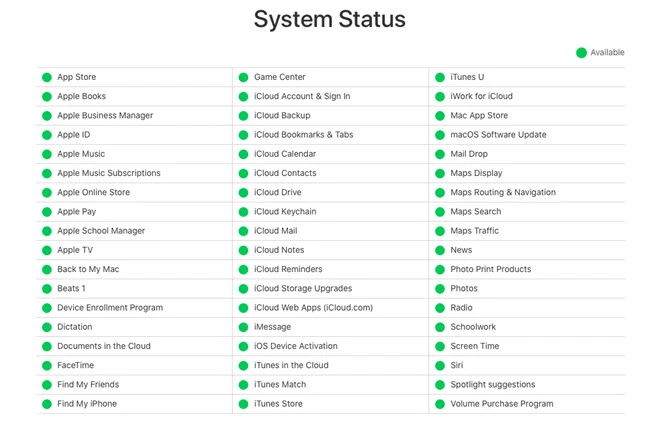 If they are available and working fine, then a green dot should be next to each of them. If not (no green dot), those services are not available/working. You can't do anything here other than wait for Apple to solve them and make them available again, in case they have some issue or are under maintenance. Otherwise, the other solutions won't work.
Check Wi-Fi Connection
You can't restore iPhone from iCloud backup using cellular data. So ensure that your Wi-Fi connection is strong and reliable throughout when you connect your iPhone and initiate the restore process. An unstable or poor internet connection will result in the restore from iCloud stuck error. If you've not yet connected your iPhone to Wi-Fi, you can do it by heading to Settings, then Wi-Fi.
In case that doesn't work, try:
Resetting your iPhone's Network Settings - Open Settings, tap General, and then Reset. Next, tap Reset Network Settings. Connect your iPhone again to the Wi-Fi.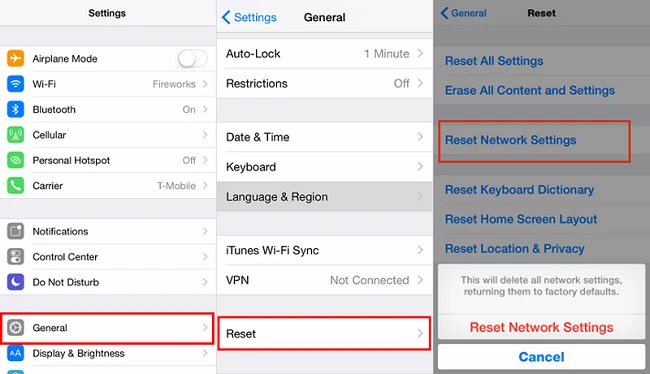 Turning Off Wi-Fi Assist - Disabling Wi-Fi assist will help prevent your iPhone from moving to cellular data if the Wi-Fi connection becomes poor. You can do this by going to Settings, tapping Cellular, and then Wi-Fi Assist. From here, tap the toggle to disable the Wi-Fi Assist.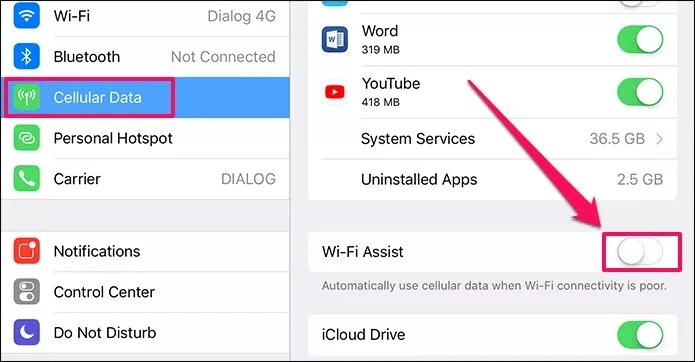 Update iOS
Your iPhone restore from iCloud stuck probably because your iOS version is outdated. Therefore, try to update it to the latest version if indeed it's old iOS system software. Doing so will eliminate system bugs and glitches that may have been interrupting the restore process. You can update it by:
Opening Settings, tapping General, and the Software Update option.
Allow the device to check for available updates. If it finds one, tap the Download and Install option.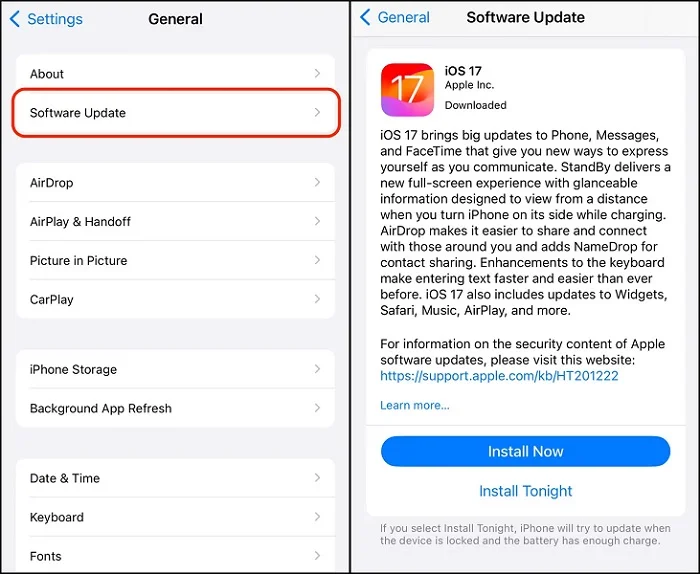 When the update is finished, you can try to restore the iPhone in iCloud once more.
Stop iCloud Restore and Try Again
Suppose you still have the iCloud restore stuck on estimating time remaining after updating your iPhone's iOS version. In that case, you can try stopping the actual restoration process manually, and then you can restart it again. Follow these steps:
Open Settings and tap on your Apple ID. From the resulting menu, tap iCloud.
Scroll down to iCloud Backup and tap it. Next, tap the Stop Restoring iPhone option.
Tap Stop on the confirmation pop-up that appears. That's it!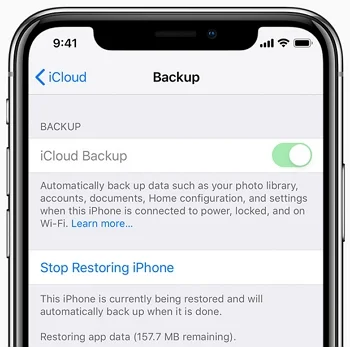 The restoration process will be canceled once you do this, and now you can restart it once more and check if the same issue will appear again.
Restart Your iPhone
Restarting iPhone is pretty much a jack of all trades solution when it comes to fixing the most common iOS issues. It could fix your iCloud restore stuck issue too. So, restart your iPhone and try again to restore the iCloud data.
Factory Reset Your iPhone (Data Loss)
Now, while restarting your iPhone is a simple method, factory resetting it is more of a hard way but one that can help your iPhone recover from the iCloud restore stuck problem. It fixes many iOS software issues.
Factory reset your iPhone only if the other methods have failed, and first ensure you've backed up your iPhone before doing it because it will erase all data. Once you've made the backup, head over to Settings > General > Reset and tap Erase All Contact & Settings.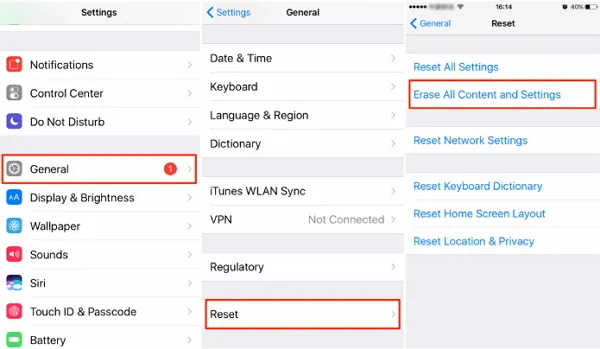 Try Alternative Way to Restore from iCloud
You can restore your iPhone from iCloud using a tool like FoneGeek iPhone Data Recovery if the above solutions don't resolve the iCloud restore stuck issue. This software provides an easy way to extract and recover data from iCloud backup with just several clicks. You're allowed to preview the data in the iCloud backup and selectively recover the files you need only.
FoneGeek iPhone Data Recovery Key Features
Offers 3 Recovery Modes - Recover from iCloud Backup, iTunes Backup, and iOS Device.
Can recover around 35 file types, including messages, contacts, photos, videos, notes, WhatsApp, etc.
You can select only the specific data you want to restore from the iCloud backup.
It can work with most iOS versions (iOS 7 to iOS 16) and iPhone models (iPhone 6 Plus to iPhone 14).
How to Restore from iCloud Using FoneGeek iPhone Data Recovery
Step 1: Download and install FoneGeek iPhone Data Recovery on your computer. Launch it, then click Recover From iCloud from the three recovery modes on the home screen. Using your Apple ID and password, sign in to iCloud.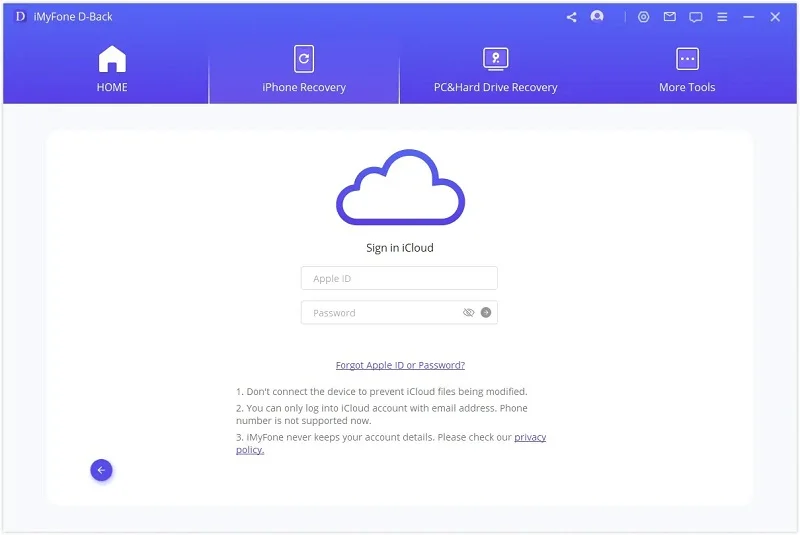 Step 2: The program will display the data types it's able to recover. So, choose the file types you wish to recover and click the Download button. FoneGeek will begin downloading the iCloud data right away.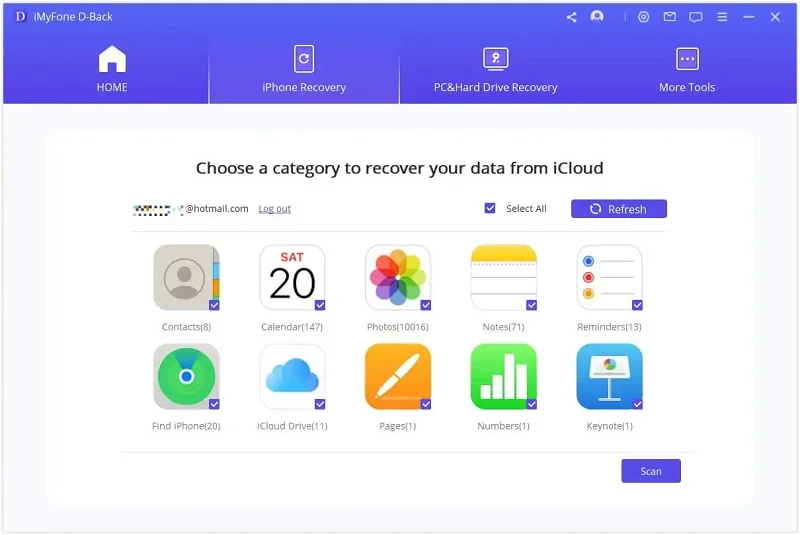 Step 3: Once the data is downloaded, select the data you intend to restore. Preview the details carefully, and click the Recover option. That's it! The program will automatically save the data to your computer.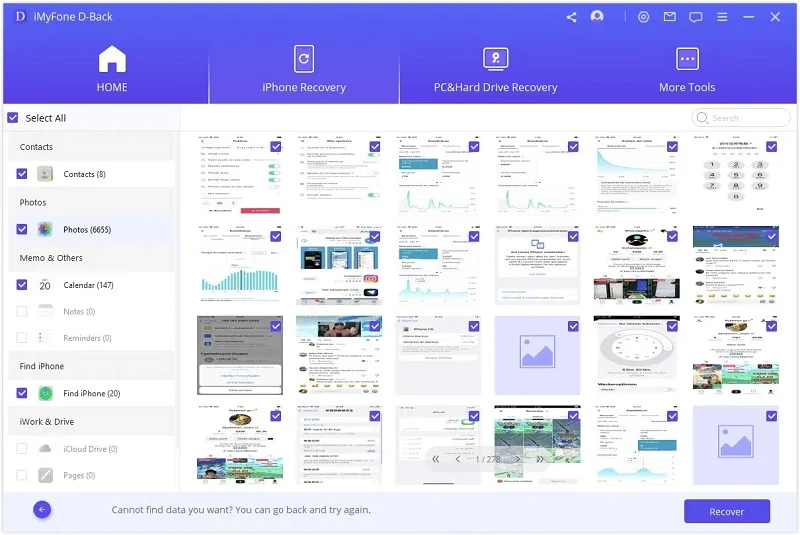 Note: FoneGeek won't keep any of your Apple ID credentials once you enter them.
FAQs on Restoring from iCloud
How long should it take to restore iPhone from iCloud?
The time it takes to restore iPhone from iCloud tends to vary depending on the speed of the internet connection and the size of the file to be restored. In normal circumstances, a routine restore from iCloud can complete in about one to four hours per GB of data.
Why does the iCloud restore process take this long?
Poor or unstable Wi-Fi connectivity is often the reason for the iCloud restore process taking too long. This can also happen if your iPhone constantly switches between Wi-Fi and mobile data connection, that is because you've enabled the Wi-Fi Assist function on your device. If the Apple servers are temporarily unavailable/not working, the iCloud restore process might take too long. Generally, many reasons could lead to that.
How to speed up restore from iCloud?
Ensuring your iPhone is connected to a strong and reliable internet connection can help speed up the restore from the iCloud process. Restoring your data selectively can also make the process faster than downloading a large file at once. You can equally utilize a third-party tool like FoneGeek iPhone Data Recovery. It's much faster than doing it manually on your iPhone.
What happens if I stop restoring iPhone from iCloud?
You won't access the already restored files. You'll have to begin the process afresh again to access the files.
The Bottom Line
These solutions can fix the iCloud restore stuck issue if you're patient enough to try each one of them until one works for you. Each addresses a particular cause of the issue, so try to restore the iPhone after implementing each solution.
Alternatively, you can use the FoneGeek iPhone Data Recovery to restore your iPhone data from iCloud. We highly recommend it if you want a simple yet effective solution. It takes just a couple of clicks to complete the iCloud restore. It's a very simple program to use.