Safari usually comes pre-installed on iPhones, iPads, and Mac computers. Most Apple users actually prefer using it as their default browser not just because of privacy concerns but also because of its great performance. Sadly, it seems lately the browser has been experiencing a number of issues.
One of them is Safari not loading pages on iPhone or iPad at times. It's an issue that has become quite common and if you're among the unlucky ones who have encountered it, you've just landed in the right place.
In today's post, we'll briefly explain the reasons behind Safari not loading websites on iPhone and provide all reliable solutions that you can try to fix the issue and continue to search and load pages seamlessly. Without wasting any further time, let's start.
Why Are Pages Not Loading in Safari on iPhone?
If you're wondering why is Safari not loading pages on iPad or iPhone 14/13, well, it's hard to pinpoint one particular cause because there could be many different reasons behind it. Some of the probable reasons include the following:
You entered an incorrect or unavailable URL while trying to load or open a site.
The Wi-Fi connection is unstable hence preventing Safari from loading some sites.
The site you're trying to access is probably getting blocked by your DNS server.
The page might have been restricted from loading on Safari.
The cache memory is overloaded hence preventing sites from loading.
The cellular data provider doesn't support iPhone 13/14 now.
These are the common reasons for pages not loading in Safari and now that you know them, let's go through some of the methods for resolving it. Ensure you've gone through each of the mentioned scenarios so that you can fix the issue successfully with the appropriate solution.
1. Restart iPhone & Safari
The first step to troubleshooting this issue is to restart your iPhone/iPad and then launch Safari again. If you're connected to Wi-Fi, reboot your modem too. If you're using cellular data instead, turn it off and then turn it on once more after a few seconds. These simple steps could easily get rid of the issue and have your Safari browser loading pages again as usual.
2. Check Network Connection
The next thing you should do is to verify if the problem is with the Safari app alone or not. To do that, check other apps to see if they are working fine on your iPhone/iPad. In case you're unable to connect to the internet with the other apps, probably your network connection is the cause of the problem.
So if you're using Wi-Fi, switch to mobile data or vice versa and then check the internet connectivity and Safari to see if pages now load properly or not.
3. Check Cellular Data Settings
If web pages are loading on Safari via a Wi-Fi network, but fail to load when using cellular data, you should check the mobile data settings as it could be the culprit.
To do that, open Settings and tap on the Mobile/Cellular data option. Navigate down and check that the toggle beside Safari is green (turned on). If it's off (grey), tap it to turn it on.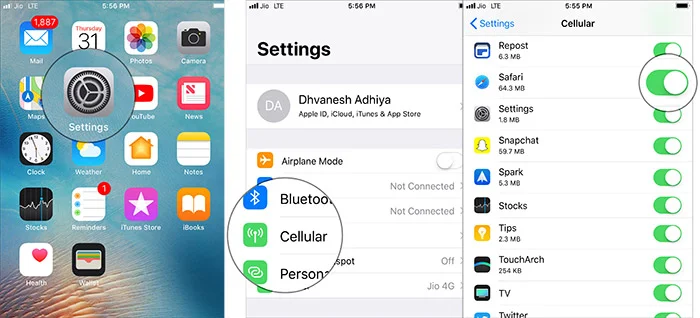 4. Check and Refresh the Website URL
When typing the URL address manually on the Safari search box, ensure you double-check the URL that you've typed is correct or not. Recheck it several times if you can because even the slightest mistake while entering the URL can lead to Safari not loading pages on iPad or iPhone issue.
When you're sure that the typed URL is correct but you're still having the same issue, try to refresh or load the URL a couple of times. You can do this by tapping on the circular icon close to the address/URL bar. There are times when you may be having a connection interruption that's causing this issue and a simple refresh could solve it.
5. Turn Airplane Mode On & Off
Enabling the Airplane mode for a short while and disabling it again is also a viable way to troubleshoot this issue. Doing so refreshes all network connections and gets rid of any network glitches. You can do this by:
Opening the Settings app and tapping the Airplane Mode toggle.
The Airplane Mode will be enabled on your device.
After some seconds, tap on the toggle again to turn the mode off.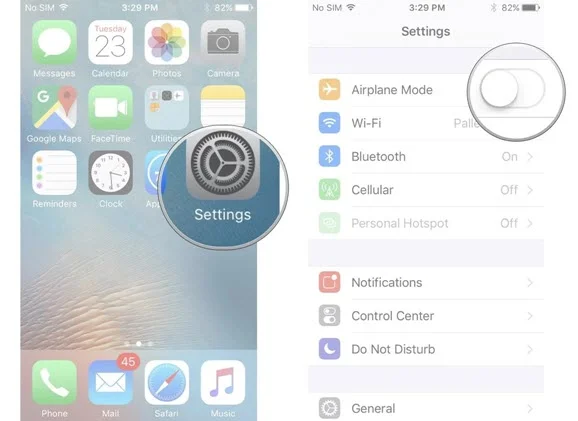 The other way you can do this is through the Control Center.
6. Turn Off VPN
In case you frequently use any VPN services on your iPhone/iPad to access region-restricted online streaming or content, ensure you disable the service or app for a while. Once turned off, check if you can load pages on Safari or not. If the problem still persists, try the next solution.
7. Clear Cache and All Browsing Data
You can also solve the Safari not loading pages on iPad/iPhone issue using this simple method. To do so:
Head to Settings. Open the Safari option.
Navigate down to the Advanced option and tap it.
Next, tap Website data. Go down to Remove all website data and tap it.
Now restart your iPhone/iPad and check if you can load web pages.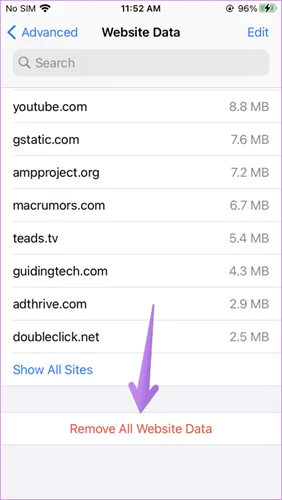 If you still have the same issue, go back to Settings and tap Safari. Head down to Clear History and Website data and tap it. Confirm the action when asked. Doing this will clear out all your browsing history plus other browsing data saved on all your Apple devices that use your iCloud account.
8. Check the Content Restrictions
When you have any content restrictions enabled on your Apple device, certain websites or even all of them can get blocked. So, check that there are no restrictions enabled. Follow these steps:
Open Settings and tap the Screen Time option.
Head to Content & Privacy Restrictions.
Check the toggle beside Content & Privacy Restrictions on the next screen. If it's turned off, move to the next fix.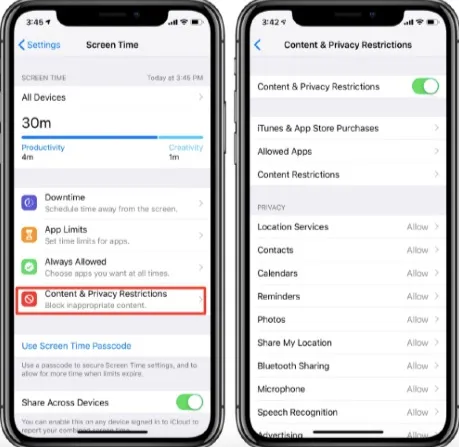 9. Turn On JavaScript on Safari
It's possible that you haven't enabled the Javascript option on your Safari browser app that's why you're having Safari not loading websites on iPhone. Javascript reading is essential for webpages. Therefore, ensure you turn it on by following these steps:
Open Settings. Head to Safari and tap on it.
Next, tap on the Advanced option at the bottom.
Now tap the toggle beside Javascript to enable it.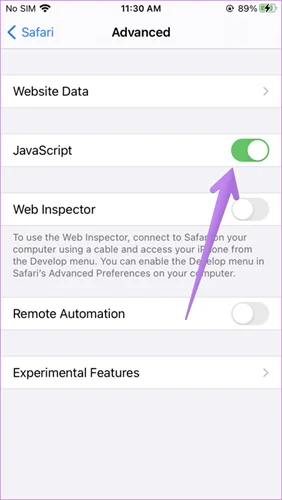 After it's turned on, launch Safari and then try to load any webpage to confirm if the issue is resolved or not.
10. Disable All Content Blockers
The other way you can solve this issue is to disable any content blocker you've installed on your iPhone for a while. You can do this by opening Settings and tapping Safari. Next, tap Content Blockers and disable all of them. Check now if the pages can load.
Try also to disable the Safari experimental features. To do that, open Settings, tap Safari and then tap the Advanced option. Now tap on Experimental features to disable them one by one.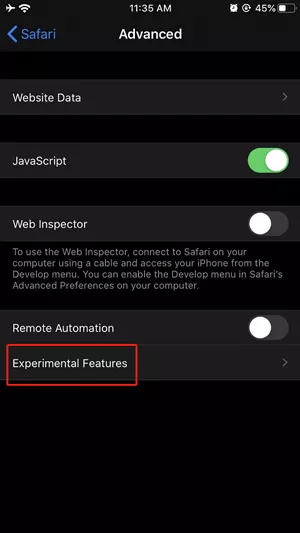 11. Reset Your Device's Network Settings
When you reset your iPhone's or iPad's network settings, all the saved network data (Wi-Fi passwords) and configurations related to your Wi-Fi, Bluetooth, and DNS settings will get deleted. All these network features or systems will return to their default state and work properly as they did when the device was new. This ultimately might fix the Safari cannot open pages error. To do that:
Go to Settings and open the General menu.
Head down to the Reset option and tap it. Next, select Reset Network Settings.
You'll be asked to put your device's passcode in order to confirm the task. Put the passcode and then allow the process to finish.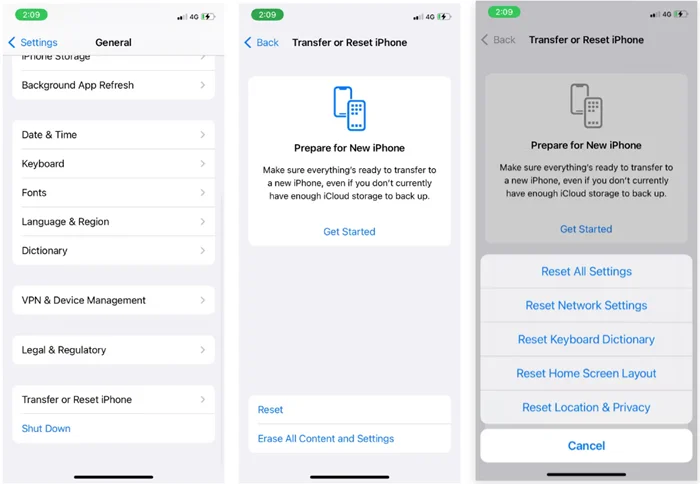 12. Update App and iPhone
If resetting network settings doesn't work, it's time you update Safari from the App Store. Sometimes a bug in either the app or the phone's software could be the reason behind this error, so you should check for any pending software and app updates and install them. You can check for your iPhone's software update by going to Settings, tapping General, and then tapping Software Update.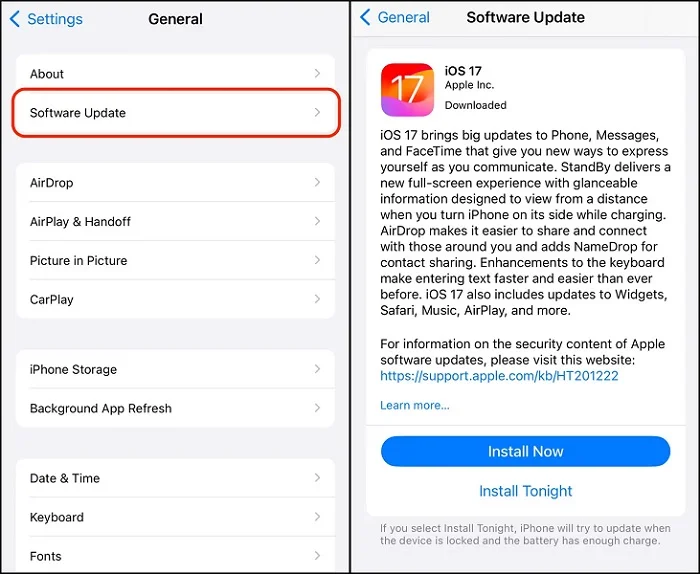 13. Repair iOS to Fix Safari Loading Pages on iPhone
If all fails, you can try fixing the issue using FoneGeek iOS System Recovery. This iOS repair tool is the best in the market, especially for iPhone 14/13 or later models as well as iPads. It can effectively help you overcome the issue of pages not loading in Safari if the cause behind it is a faulty iOS installation on your device.
Here is the step-by-step guide on using FoneGeek iOS System Recovery to fix Safari not loading pages on iPad or iPhone:
Download FoneGeek iOS System Recovery from its official site. Install and launch the program on your computer.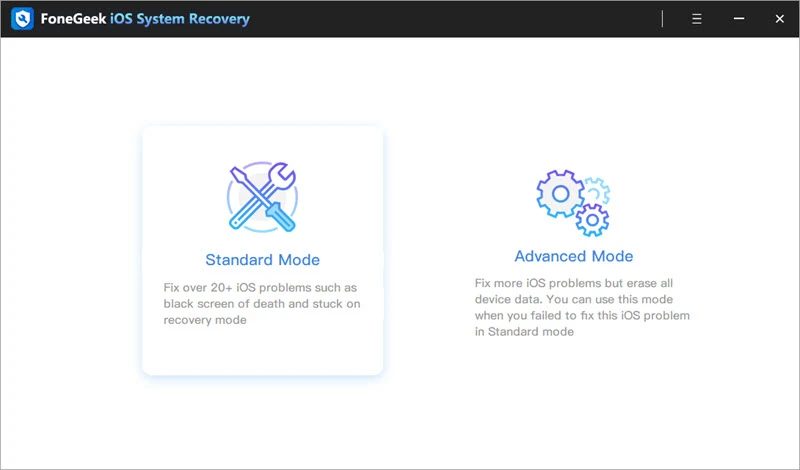 With a USB cable, get the iPhone connected to the computer. After that, go to the home page and select "Standard Repair".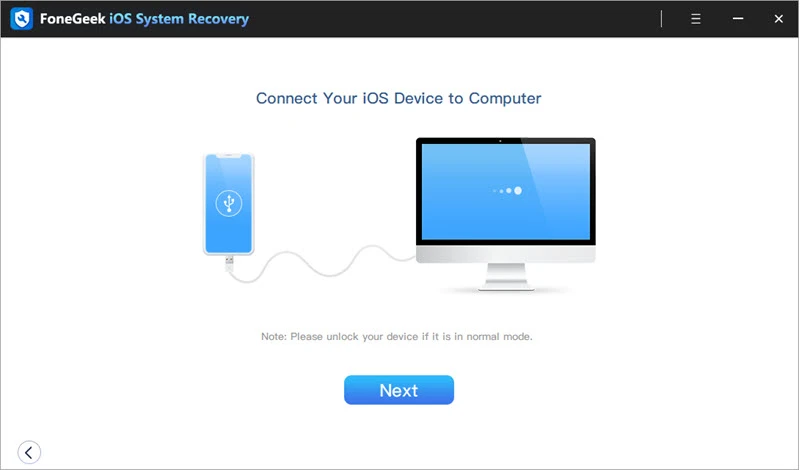 Click on "Download" to begin downloading the firmware package.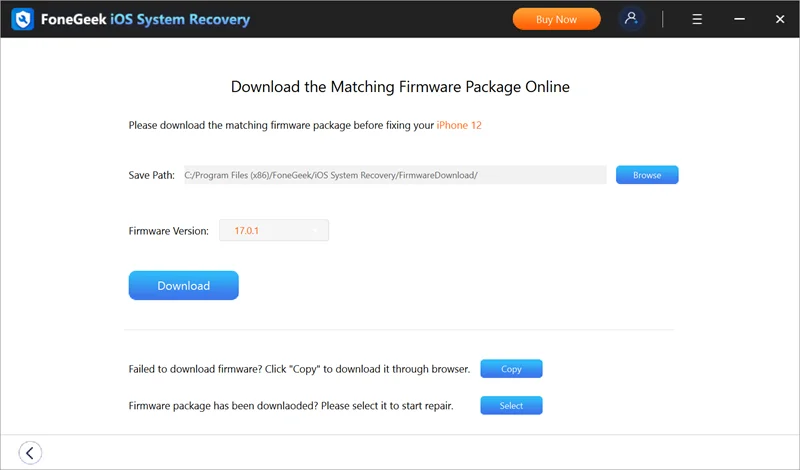 When it's done, simply click "Fix Now" to initiate the recovery process. Once the process is complete, let the device reboot and that's it.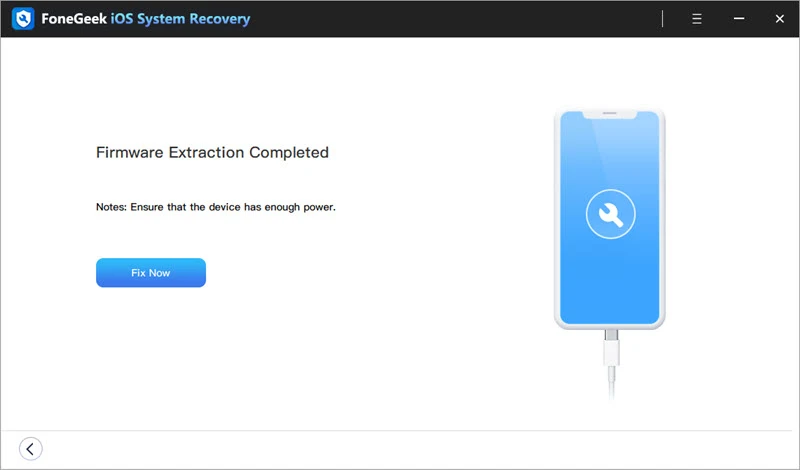 Conclusion
All these fixes we've mentioned are viable and will help you solve the issue that's causing Safari not to load pages on iPhone/iPad. Give each of the methods a try and we're positive that you'll find one that works for you. The best and most effective option is no doubt FoneGeek iOS System Recovery.
This powerful tool will deal with all the glitches resulting from a faulted iOS and fix the Safari not loading page issue completely. You'll hardly have any other problems once you use it, so we would recommend you try it out first.