Safari provides exceptional data security, which is able to block spam and deceptive sites that may attempt to hack your data. However, while it's quite effective at protecting your privacy, there are times you may encounter some errors while using Safari. One such error is "This connection is not private", which may pop up anytime, even when everything is working right.
It could pop up when browsing the internet, checking a website, or going through Google Feed. The reasons behind it could be anything, like a server mismatch, expired SSL certificates, or some other unknown reason. In this article, we'll explain what Safari this connection is not private on iPhone error really means and show you several tested methods that can help you easily solve it. So, let's start!
What is "This Connection is Not Private" in Safari?
You'll see the error message "This connection is not private" when Safari fails to authenticate and establish a secure connection between your device and the website. What this means is that the browser can't check whether a particular website is secure. It's an issue that any browser can encounter including Safari on Apple devices like iPhones and iPads.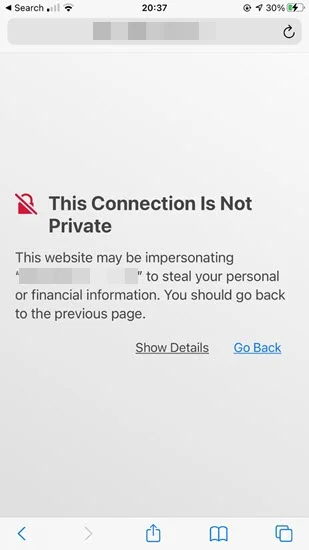 In order to protect your privacy and also ensure the security of all your data, most browsers would examine and authenticate the security certificate of every website. In case a certificate is outdated and weak, then your personal information can get exposed to cyber-attacks.
Generally, the error means that the website or rather your connection isn't actually secure. So, you shouldn't disregard the error message when you see it in your iPhone's or iPad's Safari. It's usually a warning meant to ensure you stay safe, although sometimes it could just be a bug, or a simple error, and probably the site you're trying to view is safe.
Why This Connection is Not Private Safari Error Occurs?
The site doesn't adhere to HTTPS Protocol - if you try to view a website that doesn't run on the HTTPS protocol, then you'll get the error message "This connection is not private".
The SSL certification is expired - you can encounter this error if the SSL certificate of the website you want to visit is expired or no SSL certification has been issued to the website.
Server mismatch - there are times when you get this error simply due to a server mismatch. It's a reason that's often true when the website you want to view is actually a trusted one.
The browser is outdated - if you're using an old browser version that hasn't been updated for quite a long while, then it may have problems communicating properly with some website SSL hence resulting in this error.
These are mostly the key reasons why this error usually occurs. The good part though is that we've got various tried-and-tested fixes that can resolve it. Let's look at them:
1. Clear Safari History and Cache
Safari usually stores cache data on a regular basis so that it's able to load some elements directly from your device's local storage rather than downloading them each time. Doing so helps save time as well as data consumption.
Unfortunately, the cache can get full and when it does, you'd experience several issues, including the error Safari this connection is not private on iPhone. To fix this error, you just need to clear all the Safari cache and history. Follow these steps:
Open Settings on your device. Navigate down to Safari and tap on it.
From there, tap the Clear History and Website Data option to get rid of all the data.
Tap Clear History and Data once more to confirm your action.
Now launch Safari again and see if the error is fixed.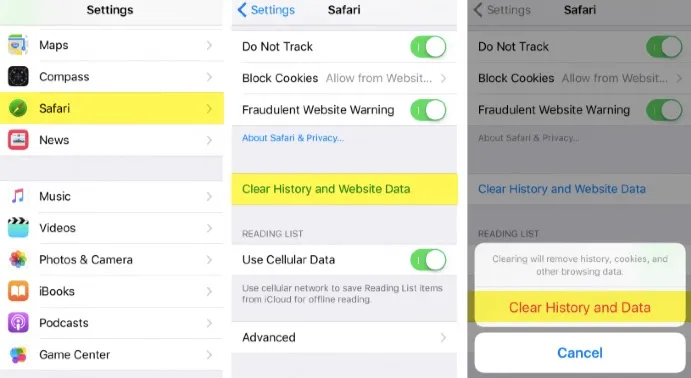 2. Restart Your iPhone
Despite sounding rudimentary, restarting your iPhone is a pretty effective fix for many iOS issues. Once you do so, the iPhone will terminate all the background apps and services, and also refresh your connections. The temporary data in your device will as well get removed, so you'll end up with bug-free software. However, the process for restarting iPhones is not the same for all models. Here are the specified steps:
If you have iPhone 8 or older model:
First, press Power button and hold it down until there's a slider on the screen.
Tap the slider and drag it across the screen in order to switch off the phone.
After that, long-press the same Power button to switch on the phone.
If you have iPhone X or a newer model:
Press the Power and Volume buttons concurrently. Hold them down until the slider pop-ups on the screen.
Tap the slider and drag it from the left end to the right end to switch off the device.
Now, long-press the Power button in order to switch on the device.
3. Browse Using the Private Mode
The private mode allows you to view a webpage without any of the browsing data getting saved locally plus you don't get signed into any account. Therefore, you can ignore the error by simply using Safari private mode to access the website. To do that:
Head to the tabs icon on Safari and tap on it.
Choose the tab groups icon and then choose Private.
Next, tap the plus (+) icon. Once you do that, a private tab will open and you can now visit the website.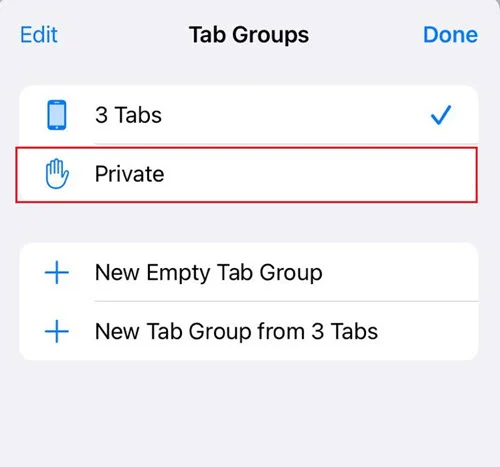 4. Check Date and Time on iPhone
You can get several false errors when your iPhone's or iPad's date and time are incorrect. This is often the case when your location doesn't sync with the chosen date and time on your device. So, if for some reason you happened to change the settings, try correcting them to fix this connection is not private Safari issue. Follow these steps:
Open Settings and choose the General option.
In the General tab, head down to the Date & Time option and tap it.
Tap the toggle that's beside Set Automatically to turn it on.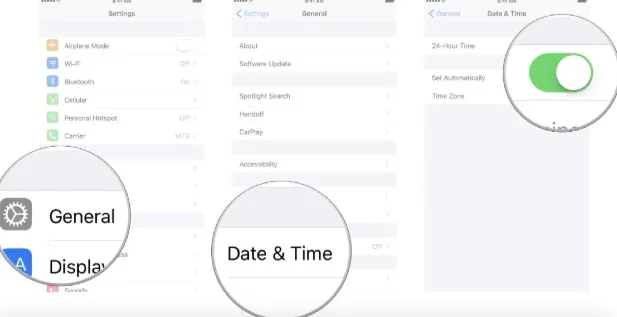 Doing so ensures that your iPhone's date and time are set automatically right from the internet, based on your exact time zone.
5. Open HTTPS Sites Only
Almost every website nowadays runs on HTTPS, which is the latest protocol. Still, though, there are some websites that use the outdated HTTP protocol. Unlike the new HTTPS protocol, HTTP is less secure plus it's not really as encrypted as this new protocol. As such, always ensure you only view websites that run on HTTPS.
6. Disable VPN on Your iPhone
If you're using a VPN on your device, it's probably the reason behind the Safari this connection is not private on iPhone error you're facing. So. if you've enabled the VPN, try disabling it and then open the site on which you're seeing the error. To disable the VPN:
Open Settings. Navigate to VPN.
Tap the toggle that's next to the VPN option to turn it off.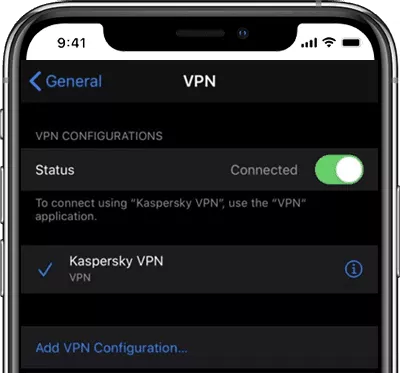 You can also launch the particular VPN app you're using and turn it off from there.
7. Disable All Third-party Extensions
Apart from the VPN, you may also be using third-party extensions with your Safari browser. They're no doubt pretty handy in providing extra security and features that you would normally miss out on. However, they can end up causing some errors occasionally. So, you can disable them and check if the error is resolved. These are the steps to follow:
Open Settings. Head down to Safari and select it.
In the General section, tap the Extensions option.
Select the extension. Now disable it by tapping the toggle beside it to an off position.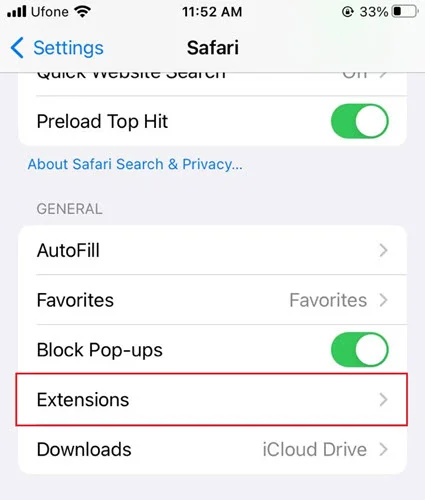 8. Change to A Different Browser
Safari is perhaps the most reliable and secure browser for iPhone and other Apple devices. However, it can encounter some unknown bugs. It's not unlikely that this connection is not private Safari issue is popping up because of a bug in the browser. If that's the case, you can try using various alternate options such as Chrome, Mozilla Firefox, Opera, etc.
9. Bypass the Security Error
In case you're not able to fix the error and it's a must to access the webpage, then you can choose to bypass the error instead. Note though that doing so is unsafe and we advise that you utilize the other methods we've provided because your online security can get compromised. However, if you have no problem carrying on with bypassing the security error, follow these steps:
Once the error message appears, tap Show Details.
From there, tap visit the website link.
Now, tap the Visit This Website option.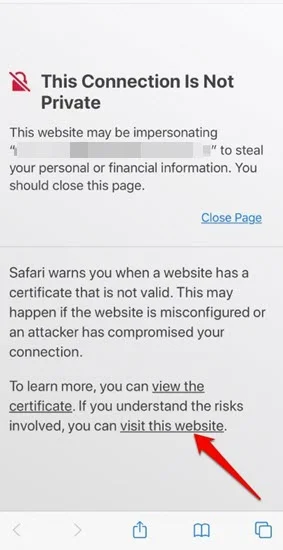 Conclusion
These are the methods that can help you fix Safari this connection is not private on iPhone alert. So, ensure you try them out. Keep in mind though that it's not always a bug that causes this error to pop up. It's highly likely the site is compromised. However, we highly recommend you use FoneGeek iOS System Recovery tool to fix this error and many others if they're caused by iOS glitches and bugs. It's the best solution to any iOS problem including this one and you won't need to go through other methods to get your Safari or iPhone fixed.