Screen Recording is a handy feature on iPhone or iPad that can be very useful in various situations. You can make use of it to capture tutorials, memorable video calls, and a variety of other things happening on the device. However, sometimes you may find screen recording is not working on the iPhone.
So, why is your iPhone screen recording not working? Well, several reasons can cause this issue. In the below part of the article, we will introduce you to some of the common reasons and what you can do to fix them.
1. Screen Recording Won't Work Everywhere
Before trying anything else, we want you to be aware of the fact that the screen recording feature on iPhone won't work everywhere. It is because Apple intentionally limited the feature's functionality to prevent playing copyrighted content.
For example, you can't screen record anything from the Music app and some other apps because of this. Unfortunately, there is nothing you can do about it in this situation.
2. Add Screen Recording Icon to Control Center
The Screen Recorder on your iPhone may not work if it's not added to the Control Center. The good news is you can easily add the feature to control center. Here is how to do this:
Open the Settings app and go to the Control Center.
Press on Customize Controls.
Press the "+" icon next to Screen Recording.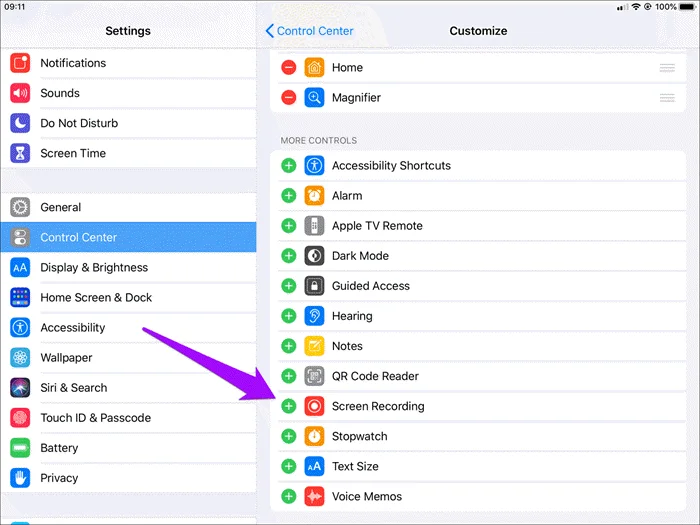 Now you should find the Screen Recording icon under the Control Panel. Check if the feature works now.
3. Restart Your iPhone or iPad
Is the Screen Recording not working on your iPhone/iPad suddenly? Well, it may be caused by some software glitches. In this case, a simple restart should fix the issue. Tap and hold the Side or Top button and move the Power Off slider when it occurs.
If your iPhone/iPad arrives with a Face ID, you will need to tap and hold either the Volume button and the Side button to bring the slider. Once the iPhone/iPad turns off, tap and hold the Side button again to restart the device.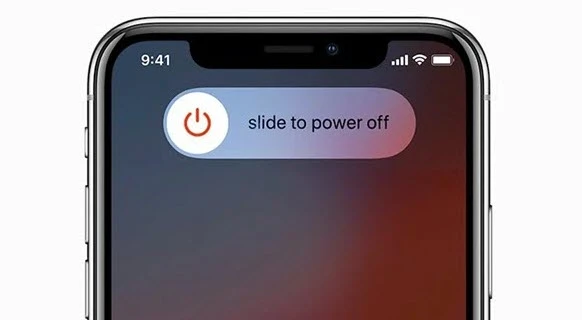 4. Update iPhone or iPad
iPhone screen recording might not be working because of bugs in the operating system. In this case, you can try to update to the latest version of iOS to solve it. Oftentimes, the iOS update brings the solution for problems like this.
Here is how to do this: Go to Settings and tap on "General", than tap on "Software Update". If a new iOS update is available, tap "Download and Install" to initiate the update.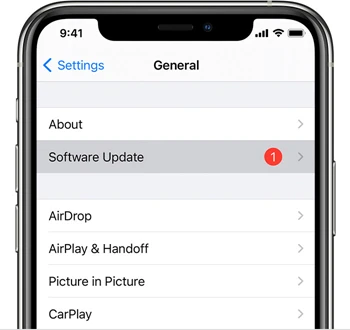 5. Check Restrictions
Is the Parental control restriction enabled on your iPhone? Keeping it turned on may prevent Screen Recording from working. Here is how you can solve it:
Open Settings and go to Screen Time. Press on Content & Privacy Restrictions.
Enter your Screen Time password if prompted. Then press on Content Restrictions.
Now find and click on Screen Recording and then press Allow.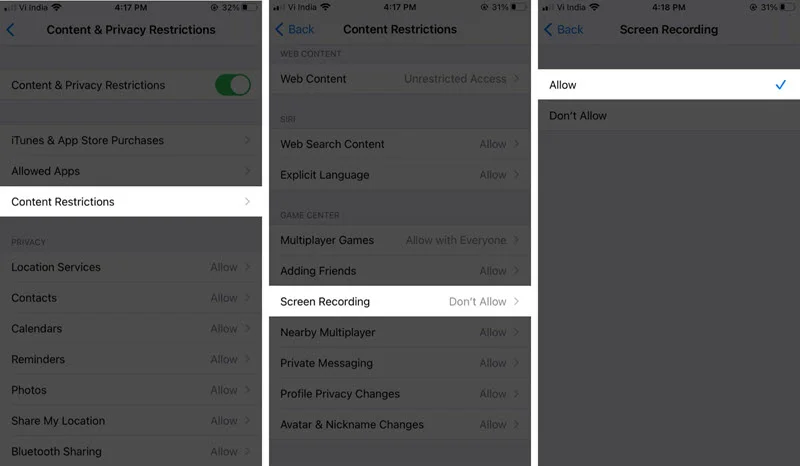 6. Turn Off Low Power Mode
Sometimes while trying to screen record, you will see a "screen recording failed to save" error message. It happens when your iPhone is in Low Power Mode.
This mode limits the functionality of several apps to save power. You can easily solve it by turning off the Low Power Mode option. Here is how to do this:
Open Settings and go to Battery.
Find "Low Power Mode" and turn off the toggle bar next to it.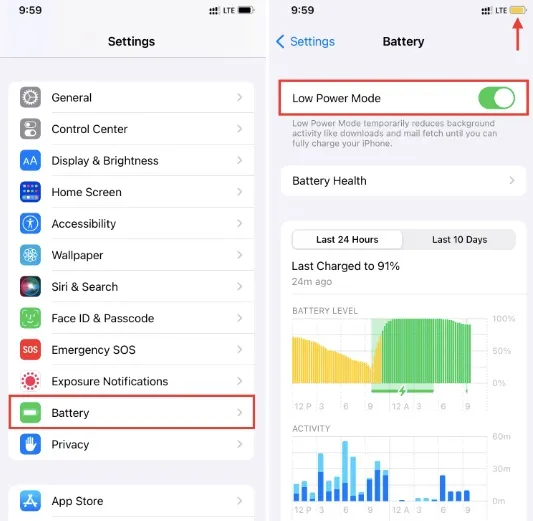 7. Check iPhone Available Storage
Is your iPhone failing to save the recorded clips on the Photos app? If so, your device might not have enough storage. Consider checking the storage. If it's full, you will need to free up some space to save the records.
To check the storage, open Settings and go to General, then press on iPhone Storage. You will find an indicator above that shows the available and used storage. You can delete the files and apps you don't require anymore to free up the space.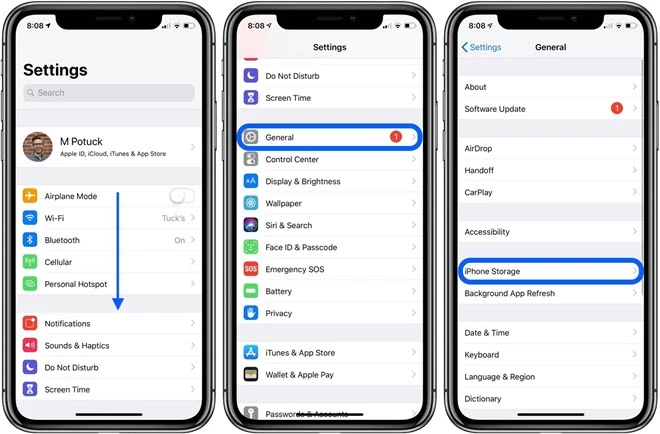 8. Enable Microphone
Sometimes you will find that the Screen Recording is failing to capture the sound. You can easily fix it by turning on the microphone.
Simply long-press on the Screen Recording icon in the Control Center and then press on the Microphone icon. This will enable the microphone permission to record audio.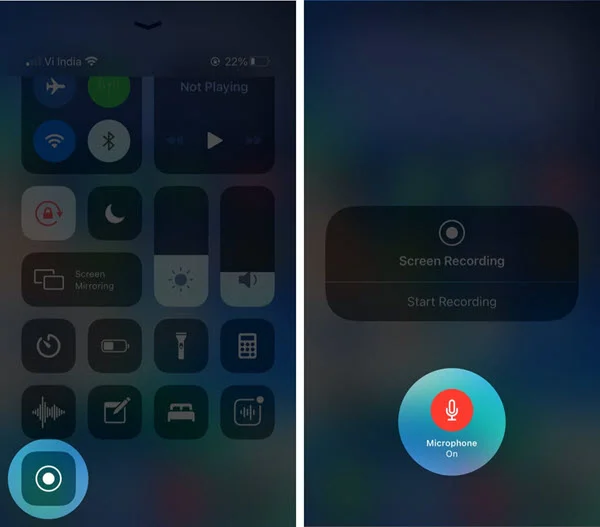 9. Reset All Settings
If the Screen Recording is still not working, you should consider resetting all the settings of the iPhone. If a setting in the device is causing the issue, resetting should solve it.
Note that resetting will remove all the customized settings and set them to default. Here is how to do this:
Open Settings and tap on General.
Go to Reset and tap on Reset All Settings.
Enter the passcode to complete the Reset.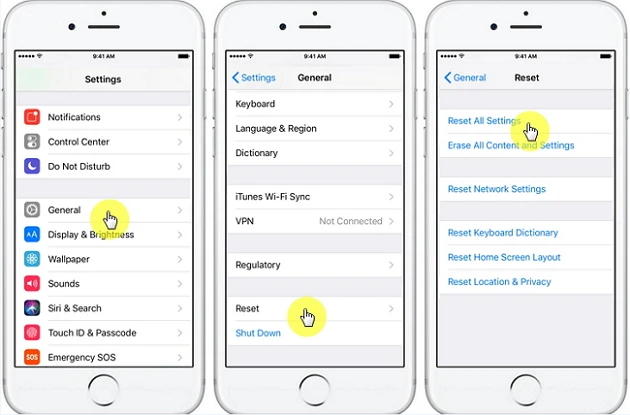 10. Restore Your iPhone or iPad
If you are still unable to solve the issue with the above solutions, restoring the iPhone/iPad might help. Note that this will remove all the data and settings from your iPhone. So, make sure to create a backup before you proceed. Here is how to do this:
Connect the iPhone/iPad with the PC. Make sure that the latest version of iTunes is installed on your PC.
Launch iTunes and press on the iPhone icon from iTunes after it recognizes the device.
Now find the "Restore iPhone…" option from the new page and proceed.

Bonus Tip: How to Export Recording Videos from iPhone to Computer
If your iPhone storage is full, you won't be able to save the Screen Recording videos. If you don't want to delete the recorded clips to free up space, consider exporting them to your computer using FoneGeek iOS Backup & Restore. The software enables you to easily export recording videos and other types of data from your iPhone to computer easily and efficiently.
Here is how to export recording videos from iPhone to computer:
Download and install FoneGeek iOS Backup & Restore on your Windows/Mac PC. Once the installation is done, launch the program.
Connect your iPhone to your PC using a USB cable. Once the device is detected, click on "One-click Export Photos to PC".
All the photos and videos, no matter shot by the Camera app or recorded will be automatically transferred to your computer within a while.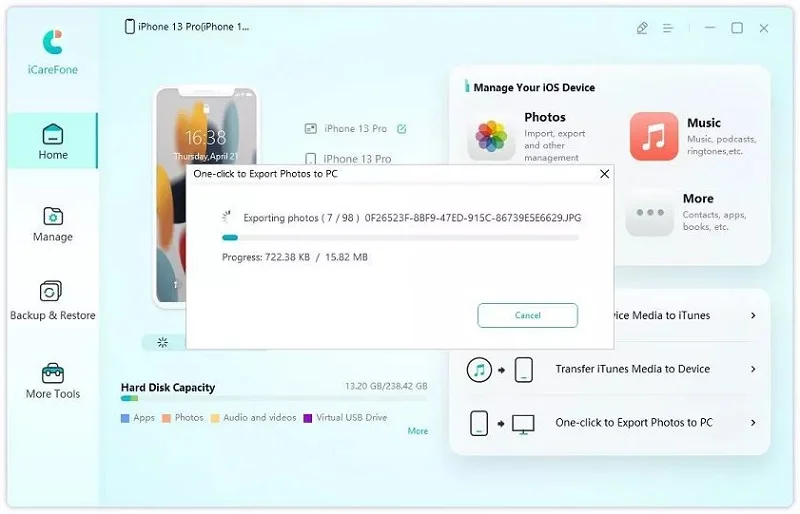 FAQs about Screen Recording on iPhone
Q. My iPhone becomes warm while Screen Recording? How do I fix it?
To solve this problem, make sure that all other apps are not running on the iPhone when you are screen recording. Also, make sure GPS and Bluetooth are turned off. You should also avoid charging while recording to prevent overheating.
Q. Why can't I upload my screen recording to YouTube?
Your recording clips might be very long or large in size. You can compress or cut the recording file to make it shorter.
Q. Can screen recording crash your iPhone?
Typically, your iPhone shouldn't crash while screen recording. However, it may happen sometimes because of an app malfunction. In this case, try to close the app and restart it. This should solve the problem in most cases.
The Bottom Line
It can be very frustrating if the screen recording on your iPhone is not working when trying to capture something important. In the above, we have discussed several solutions that you can try to solve the issue.
And, if the issue is about storage, you can quickly fix the problem by using the FoneGeek iOS Backup & Restore to export photos to computer, and then free up iPhone storage space.