iPhone users sometimes tackle with SIM failure issue and it is somewhat frustrating to say the least. It disables features such as phone calls, text messages, and even internet connection. The reason behind the iPhone SIM failure can be due to several things. Fortunately, there are simple solutions you can carry out by yourself.
Read on below to learn everything about iPhone SIM card failure issue.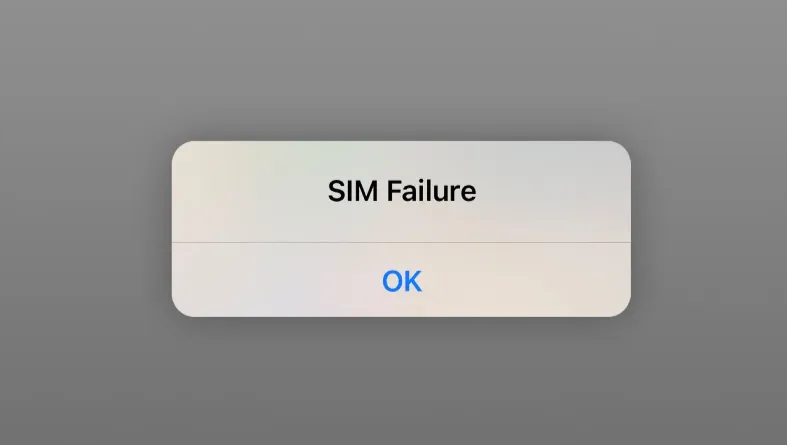 Why Does iPhone Say SIM Failure?
To fix this issue, first we need to understand the reasons behind it. SIM Card is damaged: The iPhone won't detect SIM card if it's scratched or damaged in any way.
Software update issue: There are instances where software updates and other software-related issues can lead to SIM failure issue.
iPhone malfunction: The issue may lie on your iPhone and not the SIM card. It is one of the most common causes on why the SIM failure error is popping up.
Sim card tray position: You may have to double check the SIM card tray if it's positioned in the right way to make sure your iPhone can read the SIM card.
Active plan issue: You will have to contact the provider if your plan is still ongoing. If you don't have one, there is also a chance your wireless carrier blocked your SIM card from using their services.
Basic Solutions to SIM Failure Issue on iPhone
Whether it's a hardware, software or provider issue, don't worry, there are solutions that you can try to fix this iPhone SIM card failure.
1. Insert the SIM Card Again
Inserting the SIM card incorrectly is more common than you might think. In fact, it is one of the most common causes to SIM card failure. Try reinserting the SIM card correctly. Here's how you can do it.
There is a SIM card tray that you will have to locate from iPhone. It's located either form iPhone's left side or right side.
There should be a small hole located beside the SIM card tray where you can insert the SIM ejector tool.
Poke the hole with the SIM ejector tool or a paper clip if you don't have one.
Once the SIM card tray is ejected, remove the SIM card and check for any damages that may cause the SIM card failure error.
If it looks clean, you can wipe it off with a dry and soft cloth to avoid any scratches.
Place your SIM card onto the tray carefully and in the right direction. Insert it back to your iPhone.
2. Enable and Disable Airplane Mode
This may sound silly, but simply turning iPhone's airplane mode on and off can do the trick. What it does is it resets the cellular and wireless network. When the airplane mode is on, the iPhone network is disabled and may cause the SIM card failure.
First you need to check if the Airplane mode is ON or OFF.
If it's Off, go to your iPhone settings and tap the Airplane Mode switch to turn it ON. Wait for a few seconds before switching it back to "OFF".
If it's ON, go to iPhone settings and tap the Airplane Mode switch to turn it OFF.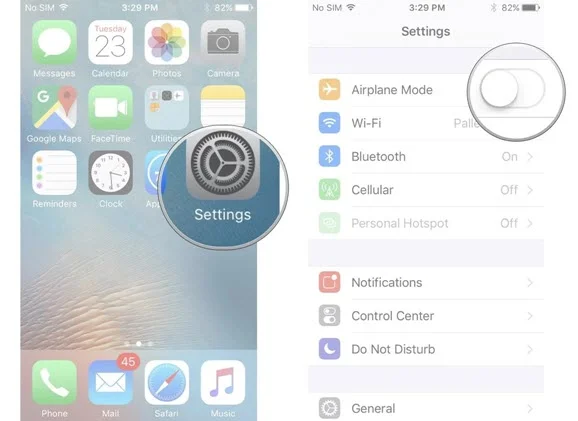 3. Try Using a Different SIM Card
An easy way to find out what's causing the SIM card failure is to try a different SIM card that you know is working. This solution will also let you know if the problem lies on your SIM card or not.
Obtain a working SIM card by borrowing from a friend, family or relative. You can also just buy a new one if there's no one you can borrow from.
Remove the SIM card and insert the borrowed SIM card to iPhone.
If you're still having the SIM card failure issue, it isn't your SIM card causing the problem, but your iPhone.
If the SIM is working properly, the problem lies on your own SIM card.
4. Contact the Wireless Carrier
If it still says invalid SIM or SIM card failure after doing all the steps listed above, you may have to contact your wireless carrier. If you're anywhere near local Apple Store, you can go there instead. From there you can learn if the network is experiencing downtime or you may need a new SIM card. There's a good chance they can fix SIM card failure issue.
Part 3. Other Methods to Fix SIM Failure on iPhone
When SIM card is not working on iPhone, you can try these practical solutions to fix the problem. It is simple yet effective for most iPhone users who are having the same issue as you.
1. Force Restart Your iPhone
Simply restarting an iPhone can solve the problem. By doing so, it clears all any background apps, fixes memory problems, resets network, and fixes any heating issues. These can fix the SIM card failure instantly.
For iPhone 9 and earlier models: Press and hold the power button, located either at the top or side of your iPhone. Once a power off slider pops up, drag the slider. Hold the power button afterwards to turn it back on.
For iPhone X and latest models: Press and hold the side button, together with the volume up or down button. Drag the slider that appears to turn it off. Once your iPhone's off, turn it back on by holding the side button.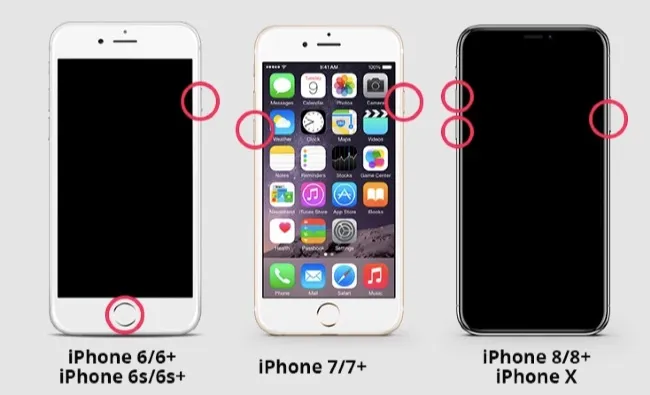 2. Update iPhone Carrier Settings
Sometimes the cellular network service provider releases a new update but isn't automatically installed. This means you may have to install them manually.
Start by going to your iPhone Settings.
Locate the About - Carrier option and tap on it.
A Carrier Settings should show and tap on Update.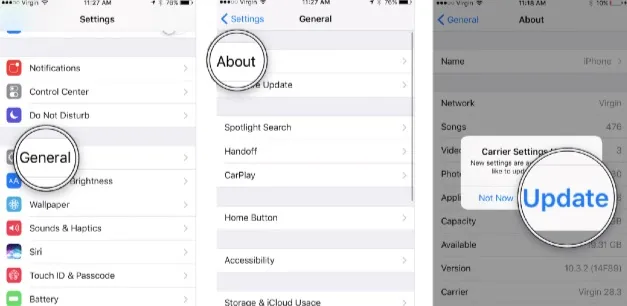 3. Reset Network Settings
By resetting the iPhone network settings, it refreshes the VPN settings, APN, Wi-Fi, and Cellular network. This can fix any network issues that's causing the SIM card failure.
Go to iPhone Settings and tap on General.
On General, you then need to locate Transfer or Reset iPhone.
Tap on Reset from the options then tap on Reset Network Settings.
You will then be prompted to enter iPhone passcode. Enter and confirm the reset network settings.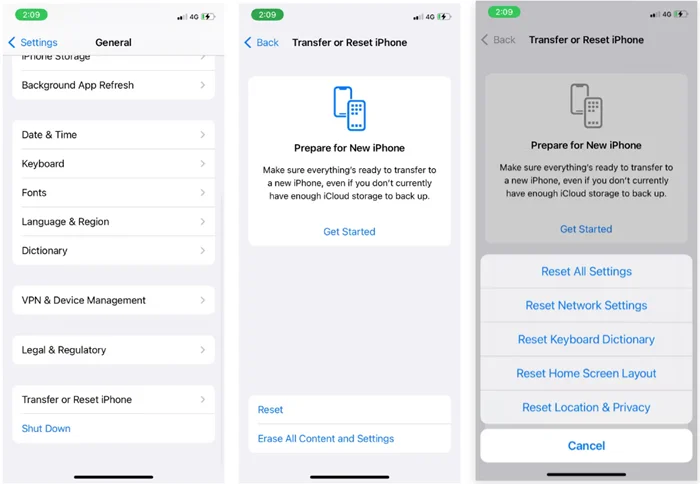 4. Update iPhone to the Latest Version
One of the most effective ways to fix most of the iPhone problems is by updating it to the latest version. Here are the simple steps.
Open iPhone Settings and click on General.
Look for the Software Update, located just below About.
If the update is available, click on Download & Install.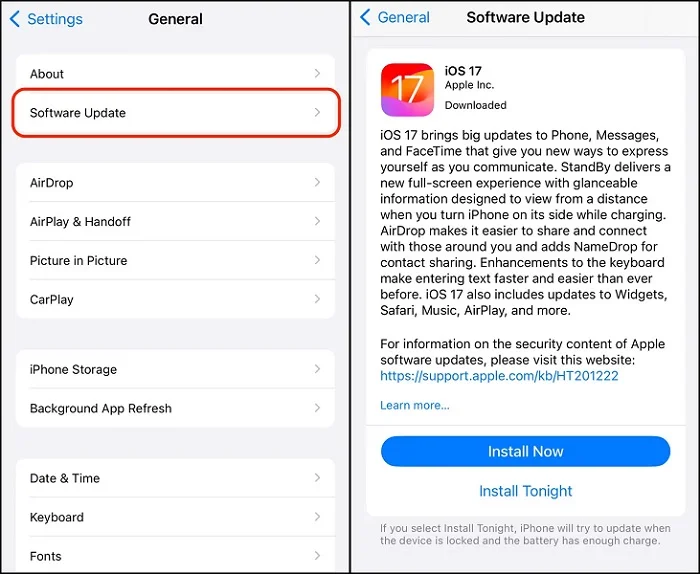 If there is no update available, it means the iPhone is already up to date.
5. Using an Effective Tool to Fix iPhone SIM Failure
When all else fails, you can try using a tool that can fix your SIM card failure problem. One of the most recommended tools is the FoneGeek iOS System Recovery, an all-in-one repair tool that resolves some of the most basic iPhone problems users are experiencing including SIM card issues, stuck on Apple logo, frozen screen, boot failure, and more.
Here's how you can fix your SIM card failure issue using FoneGeek iOS System Recovery.
Download and install the software from the official site. Launch the app and once prompted with an option, go with Standard Mode.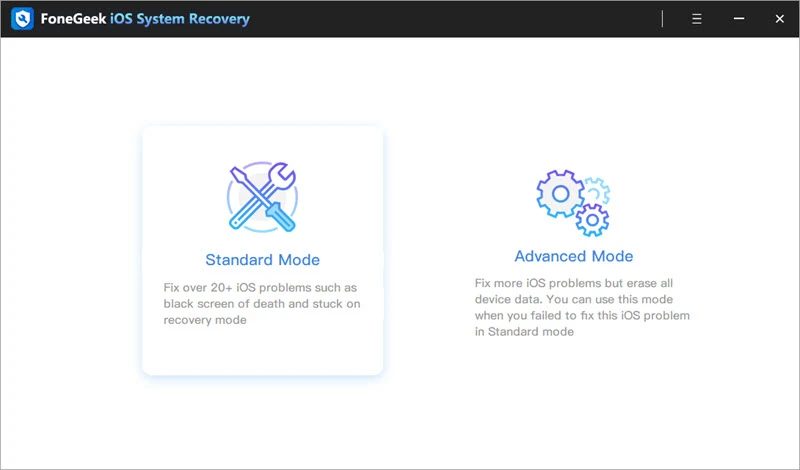 Connect your iPhone to your computer and click on the Next option that will be shown to connect your device to your computer.
Put your iPhone in Recovery/DFU mode by pressing the volume up button, then quickly press the volume down button.
Press and hold the power button until a Connect to iTunes logo will appear. (Don't release the button when Apple Logo appears).
The App will automatically search for a compatible firmware for your iPhone. Download the firmware by clicking Download.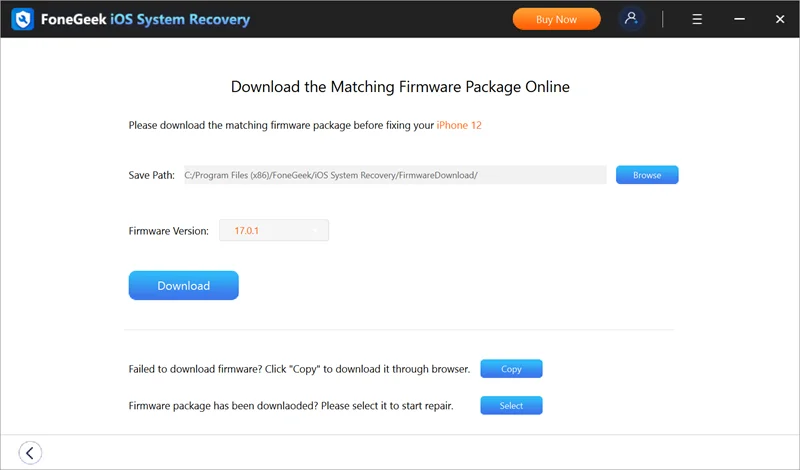 Once you've downloaded the required firmware, you will then be prompted with a Fix Now button to initiate the fixing process of your iPhone.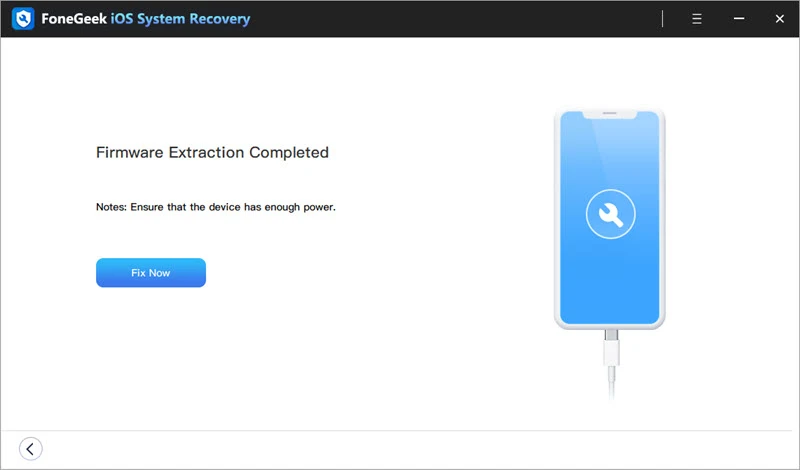 Your iPhone will restart itself once the Successful message appears. (Can go up to several mintues)
Conclusion
There's nothing more frustrating than experiencing the SIM card failure on your iPhone. You can't send important text messages, call anyone, and access the internet. Fortunately, there are simple, yet effective solutions that you can try on your own to fix this issue. If troubleshooting it on your own does not work, don't worry, you can still try using a repair tool app such as FoneGeek iOS System Recovery. It would solve most, if not all, iPhone issues that arises fro