User Concern
"My iPhone is stuck with an image of the charger and the iTunes logo while updating to iOS 17. At the top of the screen it says support.apple.com/iPhone/restore. Can anyone help to fix this? Thanks!"
Trying to downgrade or update iOS 17 but it's not working and then seeing an error message like "support.apple.com/iPhone/restore" on the screen? Well, an iPhone can get stuck on this screen for a number of reasons. For most people, this is an extremely frustrating situation.
If this is what you've been experiencing and you don't know what to do, then you've come to the right place. In this article, we are going to show you several ways to get rid of this problematic screen and bring your iPhone working normally again.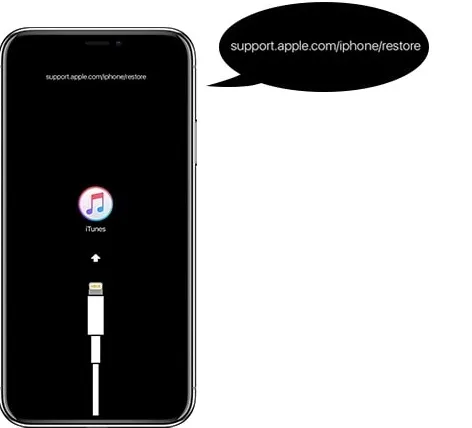 Part 1. What Does "support.apple.com/iphone/restore" Mean?
If your iPhone is stuck on the support.apple.com/iphone/restore screen, it means that it is stuck on the Restore screen. It always shows up when you restore iPhone with iTunes and put your iPhone into Recovery Mode. It will also appear due to small iPhone glitches.
Part 2. Why Does iPhone Say "support.apple.com/iphone/restore"?
Let's explore the possible reasons why the support.apple.com/iPhone/restore screen appears on your iPhone:
The most common reason is a failing iOS update or downgrade. It is possible that the recent firmware update or downgrade didn't go quite according to plan.
This Restore screen can also occur if there are problems when restoring an old backup to the iPhone. Then the device can easily get stuck on the "support.apple.com/iphone/restore".
You might also experience this problem if you were attempting to jailbreak the device and you messed up the process at some point.
Hardware problems can also cause this problem. For example, if you dropped the iPhone and the motherboard got damaged or your device suffered significant liquid damage, you may see this screen when you try to use the device.
Improper operations on your iPhone or other unknown errors can also cause the device to get stuck on this Restore screen.
Part 3. What to Do When My iPhone Says "support.apple.com/iphone/restore"?
Whatever the reason, the following are 6 different solutions to fix support.apple.com/iPhone/restore error message on iPhone 14/13/12/11 etc. and get your device working normally again:
3.1 Fix "support.apple.com/iphone/restore" without Data Loss
Since this problem is often caused by an error in the iOS system, the best way to fix it is using a professional iOS system repair tool. Here we recommend you trying FoneGeek iOS System Recovery. This program is specially designed to help you out of the most common iOS issues including this one.
Exit support.apple.com/iphone/restore screen (Recovery Mode) in one click for FREE.
FoneGeek takes care of users' concerns and repairs most iOS issues without data loss.
The success rate for fixing issues is 100% and it is trustworthy to use.
Follow these simple steps to fix the iPhone saying support.apple.com/iphone/restore without data loss:
Option 1. Fix By Exiting Recovery Mode (for Mac Only)
Download and Install FoneGeek iOS System Recovery on your computer and then connect the device to the computer. The program will detect that the device is in recovery mode. (The "support.apple.com/iphone/restore" screen also means the device is stuck in recovery mode).
Click on "Exit Recovery Mode" and the program will begin fixing the device immediately.
In a minute the device will successfully get out of that Restore screen and begin working normally.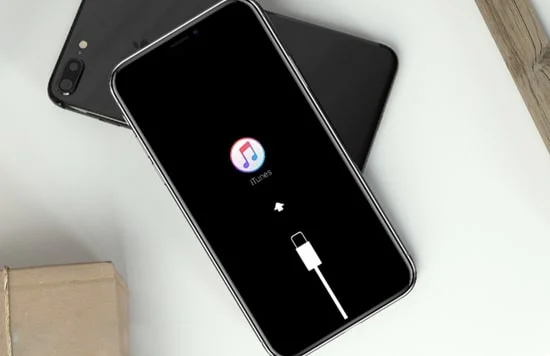 Option 2. Fix By Reinstalling iOS
If the iPhone is still saying the "support.apple.com/iphone/restore", then you can try reinstalling the iOS to fix the problem. FoneGeek iOS System Recovery can help you do that as well. Just follow the steps below:
Connect the iPhone to the computer and then select "Standard Mode" once the program detects the device.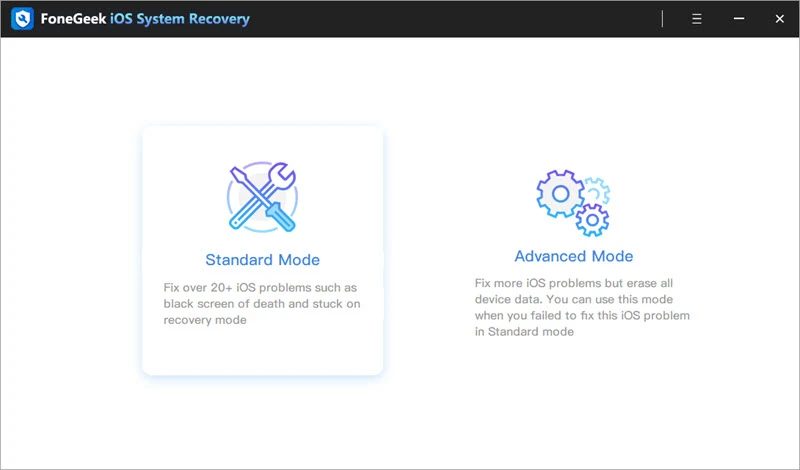 Then tap on "Download" to download the corresponding firmware for the device.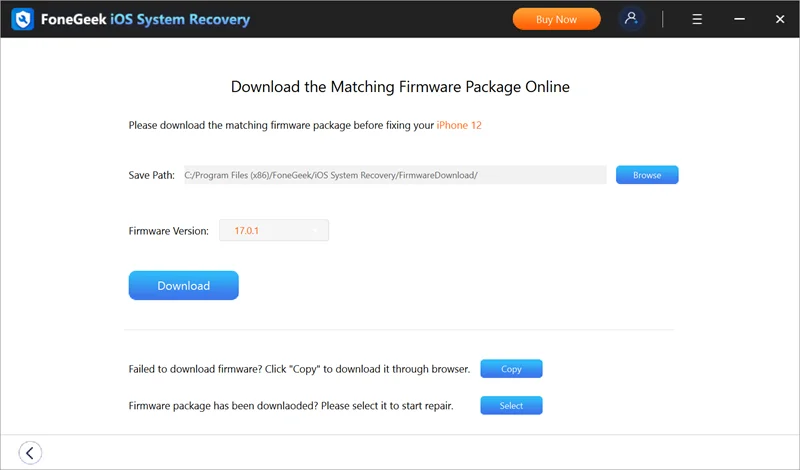 When the firmware package has been downloaded, click on "Fix Now" to reinstall the iOS and begin repairing the device.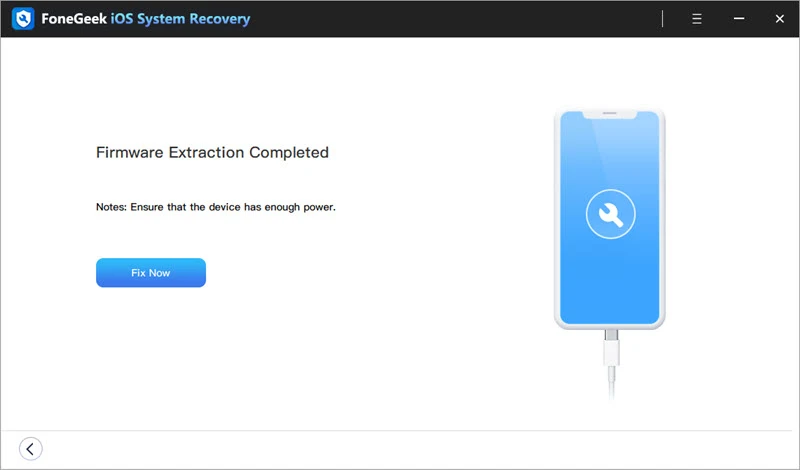 In a few minutes, your device will restart in normal mode and the problem will be fixed without data loss.
3.2 Force Restart Your iPhone
You can also try to force restart the iPhone to fix this Restore screen problem. Here's how to force restart your device depending on the iPhone model:
iPhone 8 and Newer
To force restart iPhone 8, 8 Plus, iPhone X/XS/XR and iPhone 11/12/13, press and release the Volume Up button and then press and release the Volume Down button. Press and hold the Side button until you see the Apple Logo appear on the screen. You may need to wait up to 30 seconds to see the logo.
iPhone 7 and 7 Plus
iPhone 7 and 7 Plus models also have a capacitive Home button and therefore the process to force restart the device is also a bit different. Just press and hold both the Volume Down and the Side buttons at the same time. Keep holding the buttons until the Apple Logo appears.
iPhone 6s and Older
Force restarting older iPhone models that come with a Home button is relatively easy and straightforward. To force restart the iPhone 5s, SE, 6, 6 Plus, 6s and 6s Plus, press and hold the Home button and the Sleep/Wake button until you see the Apple logo on the screen.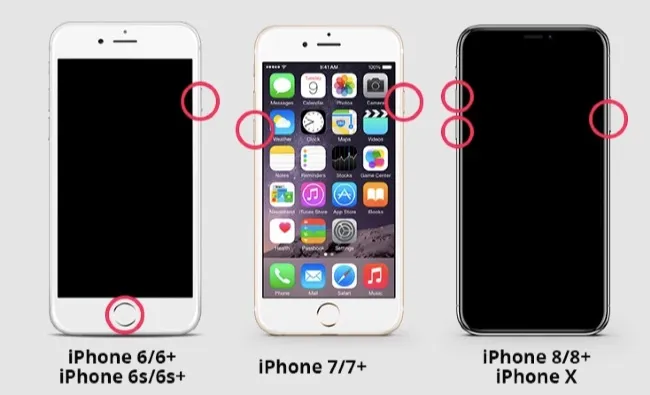 3.3 Uninstall or Restore iPhone with iTunes
If the problem persists even after a force restart, you can try to reinstall or restore iPhone with iTunes.
Reinstall iOS
On your PC or Mac, open iTunes and make sure that iTunes is running the newest version. If not, take a moment to update iTunes to avoid errors during the reinstallation process.
Now connect your iPhone to the computer using the device's lightning cable. A message will appear in iTunes notifying you that there is a problem with the device.
Click "Update" to reinstall the iOS or iPadOS. This will not affect the data on the device.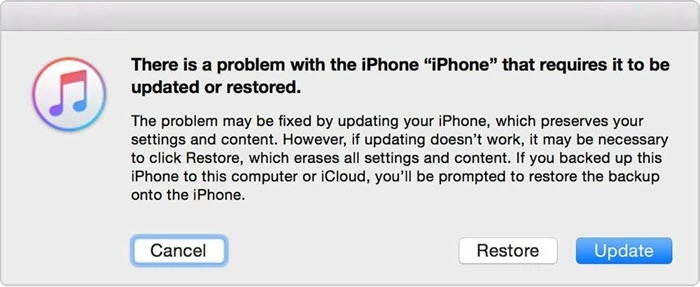 Note
Although this method is recommended by Apple, it is time-consuming and your iPhone may not be detected by iTunes.
Restore iOS
This method is almost the same as reinstalling iOS system. But it will erase all of your iPhone data.
Connect the iPhone to computer.
Wait for a moment until a message pops up requiring you to update or restore.
Click on "Restore" and ensure that your iPhone is connected to computer during the restoration process.
DFU Restore iPhone
Connect your iPhone to computer.
Put iPhone into DFU mode.
After that, click "OK" and select "Restore iPhone" option.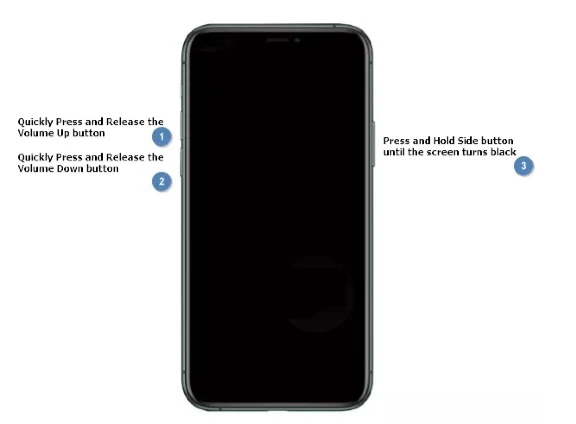 3.4 Contact Apple Support
If all the solutions above fail to eliminate the problem, then you might be dealing with a hardware issue. In this case, the best thing to do is to contact Apple Support and make an appointment at your earliest convenience to get the device checked out by Apple technicians. If the device is still under warranty and you meet their requirements, you might even get the device fixed for free.
It is important to explain to them exactly what happened before you started to see the support.apple.com/iphone/restore screen. The more information they have, the easier it will be for them to help you.