User Concern
"I got a cable for my iPhone 11 i can charge and listen to music at the same time. It was working at the beginning but when I updated to iOS 15 it keeps telling this accessory may not be supported. Any solution?"
Many iOS users have been reporting seeing the error message "This sccessory may not be supported" when they try to charge their iPhone or iPad. It is a common problem on iOS 15/14 devices that can be caused by various reasons, and usually happens soon after an iOS update.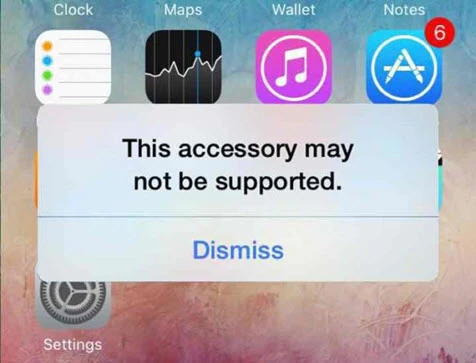 If you're in the same situation and seeing this error keeps popping up every now and then, you've come to the right place. This article will explain why you're seeing this message on your iPhone or iPad and share you effective ways to remove the error.
Why Is My iPhone Showing This Accessory May Not Be Supported?
Before we get to the solutions, it may be important to take a look at some of the reasons why is your iPhone showing this error. Actually, there is a variety of reasons why your iPhone says "This accessory may not be supported" and some of the most common ones include the following:
The accessory you are using is defective, damaged or not MFi-certified.
The accessory is not supported by your iPhone or iPad.
The iPhone's software could be malfunctioning.
The charger cable or lightning port on the iPhone is dirty or not working.
Your iPhone or iPad has a dirty or damaged connector.
How to I Fix This Accessory May Not Be Supported on iPhone or iPad?
The following are some effeictive solutions you can try to fix this accessory may not supported error on your iPhone/iPad:
Way 1: Try Connecting the Device Again
When you see the error message "This accessory may not be supported" on your iPhone, the first thing you can try is to disconnect the accessory and reconnecit it again. Then check if the same alert appears.
Way 2: Change to an MFi-Certified Cable
If this problem occurs immediately after plugging the iPhone into a power source, it is possible that the cable you are using to charge the device is not MFi-certified. This means that the cable doesn't meet Apple's design standards.
If you purchased the charging cable at an unauthorized store for a few bucks, then it is likely that it was cheaply made and not certified to work with Apple products. These cables can cause damage to your iPhone and cause the voiding of the warranty.
The best way to fix this issue therefore is to charge your iPhone with the origianl cables or purchase an Apple recommended charging cable.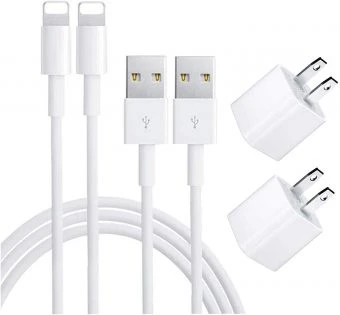 Way 3: Clean the Accessory and the Port
It is also important to make sure that both the accessory and the port on your iPhone or iPad are free from dust and dirt. To clean the accessory, disconnect it from the device and turn off everything, then use a microfiber cloth to rub at the surface to remove lint, dust or dirt that may be on the accessory. You can also use the standard pencil eraser and a lint-free cloth or electronic cleaning cloth to clean the port.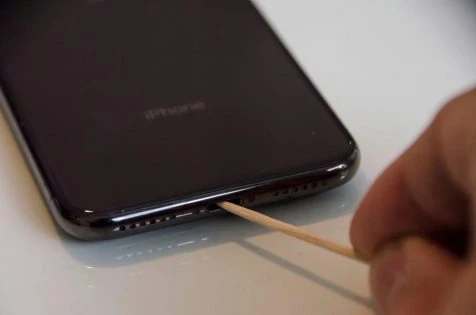 Way 4: Check Your Charger
If your iPhone says "This accessory may not be supported" when you try to charge the device, there might be something wrong with your charger, not the lightning cable. Check your iPhone's charger and clean out any lint or debris using an anti-static brush.
Way 5: Restart Your iPhone
If you still see this alert, then it is likely that the problem is software related. In this case, the simplest solution is performing a restart of your iPhone or iPad. Restarting the device will refresh the software components and fix some minor errors.
To restart your iPhone, simply press and hold the power button (the side button on iPhone X and earlier) until the "slide to power off" appears. Slide to turn off the device, wait a few seconds and then press the power button again until the device power on.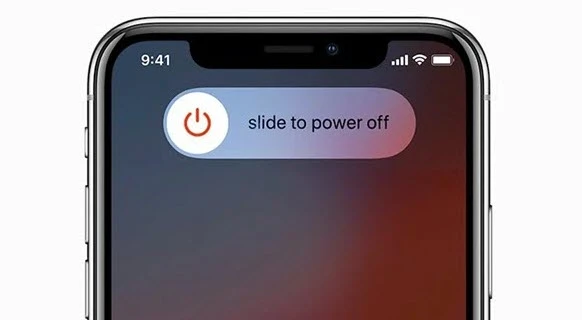 Way 6: Reset All Settings on iPhone
If a restart doesn't work, you can also try to remove any conflicting settings that are causing the problem by resetting all settings on your iPhone.
To do that, simply go to Settings > General > Reset > Reset All Settings and then enter your passcode when prompted. Wait for the device to restart to check if the problem is gone.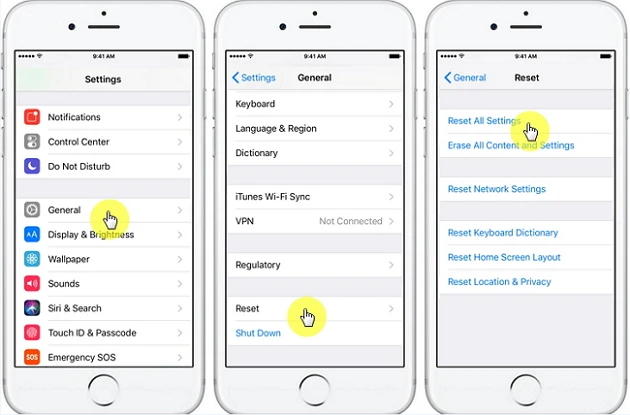 Way 7: Update iOS to Latest Version
Some accessories might require the latest version of iOS. If you see an alert, try to update your iPhone or iPad to the latest version of iOS 16. It is also a great way to remove some of the glitches that could cause the device malfunctioning. Here's how to update the device wirelessly:
Open Settings on your iPhone and then tap on "General".
Tap on "Software Update" and then wait for the device to look for an update.
If an update is available, tap "Download and Install" to begin installing the update.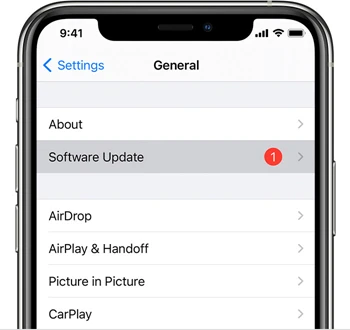 Bonus Tip: Free Backup iPhone Before Updating to iOS 16
It is worth pointing out that updates can sometimes cause errors like this accessory may not be supported on your iPhone or iPad and even data loss. Therefore, it is important to back up all the data on your iPhone/iPad before attempting to update to iOS 16. This way, your data will be safe in case something goes wrong. The best tool to help you easily make a complete backup of all the data on your iOS device is FoneGeek iOS Data Backup & Restore. This program is designed to backup all your data on iPhone or iPad for Free. The following are just some of its features:
You are able to back up photos, videos, contacts, messages, WhatsApp, notes and more data on your iPhone or iPad to the computer in one click.
You're allowed to preview the files in the backup in details and thereby selectively restore the backup data to any device of your choice.
It also allows you to access, view and restore data from your iTunes or iCloud backups selectively.
It is very simple to use, the whole backup process takes just a few minutes. No tech knowledge is required.
It supports all iOS devices and all versions of the iOS firmware including iOS 16/15 and iPhone 14/13/12.