If you had TikTok not working on your iPhone and you have no idea why, then you're at the right place. With millions of active users every day, TikTok is undoubtedly ultra-popular, but like any other app, it can stop working or encounter some other problems.
When this happens, you can't access and watch any videos, no matter what you do. In this article, we'll tell you the reasons for TikTok not working on iPhone and show you several ways you can quickly fix the issue so that you can view TikTok videos again on your iPhone. Let's jump straight in.
Why is TikTok Not Working on My iPhone?
There could be several possible reasons like using an outdated version of the TikTok app, poor internet connection (Wi-Fi or data), corrupted cache data, and pending software updates.
Glitches within the app itself or the iPhone's system could also be the cause. Even incorrect settings and server issues (routine server maintenance) are possible causes of TikTok not working on iPhone.
There's no one certain reason that you can point out and say, this is it! Luckily, this is an issue that can get fixed, no matter the cause. Try out these solutions.
1. Force Quit and Reopen TikTok
If it's just a minor software crash or an in-app glitch that's causing TikTok not to work, then restarting the app could get it working again. Closing it allows it to shut down naturally and possibly fix any minor app bug. To close TikTok, you'll need to launch the app switcher first.
If you're using iPhone 8 or an earlier model - double-tap on the Home button to launch the app switcher. If you have iPhone X or a later model, just swipe up the screen, starting from the very bottom to the center.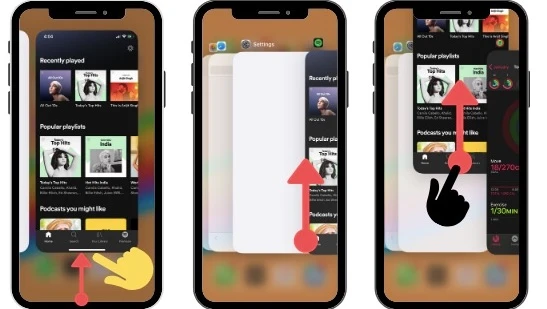 When the app switcher is launched, swipe the TikTok icon up and off the phone screen to close it. Wait a couple of seconds and launch the app again to see if it works fine.
2. Restart Your iPhone
If TikTok still isn't working, it's possible that your iPhone itself could be having some minor software issues. In such a case, restarting your iPhone could help. It can get rid of the minor software glitches and bugs that the device has. However, the steps to restart an iPhone are a bit different depending on the model.
For iPhone 8 and earlier models - press the Power button and continue holding it until a power off slider comes up on the screen. When it does, drag the slider to the right to power off the phone. Now, boot up the phone by long pressing the power button again until the Apple logo shows up.
For iPhone X and later models - press the Power button and any of the Volume buttons simultaneously. Keep holding the two buttons until there's a power-off slider on the screen. Drag the slider to the right to power off the phone. After a few seconds, long-press the Side button to boot up the phone again.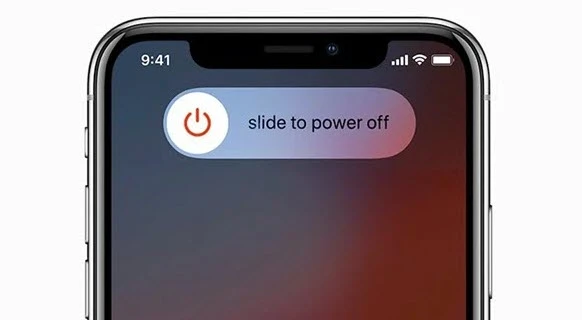 3. Check Your Internet Connection
You can only watch videos on TikTok or any other video hosting platform when you're connected to the internet via Wi-Fi or Cellular data. Therefore, it's possible that you're having TikTok not working on iPad/iPhone issues because the device is struggling to connect to Wi-Fi or your cellular network. So, ensure your device's internet connection is not only working but it's also strong and stable.
Start by confirming if Wi-Fi is enabled. Open Settings and tap Wi-Fi. Check the switch next to the Wi-Fi option. Ensure that it's turned on. Check also your Wi-Fi network name. There should be a blue checkmark beside it.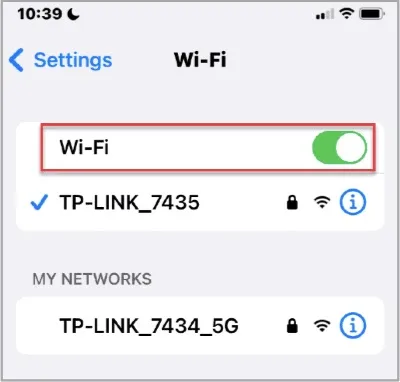 Now, head back to Settings and then tap on the Cellular option. Check the switch that's at the top part of the screen. Ensure it's turned on. Note that your iPhone can only use your Cellular network if your cell phone plan has cellular data left.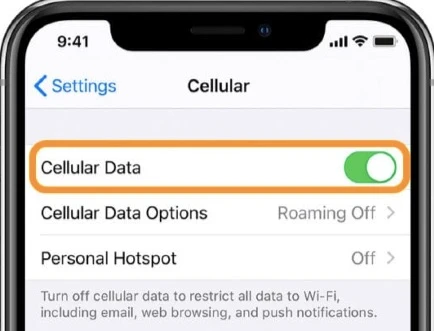 4. Check App Permissions
For TikTok to function properly, it may need access to some features on your iPhone. For instance, you have to enable the camera and microphone for TikTok for you to shoot a TikTok video on your iPhone. Even for you to receive notifications from TikTok, you have to allow notifications for it.
Therefore, if you're unable to shoot a TikTok video using your iPhone or the TikTok notifications aren't working as they should, then try checking the app permissions. Follow these steps to enable app permissions on your iPhone:
Launch the Settings app. Navigate down to see all the apps you have on your iPhone.
Tap on the TikTok app.
Now check and confirm that all the necessary permissions have been enabled.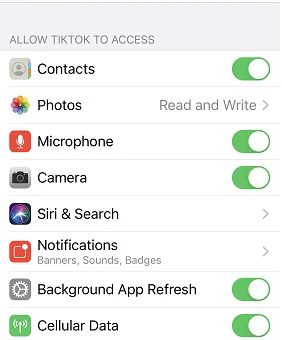 5. Clear App Cache
A lot of cache data can get stored on your iPhone if you're often on TikTok for many hours. An overloaded cache can interrupt the normal functioning of the TikTok app. It can cause it to hang or slow down, and even sometimes not to open or to crash constantly.
Clearing the TikTok cache can fix all these and the app will be able to run more smoothly and efficiently on your iPhone. To clear TikTok's cache from the app itself, follow these steps:
Open the TikTok app on your iPhone. Head to your Profile (bottom-right corner) and tap it.
Tap the Menu icon (upper-right horizontal lines). Next, tap on the Settings and Privacy option.
Navigate to Cache & Cellular Data. Tap the Free up space option. Finally, tap the Clear button beside Cache.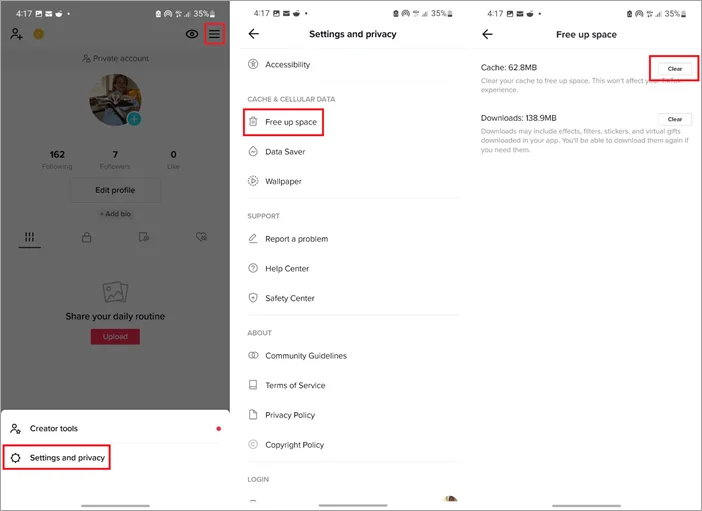 To clear TikTok's cache via your iPhone's settings in case the TikTok app doesn't open, follow these steps:
Open Settings on your iPhone. Tap on General.
Select iPhone Storage. Navigate down to the TikTop app and tap it.
Now, tap the Offload App option.
6. Check TikTok's Servers Status
If nothing has worked so far, it's likely the problem is not at your end. There are instances when TikTok fails to work or is not available due to server issues. The servers could be undergoing routine maintenance or might have crashed. If you've been scratching your head wondering, why TikTok is not working on my iPhone, this could be the culprit.
Try to check if that's the case. The TikTok website has no dedicated server status page, so the only best option is to visit the official TikTok Twitter account to see if there are any such updates. The other option is to go to the Down Detector outage map and check if other TikTok users have reported problems with TikTok.
If it's so, there's little you can really do here other than wait until the servers are up again. However, if there are no reports of TikTok server outages, try the next solution.
7. Update the TikTok App
You might be running an outdated version of TikTok on your iPhone and the problems you're facing have already been fixed by a recent update. Therefore, ensure your TikTok app is updated to the latest version and check if the issue is resolved. To update the TikTok app:
Launch the App Store and then tap your Profile/account icon (top-right corner).
Navigate down to check the apps that have available updates. Look for TikTok on the list. If it's there, tap the Update button beside it.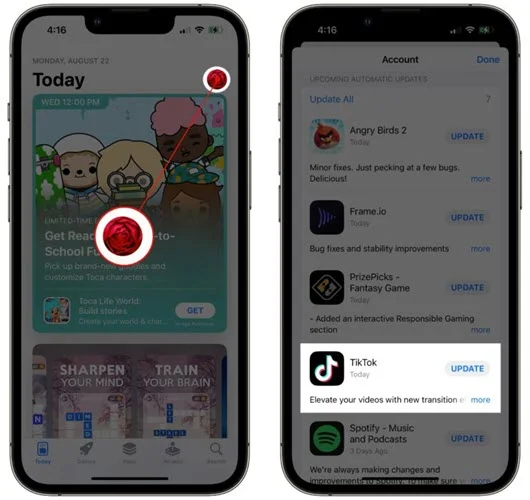 8. Uninstall and Reinstall TikTok
Another effective way to fix this problem is to uninstall the TikTok app and then install it again on your iPhone. Doing so will give the app a completely fresh start and help eliminate any software file that was corrupted and causing the app not to work properly. To uninstall TikTok on your iPhone:
Press the icon for the TikTok app and hold on to it until a menu pops up. Tap Remove App and then tap on Delete App. Next, tap Delete again to uninstall the TikTok app.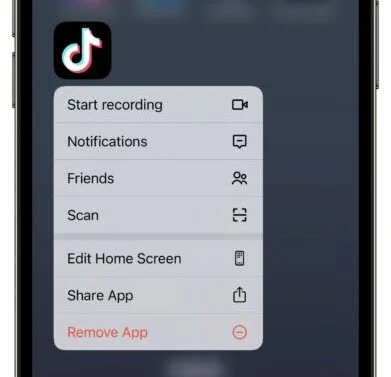 Your TikTok account will still exist even after uninstalling the app on your device.
Now, reboot your iPhone and reinstall the TikTok app.
Launch App Store. Head to the Search tab (lower right-hand corner) and search for TikTok. Select the TikTop app (should be the top result).
Tap the reinstall button (the cloud icon with an arrow pointing down) to reinstall the app on your iPhone. After installing, launch the app and check if it's working.
9. Reset Network Settings on iPhone
One of the many reasons for TikTok not working on iPad/iPhone is network settings issues. Therefore, you can try resetting your iPhone's network settings to fix such issues.
Head to Settings. Open the General option and tap Reset.
Next, tap Reset Network Settings.
If not prompted to enter your passcode, tap Reset Network Settings again to finish.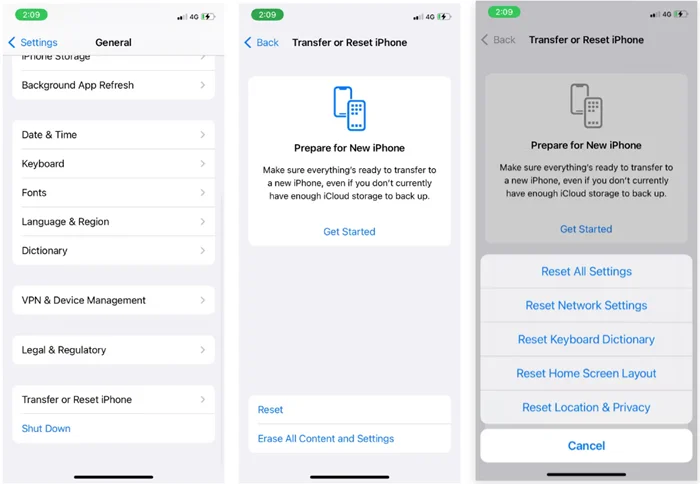 10. Update iOS to the Latest Version
If at this point your TikTok app is still giving you trouble, it's time you update your iPhone's iOS to the latest version. Sometimes, software bugs and glitches within the iOS itself could cause apps like TikTok not to work as expected.
That's why it's a good idea to update the iOS so that your iPhone apps can have a smooth performance. Follow these steps to install the latest iOS version on your iPhone.
Head to Settings. Open the General option.
Tap on Software Update.
If an update is found, tap Download and Install.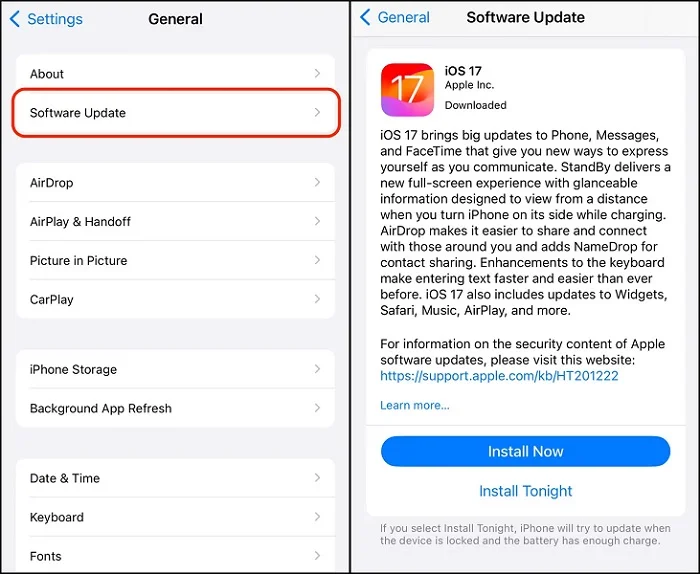 11. Fix TikTok Not Working on iPhone with Third-party Tool
When you try all the methods we've mentioned above (even updating iOS) and you can't fix the TikTok not working on iPhone problem, then the only way to completely deal with it is to use a third-party tool like FoneGeek iOS System Recovery.
This powerful software will help you fix all the issues within your iPhone/iOS that could be causing the TikTok app not to work. When done, you'll be able to watch and upload TikTok videos without any problem. The tool itself isn't hard to operate. Everyone can use it thanks to its simple and user-friendly interface.
Key Features of FoneGeek iOS System Recovery:
Fix TikTok not working on iPad/iPhone and other iOS system issues.
Repair iPhone/iPad without losing any data.
Reset iPhone/iPad in one click without passwords.
Works with every iOS version and iOS device, even the latest iOS 17.
Steps to fixing TikTok not working on iPhone/iPad without data loss:
Step 1: Open the program after downloading and installing it on your PC. On the main window, select "Standard Mode ''. Connect the iPhone to your PC and click "Next".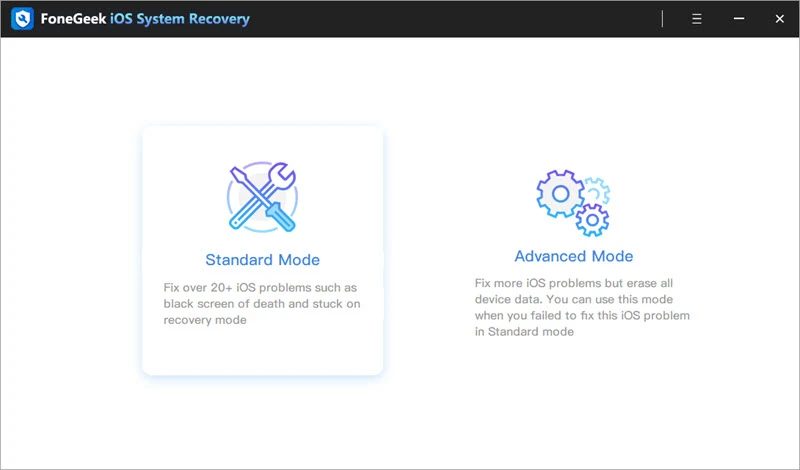 Step 2: If the program fails to detect the iPhone instantly, put the iPhone into Recovery/DFU mode by following the instructions given on the screen.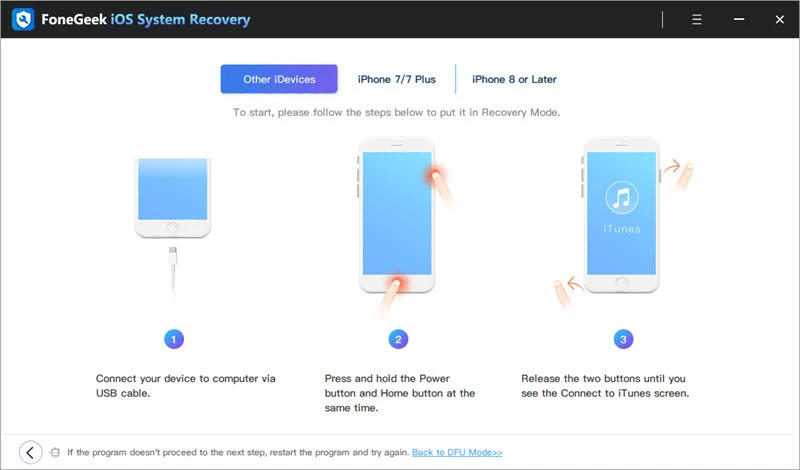 Step 3: Once the device gets detected, select the appropriate firmware version for your device model and click "Download".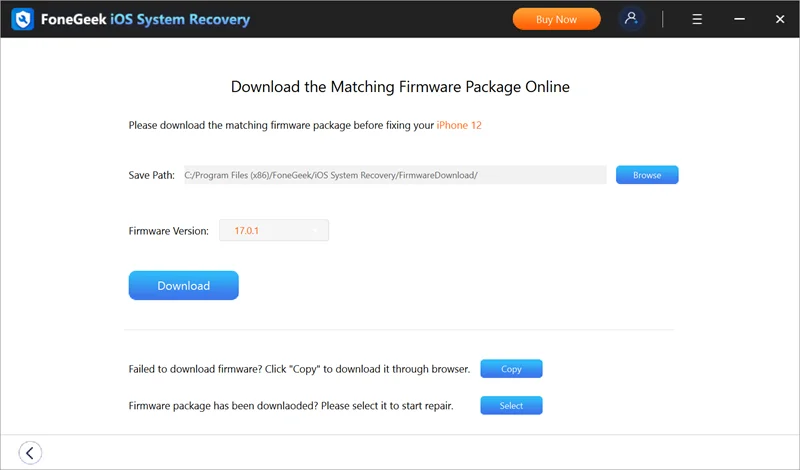 Step 4: When the firmware finishes downloading, head to the "Fix Now" button and click it to begin the repair process. Ensure the device remains connected throughout the repair.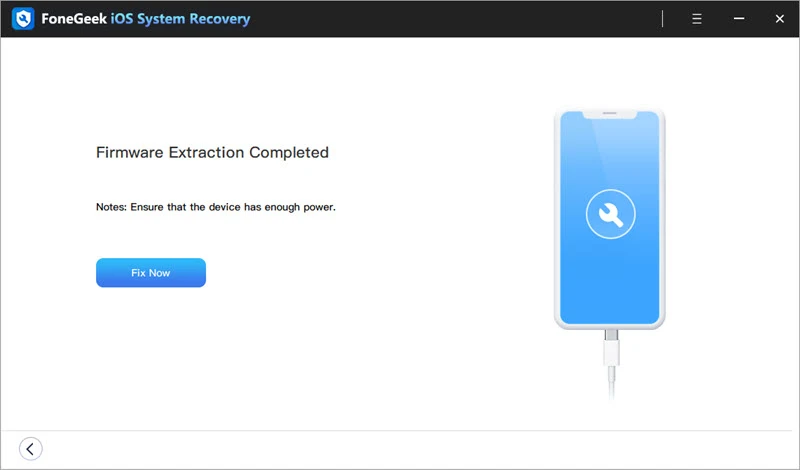 When done, the program will alert you that it has successfully fixed your device. Wait for the device to restart and then try out the TikTok app.
Final Thoughts
As we've shown above, it's quick and easy to resolve this TikTok not working on iPhone problem. You can try all the methods we've highlighted. They will work for all models of iPhone. But, if the issue still persists, head straight to FoneGeek iOS System Recovery. It's the best and most reliable solution.
The tool will help you get rid of all issues causing the TikTok problem you're facing. Moreover, it is simple to use. There's not much you'll need to do apart from just a few clicks. We recommend you go for it first if you have no time to try the other methods.