Just like your iPhone, Apple watches are also designed to be sophisticated in terms of security. That's why it is equipped with a passcode to prevent unauthorized access. However, sometimes while trying to unlock the watch, you may end up with the message saying, "too many passcode attempts, reset Apple watch and pair again".
As you see in the message, you will need to reset the Apple Watch and pair it again to eliminate this issue. But how do you do that? Well, today's guide will show you exactly what you need to do to open your Apple watch when it's locked because of excessive passcode attempts. Let's get started.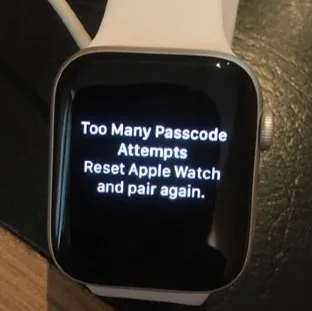 Part 1. Why Does This Error Message Appear?
The 'too many passcodes attempt notification' usually occurs when you try to unlock the device with a wrong passcode several times in a row. More specifically, If you try to unlock the Apple watch with misspelled passcode five times in a row, you will be locked for a minute. After that, if you try again and enter the wrong passcode, you will be locked for 15 minutes.
Any subsequent attempts will lock you for up to 60 minutes. And if you try to unlock the clock again with the wrong passcode, you will see a notification mentioning too many unsuccessful attempts. Once it occurs, you will not be given any further option to enter the passcode. Instead, you will need to unlock the device by resetting and repairing it with the iPhone.
Part 2. Reset Apple Watch after Too Many Passcode Attempts
Fortunately, there are a few ways to reset your Apple watch when locked because of too many passcode attempts. Let's dig into them!
Reset Apple Watch with Your iPhone
The most standard way to reset your Apple Watch is by utilizing your iPhone. With just a few clicks on the Watch app on your phone, you can easily reset the iWatch. Here are the steps to pursue:
Put the iWatch close to the iPhone. Then unlock your iPhone and navigate to the Watch App.
Under My Watch, press and open General.
Find and choose "Reset". After that, select "Erase Apple Watch Content and Settings".
It will take a while for the reset to be completed. Once done, you can set up the watch again by entering your Apple ID credentials.
You can also restore the data backup of your Apple Watch by following the on-screen instructions.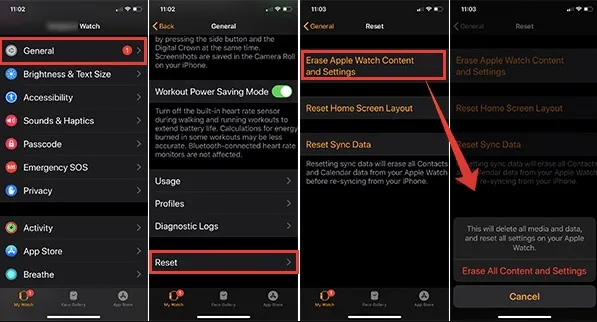 Reset Apple Watch Using the Watch
You can also utilize the Watch itself to reset it. Make sure the watch is fully charged before proceeding to prevent any mischief. Here is how you should proceed to do this:
First, attach the Apple watch to its magnetic charger. You have to keep it in charge until the process is completed.
Long-press the watch's Side button and wait until the Power Off screen occurs.
Now use the Digital Crown in the watch to navigate to "Erase All Content and Settings".
Click the "Reset" button and wait a while.
Once the reset is done, utilize the on-display instructions to set it up and restore the backup.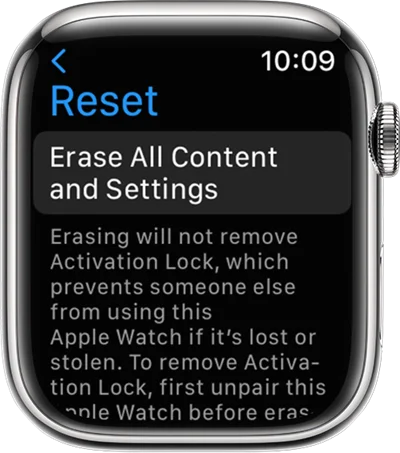 Part 3. Pair Apple Watch after Reset
Once you reset your Apple watch, it will be disconnected from your iPhone. Therefore, you will need to pair it again with your device to get it back on the Watch app. Fortunately, the process of pairing is pretty simple. All you need to do is to bring the iPhone and Apple watch as close as possible.
Once you do so, you should find the pairing screen on the iPhone. After that, just press "Continue" and complete the steps shown on display.
Part 4. How to Fix Too Many Passcode Attempts on iPhone
Now you know how to deal with too many passcode attempts in an Apple watch, but what can you do if it occurs on your iPhone? Fortunately, FoneGeek iPhone Passcode Unlocker can help you to get rid of this nuisance. With the help of the software, you can get rid of the required passcode and set your iPhone as new. Here is how to make use of it:
Get the FoneGeek iPhone Passcode Unlocker and install it on your Windows PC or Mac. Next, launch the program and press "Unlock Screen Passcode" on the home screen.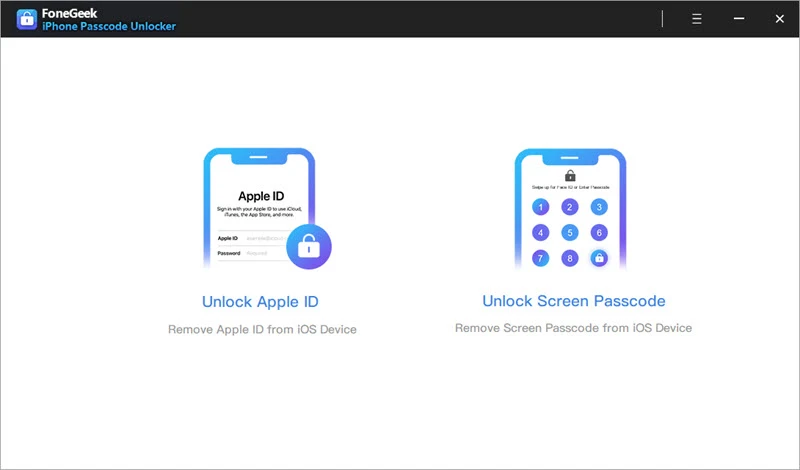 Attach your iPhone/iPad/iPod to the computer through the iPhone's charging cable and press "Next" on the screen.
Now, you need to download the firmware package required for this process. Press "Download" to do so.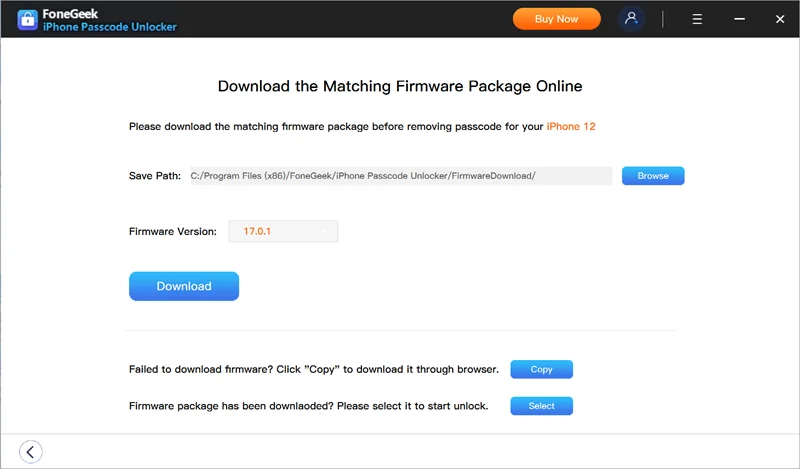 On the new page, click "Start Unlock" to begin the process of passcode removal.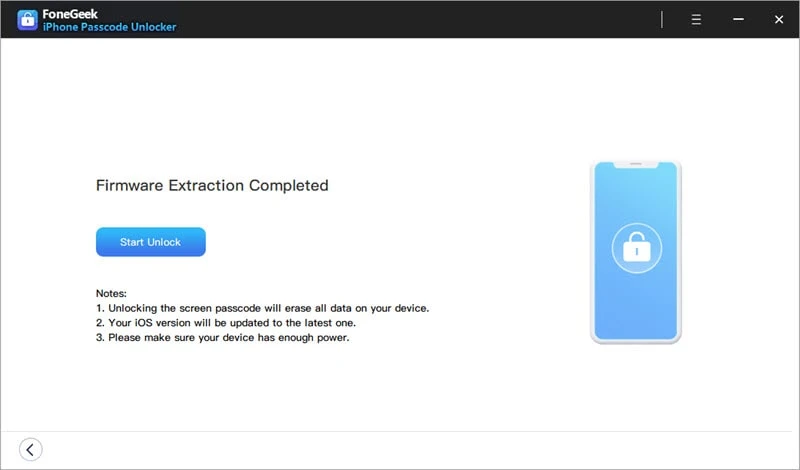 Within a while, the process should be done. After that, your device will restart, and you can set it up again like a new device.
Conclusion
If you ever encounter too many passcode attempts on your Apple Watch, don't freak out. You can easily get rid of this situation by following the above-discussed procedures. The same thing goes for the too many passcode attempts in the iPhone, iPad, or iPad devices. Just make use of FoneGeek iPhone Passcode Unlocker and follow the above method. Best of luck!