iPhone Photos app offers great photo/video management options, including the ability to edit photos and videos in a jiffy. It can be quite annoying if you're unable to load photos or videos on iPhone. This is a problem that many users have been experiencing and often occurs when loading a high-quality version of the media.
The real cause though could be some misconfiguration in your iPhone's settings, an unstable internet connection, an outdated iOS version, or something else. In this post, we've gathered several effective solutions that will help you fix this unable to load video on iPhone issue. Before you give them a try, let's first dig a bit deeper into the causes of this issue.
Why Are My Videos Not Loading on iPhone?
There are various factors that could cause this issue to occur. Here are some of the primary reasons why you're unable to load videos on iPhone.
The Optimize Storage Option Has Been Turned On
If you enable the Optimized Storage option, all your photos and videos get saved on iCloud. What's on your iPhone is just the thumbnails of this content. That's why when you tap a video or photo, it gets stuck on loading and shows nothing.
Poor Or Unstable Internet Connection
If your internet fails to work and your videos and photos are all saved on iCloud, then your iPhone will undoubtedly not be able to download and show your content. Your iPhone has to be connected to an active and stable internet for it to fetch the content stored on the cloud and show it.
The iPhone Has Insufficient Memory Space
You'll have trouble viewing your videos if the available memory space on your iPhone is not enough to load them. The photo app simply won't load the videos because of a lack of memory space.
If you're wondering why are videos not loading on iPhone, then these are usually the primary causes. There are also other causes that could lead to this error like software bugs and internal issues, outdated iOS version, and misconfiguration in your iPhone's settings. Now that you're aware of the causes, here's how to fix unable to load videos on iPhone.
How to Fix Unable to Load Videos on iPhone?
1. Allow the Video to Be Rendered Completely
As we mentioned before, this error usually occurs when you edit a video/photo and then you try viewing it. It's possible that the edited video or photo may still be going through the rendering process. When you edit any media file (video or photo) on iPhone, it has to be rendered and then exported by the CPU first before you can view it.
It generally takes just a few seconds to render a photo, but for large video files, you'll need to wait several minutes for the device to complete rendering the video before opening it. Hence, you'll have to be a little patient if videos are not loading on your iPhone. Allow the rendering process to finish in the background first and then open the video.
2. Turn Off Low Power Mode
You may have enabled the Low Power mode on your iPhone in order to save battery. The problem with this is that it equally affects the performance and data usage of your device. The Low Power mode basically limits most of the background activities such as rendering in order to slow down battery drainage.
In other words, if your edited video was still getting rendered in the background, then the Lower Power mode could have blocked its function. Therefore, you should turn off the Low Power mode to fix this issue. To do so:
Open the Settings app. Head down to Battery and click on it.
Then, disable the Low Power mode by tapping the toggle beside it.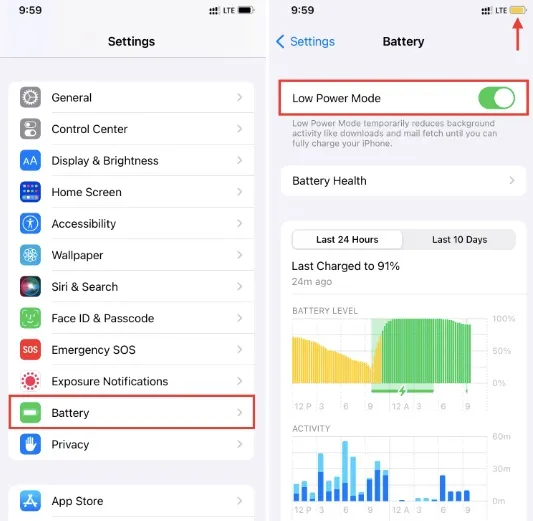 3. Add the Video to Your Favorites
This trick has worked for some users that were unable to load videos on iPhone. If a dialogue box has popped up on your device showing the same error, then we recommend you try to add the video to your favorites before you open it. Here's how to do it:
Launch the Photos app. Find the video or photo your iPhone wasn't able to load.
Now, tap and hold onto the video/photo and select Favorite.
Wait a few seconds, then tap and hold onto the same video/photo again, and then select Unfavorite.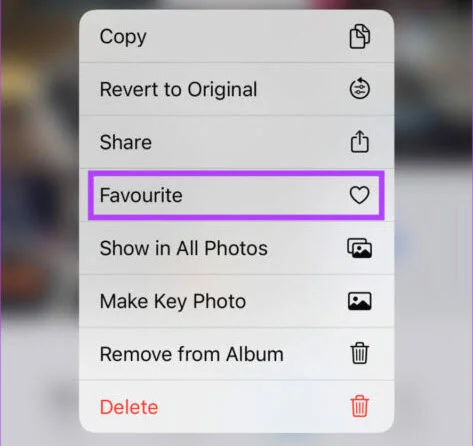 You can now open the video and see if it loads.
4. Force Close the Photos App and Reopen It
There are times when the Photos App can become unresponsive if it has been running continuously in the background for long, hence leading to videos not loading on iPhone. You can solve this by heading back home from your Photos app and removing it from the recent/running apps section. Once you've forced close it, wait a few seconds and then relaunch it. You should be able to open the video or photo now.
5. Check Your iPhone Storage Space
It's likely you're getting this error message because of insufficient storage space on your iPhone. Ensure to check how much free storage space is available on your device. If the storage space isn't enough to save, videos in iCloud may really not get downloaded to the device. To check the storage:
Open Settings and go to General.
Tap on Storage (Device - iPhone/iPad).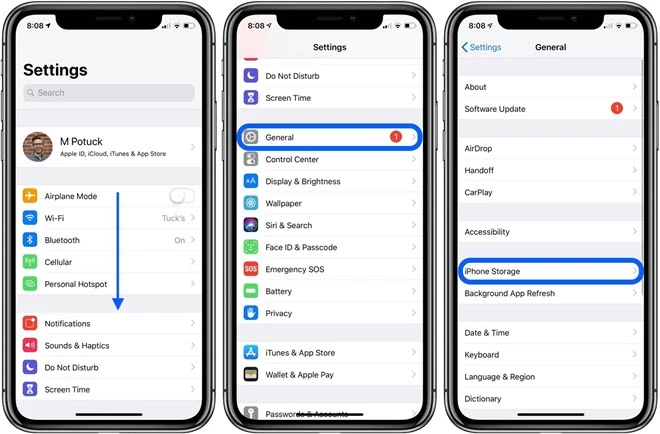 You should be able to see the amount of used space on your device on the resulting screen. The free space on your device should be at least around 2GB. You'll see several recommendations on this page that can help you to free space. Try also to delete some of the apps that you don't use. Once you do that, try to open the video again.
6. Close All Background Apps
After freeing up storage space on your iPhone you should also ensure that there's usable free RAM to allow processes to run efficiently and smoothly, even the background processes.
In case there isn't sufficient free RAM, your iPhone is likely not to render the video/photo hence leading to this issue. So, to ensure your iPhone has enough free RAM, you have to clear some of the background apps. These apps usually consume resources, hence ending them would certainly free up some of the RAM to allow the Photos app to at least work properly.
7. Enable Network Access to the Photos App
In case you often sync your media files to iCloud, you have to make sure that the Photos app itself is granted network access. If it's not, your videos and photo won't sync to iCloud, meaning you'll end up with photos or videos not loading on iPhone. Follow these steps to grant the Photos app network access on your iPhone:
Go to the Settings app. Head to Cellular/Mobile Data and tap it.
Navigate down to Photos and enable the toggle next to it by tapping it.
8. Disable Storage Optimization for Photos
Storage Optimization is an iPhone feature that helps directly transfer your videos and photos to iCloud. It basically allows you to save as much content as you want without having to worry about your iPhone's storage space.
However, as we mentioned earlier, turning on this feature is often the main cause of iPhone not loading videos/photos. Therefore, it's recommended to turn it off and see if it resolves the issue. To do that:
Launch the Settings app. Head to Photos.
Now, uncheck the Optimize iPhone Storage option.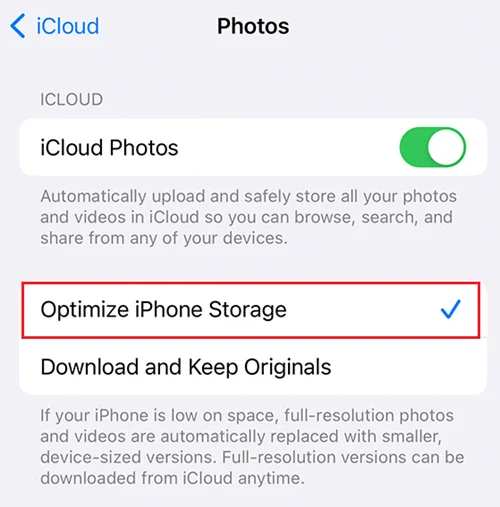 9. Force Restart Your iPhone
A force-restart is able to fix unable to load videos on iPhone issue if it's caused by a system glitch or bug. All the temporary cache on your iPhone will get deleted and in the process, the potential culprit will also get eliminated. However, there's a slight difference in the procedure for force-restarting iPhone models. Here are the steps for different models:
If you use iPhone 6s or earlier models: Press the Power button together with the Home button concurrently. Continue to hold them and release them when the Apple logo comes up on the screen.
If you use iPhone 7: Press the Power button together with the Volume Down button concurrently. Keep holding them, then release them as soon as the Apple logo gets displayed on your phone's screen.
If you use iPhone 8 or newer models: Start by pressing the Volume Up button, then quickly let it go. Next, press your iPhone's Volume Down button and quickly let it go. Finally press the Side button. Hold it and when an Apple logo comes up, release it.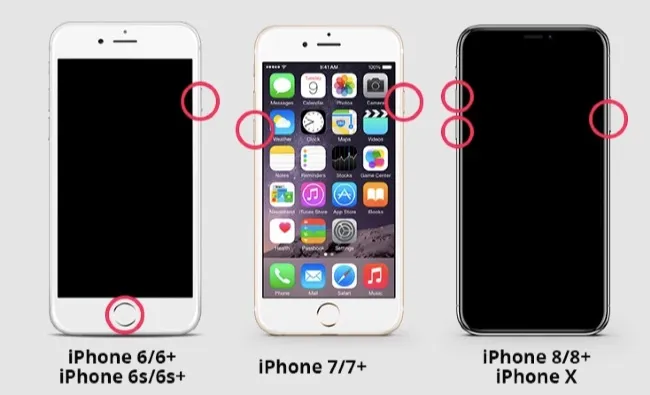 10. Check for App and iOS Updates
Open the App Store and tap on your profile icon. Check for any pending updates for the Videos app. If they're available, install them and then check if the error is gone.
Besides that, open Settings and tap on General. Choose Software Update. Now, update your iPhone's iOS version - while the first version of iOS 16 had a lot of video-related issues, the subsequent updates came with many bug fixes. Once you have the latest iOS version installed, restart the phone and check if the problem is solved.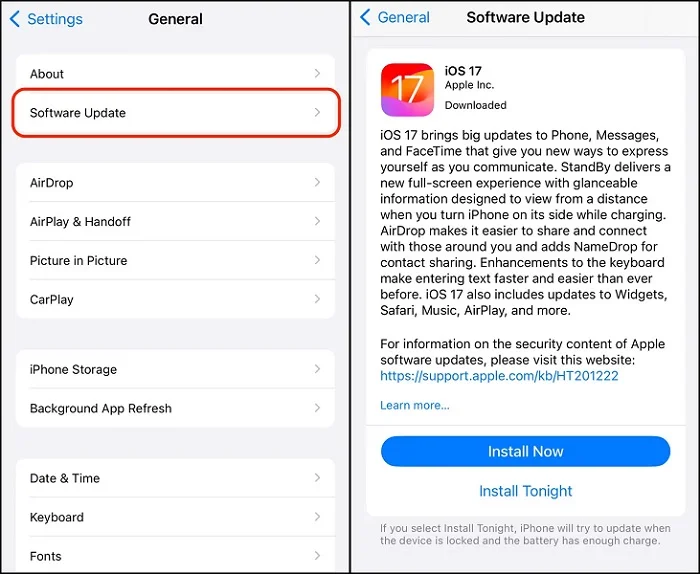 11. Still Unable to Load Videos on iPhone? Repair Your iPhone
If the above steps all fail to work, the most effective solution is to repair your iPhone to get rid of any software or system problem that could be causing this issue. FoneGeek iOS System Recovery is purposely designed to do this. It can repair nearly all iOS system problems and will no doubt get rid of this videos not loading on iPhone error. Just follow these steps:
Download and install FoneGeek iOS System Recovery on your computer. Launch it and on the home interface, click on "Standard Repair".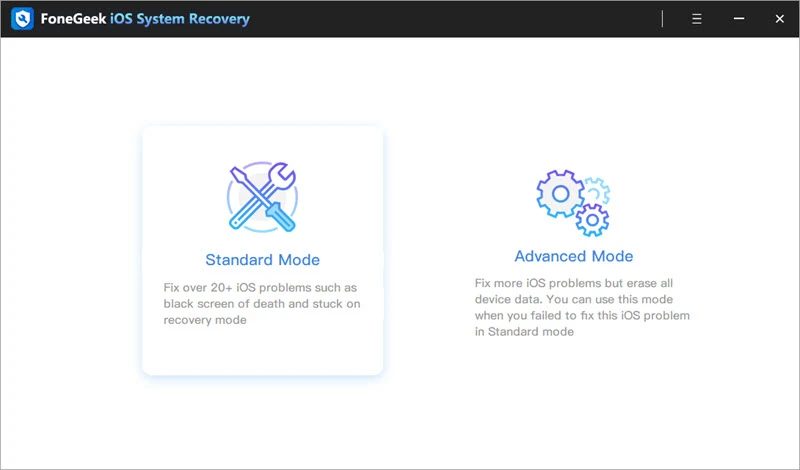 Then have the iPhone and the computer connected using a USB cable. In case your device doesn't get detected, put your iPhone into Recovery/DFU mode by following the instructions provided by FoneGeek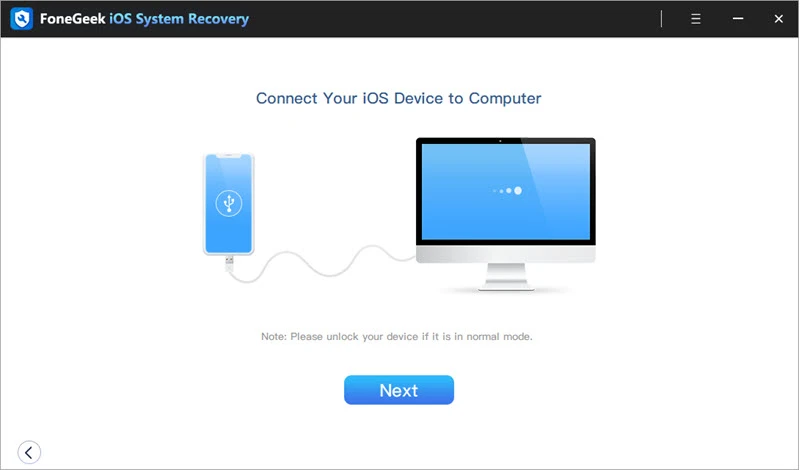 When your device gets detected successfully, click "Download" to allow FoneGeek to download the right firmware package for your iPhone model.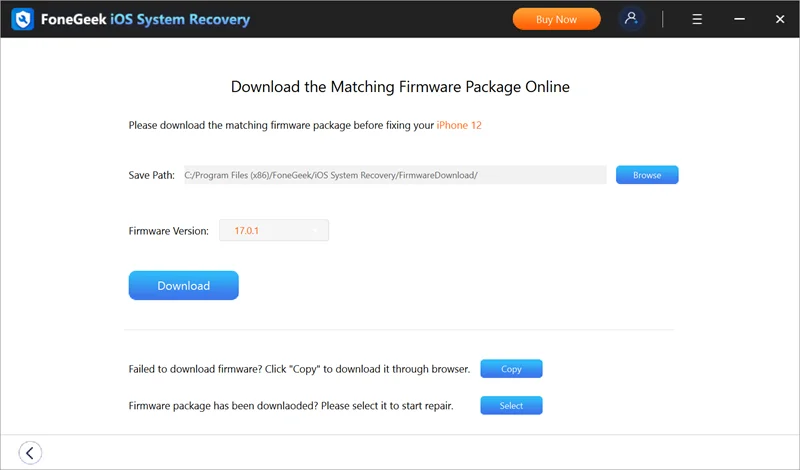 Now click on the "Fix Now" button for the software to begin fixing your iPhone. The whole process can take around 10 minutes and there's no data loss whatsoever.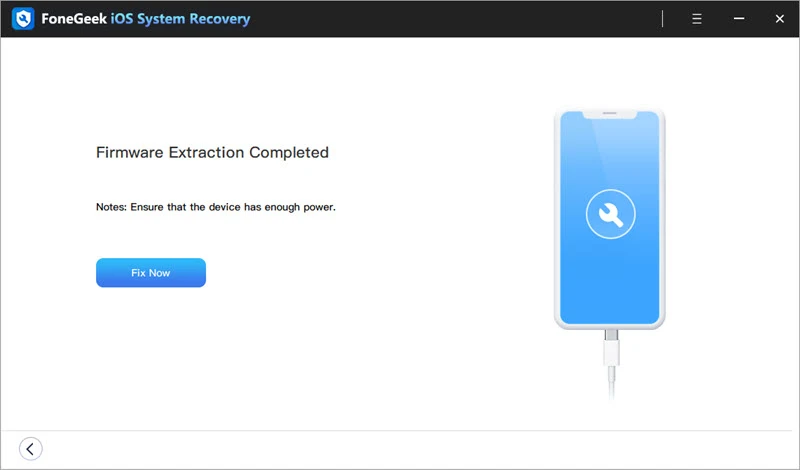 The Bottom Line
With the solutions we've provided above, you should be able to fix the unable to load videos on iPhone issue without any trouble. All the basic solutions work quite well. You just need to try each of them until you have your iPhone fixed. If you're in a rush though, then head straight to FoneGeek iOS System Recovery. It will quickly and effectively deal with any iOS system issue that's causing this error.