User Concern
"I keep getting a message when I got to my text messages saying 'uploading to iCloud paused. Plug in your device and connect to Wi-Fi' but it never goes away. What can I do?"
iCloud is a great way to back up iPhone/iPad data like photos, contacts, messages, etc. to cloud server and restore them back to the device whenever you need.
However, some iPhone users recently reported an error message while uploading files to iCloud, which says "uploading to iCloud paused". When this occurs, the data uploading gets stuck at a certain percentage and doesn't complete in the long run.
If you are facing the same issue, you have arrived at the right place. Below, we will explore the possible causes and solutions to fix uploading to iCloud paused message on iPhone or iPad. Let's check out.
Why iPhone Keeps Saying Uploading to iCloud Paused?
In most cases, uploading to iCloud can be paused for two primary reasons. The first reason is an unstable or weak internet connection. You might already know that uploading files to iCloud requires a stable WiFi connection. When the connection is weak, iCloud cannot proceed with the upload and pause the transfer.
Another reason is low battery. If your iPhone's battery becomes low while uploading files, the process will be paused by iCloud. This is why it's always recommended to upload files to iCloud when the battery is fully charged. Sometimes, low iCloud storage can also cause the issue.
How to Get Rid of Uploading to iCloud Paused Message?
Now you know the possible reasons behind the uploading paused issue on iCloud; let's see what you can do to fix it.
1. Restart Your iPhone
Sometimes the background process can interfere while uploading files to iCloud. In this case, a simple restart might be helpful to solve the issue. Follow these steps to restart your iPhone;
If the iPhone arrives with Face ID, long-press on the Side button along with one of the Volume buttons. Let go of the buttons when the power off slider appears. Drag the slider to shut down the iPhone. After a few seconds, long-press the Side button to turn the iPhone back on.
If iPhone doesn't come with a Face ID, long-press the Power button and let it go when the slider appears on the screen. Drag the slider to power off the iPhone and hold down the Power button after a few seconds to restart it.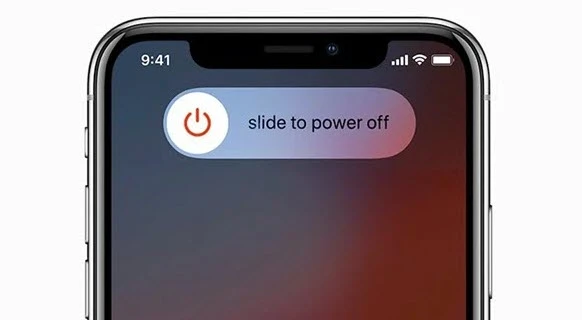 2. Check Your Wi-Fi Connection
As we mentioned above, a strong internet connection is required to upload files to iCloud. As iCloud doesn't work on cellular data, you need to use Wi-Fi to upload files.
Make sure that you are close to the Wi-Fi router. You can also consider reconnecting the Wi-Fi or switching to another Wi-Fi network if available.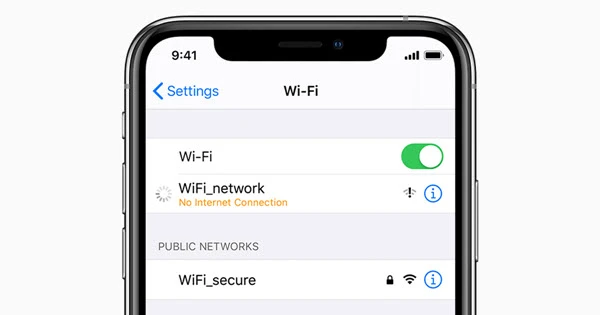 3. Charge Your iPhone for A While
Sometimes the error can be caused by a low battery level. Apple recommends keeping the charger connected while backing up data to iCloud.
Even if your iPhone has enough power, consider plugging it into the charger. Some users say the problem goes away after they start charging the device.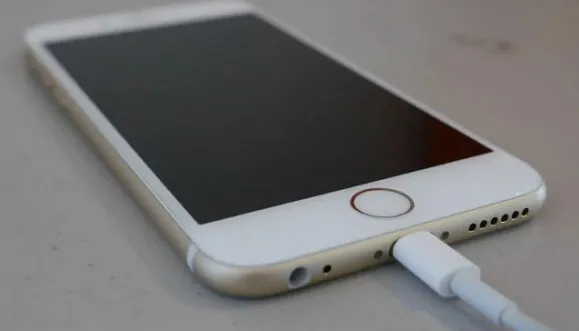 4. Update iOS on Your iPhone
An obsolete iOS version may lead to various issues, including the uploading to iCloud paused error message. If your iPhone is running on an old iOS version, consider updating it.
To do that, open the Settings and tap on "General", then choose "Software Update". If there is an iOS update available, download and install it.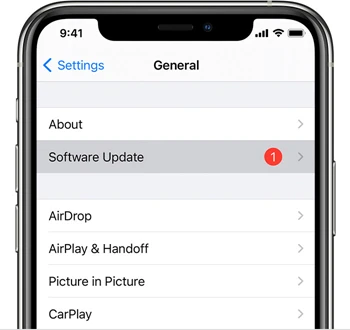 5. Sign Out of iCloud and Sign In Again
Sometimes a glitch with iCloud could also pause the uploading process. In this case, signing out from iCloud and signing in again might help to fix the issue. Here is how to do it:
On your iPhone, go to Settings and tap on your iCloud account.
Scroll down to the bottom and press "Sign Out".
Confirm the operation by entering your Apple password.
Again, press "Sign Out" from the top of the screen.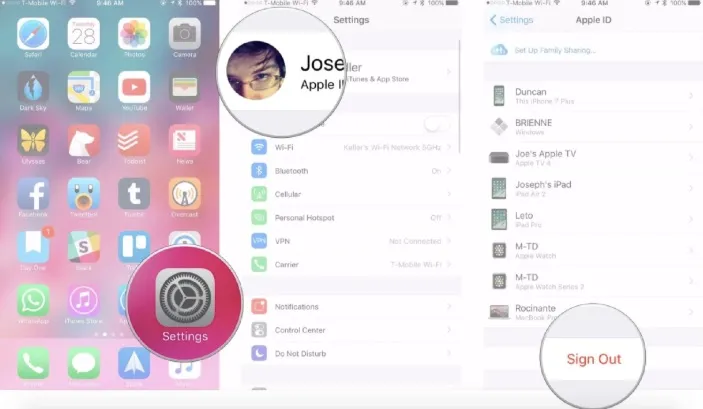 Now you will be signed out from the iCloud account and redirected to the Settings. Click on "Sign in to your iPhone" and enter your Apple credentials. Then utilize the onscreen guide to get back to your iCloud account.
6. Check iCloud Storage Space
The upload will be paused if your iCloud does not have enough space. In this case, the best thing you can do is removing some unnecessary files from iCloud.
You can also go to Settings > iCloud, check the iCloud Storage bar to see how much free storage is available.
7. Disable and Re-enable Messages in iCloud
Another thing you can consider is disabling and re-enabling Messages in iCloud. Here is how to do this:
Go to Settings and then the iCloud account. Then tap on iCloud.
Under the "Apps Using iCloud", find Messages.
Switch off the toggle bar beside Messages. Then switch it on again.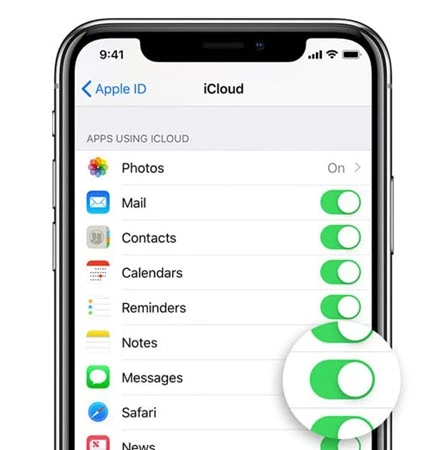 8. Hard Reset Your iPhone
If you still cannot solve the error, even after trying all the solutions, one of your last resorts can be hard resetting the device. Here's how to hard reset iPhone X, iPhone 11, iPhone 12, iPhone 13:
Press and release the Volume Up and Volume Down buttons quickly. Next, press and hold the Side button.
Now, you will see the power off slider. Keep holding the button until the screen goes black.
Release the button when you see the Apple logo on the display. This means your device is rebooting. That's it; you are done!
9. Ultimate Way to Solve Uploading to iCloud Paused Error
Fortunately, there is still another effective way that you can consider utilizing to fix the uploading to iCloud pause error. You can make use of a third-party iOS repair tool like FoneGeek iOS System Recovery. This professional tool can solve around 200+ system errors in iPhone devices.
Some features of FoneGeek iOS System Recovery include:
Fix various iOS system issues including uploading to iCloud paused error, iPhone stuck on Apple logo, black screen of death, boot loop, etc.
Compatible with all the latest iPhone models and iOS versions, including iPhone 15/14 and iOS 17/16.
The Standard mode will repair your iOS system without any data loss.
Let you downgrade the iOS version without iTunes or jailbreak.
Recommended by Mobile Mall, GetDroidTips, Inspirationfeed, Techjury, Pakainfo and many other media sites.
Follow the below steps to solve the iCloud uploading paused error on iPhone without data loss:
Step 1: Download FoneGeek iOS System Recovery from their official website and install it on your computer. Launch it when the installation is completed. Now select "Standard Mode" on the home screen.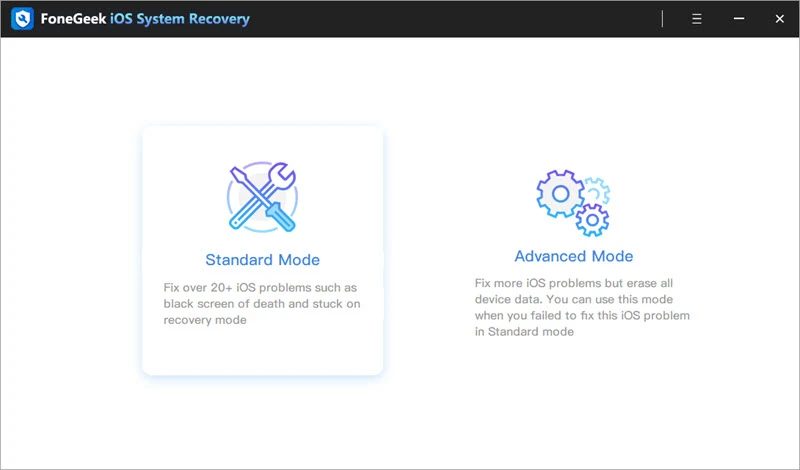 Step 2: Plug your iPhone to the computer via a lightning cable and wait for the program to detect it. If not, you will need to boot the iPhone to Recovery Mode or DFU mode by following the onscreen guide.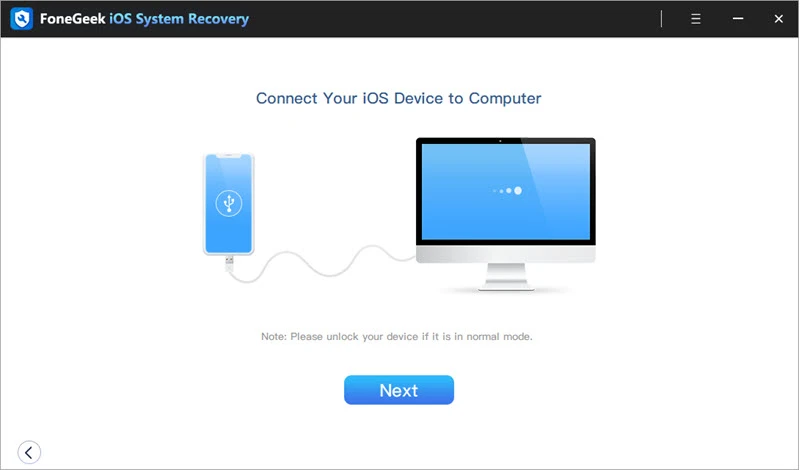 Step 3: After that, the program will display the device info and available iOS versions. Choose the matching one and click on "Download".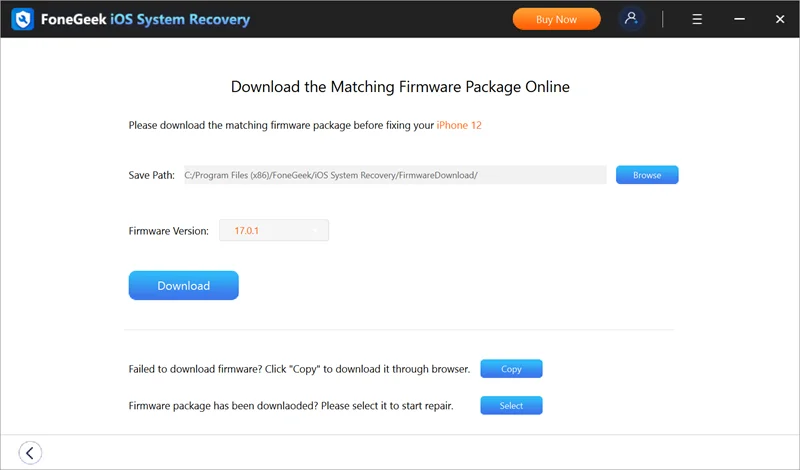 Step 4: Wait a while for the download to be completed and verified. Then press "Fix Now". This will begin the fixing, and your iPhone will get back to its normal state within a while.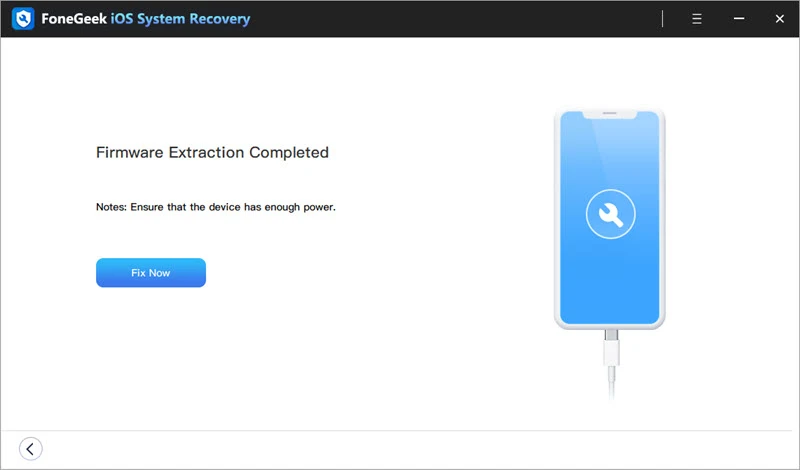 The Bottom Line
Uploading to iCloud paused is a common issue you may encounter while using your iPhone or iPad. You can make use of the above solutions to quickly solve the problem.
In most cases, an unstable internet connection, low battery, or low storage on iCloud cause the issue. However, if you think that a system error is causing the problem, make sure to utilize the FoneGeek iOS System Recovery to fix it quick and efficiently.