While WhatsApp has its fair share of critics, it remains at the top when it comes to instant messaging. Over the years, the app has added several useful features to its package, such as multi-device support. It still, though, experiences problems and bugs up to this date, and one of them is WhatsApp contacts not showing up. It's among the most annoying issues reported by many iPhone and Android users around the world.
In this post, we'll highlight some common reasons behind WhatsApp contacts not showing up and cover several easy ways you can fix this problem on your iPhone or Android device. Let's dive in!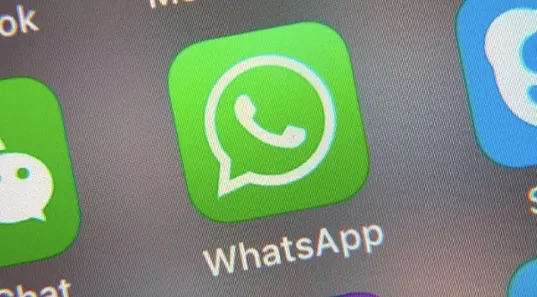 Why Is Contact Not Showing Up in WhatsApp?
WhatsApp contacts not showing up is an issue that can occur due to various reasons. In fact, it can manifest in several ways like, for instance, it can just occur on a perfectly-working phone without you having ever tempered with it.
Another example is the problem occurring after moving WhatsApp to another device. In this case, the problem could be a bug in how WhatsApp syncs the contacts that are saved on your iPhone. You may also face the same issue when you update your device's OS to a newer version, which happens to change the permissions granted to WhatsApp.
No matter what the cause may be, you'll be able to solve this issue when you try the solutions we've highlighted below.
How To Fix Contact Not Showing Up In WhatsApp Issue?
Save Contacts in Standard International Format
There are times you may have your international or national contacts not showing up on WhatsApp contacts simply because of some missing details like the country codes. So, ensure that you have all the contacts saved using their correct country codes (using the international format) in order for them to show up on WhatsApp.
Note: The contacts should always begin with the + sign to save them in an international format.
Show All Contacts
It is possible that you're having this WhatsApp contacts not showing issue because you added some contacts on your iPhone to the Hidden Contact Group. If that's the case, follow these steps to have all contacts within your iPhone displayed, including the ones in the Hidden Contact Groups.
Launch the Contacts App, head to the top left corner, and tap the Groups option.
When the Groups screen comes up, select all the Contact Groups. If not, tap the Show All Contacts option.
Once you do that, WhatsApp will show all the contacts, even the ones in Hidden Contact Groups.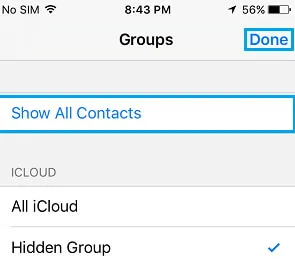 Give WhatsApp Permission to Access Contacts
Messaging and calling apps usually require special permissions from your phone in order for them to function correctly. Since they are not default or in-built apps on your device, you have to enable these permissions manually for some of the apps.
When installing WhatsApp, it usually asks you for certain necessary permissions that will enable it fully function as intended and also allow you to fully enjoy its features. In other words, WhatsApp has to access your Contacts or phonebook for you to view them when using the app.
Sometimes, there could be a bug that's stopping or disabling the Contact's permission, hence that's why you're having contact not showing up in WhatsApp. You can resolve this by granting WhatsApp permission manually. This is how to do it.
For Android Users
Locate the WhatsApp icon on your home screen.
Hold down the app to bring up the Info button. Tap the button when it appears.
Next, tap on Permissions.
Now go to Contacts and simply enable it.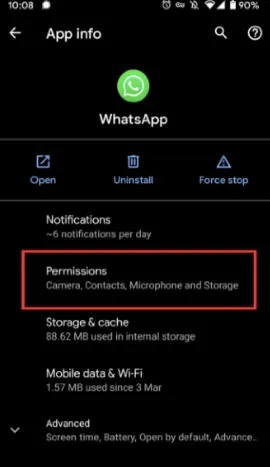 For iPhone Users
Go to Settings.
Navigate to WhatsApp and tap it.
Head to "Contacts" and turn on the toggle beside the Contacts bar.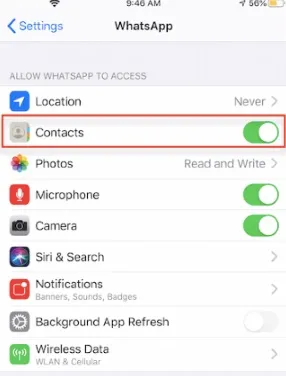 After enabling the contacts permission, go to your WhatsApp and check if the contacts are all showing.
Refresh the Contacts List Manually
WhatsApp may not be able to sync the contacts because of some battery saver settings or power-saving mode and that's why you're having the WhatsApp contacts not showing up. So. try refreshing your iPhone or Android device contact list manually to view all the WhatsApp contacts. Follow these steps to do that.
For Android Users
Launch WhatsApp and then tap the New Chat option.
Head to the top-right corner and tap the three-dot button. Then, tap on Refresh.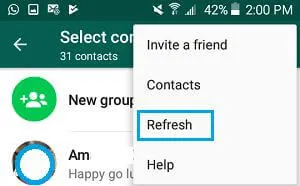 For iPhone Users
iPhone doesn't feature a refresh contacts button like in Android phones. However, you can refresh the contact list manually by disabling and enabling the contact's permission.
Open Settings and then go to WhatsApp.
Toggle OFF the contact's permission and then toggle it back ON once more to refresh the contacts list.
Update Your WhatsApp Manually
Ensuring you have the latest WhatsApp version on your iPhone can help fix this contact not showing up in WhatsApp issue. To do that:
Go to the App Store and then tap on Updates on the bottom menu.
When the Updates screen comes up, tap the Update button that's beside WhatsApp.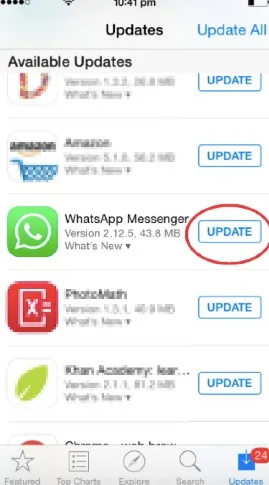 Note: You'll only see the update option if there's a pending update for WhatsApp.
For Android users, any glitch, bug, or even using an old WhatsApp version can lead to contact not showing up in WhatsApp. It's therefore advisable to keep WhatsApp updated throughout in order to avoid such unusual problems and also to ensure your communication remains seamless. To do that:
Open Google Play Store.
Go to the top-right corner and tap on your photo. Select "Manage apps and device".
Next, tap the Updates Available option.
Now locate WhatsApp and tap the Update button.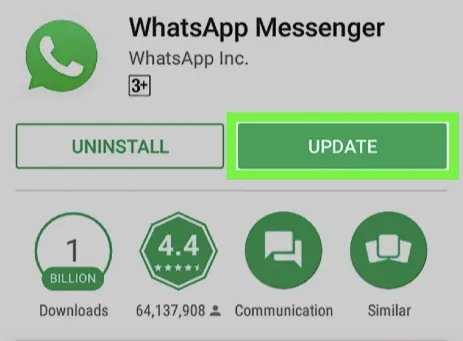 Reset WhatsApp Sync/Network Settings
If numbers show up instead of the contact names, then there's likely a problem with synchronization. To solve this, you have to reset your WhatsApp syn and you can do that by doing this:
Go to Settings and tap on Users & Accounts.
Choose WhatsApp - Account Sync.
Check if Contacts is enabled.
Tap the three-dotted menu located at the top.
Select Sync Now.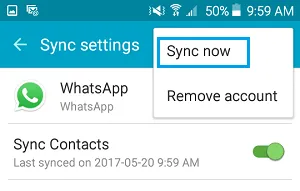 Keep checking if the WhatsApp contacts not showing issue persists. Note that this method only applies to Android devices.
If you're an iPhone user, you can instead Reset your iPhone's Network Settings. Doing so will clear off all your connections including Wi-Fi, VPN, and Bluetooth. None of your important data will be removed. Your wireless internet password is the only thing you'll need to re-enter.
Go to Settings and then open General.
Choose Reset.
Now tap on Reset Network Settings.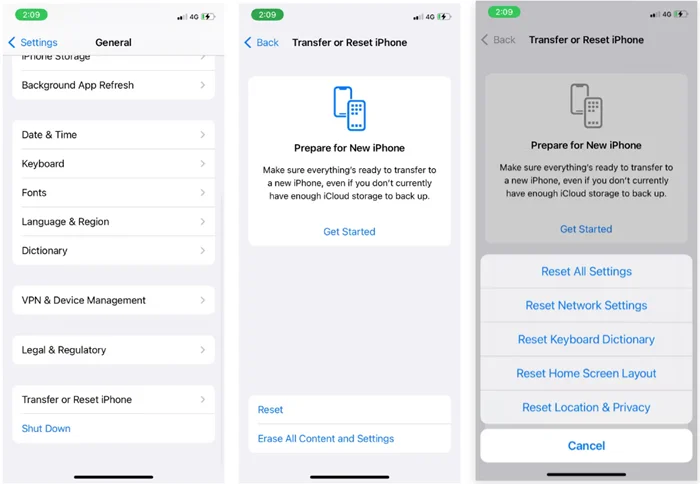 Once you reconnect the Wi-Fi, try accessing WhatsApp and see if the contacts are there now.
Uninstall/Reinstall WhatsApp
If everything else fails, the last thing you can do is check if you have the latest WhatsApp version on your device. If you have it, then try uninstalling and reinstalling it.
However, if you notice that there's a new WhatsApp version available for download, ensure that you install this latest version and then check if the contacts show up. If you already have the latest version, though, do the full re-installation then.
Conclusion
We hope with the basic solutions we've highlighted above, you've been able to fix this WhatsApp contacts not showing issue on your device. If not, we recommend you try FoneGeek iOS System Recovery sof1iutware. This is the ultimate solution to fixing any iOS system problems that may be causing this issue. It's simple to use and works instantly, so give it a try.