WhatsApp is one of the most used chatting applications out there, with billions of users from around the globe. The app is well-organized, and people of all ages find it very easy to use. A lot of us also use WhatsApp for business and formal communications. As a result, it can be very disturbing if the app doesn't work efficiently.
But what happens if you're unable to use WhatsApp on your WiFi? you need a fast and stable internet connection to send messages or make calls. But if you find that you can't even establish a connection, it's essential to identify the root cause of the issue and resolve it.
In this guide, we will try to explore why WhatsApp is not working on WiFi and look into some fixes that might help you solve the issue.
Before you start, it's recommended that you download FoneGeek iOS Backup & Restore to create a backup of your WhatsApp data if you plan to reinstall the app to resolve any Wi-Fi connection problems.
Why Is WhatsApp Not Working on WiFi?
You need to find out why WhatsApp is not working on WiFi before attempting to fix it. There can be several things that can prevent WhatsApp from working properly.
For example, if WhatsApp is encountering a service outage or temporary down at your place, you cannot use it. Moreover, you literally cannot do anything to fix it and need to wait until the developer restores the service.
Below are some other possible reasons behind WhatsApp not connecting to WiFi:
Using an outdated version of WhatsApp may result in disconnection or inability to connect to Wi-Fi.
Too much cache data stored by any application can cause connectivity errors, including WhatsApp. Failure to clear caches may result in WhatsApp calls not functioning on Wi-Fi.
If WhatsApp's data files become corrupt or go missing due to a malware attack or other reasons, the installed app on your mobile device may exhibit various errors, including connectivity issues.
Lastly, if your mobile device's operating system is outdated, you are likely to encounter network errors on WhatsApp.
Troubleshooting WhatsApp Not Connecting to WiFi Issue
Try Using a Different Wi-Fi Network
The first solution you can implement is to test a different network connection. Occasionally, the connectivity issue may be attributed to your personal network rather than WhatsApp. Additionally, if you're utilizing WhatsApp on a managed Wi-Fi network such as in your workplace or school, it's probable that your connection is limited or restricted.
To troubleshoot the problem, you can disconnect from the present Wi-Fi hotspot and attempt to connect with other networks. Additionally, you may switch to your mobile data connection to verify if WhatsApp is functional. If these procedures are ineffective, we recommend attempting alternative methods.
Force Stop WhatsApp and Restart Your Device
As per some users, force closing WhatsApp and restarting the device is one of the best ways to solve the problem. Here are the exact steps you need to follow:
For iPhone
Double-tap on the home button or swipe up the screen to access recently used apps.
Find out WhatsApp from the list and swipe up to close it.
Restart the iPhone and wait until the device boots up.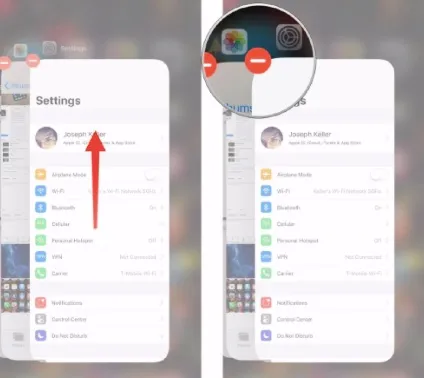 For Android:
Pull up the menu to find the recently used apps. Locate WhatsApp and close it by swiping up.
Or simply go to Settings > Apps > WhatsApp > Force Stop to close WhatsApp.
Restart your Android phone and wait until it boots up.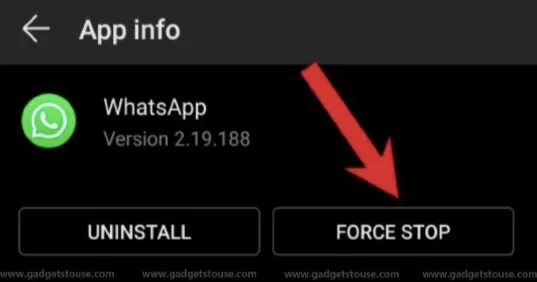 After restarting your iPhone/Android, connect to the WiFi and open WhatsApp. It should work now.
Turn Off Roaming
Are you trying to use WhatsApp with roaming turning on? Well, they might prevent WhatsApp from loading. Consider turning off these features.
If you are on an Android phone, go to Settings > Connectivity Settings and turn off the toggle bar of Roaming.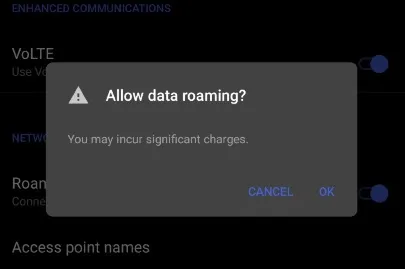 If you are on an iPhone, go to Settings > Cellular > Cellular Data Options. Turn off the Data Roaming toggle from there.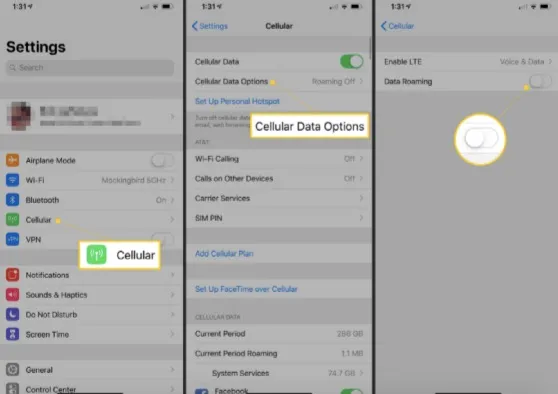 Disable VPN & Proxy
Many people prefer to utilize VPN services to bypass geographic restrictions imposed by streaming services like Netflix and gain access to limitless video content. However, as WhatsApp is not designed to operate with proxy or VPN services, you won't be able to use WhatsApp while connected to such services. Therefore, it's advisable to disable VPN and proxy when attempting to communicate via WhatsApp.
Turn On Airplane Mode and Turn It Off
If WhatsApp is not connecting to WiFi, try turning on and off the flight mode/Airplane mode. By doing that, you can restart the wireless transmission of the device. As a result, the connection between your phone and router refreshes, which may help to solve the issue.
So, how can you turn on and off the airplane mode/flight mode? Well, that is pretty easy. Simply slide down the phone menu and click on the airplane mode icon to turn it on. Then, wait a few seconds and turn it off. That's it; you are done.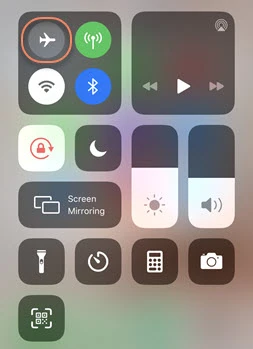 Clear WhatsApp Cache Memory
If all the other applications on your phone can function normally on Wi-Fi while WhatsApp cannot send messages, images, or videos, it's likely that WhatsApp's cache is full and needs to be cleared.
For iPhone users, navigate to Settings > General > iPhone Storage > WhatsApp > Offload App to clear WhatsApp's cache.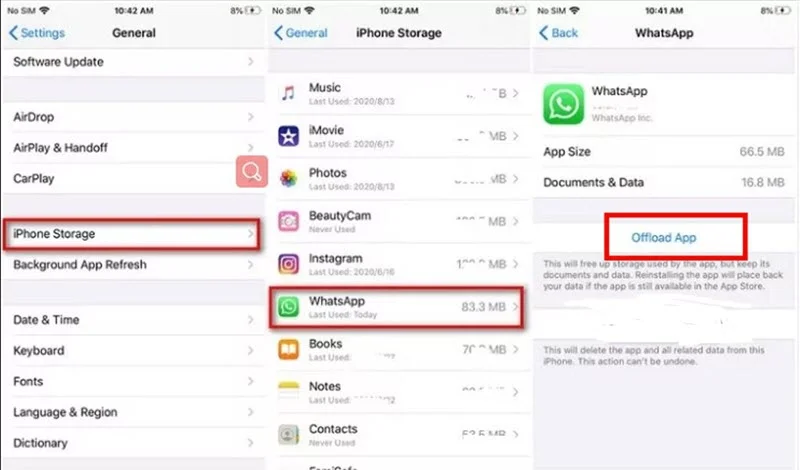 For Android users, you can clear WhatsApp's cache by going to Settings > Apps > WhatsApp > Storage > Clear Cache.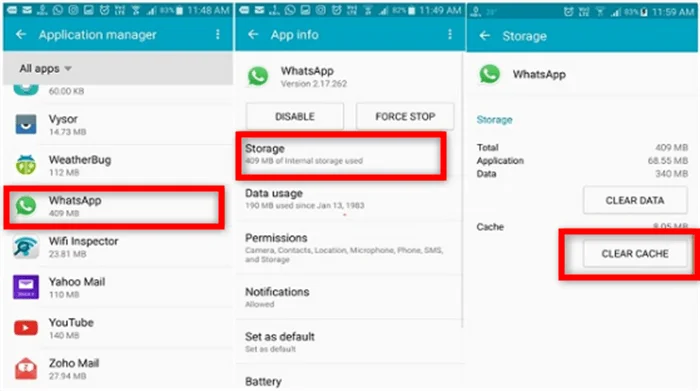 Reset Network Settings
If WhatsApp is not working because of a network issue, resetting the network settings might help solve the problem. Here is what you need to do:
For iOS:
Open Settings and go to "General".
Click on "Reset" and then select "Reset Network Settings".
Reconnect to the network by entering the password.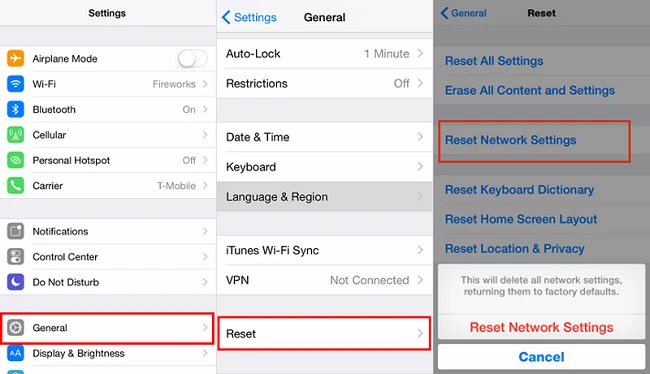 For Android:
Open Settings and go to "General management".
Click on "Reset" and then "Reset Network Settings".
Now reconnect to the WiFi network.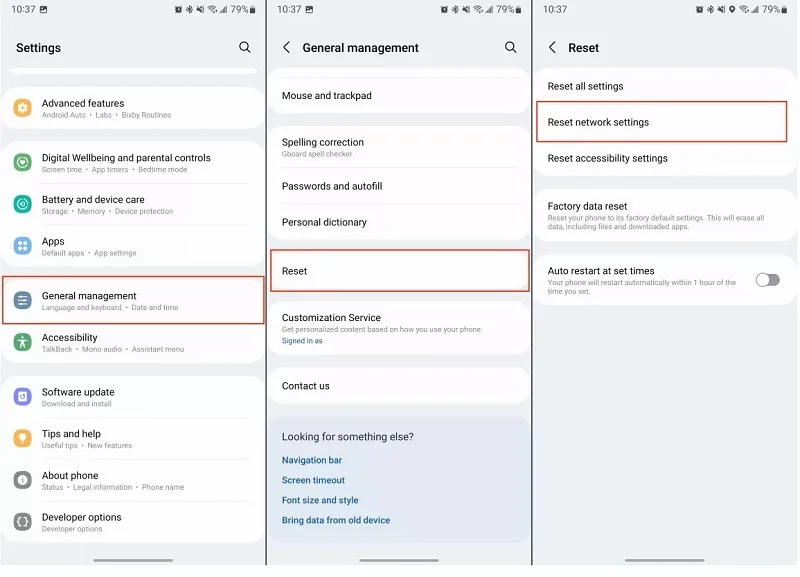 Update or Reinstall WhatsApp
Are you using an outdated version of WhatsApp? It can also cause connectivity issues. Consider updating WhatsApp to the latest version. If you are using android, go to Goolge Play Store and find WhatsApp. Then click on "Update".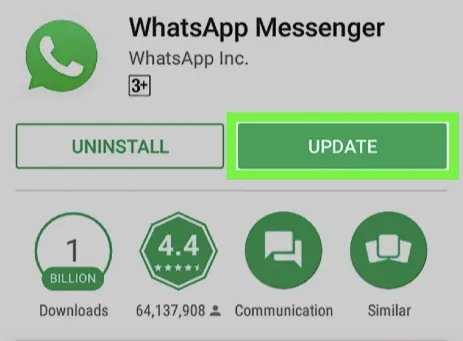 If you are using an iPhone, open the App Store and go to WhatsApp. Find the "Update" button and press it. That's it; you are done! If you are encountering the problem on the latest version of WhatsApp, simply delete and reinstall the application.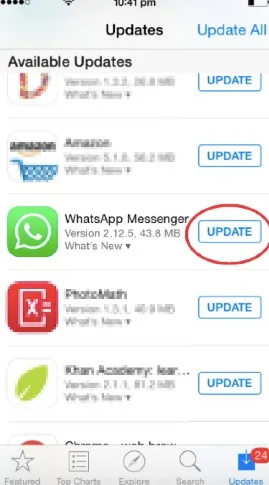 Update Your Phone's OS
Sometimes minor bugs or system errors on your phone may prevent WhatsApp from connecting to the internet. If you cannot solve the issue after trying all the methods discussed above, you can consider update your phone's operating system. Let's see how to do this.
If you are using iPhone, go to Settings > General and tap on "Software Update". If an iOS update available, tap on "Download and Install".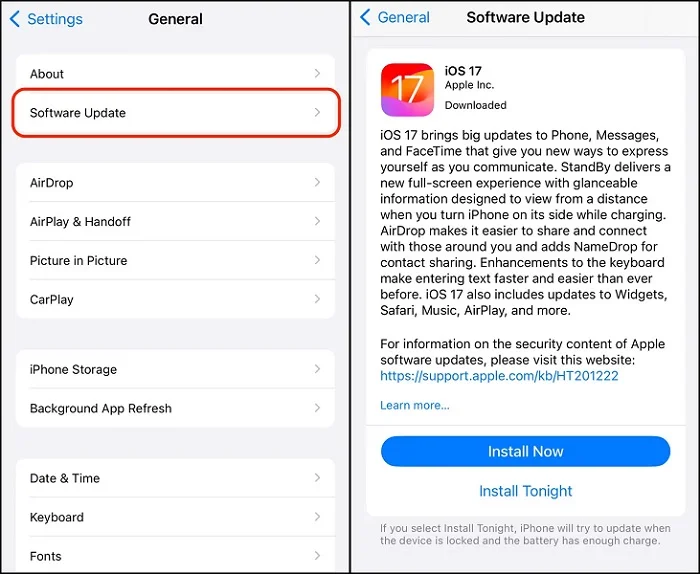 If you are using Android, open the "Settings" and then go to "About". There you can check and install updates if it is available.
Fix Your Device's Operating System
If none of the previously mentioned methods have been effective in resolving your issue, there's no need to worry; you can rectify all of your phone's problems by downloading a third-party iOS repair tool. For iPhone users, FoneGeek iOS System Recovery is an excellent option for addressing these concerns. The tool has a user-friendly interface, making it simple for users to address common iPhone errors.
To use FoneGeek iOS System Recovery to fix the WhatsApp Wi-Fi issue, follow these steps:
Step 1: Install the tool on your computer and establish a connection between your PC and iPhone. Click on "Standard Repair" to allow the tool to detect your device's information.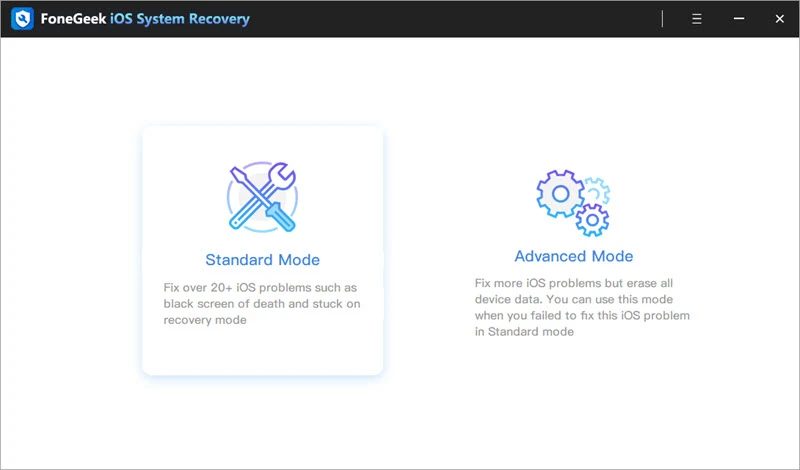 Step 2: Download the firmware package and wait for it to finish downloading.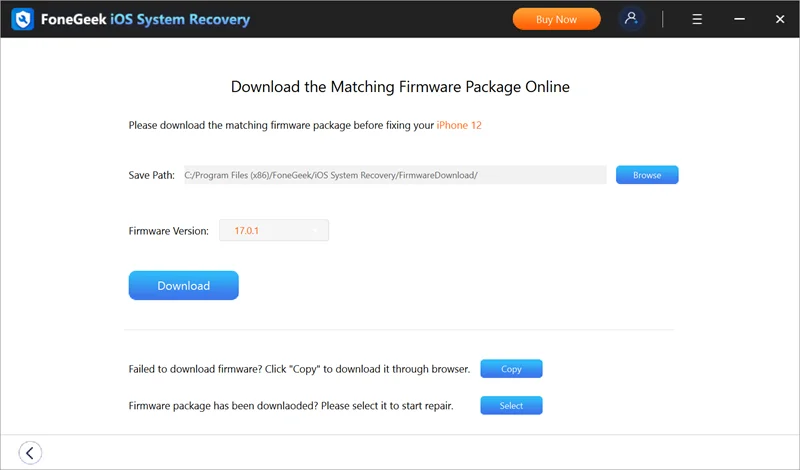 Step 3: After the firmware is downloaded, click on "Fix Now" to fix the issue of WhatsApp not functioning on Wi-Fi on your iPhone. Wait for the process to finish.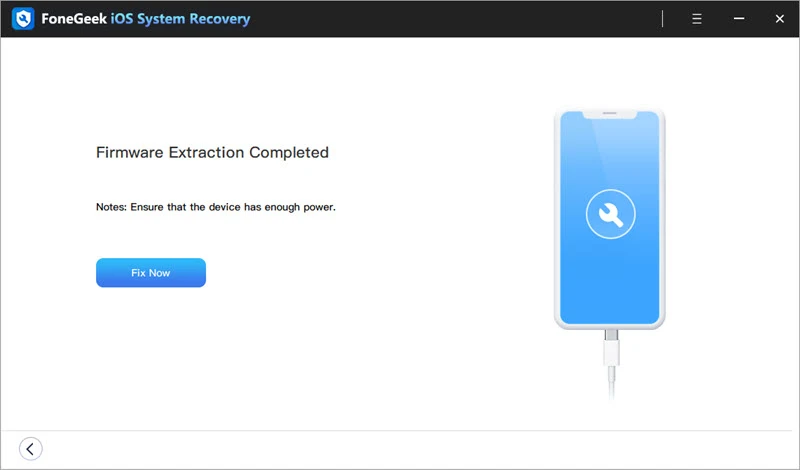 Conclusion
WhatsApp not connecting to WiFi can be very intimidating when you need it for important communications. However, we hope that you will be able to fix the issue by trying the above-discussed solutions. If none of them works, the only thing you can do is to reach out to WhatsApp customer service and request their assistance. They should help you to find out and solve the issue.