WhatsApp is one of the most used chatting applications out there, with billions of users from around the globe. The messaging app is very well-organized, and people of all ages find it very easy to use. A lot of us also use WhatsApp for business and formal communications. As a result, it can be very disturbing if the app doesn't work efficiently.
WhatsApp not connecting to WiFi is a very common issue that both iPhone and Android users face frequently. In this guide, we will try to explore why WhatsApp is not working on WiFi. We will also look into some fixes that might help you solve the issue.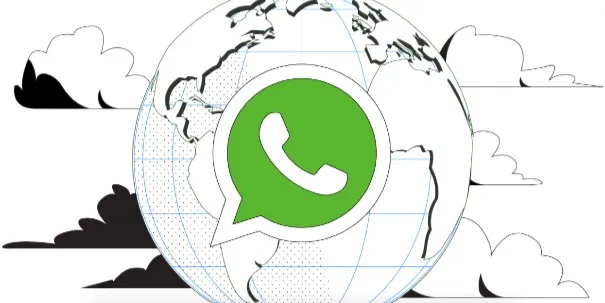 Why Is WhatsApp Not Working on WiFi
You need to find out why WhatsApp is not working on WiFi before attempting to fix it. There can be several things that can prevent WhatsApp from working. Such as, if WhatsApp is encountering an outage or temporary down at your place, you cannot use it. Moreover, you literally cannot do anything to fix it and need to wait until the administration restores the service.
Here are some of the other things that can cause WhatsApp not connecting to WiFi efficiently:
WiFi might not work efficiently if you are using an old or outdated version.
Sometimes the corrupted data files also cause this problem.
The memory cache of WhatsApp is corrupted.
Your phone is running on an old Android or iOS version.
There might be an issue with your WiFi connection.
Troubleshooting WhatsApp Not Connecting to WiFi Issue
Force Stop WhatsApp and Restart Your Device
As per some users, force starting WhatsApp and restarting the device is one of the best ways to solve the problem. Note that it doesn't mean just exiting and restarting your phone. Here are the exact steps you need to follow:
For iPhone:
Double-tap on the home button to access recently used apps.
Find out WhatsApp from the list and swipe up to close it.
Restart the device and wait until the phone boots up.
Once the process is done, you will find the standard lock screen.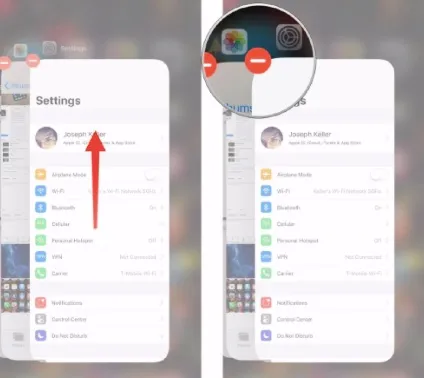 For Android:
Pull up the menu to find the recently used apps.
Find WhatsApp and close it by swiping up. Or simply go to Settings > Apps > WhatsApp > Force Stop to close WhatsApp.
Restart your phone and wait until it boots up.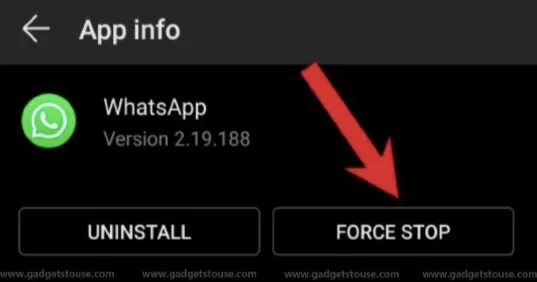 After restarting your iPhone/Android, connect to the WiFi and open WhatsApp. It should work now.
Turn off Roaming
Are you trying to use WhatsApp with roaming turning on? Well, they might prevent WhatsApp from loading. Consider turning off these features. Go to Settings> Connectivity Settings and turn off the toggle bar of Roaming.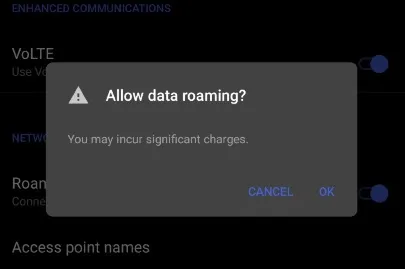 If you are on an iPhone, go to Settings> Cellular> Cellular Data Options. Turn off the Data Roaming toggle from there.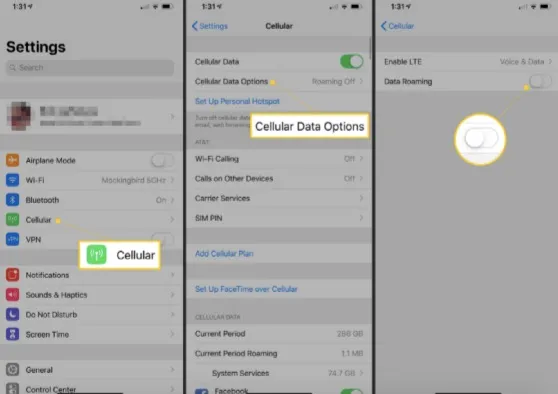 Keep Your Background Data On
A lot of us keep the background data off to prevent apps from using data in the background. This might save some internet, but it can prevent WhatsApp from showing you the message in real-time. You can easily turn on the background data from the settings. Here is what to do:
Open settings.
Go to Sim Card & Mobile Data.
Open Data Usage.
Turn on the "Background Data" feature.
Note that the feature can be represented differently in different phones. On some phone's you may find it as "Background Data Restrictions" or "Data Saving". For these cases, you need to keep the features off instead of turning them on.
Turn On Airplane mode and Turn It Off
If WhatsApp is not connecting to WiFi, try turning on and off the flight mode/Airplane mode. By doing that, you can restart the wireless transmission of the device. As a result, the connection between your phone and router refreshes, which may help to solve the issue.
So, how can you turn on and off the airplane mode/flight mode? Well, that is pretty easy. Simply slide down the phone menu and click on the airplane mode icon to turn it on. Then, wait a few seconds and turn it off. That's it; you are done.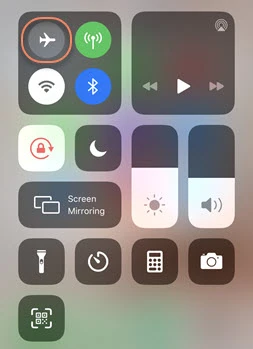 Force Stop and Clear Cache
Force Stopping applications close/kill all the processes of the specific app while removing cache delete all the temporary cache data held by the app. Doing these might help to get your WhatsApp back to work.
Force Stop in Android:
Open the settings of your Phone and go to the "Apps" section.
Find WhatsApp from the list and press on it.
Find and click on "Force Stop" on the page.
Now press on the "Storage" option on the same page.
Find and click on the "Clear Cache" option.
Force Stop in Apple iOS:
Double-tap on your iPhone's Home button to open the recently opened app list.
Find and close WhatsApp by swiping it up.
Now restart your iPhone (that's optional).
You don't need to do anything to remove the cache data. iPhone automatically clears the cache of the apps periodically. If you still want to clean the cache data manually, you will need to remove and reinstall Whatsapp.
Connect to Another WiFi Network
Some WiFi networks restrict data transmission of social, entertaining, and messaging platforms. So, if you are trying to use WhatsApp from a school or office network, you might not be able to do that. Instead, consider connecting to another WiFI network or using mobile data to access WhatsApp.
Reset Network Settings
If WhatsApp is not working because of a network issue, resetting the network settings might help solve the problem. Here is what you need to do:
For iOS:
Open Settings and go to "General".
Click on "Reset" and then select "Reset Network Settings".
Reconnect to the network by entering the password.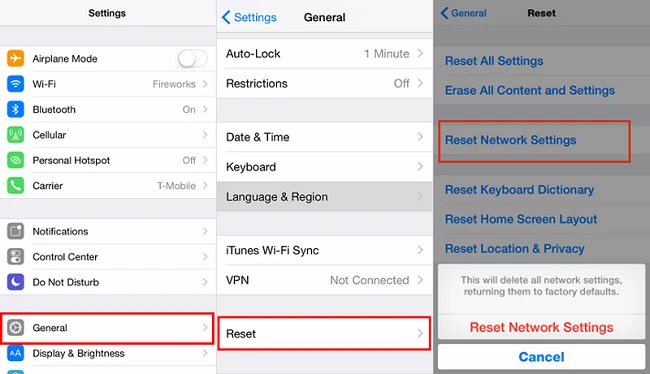 For Android:
Open Settings and Go to "Reset".
Click on "Reset Network Settings".
Now reconnect to the WiFi network.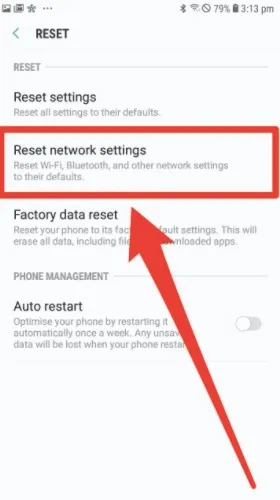 Update or Reinstall WhatsApp
Are you using an outdated version of WhatsApp? It can also cause connectivity issues. Consider updating WhatsApp to the latest version. If you are using android, go to Play Store and open WhatsApp. Then click on "Update".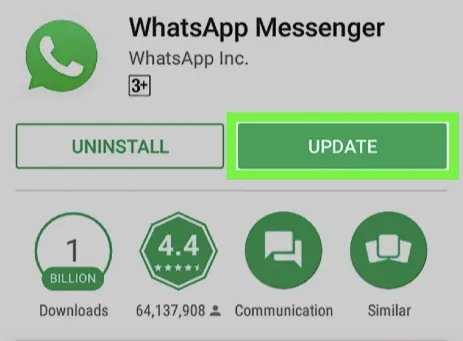 If you are using an iPhone, open the App Store and go to WhatsApp. Find the "Update" button and press it. That's it; you are done! If you are encountering the problem on the latest version of WhatsApp, simply delete and reinstall the application.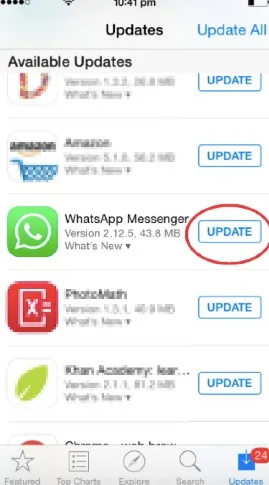 Reinstall the System
If you cannot solve the issue after trying all the methods discussed above, you can consider reinstalling the operating system. Sometimes minor bugs or system errors may prevent WhatsApp from connecting to the internet. Let's see how to do this.
If it is an iPhone, connect the device to your computer first. Then run iTunes and select the "Restore iPhone option from there. Note that the restore will remove all of the data from your iPhone. So, make sure to create a backup if you want to save the data.
If you are using Android, it can be complex to restore your device. Instead of restoring the OS, consider updating it. Open the "Settings" of your phone and then go to "About". There you can check and install updates if it is available.
Conclusion
WhatsApp not connecting to WiFi can be very intimidating when you need it for important communications. However, we hope that you will be able to fix the issue by trying the above-discussed solutions. If none of them works, the only thing you can do is to reach out to WhatsApp customer service and request their assistance. They should help you to find out and solve the issue.