iPhones are popular not just because of their great quality, but also their privacy features, such as end-to-end encryption in texting and calling. However, this causes a plethora of issues, such as "why are my messages sending green to another iPhone?".
In most of these circumstances, the problem isn't attributable to a flaw in technology, but rather to the users' inability to diagnose and utilize it properly. It's that simple!
In this article, we'll examine why there are green messages on iPhone and how to fix this problem for good.
What Is Green Message on iPhone?
The iPhone's messaging app supports two types of messaging methods: iMessage and Short Messaging Service (SMS). iMessages do not require a phone balance or SMS rates to send messages.
Meanwhile, Apple came up with a fun approach to distinguish between messages received in different ways. The messages delivered using iMessage are blue in color; however, when exchanged in SMS format, the texts turn green.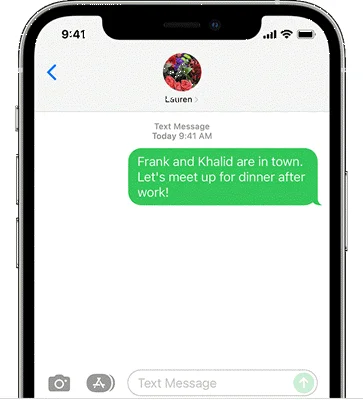 What Is iMessage and How It Is Different from SMS Text Messages?
This application, known as iMessage, allows all of its users to communicate via the internet using texts, pictures, stickers, and other features. In the messaging app, these messages are highlighted in blue.
Both iMessages and SMS are evidently sent using the same messaging program. There are, however, few dissimilarities between the two. iMessage, like other instant messaging apps, uses a WiFi connection or mobile network to send messages.
Traditional messages (SMS), on the other hand, necessitate a text messaging strategy. iMessages can only be exchanged between two iOS devices, as noted above, although SMS can be sent between any two mobile devices.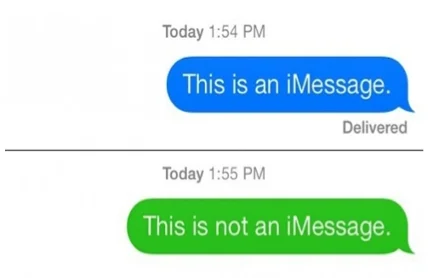 Why Are My Messages Sending Green to Another iPhone?
Your messages can be sending green to another iPhone due to the following reasons:
iMessage Is Not Available
If iMessage is not available on both the sender's iPhone and the recipient's iPhone, the message will be sent as a text message over the cellular network. Sending a message to the receiver via iMessage will result in a SMS text message being delivered if you have iMessage enabled and active on your iPhone but the recipient has deactivated imessage on theirs.
Bad Internet Connection
To work or send a message, iMessage requires an internet connection. As a result, sending an iMessage to another iPhone user over a slow internet connection will certainly fail or be delivered as a text message, especially if sends as an SMS is enabled on the iPhone.
No Wi-Fi or Cellular Data Available
For iMessage to work, you'll need Wi-Fi or cellular data. If you don't have a working Wi-Fi or data plan on your iPhone while sending a message, the message will be transmitted as an SMS text message, even if it's to another iPhone.
How to Fix Messages Green When They Should Be Blue?
You can try these troubleshooting steps to solve issue of iPhone text green to another iPhone:
Fix 1: Restart Your iPhone
Then iPhone text green to another iPhone problem can be resolved by restarting the devices. Here's how:
Press and hold the Side button and either Volume button (for iPhones with Face ID) or the Side button (for iPhones without Face ID) until the power off slide comes up.
Wait 30 seconds after dragging the slider for your iPhone to power off.
To turn your iPhone back on, press and hold the Side button until you see the Apple logo.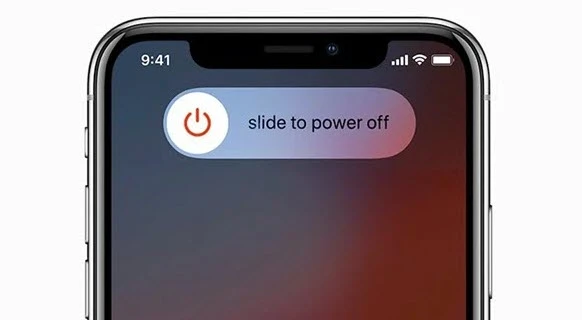 Fix 2: Check Network Connection
To send green iMessages, your iPhone should use Wi-Fi or cellular data. Try resetting the network settings on your iPhone if the network isn't working properly.
Follow these steps to do so: Go to Settings and click General, then click Reset > Reset Network Settings. Enter your device's screen passcode when required.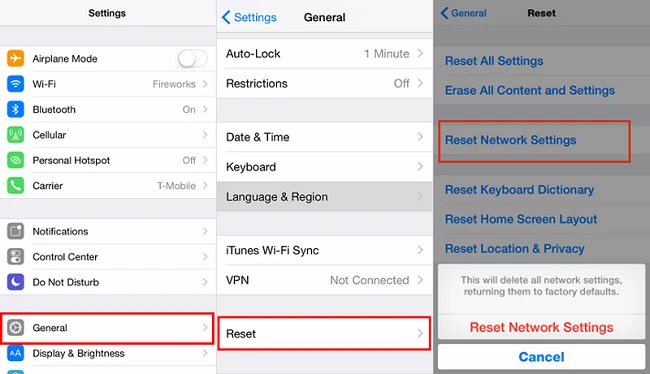 Fix 3: Activate iMessage on Both iPhones
Verify that your iPhone's iMessage feature is turned on. Here's how: Go to Setting and tap Messages, then turn on the iMessage option.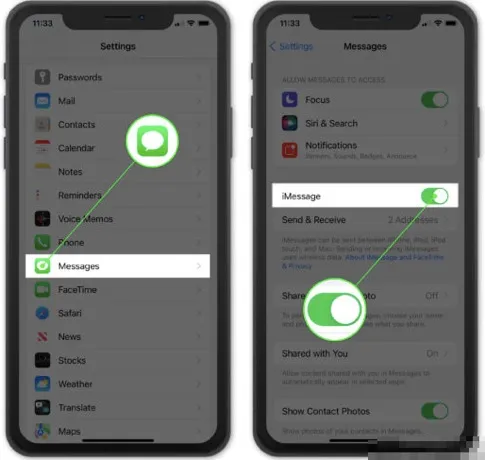 Bonus Tips: How to Recover Deleted Messages on iPhone
The Message app, being one of your most regularly used iPhone apps, may include some critical text messages and iMessages that you want to retain forever. If you accidentally deleted an entire text conversation and no backup exists, you can recover those deleted texts using FoneGeek iPhone Data Recovery. It uses powerful data recovery technology to recover up to 35 different types of data directly from iPhone/iPad, iTunes and iCloud backup.
Here are the steps to recover deleted messages on iPhone without backup:
Step 1: Download and install this iPhone Message Recovery software on your computer. Launch it and select "Recover Data from iOS Devices" to continue.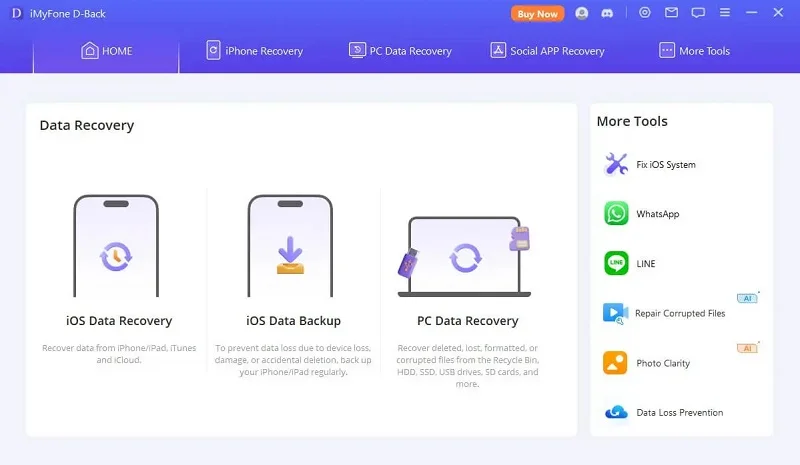 Step 2: Use a USB cable to connect your iPhone or iPad to the computer. Once it is detected, choose the data types you want to scan and recover, then click "Scan".
Step 3: When the scanning is complete, preview and mark the message conversation you need, then click "Recover" to save them to your computer.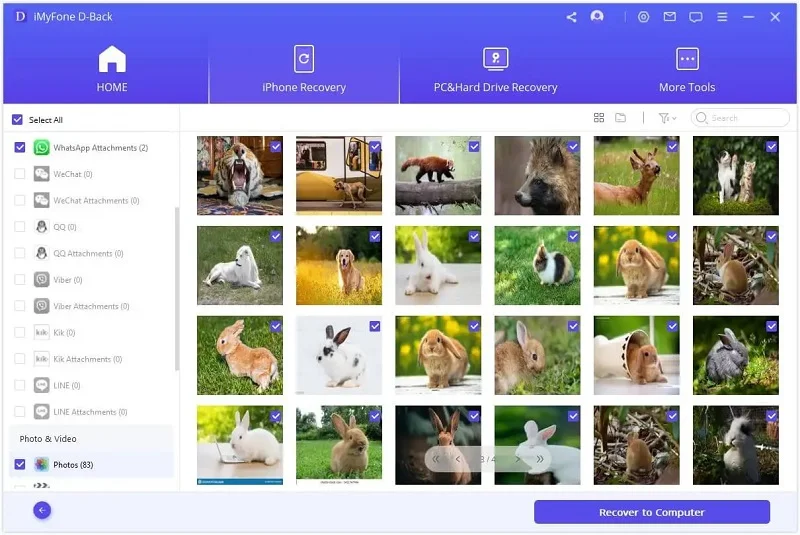 Frequently Asked Questions
Why is it green when I text another iPhone?
If the messages on your iPhone are green, that signifies they're being transmitted as SMS text messages instead of iMessages which are blue. Only Apple users can send and receive iMessages. If you're texting to Android users or you don't have access to the internet, you'll always see green.
Why did my messages turn green for one person?
The green messages indicate that iMessage is not available on one or both phones if both devices have it enabled on and set to deliver as SMS when iMessage is not available.
What is the best way to tell if a green text message was delivered?
If your message has been sent via iMessage, it will appear blue in Apple's messaging app. It's just a standard text message with no read/delivered receipts if it's green.
Can non iOS users send iMessages?
The iMessage is only available to iOS users. Other users will not be able to utilize this messaging app. Android users frequently request their own version of iMessage, but Apple does not offer one other than iOS, limiting it to iOS users only.
What to do if you can't receive iMessage from a group?
If you're in a group iMessage discussion and have suddenly stopped getting messages, check to see if you left the conversation by accident. Also, check the status of the group chat. You would have been removed at times as well. If any member adds you back to the group, you may just join it again to remedy this. You can also establish a new group if this does not happen.