A strong and reliable Wi-Fi connection is a convenience that we all appreciate when working online or just entertaining ourselves on social apps. That convenience at times can come to a halt when suddenly the Wi-Fi stops working. It's a frustrating moment that we've all pretty much experienced in different ways.
Like for me I've had my Wi-Fi not working on phone but working on other devices. I'm sure I'm not the only one. But, how best can you deal with this kind of Wi-Fi problem? You'll need effective methods to fix it, such as those highlighted below.
Solutions for Wi-Fi Not Working on Phone but Working on Other Devices
You'll be the first if you've never experienced any Wi-Fi problem. Wi-Fi not connecting to phone but working on other devices is just one of them. Fixing it is easy too. Here's what to do.
Way 1. Move Closer
Sounds silly, right? Not quite so. You're probably very far from the router and that's why your phone can't connect to your Wi-Fi. Go closer to the router and try connecting to the internet again.
Way 2. Confirm Basic Settings
It's obvious to check your network settings when your Wi-Fi fails to work. The basic settings to focus on are the Wi-Fi mode and the Airplane mode. Check that Wi-Fi is enabled on the phone. The Airplane mode should be disabled, so confirm if it's so because your phone won't connect to the web if it's enabled.
"The two settings are okay. What next?" Check which network you're connected to. It's common to connect to the wrong router. So, confirm that it's not your neighbor's network that you're connected to instead of yours. This can easily happen if your networks share almost similar names, especially if they're made up of random numbers and letters. Double-check your router's password too. It should be the same password found on a sticker somewhere on the router - in case you never changed it when setting up the network.
Way 3. Forget the Wi-Fi Network and Reconnect Again
Something else you can do to fix this problem of Wi-Fi not connecting to phone but working on other devices is reconnecting to your Wi-Fi network. Forget the network first and then reconnect back using these steps:
For iPhone Users:
Get to Settings and open the Wi-Fi option.
Is Wi-Fi off? If it is, tap the switch besides Wi-Fi to enable it.
Select your Wi-Fi network if you see its name.
Provide the password if asked and then tap join.
Allow the iPhone to connect to the network.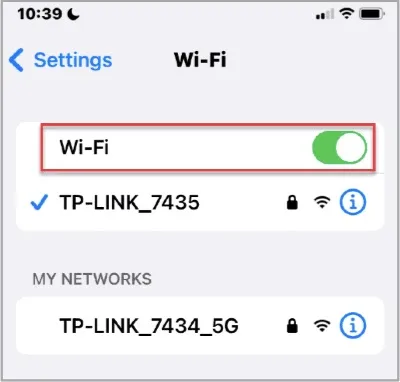 For Android Users:
Go to home screen of the phone and swipe down.
Launch the settings interface for all Wi-Fi connections available by tapping the Wi-Fi icon and holding on to it.
Find the Wi-Fi network that has a problem. Select it and tap the forget option.
If the network is forgotten, locate and connect to the same network once more. Check if the Wi-Fi is now working.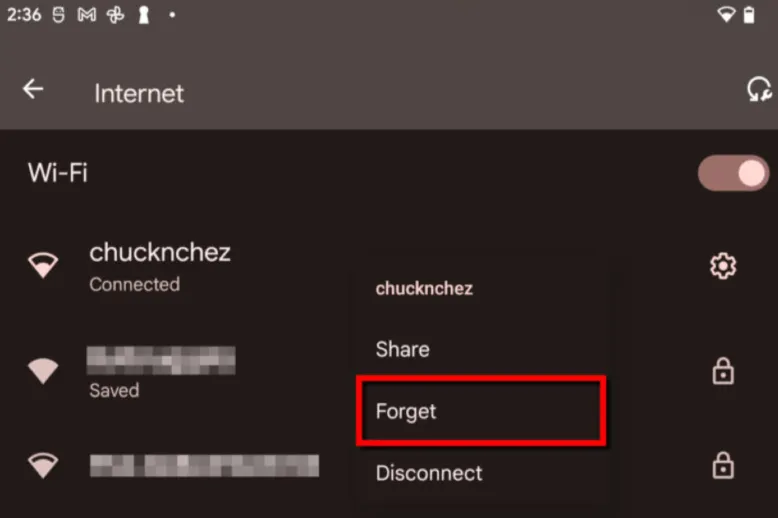 Way 4. Disable Bluetooth If Wi-Fi Isn't Working
Both Bluetooth and Wi-Fi networks use the 2.4 GHz radio frequency to send signals, which means if you have the Bluetooth on, then it can interfere with your Wi-Fi network. It can either slow down the internet speed significantly or totally cut it off. What do you do now if it's so?
Check your device to see if Bluetooth is on. If it is, turn it off and check if the Wi-Fi works. If it works, check your router to see if it supports the 5GHz radio frequency. If it supports it, then switch to the 5 GHz band, instead of the 2.4 GHz band. You can do this right in your router's settings. Now you can use the Bluetooth and the Wi-Fi without any issues.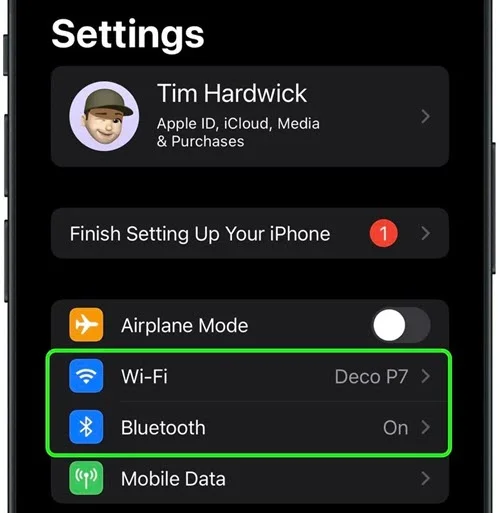 Way 5. Try Using Google DNS
Google is your friend and indeed it is because Google offers many free services. One of them is a public Domain Name System known as the Google DNS. You can use this interesting service on your iPhone to boost your internet browsing speed and in so doing, help fix the issue if Wi-Fi not working on phones but working on other devices. To use it:
Go to the Settings app. Select Wi-Fi option.
Select the Wi-Fi network you intend to use the Google DNS with. Tap the info.
Head down to the Configure DNS option and tap it.
Select Manual and then tap Add Server by type 8.8.8.8.
Go to Add Server and tap it again. Enter 8.8.4.4 and press save. That's it.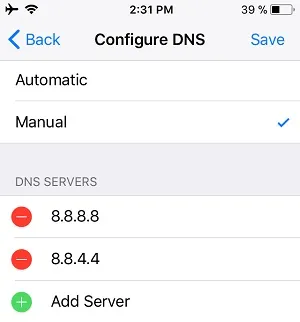 Way 6. Restart the Router and Device
Tech-related problems often get fixed easily with just a simple reboot. You can try out this quick fix too by rebooting your router. Switch it off and get all its cords unplugged. After some few minutes, plug it in again, turn it on, and give it time to set up. As it does so, reboot your device too.
If you have the router set and the device rebooted, enable Wi-Fi on the device and check if the issue is gone. This quick fix should resolve the Wi-Fi problem, especially if you have the Wi-Fi working on phone but not other devices like a tablet or laptop.
Way 7. Update the Device System
Are you using the latest iOS System? Failing to update the iOS system is usually a common cause of Wi-Fi failing to work. So, if your iOS version isn't up to date, you should take action. There's certainly a pending update in the system, hence update the iOS right away. Once you have the new update, all the bugs causing the Wi-Fi problem will get fixed. Here's how to get the update.
Access your Settings app and open the General option.
Select Software Update. Tap Download and Install if there's any update available.
Agree to the Terms and Conditions.
After the update gets downloaded, hit Install Now to get it installed.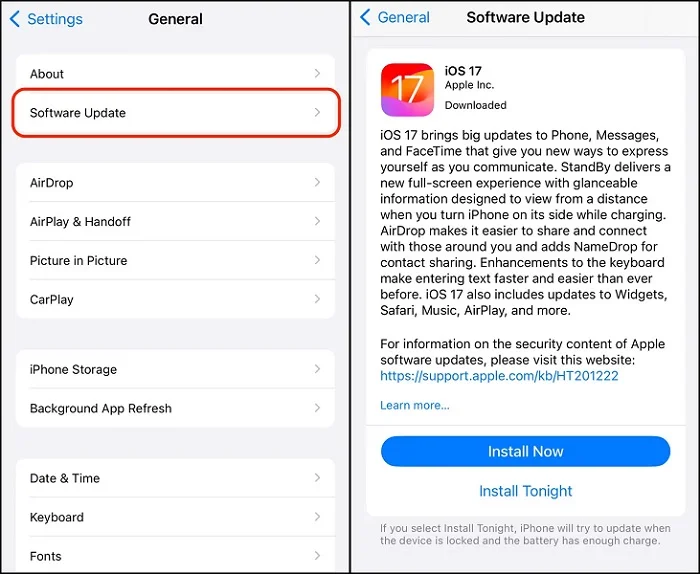 Way 8. Reset Network Settings
It may require you to reset your phone's network settings to fix this Wi-Fi problem if it still persists. This is how to go about it.
Open your Settings app. Select General.
Go down to Transfer or Reset iPhone. Tap it and then tap Reset.
Select Reset Network Settings on the next tab to reset network settings.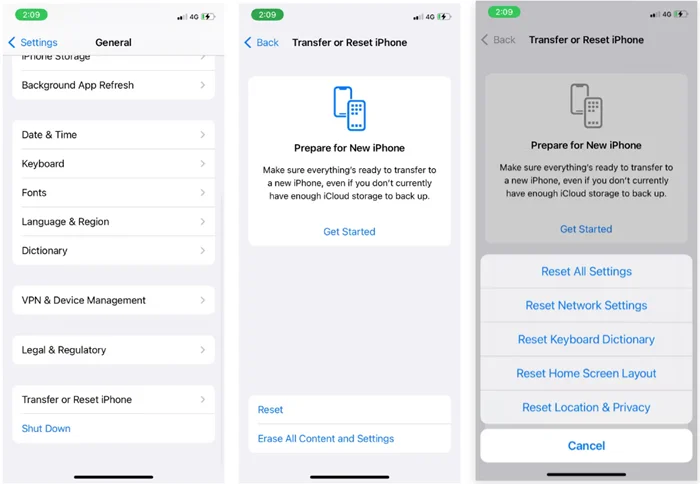 With your phone's network settings completely reset, try connecting to Wi-Fi to see if it works now.
Way 9. Fix it with One Click
When you update the iOS system, the new update often fixes bugs that cause issues like Wi-Fi not working on phone. But, there are stubborn bugs that even a new update may not remove hence the Wi-Fi will still fail to work. These bugs can only be dealt with using reliable third-party software. I would suggest FoneGeek iOS System Recovery. It's an effective iOS system recovery tool, one that's able to fix all iOS software bugs. Therefore, if there are tough bugs causing Wi-Fi issues that need to be eliminated, this is the software that can do it. Here are steps to using it:
Install and run this software first. Then connect the phone with the computer using a USB cable.
Select the Standard Mode option. Go through the note given below carefully if you want a successful repairing process.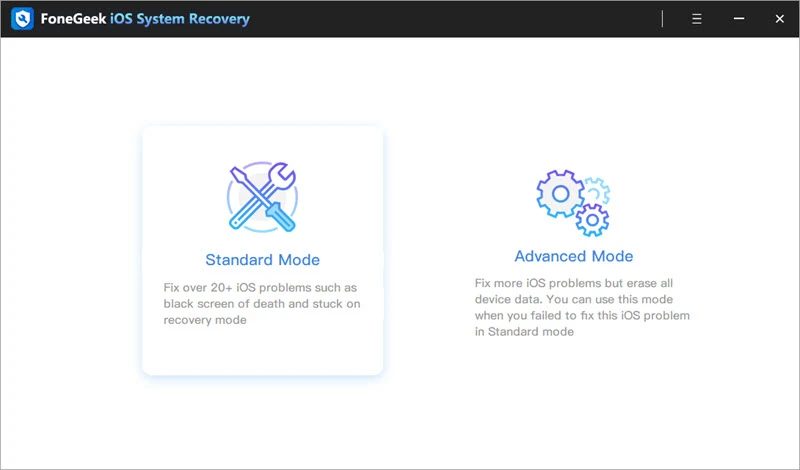 You need the latest firmware package to carry out the repair, so download it by clicking Download. Now let the firmware download - it will take a while as it's about 5GB.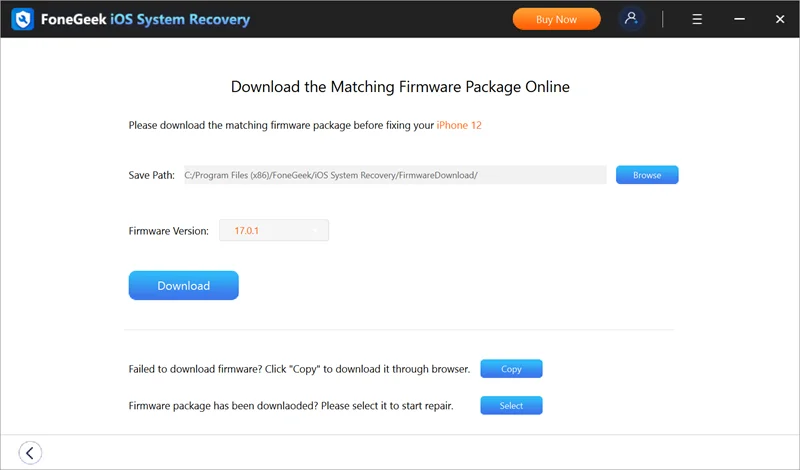 Check the download. If it's done, hit Fix Now. The software will initiate system recovery process right away. Wait patiently again as this may take a while too.
The repair should be done now. Your device will reboot itself and the Wi-Fi issue will be fixed. No data will get erased in this process.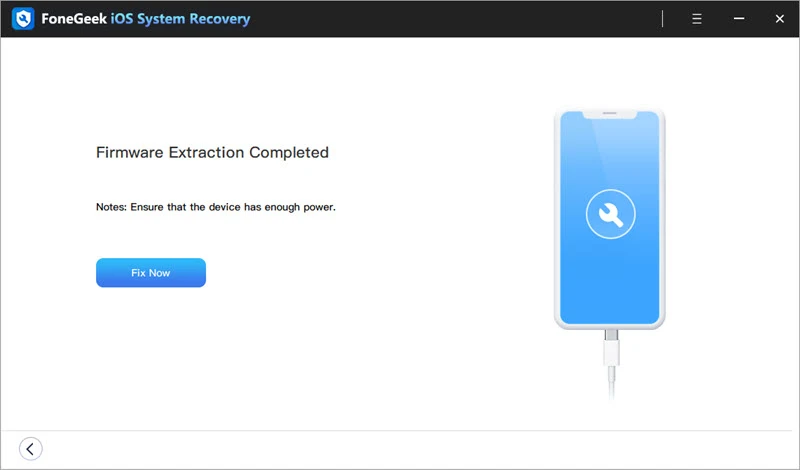 Way 10. Do a Factory Reset
You can take a drastic measure like performing a factory reset if the situation necessitates it, like if all the fixes haven't worked so far. It's not the best option, but it's what might work - it will get rid of everything, from the stubborn bugs to any issue causing the Wi-Fi not to work. Moreover, everything will get restored to their original settings. There will be loss of data, though. I suggest you back up your phone's data first before carrying out the factory reset.
FAQS
Q1. What if I restart my router and phone but I'm still unable to connect. What can I do?
You can take various measures like ensuring your phone's network settings are okay. Check that the Wi-Fi network you're connecting to it's the right one and that you've put the right password. You can also disconnect the Wi-Fi and connect it again. Another thing you can try is forgetting the network and then reconnecting to it.
Q2. I've the latest software update on my phone, but Wi-Fi still fails to work. Is there another problem?
There's definitely some other reasons why this is happening. Is there an obstruction between the phone and the router? If there's large furniture or thick walls, or probably an electronic device, then they could be interfering with the Wi-Fi signal. You can try taking the router and the phone to another room/location and see if that will work.
Q3. My phone is an old model. What if that's the reason?
It could certainly be the reason because there are older phones that don't support the latest Wi-Fi standards, more so when using a newer router. You can rule out this by checking your phone's and router compatibility.
Conclusion
Wi-Fi not working on phone but working on other devices appears to be a challenging problem but it's not like you've seen. The various basic solutions I've shared can solve it. In case they don't, then there could be bugs causing the problem and the best way to deal with them is to use FoneGeek iOS System Recovery. It's one powerful software that will fix all kinds of bugs plus any issue affecting your iPhone or causing Wi-Fi not to work, and it will do so without causing data loss.